I have been a long time reader of the seeking alpha community and for quite a few years I came close many times to providing my take on various instruments of value that I wanted to write about.
There is always value to find out there in equities regardless of the times, but it can't escape my notice the opportunity now being presented in the gold market as a part of anyone's diversification or hedge against any downturns which are not only inevitable, but may be nearing just based on valuations, potential earnings downturns and the search for some place to "seek alpha".
This happens to be one of the times I feel compelled to point out in at least a few snapshots, some gold instruments worth considering with the obvious accumulation happening in not only the commodity asset, but one of the benchmark SPDR instruments, the price of gold in dollar terms, and in at least one image, a single stock player if you only want dabble with a one stock pick.
First, lets look at the clear gap up and breakout of a 5 year trading range on increasing volume of the SPDR Gold Trust and more importantly to recognize that the long term trend has no doubt pivoted to a bullish zone.
5 year look of the SPDR Gold Trust on a Daily chart.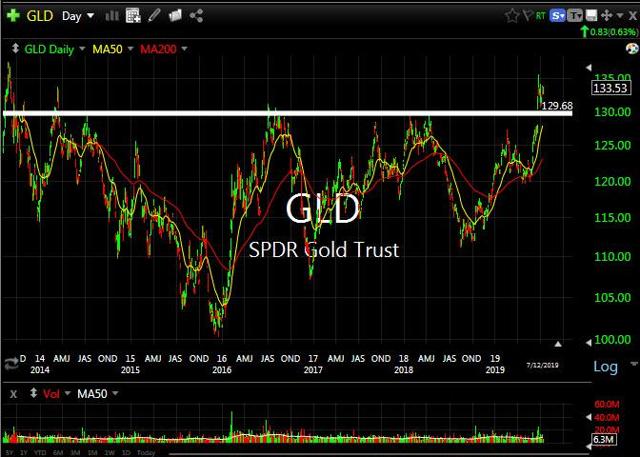 Chart Courtesy of TC2000
In the next 2 slides we take a single player Barrick Gold, breaking a 2 year down trend since the beginning of the year and also breaking out of its 6 month trading range.
Earnings for this benchmark player are due out on August 12th and in the last few weeks there were some estimate revisions upwards as well as for those who already follow this stock on SA, some M&A activity news regarding a bid deadline on the mining acquisition for Acacia Mining.
Most important is to recognize this stock has clearly correlated the pivot to a bullish sentiment and since the end of May, the stock is outperforming our record setting levels being set by the S&P 500 by a whopping 36% to 5.39% respectively as shown in the second slide below.
Barrick Gold Daily chart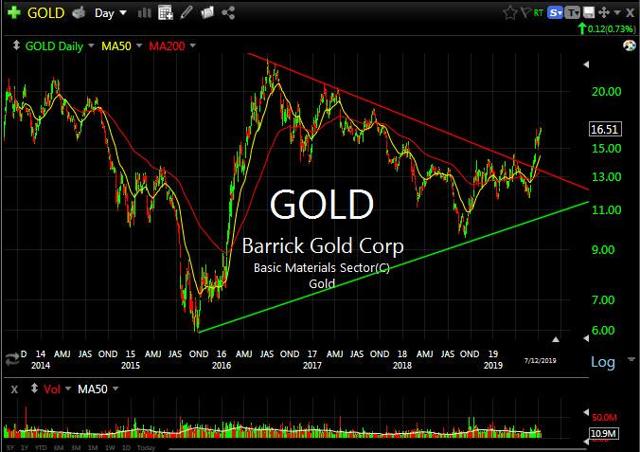 Chart Courtesy of TC2000
Barrick Gold percent performance vs S&P 500 since the end of May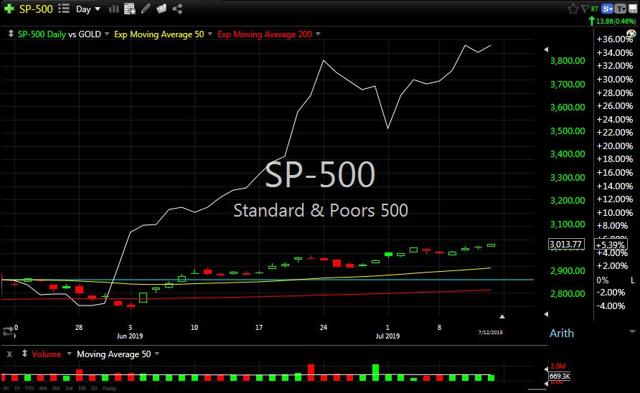 Chart Courtesy of TC2000
Got your attention yet?
Rather than show a performance comparison for a single stock, lets just compare the price of gold in dollar terms vs the S&P.
Here we clearly see since the end of May it is outperforming the benchmark index by more than a 2 to 1 ratio (11% to 5%). So while we are making new highs on the broad indexes (distorted by a handful of companies) Gold has still been the place to be in the last several weeks.
Gold in dollar terms vs the S&P 500 since the end of May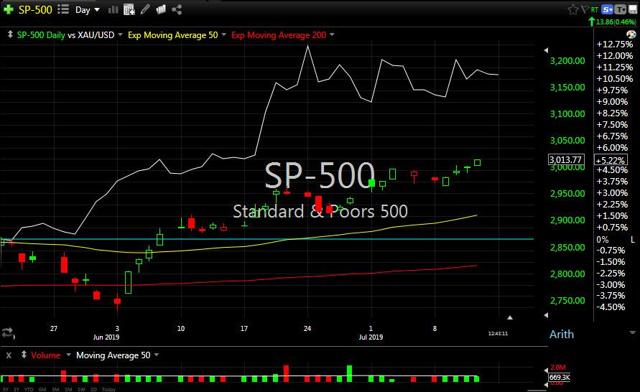 Chart Courtesy of TC2000
Finally, lets just show a simple spike up the last few weeks in the broader Philly Gold & Silver Index. Basically a sharp move higher and more evidence this is spilling over to all the components of the group to a consolidated bullish 30 plus percentage point move in those short few weeks.
Philly Gold & Silver Index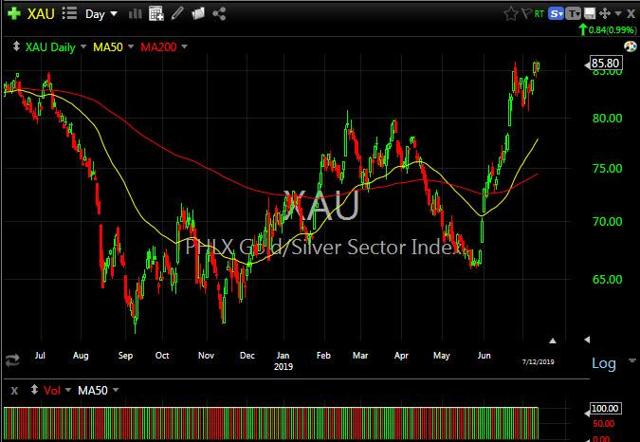 Chart Courtesy of TC2000So now that we see the asset itself and one of the top miners in this industry giving us clear bullish signs and have compared this to just the stock index benchmark, Let's look at how gold has performed against many other investment classes as reported in a article listed here at the site Gold.org and illustrated by a Bloomberg research comparison chart.Here we see it has been the best performing asset class since the Q4 market downturn against every other major asset.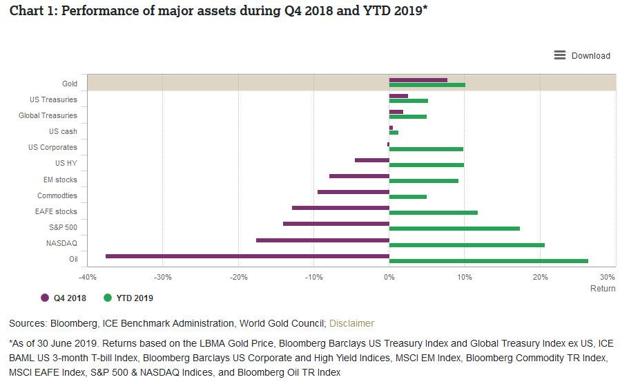 Source Bloomberg Research and Credit: https://www.gold.org/goldhub/research/gold-mid-year-outlook-2019
Finally from the technical point of view, the site ETFtrends.com reported last week that gold backed ETF fund inflows to the gold sector rose sharply in June and in particular on June 21st, the SPDR Gold Shares added 51t (US$2.2bn, 7.2%), and it was the "single largest one day inflow" in its history.
When you have events like this I have found them to more often than not be very indicative of a big money (usually smart money) leading indicator of a pivotal shift in investment allocation or accumulation strategy and one that may last for a considerable amount of time.
Still not convinced yet?
All the technical signals highlighted above need to get support from an underlying investment thesis as to why Gold needs to be on a portfolio allocation radar for anyone large or small.
At this point the media and Fed watcher pundits have jumped on board the Trump administration's push to cut rates and pressure the dollar lower as a counter attack to what they say are foreign trade adversary's manipulation of their own currencies. 
So now you have powerful forces making this seem like a coming reality and if and when this happens near term or not, this lends support to a foundation of value for Gold and some other commodities for the foreseeable future.
But perhaps more important to further support that theory, these same foreign adversaries may be executing their own de-dollarization strategies as evidenced by their own central bank gold reserve purchases as highlighted here on SA in June. 
There have been other scattered reports coming out of Asia of the risks to the dollar from reduced buying of US Treasuries by countries like China and even more some Asian governments calling for for a new gold backed currency as highlighted here in Forbes last month when the Prime minister of Malaysia called for Pan-Asian currency based on Gold at a Tokyo conference attended by leaders from Singapore, China and of course, Japan.
While it is not the first time he has proposed this, we are living in very different times and even as I write this considering last night's China GDP came in at a multi year low, with no real outlook on the status of trade talks, and like the Forbes article postulates, Asia's 500 year history of a precious metal based currency and partnerships in Russia or the Middle East could give rise to a different kind of currency war that we may not be ready for, and in this circumstance, Gold, Silver and or perhaps even some digital currency backed by a stable asset like Gold, or perhaps even an Oil based economy such as in Latin America, can become reality a lot faster than we think.
Trade wars have consequences and we may not be factoring what strategic positioning could could come to fruition if this war escalates.  Time will tell of course and I'm not going to call for such a drastic scenario, but in this climate on the world stage, anything is possible.
Considering China late last year made its first large gold buy in a few years while Russia and India have ramped up their gold buying, there is now some real geo-political consensus forces underlying the recent breakout rally and any market downturn or aggressive dollar push downwards is going to help make the case for Gold to start climbing towards multi year highs in the coming quarters regardless.
So to close out this attempt to publish an timely idea of value here, ask yourself a few questions simply.
Would you rather buy Gold just before a maturing 10 year equities bull market shows signs of stress and political and central bank forces are considering easing monetary policy to counter a potential slowdown on the horizon?
What is your hedging strategy in your portfolio right now to counter any economic slow downs or rush to traditional alternative assets which we may already be experiencing as I've illustrated above?
Finally, if Gold is now on our adversary's radar for accumulation and/or their own attempts to move away from the dollar, how prudent is it to expand out and grab a piece of a major asset shift just as a global alternative to what may seem timely to be calling a stock market top or close to it?
Disclosure: I/we have no positions in any stocks mentioned, but may initiate a long position in GLD over the next 72 hours.