The value proposition.
For nearly 30 years, I have invested, traded and proudly defended Blackberry's fortitude to stay relevant despite their fall from grace in the smartphone wars. Back when they were ResearchinMotion, it was one of my strongest and most profitable components of my portfolio in the 90s and turn of the century.
When it became apparent that she was losing her battle it took a few years and after some hard to bear losses, but I eventually got off the boat but never gave up on cheering from the sidelines.
That was until the day John Chen came on board to take over the helm.
Knowing his history and turnaround chops, I gradually started taking more swing trade shots and continued to defend the path (not without bumps) Chen was taking with the company. Since then it has been a wild ride and I began taking positions in and out a half dozen times with admittedly a couple more losing trades than gainers.
Fortunately some of those winning trades were options related and early in 2017 I was lucky enough to catch a nice run from the single digits to low teens and since then, that trade kept me above water overall to ease the pain of some losing trades shortly thereafter.
Which brings me to the present and analysis of the value trade that has now evolved in this dramatic market selloff magnified by a series of recent events with the company itself?
First, from a basic fundamental perspective, Blackberry has managed to return to a growth posture on the top line revenue driven mainly by software and service sales to a reported 21% growth rate year over year and according to the company "record quarterly highs". More importantly, these revenues are cited as recurring with a gross margin rate of 74%.
Now let me just stay on this point for a moment. All through the last 6 year period beginning with shortly before John Chen came to the picture, the company was well publicized on the fact that it bleeding profusely on its hardware revenues which led to a complete shutdown and sea change to a software focused entity. Yet in all that time, the company under Chen, maintained roughly a billion dollar a year top line business while completely replacing from hardware and phone services company to a software only focused entity while maintaining their signature "security" focus.
Even if Chen were to step down today, this is a remarkable achievement and one that he should be proud of and throughout it all, he is and was relentlessly hiring engineering talent.
While many shareholders may not be thrilled about the current profitability picture and I can relate to a loss of patience, they must understand that in the technology business and in order to stay competitive and relevant, putting aside the challenge of a turnaround need as in this case, making large bets on research and development while "keeping the company poor" is not a sign of a company unable to breakout profitability, but is really indicative of a well-managed trade off sacrificing current profits for future growth, and so far this formula is working.
This now brings up the value proposition. Trading at less than 1.0 times book value, .73 referenced here on SA, 1.8 times sales, and 1.7 times enterprise value to sales and a stock price who has seen in just the last 11 days a 40 percent decline along with the rest of Wall Street seems too good to be true. Yet here we are.
Bezos, Amazon and a once great fondness of his Blackberry device
It wasn't really all that long ago when in an 2011 article discussing the designs of the Kindle device was modeled after Bezos's fondness of his Blackberry device and as quoted by one of his designers:
"Jeff Bezos would come into our design meetings and say he loved his BlackBerry and the ease with which he could find e-mails and respond to people," explained the former Amazon designer. "That's why the first Kindle was so boxy, had the funky square keyboard and that strange scroll wheel on the side; it was all inspired by Jeff's BlackBerry."
It wasn't too much later Amazon failed at bringing its own phone to the market with the Fire phone models and obviously there was some point in between, probably as touch screens became more in vogue that Bezos turned to the IPhone and abandoned his Blackberry.
I wonder how much he may regret that change. Why?
Well you may recall, one of the lasting legacies of the Blackberry brand of phones were the security features. So much so that they were the preferred devices of top leaders throughout the world and even so secure as it led to Russian, Saudi, India and the Indonesian governments to threaten banning the devices if they didn't have an ability to access the services for monitoring purposes of domestic users. In some ways, I have always wondered if that had as much to do with the eventual decline of the devices as much as it was the up-rise of the Iphone and Android devices, but that's another discussion however it goes to a particular story here.
Some may recall the news of when Jeff Bezos's Iphone was hacked last year allegedly in retaliation for his newspaper's (Washington Post) coverage of the Jamal Khashoggi killing by a malicious uploaded Whatsapp file which led to investigations and formal inquiries that led directly to point the finger at Saudi Arabia's Mohammed Bin Salman with whom it was reported that Bezos had been exchanging messages with.  More on that investigation here.
What this eventually led to as has been reported, was an attempted extortion campaign to smear Bezos, by publishing embarrassing texts and photos to the National Enquirer. While this may not have been the most damaging, the fact is Bezos ended up in divorce and that essentially led to a 38 billion dollar divorce settlement.
Now it's hard to say, if the security flaw was an Apple glitch or not and the above referenced article does go to that flaw, I just wonder if Jeff Bezos had stayed with his Blackberry could it had turned out differently. Who knows but it surely must have come up in his mind that maybe perhaps he wished he stuck to his fondness of his blackberry device and [potential security which may not have been so costly.
Putting this outlier event aside, one can go back throughout the past 10 years and see Amazon's name and more particularly, Jeff Bezos's name come up in either the rumor mills of a buyout of Blackberry and in fact others such as Microsoft, Facebook and even Apple has been floated in the past.
While these rumors started appearing again late last year and even as recently as the last couple weeks, I think it's worthwhile to raise some possibilities considering much more recent events.
Blackberry & TCL end manufacturing partnership
Not too long after Blackberry and John Chen made the difficult decision to stop making devices and essentially go in a completely new direction, the company entered into an agreement with Chinese device manufacturer TCL. This was met with much scrutiny especially here in the US as so many government employees were still in the Blackberry ecosystem (while declining) and somewhat again took a stab at Blackberry's independent security brand at least as far as the smartphone was concerned.
Given the fact that so very few retail customers in the West were using Blackberry's anymore and so many in East Asia were the primary users of cheaper Blackberry models as they still are to this day, it was a small licensing royalty trailer to maintain the Brand while shedding all manufacturing costs on to an outsourced provider.
That is all over now as both companies in early February decided to end the partnership as referenced here.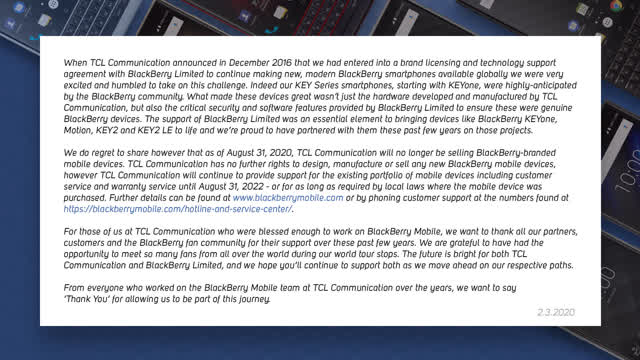 I find this to be an exciting development for so many reasons.
This will lift the cloud from Blackberry a Chinese manufacturer of their devices in light of the ongoing disputes regarding Huawei and the United States regarding security and the coming explosion of 5G and compatible device penetration.
This also would give the West (American made, American produced) a chance to take more serious the homegrown manufacturing of 5G compatible devices instead of being at the mercy of so many foreign manufactured brands, while also giving Apple's IOS and Google's Android a run for their money as the only real two options in the space for the time being. Bezos and Amazon are no strangers to transforming an entire industry while also providing real benefit for the masses, so why not in a well secured, mobile device, to either order your amazon delivered product, watch your Amazon Prime videos, or harness the security and power to manage your enterprise software stack with Blackberry's services and software which currently services 15 of the G20 nations as customers, and whose endpoint management software is the most widely deployed among the Fortune 500.
Next, Amazon has the muscle, the ecosystem of cloud and retail marketing power to consider a re-entry into the hand held device market and something that Blackberry does not have besides their history, the patent portfolio and security hallmarks of their software portfolio, something of which Bezos has been directly quoted in saying in a past 2013 interview:
"We won't comment on future roadmap," he said, though hinting that any future Amazon product would have the same kind of synergy of services, software and hardware. "Our basic approach lends itself to a lot of different things. We want to give people premium products at affordable price points, we want to pack a lot of hardware into those devices," he added. "One thing we do differently is we don't want to make money when we sell the device, we want to make money when people use the device."
Blackberry's big bet, autonomous and connected Cars
As previously mentioned, I said that Blackberry's profitability has been a conscience decision to invest heavily in engineers and research while maintaining the growth curve of the software segment.
This has so far paid off in a very organic penetration into the connected car market and autonomous driving future.
To date and as has been publicized, Blackberry's QNX software's footprint is now 150 million cars and last year was a 20% increase of 30 million year over year.
With design wins and an ever growing vehicle segment, Amazon decided two months ago to partner with Blackberry and is quoted in a joint press release that the partnership's platform :
" combines the two companies' edge and cloud technologies into a comprehensive edge-to-cloud offering for the global automotive industry. QNX software allows automotive OEMs to develop and run a common software platform across in-vehicle systems such as gateways, TCUs, engine controllers, digital cockpits and emerging domain controllers, while AWS capabilities enable automotive software developers to securely and easily access data from vehicle sensors, build software applications and machine learning (ML) models using vehicle data, and deploy them inside the vehicle to enable in-vehicle inference and actions. The platform will integrate the BlackBerry QNX operating system and over-the-air software update services, with AWS IoT cloud services for secure connectivity and telematics, Amazon SageMaker for developing ML models, and AWS IoT edge services for in-vehicle ML inference.
This partnership simply illustrates Amazon's continuing quest to perhaps one day in the not too distant future, deliver packages by more than just drones. Autonomous trucking, cars and Alexa in every dashboard to cater to your every command is coming to mainstream adoption while also providing much needed security that the Blackberry brand offers.
Blackberry has been all in on this market and has made big bets here. The partnership with Amazon only adds to the ROI of those bets and coupled with the fact Blackberry also offer a fleet management offering via their RADAR asset tracking solution, I must wonder if not for an M&A announcement, could this turn into a major customer win for blackberry with this product.
With recent news of Amazon announcing its intention to hire 100,000 delivery workers and staff to meet the upcoming demand the coronavirus pandemic is proliferating, one must wonder what benefits, blackberry's asset tracking solution brings to amazon's efficiency.
The coronavirus impact risk factor of mandated work from home
Finally, in closing, I can't stress enough the heightened cyber security risks that we all now face as a result of the corona virus impact on the economy and the mandated work from home phenomenon.
Amazon Web Services last year suffered more than one cyber-attack. Jeff Bezos's own Washington Post  highlighted the risks of the cloud and the remote access risks in this article a couple of weeks ago.
The article more or less summarizes that while The major cloud providers, (Amazon with 35% share) of course have huge measure in place to defend their own technology stacks, but what they really aren't equipped for are the random access points and vulnerabilities that open up as a result of employees who will work from home and will unwittingly expose from their activities and the cloud providers are essentially protected in this regard.
So if for example Amazon, sees the value in partnering with Blackberry and Cylance to defend the connected car market, there may be virtues to considering Blackberry's Cylance AI offering to embed a more remote access type of defense system on all of these newly forced workers at home with their subpar secure entry points.
So a worker from home who may have sensitive company financial data, or proprietary conference call meetings and other otherwise sensitive materials is now somewhat newly out there in the open, not only Amazon but many other companies are going to need to address these evolving penetration endpoints and given that there are so many now being forced upon the world due to the virus scare, artificial intelligence and an offering like Blackberry's Cylance may be better as an asset rather than just as a partner to provide for multitudes of companies working off their own cloud technology stacks built on amazon , Microsoft's Azure and so many others.
Considering the reach of the AWS infrastructure, coupled with an Artificial Intelligence supported offering Blackberry brings to the mix with their billion dollar acquisition of Cylance just over a year ago, it would be no surprise to me that the winds and whispers of merger activity here if not an acquisition begins floating with more force in the coming weeks beyond the scant suggestions of the past or in recent press clippings.
The price and value of Blackberry right now is too good to pass up either as a shareholder looking to capitalize on the heavy market downturn or as a suitor like Amazon that can leverage the company's assets throughout their own ecosystem for a substantial ROI.