Elevator Pitch
Civeo (CIVEO:NASDAQ) a global workforce accommodation provider with 70% exposure to the Canadian segment primarily in Tar Sands production but increasing exposure to LNG which is a growing industry in Canada despite the commodity price downturn. CIVEO is a buy because it is undervalued by the market due to exposure to crude oil. CIVEO is a company with modest debt and is currently is in the process of delevering as stated by the CEO Bradley Dodson is the most recent 2015 Q3 operational update which is the main strategy of the company to "navigate the commodity price downturn".
Company Description
(CVEO:NASDAQ) is a work accommodation provider in the United States, Canada and Australia specializing in but not limited to Shale oil, Canadian Tar Sands oil, and Australian Metallurgical coal. As of 2015 Q3 CIVEO delivered revenue of $106.54 million of which 67% is from the Canadian segment, 27% is from the Australian segment and 5.5% is from the United States. The company also provides accommodation for Liquefied Natural Gas projects and Natural Disaster accommodation.
Thesis & Catalyst For Civeo Corporation (NYSE:CVEO)
The company's share price has been punished by the decline in crude oil prices due to indirect exposure to crude oil prices. Has good prospects for revenue growth due to contracts for the export LNG terminal based in Kitimat, BC. CIVEO recently received a contract for 400 rooms in Kitimat for proposed LNG projects with ability to expand capacity.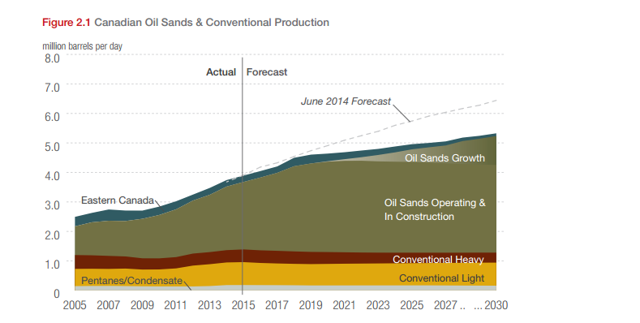 Canadian Tar sands activity is project to grow 47% through to 2030 and therefore demand for accommodation services will increase.
Both Canadian Tar Sands and Liquefied Natural Gas are rapidly growing industries in Canada and both require service accommodation services provided by CIVEO.
Valuation
Market cap of 92.74 Million as of Feb.14/16.
Reduced debt by 46% from $755 million to $397 million as of 2015 Q3.
With a reduction of another $50 million of current $397 million debt, Civeo will be well positioned to survive the commodity downturn.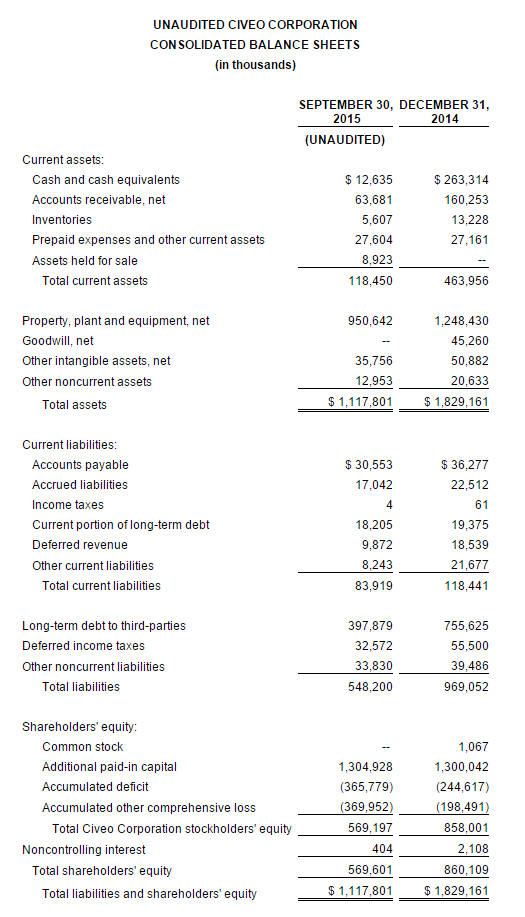 Price/Book ratio of 0.140
Current ratio of 1.40
Modest debt load means Civeo will likely survive current low crude oil prices and emerge as a strong player in service accommodation in the Canadian Tar Sands and future LNG projects in British Columbia with as much as 20,000 jobs to provide accommodation for in the medium term and over 100,00 jobs over the next 30 years.
Debt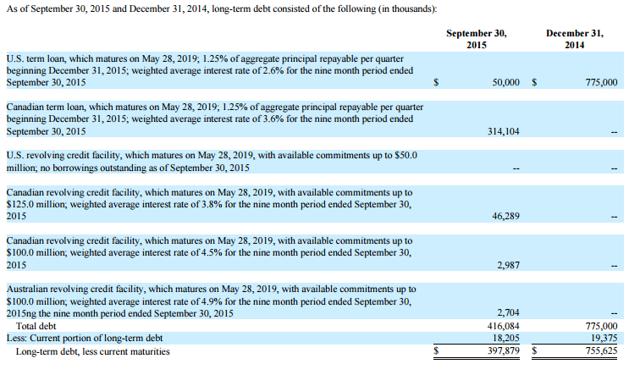 Civeo is well within leverage ratio limits, with $569,601 x1000 in shareholder equity and $397,879 x1000 in debt as of 2015 Q3, Civeo looks likely to comply with continued low oil prices.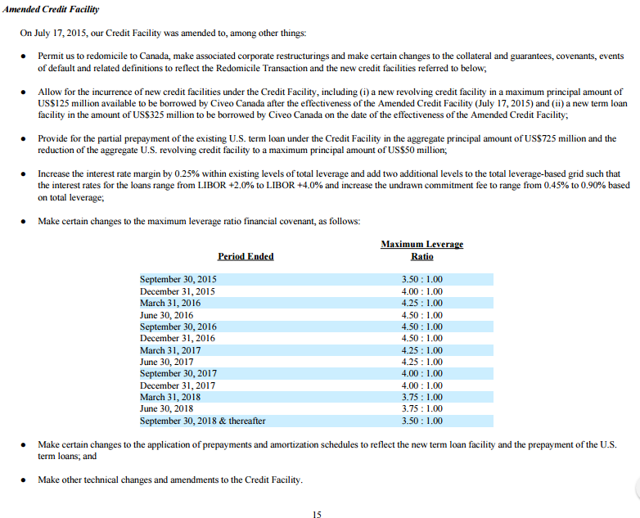 Market Risk
CIVEO took in an EBITA of $21 million in Q3 of 2015 and took a loss of $(1.01) share due to $110,715,000 in impairment expense related to the redomiciling to Canada. Published recently an article titled "Avoid Civeo" by Shock Exchange, stated that Civeo will likely breach it's debt covenant of Debt/EBITA of 4.5x. With a guidance of approximately $20 million EBITA for Q4 2015 Civeo will be at risk of breaching covenants slightly at 4.6x EBITA. Civeo's exposure to oil is mainly Canadian Tars Sands and it's customer base is mainly large established companies with lots of cash therefore explaining the difference of 40% between revenue drop of the Canadian segment and US shale segment as noted by Shock Exchange "Revenue from Canada, Australia and the U.S. was off 21%, 24% and 60%, respectively". EBITA will likely stay level due to well positioned Canadian E&P companies that are not heavily levered as its US Shale counterpart, the number of layoffs have plateaued, therefore EBITA for service accommodation companies like Civeo will remain level for now until oil prices rise. EBITA may also recieve a boost from new LNG projects in the medium term assuming oil prices stay level. Civeo currently has a 57% occupany rate in it's lodges and it will likely stay plateaued since it's customer base, mainly large cap well positioned E&P companies such as Suncor has already laid-off all the workers it needs to preserve capital. Assuming only slightly above the limit of 4.5x Debt/EBITA, there will likely be some amendment going forward into Q1 and Q2 2016.
Conclusion
Assuming Civeo gets an amendment to it's 4.5x Debt/EBITA covenant or is within the limits by 2016 Q2, (CVEO:NASDAQ) is a buy at current prices. Due to increasing demand for service accommodation despite short term commodity price downturn means Civeo is positioned for rapid growth in the medium to long term outlook with the approval of Kitimat LNG export terminal and continued growth in Canadian Tar sands activity. BC LNG projects are estimated to require as much as 100,000 jobs over the next 30 years and Civeo being one of the first accommodation service companies to receive contracts on the LNG export terminal in Kitimat means they will be well positioned to receive additional contracts. Survival is the key for this company, if they survive they will be very well positioned to receive a majority of future LNG contracts for accommodation.
Disclosure: I am/we are long CVEO.
I wrote this article myself, and it expresses my own opinions. I am not receiving compensation for it (other than from Seeking Alpha). I have no business relationship with any company whose stock is mentioned in this article.
Additional disclosure: Note to investor, share price is below $1 and market cap is under $100 million, please be aware of the risks associated with small cap stocks.