One important part when analyzing stocks - that is often being overlooked - is the part comparing the particular company's product against its competitors. How does example the Lumia line stand against competitor products such as the Samsung Galaxy III or Iphone 5 ?. This concept is very important at least when we talk about a highly innovative dependent industry, such as the telecom.
One of my all-time favorite stock pickers is the former Magellan Fund manager Peter Lynch. He popularized the concept of" investing in what you know". This concept implies that every investor - Professional or amateur - should place his money in industries or companies that he understands. Other famous investors' following this concept is Warren Buffet, who simply does not invest in tech-stocks because he does not understand them. This important but simply concept is however often overseen by most of investors. Most investors wants to make fast money and falls into the trap of investing in companies they do not understand, companies that are dubbed as the new rockets on the market or the new IBM´.
Unfortunately, it seems that this concept is also being overseen by most so-called professional analysts.
For not a long time ago, I was reading a sell recommendation on the Nokia stock. This recommendation contained as usually some quantitative arguments on hypothetical situations leading up to their sell recommendation. So far so good.
However this recommendation also tried to back its recommendation by providing some negative comments about the hardware specs. of Lumia 920. It stated simply that the 920 was lacking behind its competitors in hardware specs. Worth noting is that this recommendation was coming from one of the biggest and well-known investment banks in the world. I stop to read it immediately.
How long had this analyst been researching? I do not know.
Did this analyst know Nokia? I do not think so.
Had this analyst been investigating the competitors' products? I do not think so.
Had this analyst been researching the industry he was supposed to analyze or the company he was recommending people to sell, he would have known that the Lumia 920 either possess better or on par hardware specifications as its competitors. However this analyst took the easy way, and overlook the important concept of research.
--
One other important concept is to look for how the products are received by the customers. I like to bump into the review charts on Amazon wireless from time to time;
Nokia has 4 mobiles in the top 5, 7 in the top 10 and 9 in the top 20.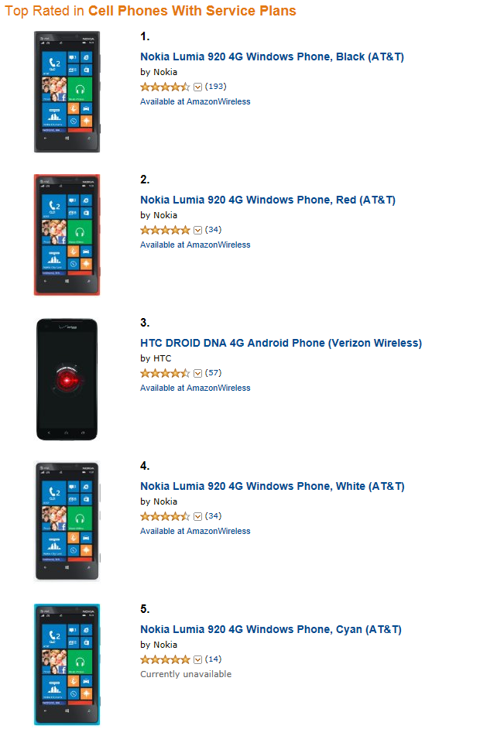 Disclosure: I am long NOK.