While I would not take these graphs too seriously they do however provide us with some important numbers. Starting from q3 2010 We see that Nokia have managed to increase their Smart Devices ASP with 36,7 % until q4 2012, Should we compare Smart devices ASP Q3 2012 with Q3 2010 ( which of course is more appropriate) we get an 14% increase.
Mobile devices Volume has declined with 8,7% from Q3 10 to Q3 12 However looking at the graph we see that the graph is slightly pointing upwards. The biggest drop is found in Smart devices, where the volume has dropped with 75% comparing Q3 2010 with q3 2012.
Furthermore, We notice that "Net Cash and other liquid assets" has declined in recent crisis, however graphically we see that Nokia is slowly improving its liquid assets. Net Cash from operating activities which is considered as one of the more important Cash indicators also show graphically a positive trend after having fluctuated in recent quarters.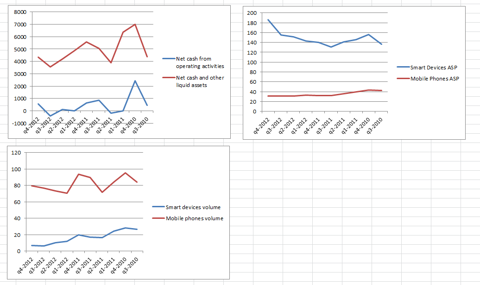 Disclosure: I am long NOK.