InfraCap MLP (AMZA) 

"After conducting research on AMZA I've come to the conclusion it is undervalued and there is an opportunity, especially around and under the mid $9's. The opportunity is due to Midstream MLPs as a sector are undervalued.
Additionally, the seasoned management team lead by Jay Hatfield and Edward Ryan navigated an unfavorable oil and gas investing environment very well. As oil and gas production is set to increase the need for transportation and storage, the InfraCap management team will actively manage the portfolio to achieve solid returns."
Source: Sowing Prosperity 
AMZA Holdings
Other Funds
While this, not an analysis or in-depth look at any of the following funds it is an opportunity to become aware of other funds. 

Cohen & Steers MLP Income and Energy Opportunity Fund (MIE)
MIE's objective of the is to provide an attractive total return, comprised of high current income and price appreciation primarily through mid-stream MLPs and energy investments. Midstream MLPs and energy investments are engaged in the exploration, production, gathering, transportation, processing, storage, refining, distribution or marketing of gas, oil and coal-related energy sources.
AMZA and Cohen & Steers MLP Income and Energy Opportunity Fund, Inc. (MIE) provide exposure to crude oil midstream companies.
MIE Holdings 

MIE Top Holdings March 31, 2017, Source
ClearBridge American Energy MLP Fund Inc (CBA)
CBA provides exposure to Natural Gas midstream companies. CBA is a great complementary CEF to own together with either AMZA or MIE, due to CBA's focus on Natural Gas.

ClearBridge American Energy MLP Fund Inc. seeks total return by investing in a portfolio of energy master limited partnerships MLP's.  that may benefit from the growing production and usage of natural gas. Provides the potential for attractive, "tax-deferred" distributions, with an equal emphasis on current distributions and capital appreciation. Offers simplified tax reporting compared to direct MLP investing; investors receive a single Form 1099, no K-1
As of May 31, 2017, the Fund's net assets were $572.6 million, and its net asset value per share was $9.77. The following Chart from ClearBridge American Energy MLP Fund shows the holding as of the same date.

Source
TTP
Tortoise Pipeline & Energy Fund (TTP) and AMZA are C-corp and do not issue K1s. TTP is mostly focused on non-MLP oil & gas infrastructure while AMZA owns both. AMZA is different than TTP due to the fact that it is more actively managed and is able to re-allocate its portfolio quicker in order to maximize on opportunities.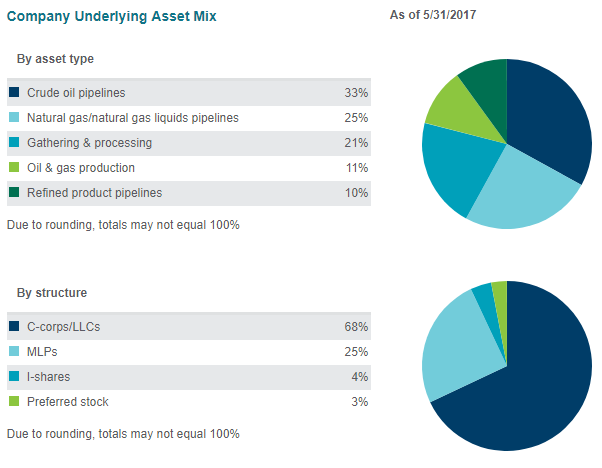 Source
TTP gives a different exposure to the sector than AMZA and can be a good addition to a diversified oil & gas infrastructure portfolio.
ALPS Alerian MLP ETF (AMLP) 

AMZA's payout is higher than AMLP for several reasons:
1) Its income gets a boost from writing options.
2) Its income is also boosted due to its leverage. 
Therefore AMZA's profitability is superior to that of AMLP since AMLP does not use either options nor leverage. From a pure profitability perspective, AMZA is a better ETF.
AMZA has another feature to support a much higher payout than AMLP, AMZA returns capital gains achieved to shareholders - while AMLP does not. 
In general, I prefer AMZA. 
ETRACS 2xMonthly Leveraged Alerian MLP Infrastructure Index ETN Series B (MLPQ)

This is a leveraged Exchange Traded Note (or ETN) which is set to provide twice the returns of the ETF AMLP and currently yields 13.8%. MLPQ does not return any capital gains to shareholders.

The Midstream MLP sector is undervalued and still offers a lot of opportunities. Here is the chart for AMZA, CBA, MIE and AMLP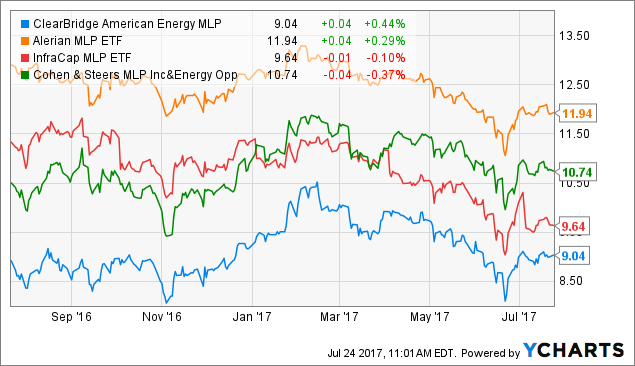 Conclusion
While there are other funds in the oil and gas infrastructure and Midstream sector we can see there are considerable differences.  MIE, CBA, TTP and AMLP are present opportunities to invest but I prefer AMZA.
Other investing articles at Sowing Prosperity! 
Disclosure: I am/we are long AMZA.
Additional disclosure: Because I am not an investment professional, this article is not the equivalent of investment advice. This should not be interpreted as an investment recommendation as the opinions expressed in the article are entirely my opinions. The details and data in the article should only be used for informational purposes. Anyone who believes the research above warrants further action should do their due diligence on the material to determine whether or not the investment is suitable for them. Investors need to perform their own due diligence and it would also be beneficial for them to seek advice from the broker-dealer or financial advisor before making an investment decision.