If we look for a very difficult commodity to analyze and try to predict the future behavior, natural gas should be considered. From contango and inventories to price manipulation suspects and the overall economy, the range of variables to considerer when analizyng natural gas is wide.

From the technical view, it is interesting to notice the low levels and the bullish divergences in Natural Gas price / Oil price ratio, and therefore, the probability of a rebound in the index. This means that, in the near future, the probability of Natural Gas outperforming OIL are historicaly at very high levels.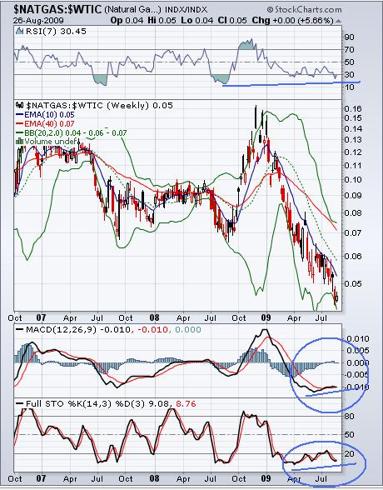 In addition, look at the long term situation of the Natural gas, which is struggling with the support @ USD 2.71 and the trend-line from 1992. This trend-line in the last two decades was a pivot point in natural gas prices, in several occasions.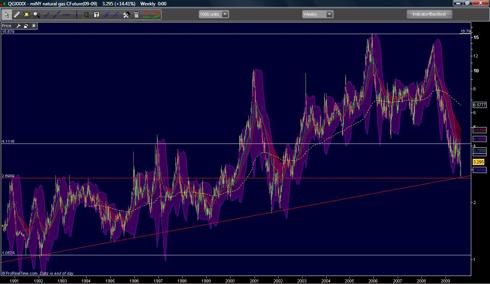 Here, we can see the standard error channel from 1992 to 2009. It is worth to notice the distance between the average price in the las 2 decades and the current price.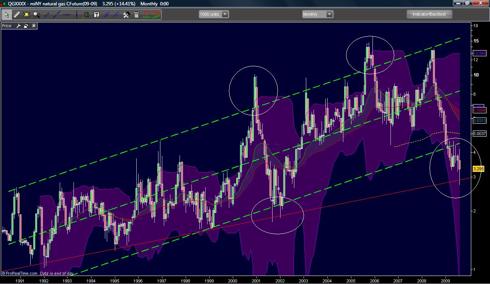 Short term perspective: fibonacci's retracements and some interesting divergences in technicals indicators: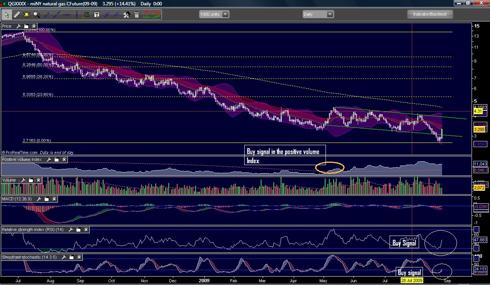 It is clearly that the trend is down, then, the risk remains high. But there are several reasons to consider this level as a pivot point.
Time for a reversal in Natural Gas? A big drop coming in Oil?. If natural gas begins to rebound from this levels, will UNG be capable to track the performance of  natural gas?
As it always happen, time will tell.

Disclosure: no positions.