There are almost no certainties in the market, just probabilities. Speculation about a possible extension to operation twist is just one of many possibilities being discussed this month. Fed printing spinach again? EU stimulus? Let's twist again? Bank loans? Eurobonds? Bailouts?
Welcome to the June speculation trip! Sit tight! For the sake of those sitting on the fence, please refrain from consuming fatty foods before stepping into the rollercoaster.
Bernanke on June 19-20 will lead the Federal Open Market Committee in a meeting much awaited by the markets. The recent stock market run is most probably in anticipation to this meeting.
I think Bernanke, Draghi and other central bankers saved their bullets earlier this month knowing that the coming turbulence may require a couple of shots. I still don't think the Fed will do another round of quantitative easing. We will see about that. For now, some analysts are speculating that an extension of Operation Twist is highly probable. But as the worldwide conditions deteriorate, specially in Europe, I see the probability as high that the heavy printing virus will proliferate fast and strong in other major economies, specially in the more export-dependent nations that have been loosing ground like China and India. This in turn may keep the US dollar going strong, and that doesn't bode well with Bernanke's monetary policy. Deflation fears are slowly raising the odds of another round of QE. The worldwide currency devaluation race and interest rate cuts most probably will continue for the next 6 months. We also have to consider that the ECRI Weekly Leading Index is not looking good at all at the moment and the Volatility Index ($VIX) is rising fast and may reach the 30 point panic level sooner rather than later.
Mr Bond Market told a secret to Mr Stock Market: The world already ended and you haven't noticed
The US bond market is not talking about a Y2K-type collapse, or about a large hadron collider black hole, or about Mayan calendar prophecies. Here is a graph of iShares Barclays 20+ yr Treasury Bond Fund (NYSEARCA:TLT):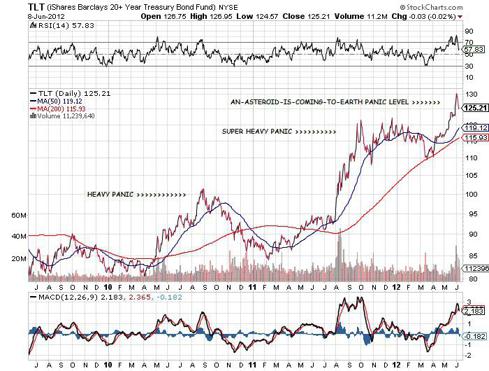 Bond yields are setting new lows as easy as Barry Bonds and Mark McGwire were setting new home run records a decade ago. As I write, the bond yield on the 30 year treasury bond is 2.77%. Is the US bond market in full panic while the stock market is still on semi-panic mode? Is operation twist still causing a major steroid-infused bond price hike for long maturity treasuries? Or is it the potential for a twist dance extension that's contributing to all this?
I think that the US bond market is pricing in what's going to happen if there is a "Grexit". It's basically adopting a worst case scenario approach. But with yields approaching Finland and Singapore levels, for how long will they go down the drain? They definitely can go lower, but we have to consider that the yields are currently lower than they were in the 2008 financial crisis. Even with the recent run in stocks, bonds remained in the panic level. In other words, in bond market's opinion, the stock market is running on imaginary gasoline for now. We will know who's right very soon.
Investors are running short of places to hide... and besides cash, stocks could be the only asset class that may look attractive. If, and only if, the EU takes decisive action, the shift from bonds to stocks will happen, and it will be brutal. That's why in these times, the higher the tension, the riskier is to go short on stocks. A sudden and decisive action by a central bank may have a high cost in your portfolio in just one day if you are shorting. Trying to trade the market in the short term, based on central bank speculation, is even riskier, as you could get whipsawed like it happened to many funds on 2011.
In short, cash is still king, but I think it's a good idea to slowly accumulate shares of quality undervalued and oversold stocks when the market creates panic dips. I'm expecting the tension to remain high (chupacabra level) or go higher in the near future and possibly reach a climax for the year (if the central banks keep saving their bullets), which should create another return to sub 1,280 territory in the S&P 500. The SPDR S&P 500 (NYSEARCA:SPY) is currently around 132 pts. No big announcements by the FED or the ECB on the next 4 weeks should be enough for the pulldown to happen, regardless of who wins in the Greece vote. That pulldown may be the final stress spike that can make the central bankers to pull the trigger. Then, the big shift happens. Stay tuned.
Disclosure: I have no positions in any stocks mentioned, and no plans to initiate any positions within the next 72 hours.