TED is walking on a plain. He's taking a break after so much uphill hiking. The Treasuries-EuroDollar spread index ($TED) is being going flat for 4 months while its relative strength index has been trending higher, creating a solid divergence.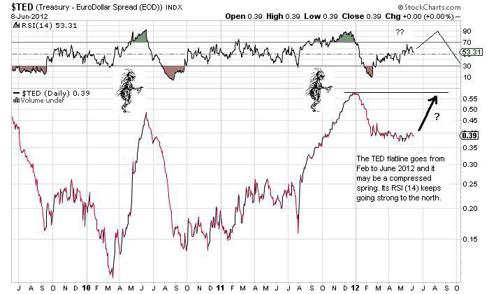 If my hypothesis is right about tension going up soon again because of central banks saving their bullets for the coming turbulence, I would expect the $TED to explode sharply higher into the chupacabra panic level. If it's RSI (14) goes to 90 again, or even over 70, it should make the buying decision much more easy. The dollar will get stronger and the percent of S&P 500 stocks over their 50 day moving average should touch or fall below the minus 2 standard deviation line (-2 std dev) from average. If I could borrow the Cramer sound effect machine, I would say that's the point when I BUY BUY BUY!! Check the graph below...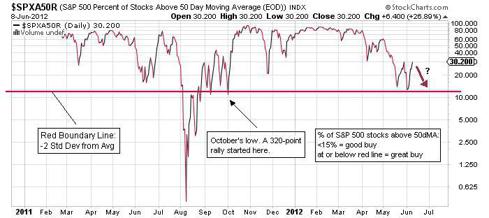 Tell me what's coming Elliott!
"She (the wave spotter) told me there was a big set of waves coming" "It's the most challenging, dangerous wave I've ever surfed"
- G. McNamara, after setting a record by riding a 90 feet wave
Yes. His wave spotter nailed it. It was indeed a really big set of waves.
In the stock market, the wave sets are embedded with a soup of "bull and bear sentiment" that chartists try to digest. Everything is "priced in" in the chart. But, while the Elliott Wave Theory may be fairly good at identifying the next wave set, we can't forget that as with any technical tool, there's room for interpretation. In other words, Elliott may be a good spotter of crowd behavior, but the decoding of his message may not be performed in the same way by everyone. In these periods of wild speculation, it's even more difficult to analyze the waves.
Sitting over a sand dune, feeling the market wind gusts and watching the horizon, Elliott's prognosis (in my opinion) is that there is a good probability that we are currently surfing the fifth impulsive fractal inside a third corrective wave. If that's the case, then no central bank action soon may mean the start of another 5 wave set downward. There is a good chance that this new set then lead us either to 1266 (4 week low and 13 week low), or to 1250 (which has strong support). The 1248 level is the 50% retracement from the 52 week high. The 1200 level is not off the table, but I see a lower probability for that.
The next buying opportunity will materialize if bonds remain high or go up. If for any valid reason, that tension starts to drop dramatically, then there is a possibility that we already saw the bottom in stocks.
Disclosure: I have no positions in any stocks mentioned, and no plans to initiate any positions within the next 72 hours.