Please read my prior posts regarding a few of the stocks mentioned here for more insight.
These depressed industries are in the process of bottoming. They're completely out of favor, some down over 50% in just 2019, and absolutely hated because they've lost people money. However that is precisely why you should be interested in them!
As Warren Buffett said, "be greedy when others are fearful".
I've always found it interesting how investors will hate a stock because they're either losing money in it currently or have lost money in it in the past (i.e. Tanger Outlets- SKT). They'll scorn the stock and vow never to look at it again because they couldn't profit from it. Imagine losing money in Amazon, Apple or Microsoft because you were in it at the wrong time and you decided to never own it again. It's a foolish mentality, and one that many investors are guilty of.  
Thing is, is that the market doesn't care what price you paid for a stock. It's each investors job to manager their own risk. Luckily when buying potential bottoms, the risk management is very straight forward - albeit more risky than entering a less volatile stock. That's because your stop loss (the price you exit for a loss) is usually just a new low price. However, since you're buying as close to that new low price in the first place, your risk percentage is relatively low. Compared to buying breakouts where you could be entering a stock 30-100% above the recent low.
You can see what I mean in the charts where I've highlighted the price zone I think each stock is bottoming at. Today's closing price (potential entry) isn't far off from the stock's recent low where I'd take a loss if the price were to fall below it. 
Let's take a look!
Malls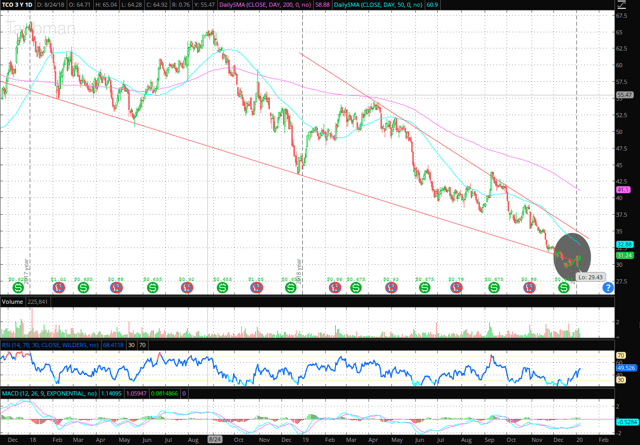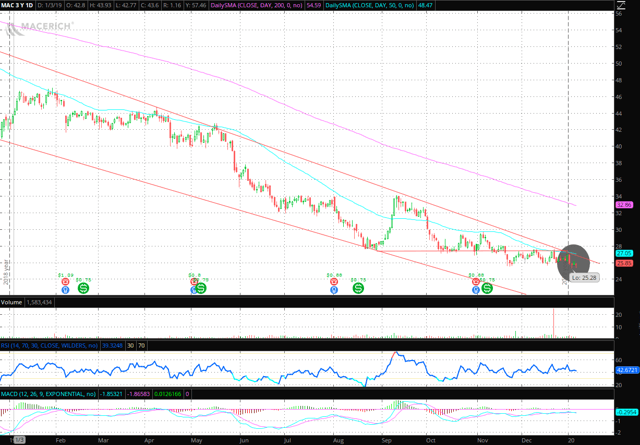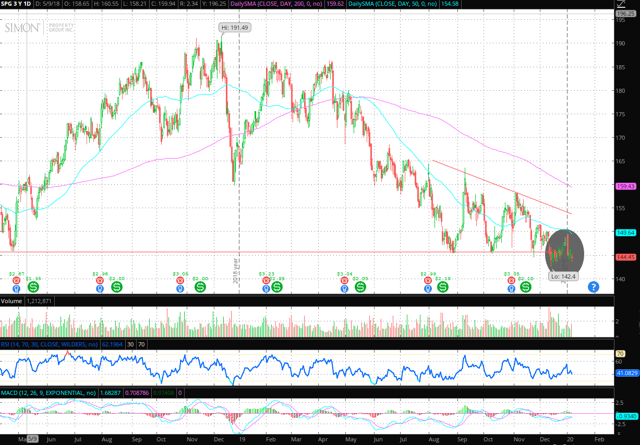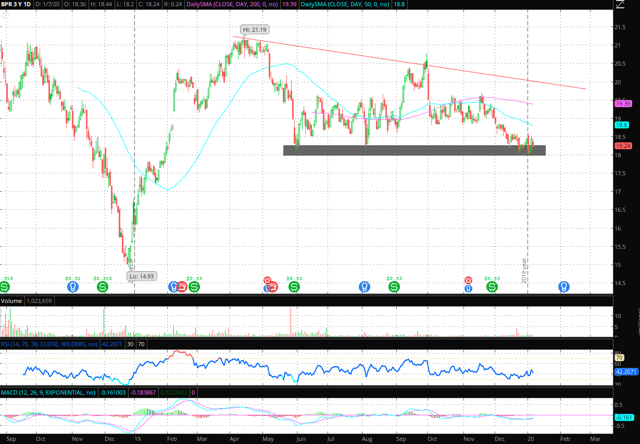 SPG and BPR are my favorite mall REITs. They have the best fundamentals and best management teams of the bunch. I think any price under $18.50 on BPR and $145 on SPG are solid long term entries. Technically, these stock are stronger than TCO and MAC as well. That's because SPG and BPR have not retested their 2010 lows and have held up relatively well. While it's true that TCO and MAC have higher dividend yields, SPG and BPR's yields are nothing to sneeze at and they could provide better price appreciation if the market rebounds favorably. On the weekly charts (not shown), all of these mall REITs have either positive divergences in the RSI/MACD, both, or rising RSI/MACD, or both. As with Tesla bears, if you can't see past the short term struggle in this industry, then you are missing the bigger picture. Unprofitable tenants will be replaced with profitable ones and that will be a double boost for mall REITs- in both better rents and sentiment. 
While we're on the subject of malls and sentiment: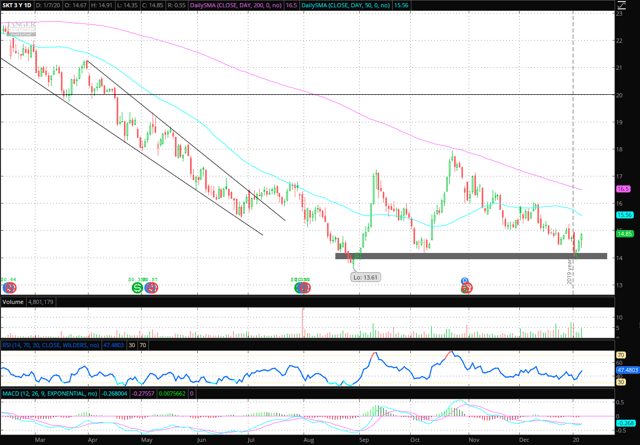 SKT gets lumped into the "mall" category so I'll bring it up here. SKT has about half of it's float sold short, reflecting the worst sentiment in the space. It's curious though, as they are possibly the most nimble when it comes to replacing tenants. Regardless, the sentiment is so bad that the stock pulled back to the prior low where the yield is trading at over 10%. The daily chart shows positive divergences in the RSI and MACD, and big volume coming in. I think SKT is at the bottom of a larger basing process that will be determined by a $18 breakout. If you didn't get in before when I released my first article at around $14, then you ought to do it now!
Prisons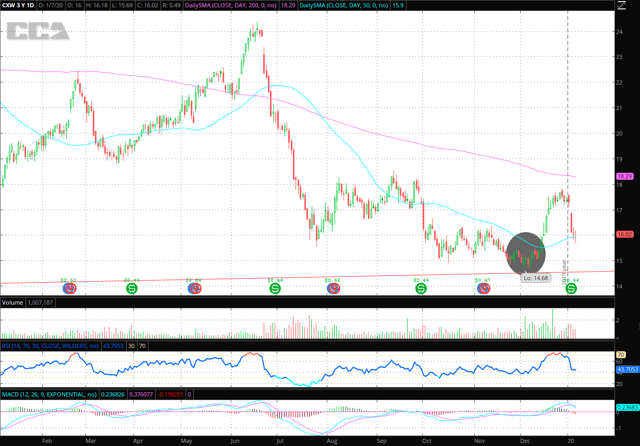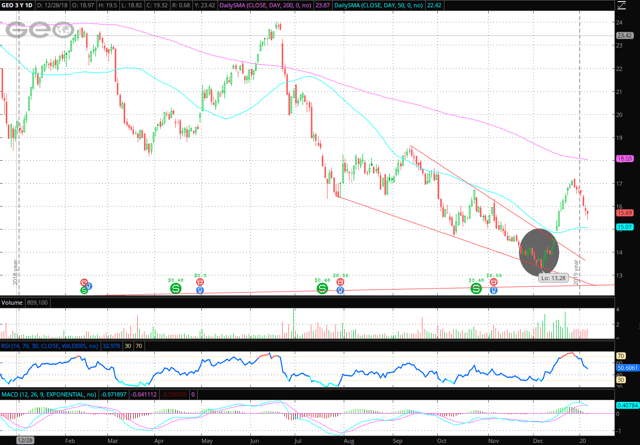 I wish all my calls were like this one! You won't find any positive divergence on these charts, but you will find clear signs that they've bottomed. Both stocks saw heavy volume buying on the latest rallies above the 50 day moving average while the current pullbacks are on very light volume. Good news for those long - the doji and hammer candlestick patterns made today is a sign that this pullback might be ready to reverse. If you didn't lock in those 11% and 14% yields a couple weeks ago - what are you waiting for? This is the first minor pullback in a new uptrend.
Storage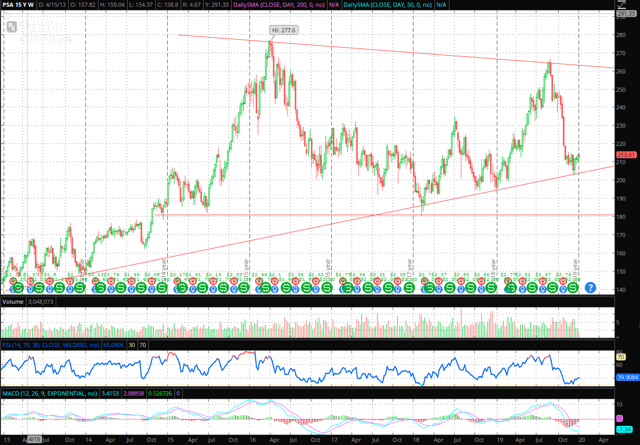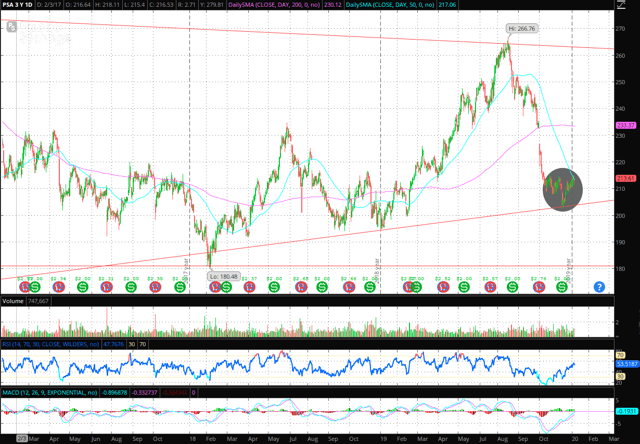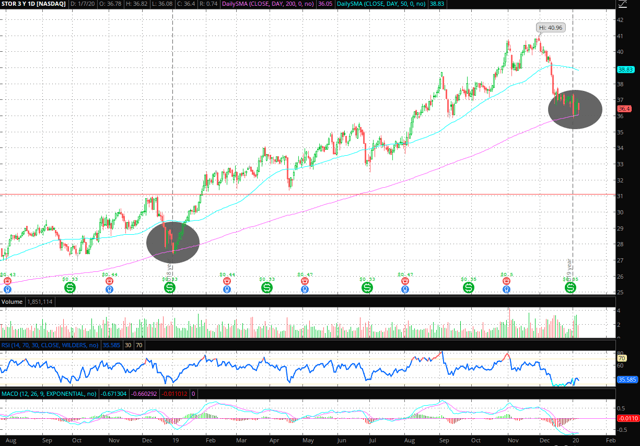 Storage is my least favorite group of the bunch but I wanted to include it because it's been hit hard lately over concerns of oversupply. Two of the larger players seem to be holding at major support. I included the weekly and daily chart of PSA to show just how big its consolidation has been. PSA is holding at a long term trend line, while STOR is finding support at it's 200 day moving average. Their dividend yields aren't as high as the other industries discussed here, and if the REIT carnage gets worse then they may pull back further to their horizontal support levels. However if you're a self-storage investor then these are details you want to look for to buy the dips!
MLPs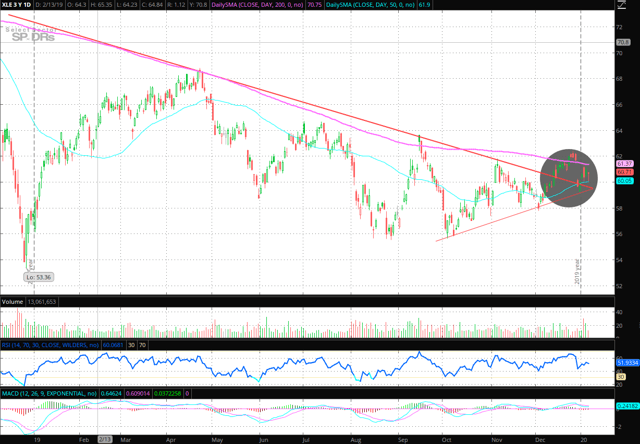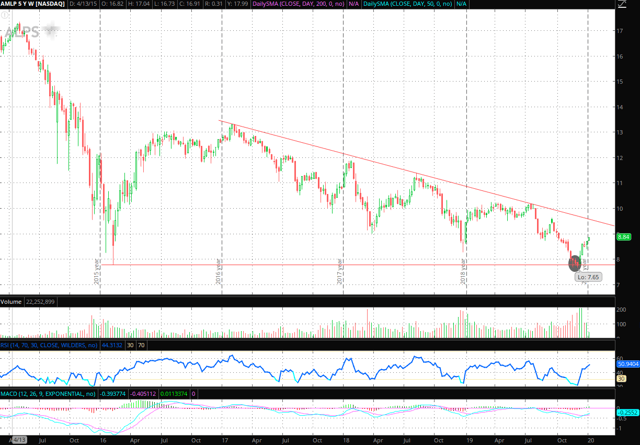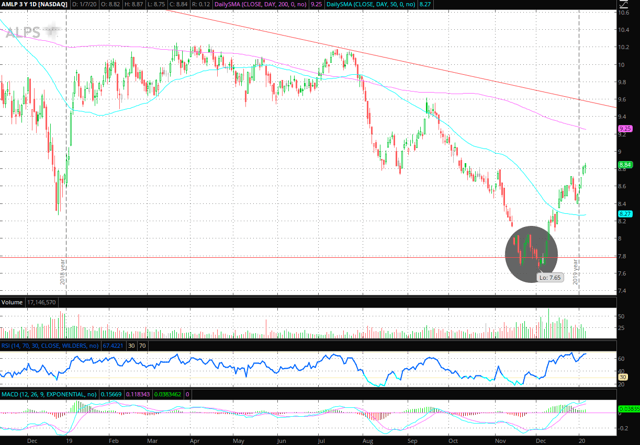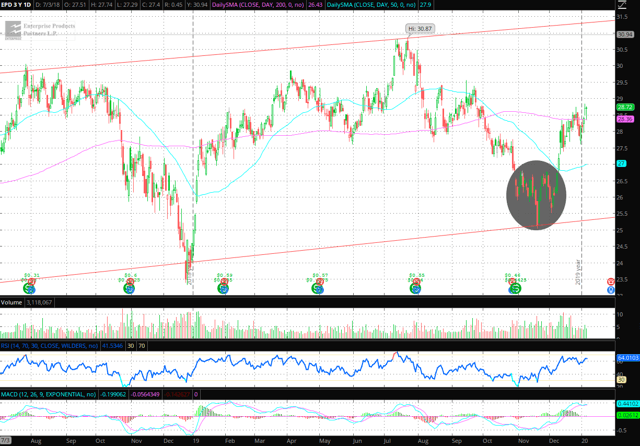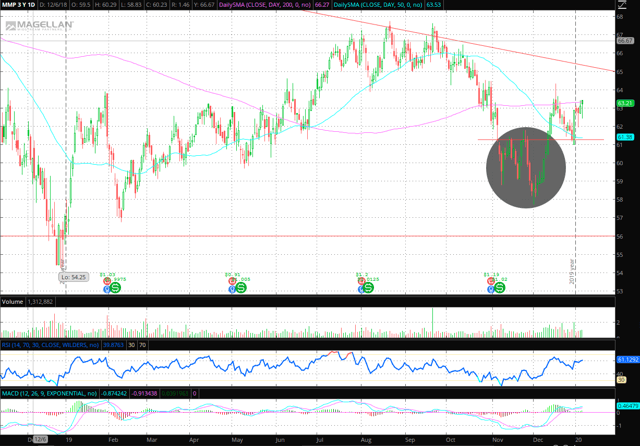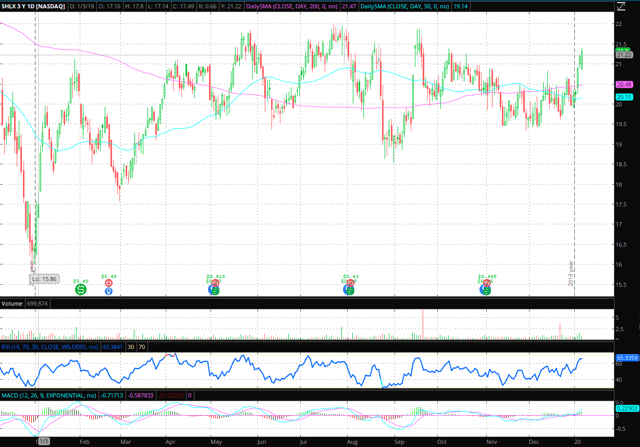 There's a lot to see here for MLPs. However, scroll slowly through this list and notice how on the right side of the screenshot, that most of these stocks bottomed at the same time. For the last 2 examples that bottomed in December 2018, notice how instead of deep declines into the recent pullback, that they were trading sideways and consolidated before ultimately rallying with the rest of their peers. That is actually a sign of strength, as relatively, they outperformed in 2019. 
The first chart is that of the XLE. If you want to give yourself the absolute best chance at success, you must start from the top. It is heavily weighted to XOM, which continues to be the biggest laggard, but the rest of the sector's major stocks have been trending higher (CVX, EOG, COP, etc.). Once XOM follows suit, XLE might finally enter a new uptrend. This has been the worst performing sector of the S&P 500 for the past couple of years and if it is now turning the corner, then that bodes well for the entire market. (Energy only makes up 4.36% of the S&P 500, but that lack of influence and it's high yield make it an excellent diversifier if the market corrects)
AMLP is the best proxy for the MLP industry. I included a longer term weekly chart so that you can see how the recent low coincided with the same price level of the panic bottom from 2016 (support). If AMLP is above this panic price level ~$7.75 when oil was trading at sub $30/barrel, nearly half of it's current price, then I want to be long. It has rallied about 13% over the past month, so waiting for a 4-5% pullback to buy would be prudent.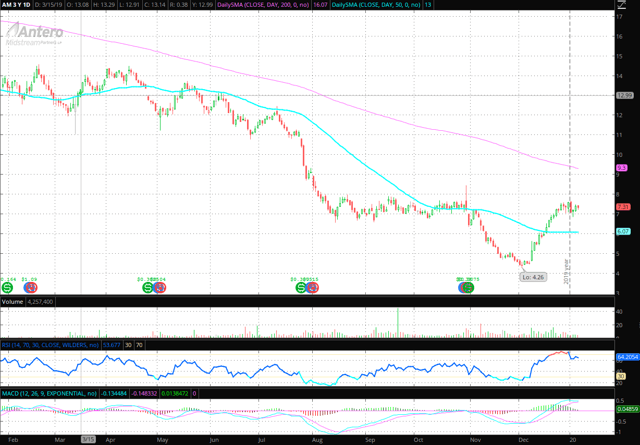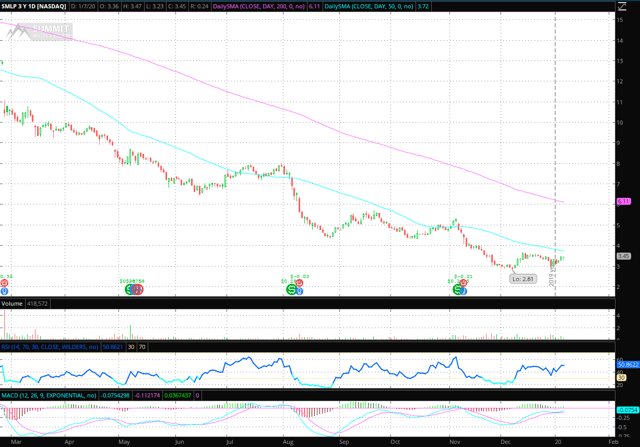 Since my belief is that MLPs are rebounding, I also wanted to find some lower quality, speculative names that could be home runs. I'm looking more in the Natural Gas MLPs for this. The charts of AM and SMLP, above, fit the bill. They have distributions that are covered by cashflow, seemingly fools gold for yields, and have had unique company level news that have exacerbated their price down even further in the latest selloff.
AM is up 68% from it's low after news of one of its early investors were selling out. At current prices, it pays around a 17% dividend yield and according to company presentations, is covered by 1.1x cashflow this year. They've restructured their agreement with their sponsor AR, and bought back $100m shares from AR in the low $5s. I'd wait for a pullback to time a better entry, closer to $6-7. 
SMLP is still in it's downward spiral after halving its dividend and being removed from an Alerian Index. However, even with the halved dividend,  the price collapse has given this stock a yield of 35%. The new distribution has a cashflow coverage of 1.75x according to company presentations, giving me confidence that it can be maintained if revenue stays the same. If SMLP can rally above $3.70, I'd be all over it. For now though, the high volume and industry turn around are the only positive signs on this spec stock.
Conclusion
Mall, Prison and Self Storage REITs and MLPs were all beaten down to end 2019. Prices typically bottom on the worst possible sentiment, and I think it's hard to argue that sentiment in these industries has been horrible. If you're looking for solid absolute returns in 2020 while locking in bottom of the toilet prices, then I think now is the time to scoop some poop. 
Disclosure: I am/we are long BPR, AMLP, ET, EPD, PAGP, SMLP, AM.
Additional disclosure: I wrote this article myself, and it expresses my own opinions. Any statistical data stated in this article is taken from publicly available sources, and is not my own. I am not receiving compensation for this article. I have no business relationship with any company whose stock is mentioned in this article.