Patience Is A Virtue - This Is The Way!
Please Note: Blog posts are not selected, edited or screened by Seeking Alpha editors.
Seeking Alpha Analyst Since 2012
Technical analyst. Will O'Neil mindset. Trader and Investor. Interested in trend following and mean reversion setups long & short.
Summary
The "timing the market game" is really a probability game.
Friday I wrote a blog about the highest probability outcome of the next market move is down. Talk about timing!
Today's reversal in the NASDAQ is a screaming sell signal.
Timing is everything! When I wrote the article yesterday, I had no idea that today would be the day the NASDAQ puts in a big reversal. Up almost 2% and closing lower is a big indication that institutions are starting to sell what they're holding (it's likely not retail selling at the top). When technicians say we can "time the market", we're not lying, but we're also just making the most educated guess based on probabilities. Math has served humanity well over our existence, and a lot better than an opinionated judgment of value known as pure fundamental analysis! Technical analysis lets the market decide what the value of a company should be, and it's the technician's job to read it and profit from it. 
Let's take a look at my favorite company: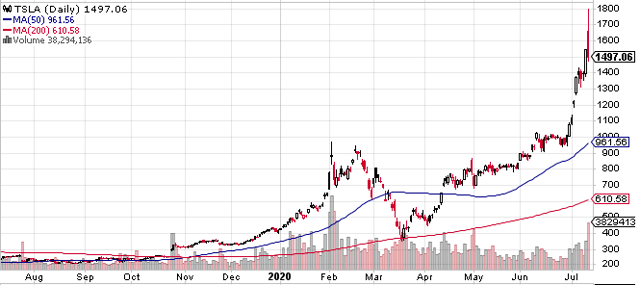 TSLA has absolutely silenced the haters this year. I find it funny how all the analysts who thought it was a Ponzi scheme are no longer talking! Yet, now the bulls are about to get it wrong too. Between bulls piling on and bears changing course, TSLA has finally seen the epic short squeeze we've all been waiting for! In fact, the short ratio for TSLA has not been this low since 2013. Now I've been touting Tesla (even on my personal LinkedIn) since then, but I've also been pretty good at pointing out when the stock is due to drop. The fundamental case for a steep decline is clear - the market cap isn't justified based on its sales. Couple that with a rapid increase in the amount of shares outstanding and the pay-day Musk is about to receive are adding billions in dilution to stockholders. 
The technical picture is where the timing comes in. Looking at the overall technical picture, TSLA's stock price was briefly 3x it's 200 day moving average. 2-3x is considered "bubble" status and wildly overvalued. Even in Tesla's 2013 heyday it only reached 2x the 200 day MA. Now today marked the largest one-day price swing (high-low) in TSLA's history plus opening higher and closing lower, and on a gap up after a long uptrend is considered an exhaustion gap. Probably one of the most profitable one-day patterns I know of! My price target is between $900-1000, and further downside will depend on where the market is at that time. 
Consider another poster-child of the "work from home" rally: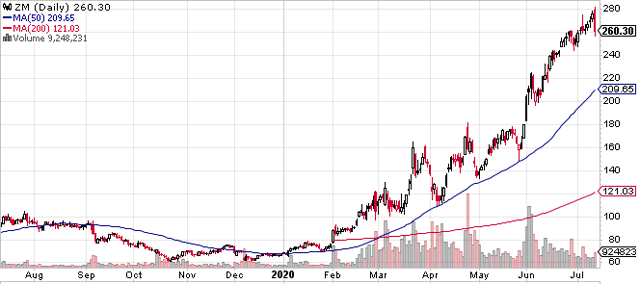 Zoom is the poster child and was one of the earliest benefactors of the work-from-home movement. No doubt, their business was growing like a weed and lots of companies are using their services. I normally love investing in companies like ZM: They have almost no debt, high cash, nice cashflow, high insider ownership, etc. But growing 50-150% q/q won't last forever, they have no moat (every big tech company has a comparable offering) and their valued at 78x sales. Clear euphoria! 
The technical picture is slightly better than Tesla's but arguably has way more downside. at 2.2x the 200 day moving average, ZM is in "bubble" territory even though it's not TSLA's 3x. Look for the 50 day moving average to be the first place of support around $210, but beyond that look out below around $100-180 depending on where the market is. 
I can go on about how semiconductors are the new Dow Jones Transportation Average in terms of technical analysis. Semiconductors are the new gauge of economic growth and investment! Theoretically, MU is the better sign of the semi cycle, but since they all look primed for a pullback I'll show this former "bubble" stock: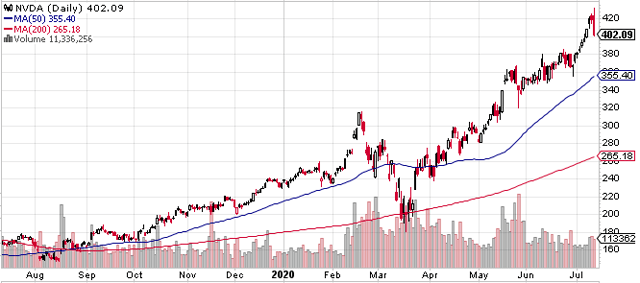 NVDA has taken the semiconductor industry by storm with its GPUs, and no doubt they will continue to be an industry juggernaut. But the market cap now rivals Intel's (no comparison other than revenues are 4 to 1 in INTC's favor), and growth won't stay above 40% y/y forever. 
The chart isn't as bad as the others. Price is only a mere 1.6x the 200 day moving average, which is actually normal when price is in an uptrend. However, the price typically pulls back at this point. And any stock that doubles in a few months is reason for concern, on top of being a bit overheated on the moving average basis. There's a lot of solid support for NVDA on the way down, but I'm eyeing how it does around $290 for starters. 
Conclusion
I could go on and show 100s of charts, but I think these 3 charts are more or less what I'm seeing across the board. Some "bubble" stocks will pullback harder than the others, but nothing is "safe". Would it really be so bad if the NASDAQ went back between 8000-9000? This correction will set the stage for the next several years, and the next major leg of the secular bull market. I'm an optimist, but the healthiest advances are slow and steady like we've had from 2009-2019. These wild and fast moves aren't good for investors and it's certainly not good for newcomers expecting to make money quickly. 
Have a watchlist of the stocks you want to own, and wait for them to come down to major support levels. Patience will pay off. 
This is the way!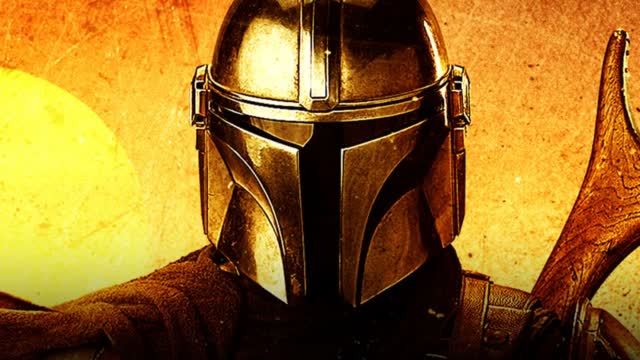 Seeking Alpha's Disclosure: Past performance is no guarantee of future results. No recommendation or advice is being given as to whether any investment is suitable for a particular investor. Any views or opinions expressed above may not reflect those of Seeking Alpha as a whole. Seeking Alpha is not a licensed securities dealer, broker or US investment adviser or investment bank. Our analysts are third party authors that include both professional investors and individual investors who may not be licensed or certified by any institute or regulatory body.