Summary
UK based company has unique patented terahertz based technology that can passively detect foreign objects on an individual
Virtual wall technology that is already being tested by DHS in Arizona and will be a top contender as part of US-Mexican border wall RFP recently released
Several other key complementary technologies for security/surveillance as well as for autonomous vehicles that could gain momentum
Solid financials with rapid growth rates that are expected to accelerate over the next few years as product portfolio gains recognition
Notable institutional investors who have recently increased their positions
The Company
Digital Barriers (DGB) is headquartered in London, UK and is traded on the London AIM Exchange. Digital Barriers was started in 2009 by a team who had prior experience in building an information security and intelligence technology services company called Detica that was acquired by BAE Systems for £531 in July of 2008.
Before I go into my thesis on Digital Barriers, I want to clarify for those not familiar with how stock prices are listed on the London Stock Exchange. They are listed in pence as opposed to pounds denomination. As of this writing, DGB.L is only trading for 29.00 pence. Put another way, think of dollar and cents. If the GBP and USD traded at a conversion rate of 1:1 this stock would be worth $ 0.29. Check with your broker as to how you can purchase a foreign equity in your account.
The stock has traded as high as £2.00 in it's 5 year trading history and it's 52 week high at the time of this writing is 50.00 pence. There is no specific event that I can point to as to why the weakness in the stock price. Timing for due diligence on this investment is ideal considering the value it is trading at.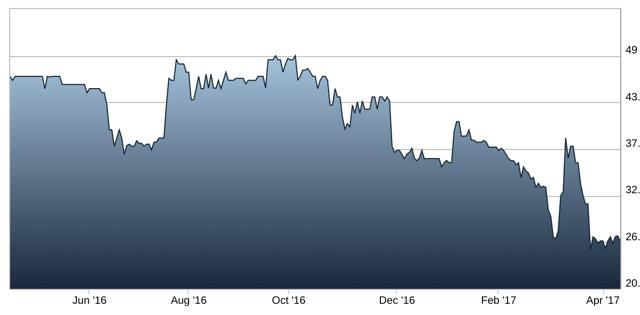 Digital Barriers acquired 14 companies from 2010 to 2013 in the security and surveillance industries that gave them unique intellectual property holdings. Since then the company has integrated these technologies into a very interesting solutions platform that is starting to gain traction globally. Overall their portfolio of solutions look like this:
Body Screening - "passive" inspection of people
Remote Ground Sensors - detection of people and vehicles in a monitored area
Video Distribution - solutions for body worn cameras, security surveillance and real time monitoring
Video Analytics - facial recognition, monitored zones and brand recognition technology
At first glance these solutions do not sound unique. Their video streaming technologies do tout high performance streaming in low bandwidth scenarios which is often needed. The video analytics tools could have some interesting use cases for security, autonomous cars and retail tracking. They do seem to have a big list of customers using their police body worn cameras in Britain and recently Careem (Uber-like company in the Middle East) just announced the purchase of their facial recognition software. However, the two components of their technology stack that jumps out as exciting are the ThruVis passive monitoring body screening product and their EdgeVis Shield solution.
Two of the most discussed topics in homeland security these days are the monitoring of soft targets and unsecured areas at airports and other venues as well as Donald Trump's push for security along the 2,000 mile border between the United States and Mexico.
ThruVis and EdgeVis Shield address these topics very well. Both solutions already have a compelling reference base to make me believe that Digital Barriers is about to see exciting growth over the next few years.
ThruVis
I travel extensively for work and attend professional sporting events all the time. Since the threat of terrorism emerged in our society I have been very cognizant of how vulnerable we are at these locations. Every time I walk into an airport terminal or approach a stadium I unfortunately see an easy target outside of the security zones. We have already seen terrorists take advantage the soft targets. Let's not forget these unfortunate examples:
September 21, 2013 terrorist attack at a shopping mall in Nairobi
November 13, 2015 attacks in Paris outside of a soccer stadium and at a concert hall
March 22, 2016 attacks at the Brussels airport
January 6, 2017 shooting at the Ft. Lauderdale airport baggage claim area
April 3, 2017 train station bombing in St. Petersbug, Russia
To completely secure a public area is an impossible task. Body scanning technology appears to have evolved over the years where it can effectively detect suspicious items on a person - if they are contained to the machine that is doing the inspection. If you choose not to use one of those machines and elect for a pat-down at an airport, that process has recently been updated by the TSA to be more invasive. In 2015 the Department of Homeland Security did a study that determined the standard process was not effective in finding guns or other form of weapons. The new process announced on March 3, 2017 directs TSA agents to be even more aggressive in personally inspecting people. Pat-downs at sporting events are nothing more then a quick check, but clearly the security inspectors have no interest in feeling up thousands of people properly to find weapons prior to the game.
Reading about Digital Barriers' ThruVis technology made me realize that they hold a very unique capability (and patent) that can greatly improve security monitoring in a public area. I also believe this technology will completely do away with the pat-downs. ThruVis is a terahertz imaging technology that can detect " objects on the body, made of almost any material, from metals, to ceramics, plastics, currency, liquids, gels and powders - even under multiple layers of clothing". Digital Barriers also claims that because this is a "passive" sensor technology, it is completely safe. This technology was originally developed by the European Space Agency and the patent was granted to Digital Barriers for their security application.
On March 28, Digital Barriers issued a press release stating that the ThruVis technology was able to monitor up to 1,000 people an hour during peak traffic time. Digital Barriers also claim "ThruVis has again achieved a 100% detection rate in blind trials with government agencies in Asia Pacific". Assuming these metrics to be valid, this technology should be deployed at all airports, train stations, sporting events, shopping malls and any other high traffic areas where additional monitoring is deemed necessary. Digital Barriers is already installed at many locations around the world, including with the TSA in the United States and has been used at some key national interest events in early 2017 within the United States. It is my understanding that typically this technology is not displayed for the public to be aware of its deployment.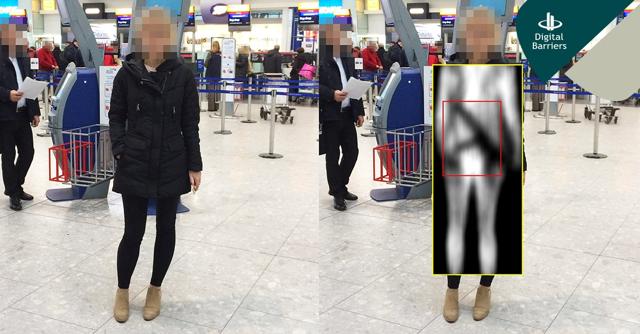 (source: Digital Barriers)
I am not a security expert. I am however an expert on being a traveler, spectator and one of the masses at any given time. Knowing what the threats we face today are, this technology represents the ability to protect us all in a way that no amount of personnel could achieve on it's own. Digital Barriers is the only company that provides this terahertz scanning for security purposes.
From an install base perspective, Digital Barriers does not specifically identify in most cases where the ThruVis technology is deployed, but if you research enough, you will see various references to Asia, the Middle East and specifically a relationship with the TSA in the United States. Also there is a very interesting use case of the technology being installed at the Two Rivers Mall in Nairobi, Kenya which is the city where a terrorist attacked occurred at another mall in 2013. Specific to the TSA, in late 2016 Digital Barriers issued a press release that stated they are working with the agency "to enhance the capability of the Group's ThruVis solution for the detection of objects such as weapons and explosives concealed under clothing." An official partnership with the TSA is a very big endorsement.
My initial excitement of Digital Barriers as an investment idea initially was because of ThruVis as it seems this technology will be incredibly disruptive in the security field and provides a technology that no one else can sell. However, as I started researching more about the company I learned about their perimeter security technology. This solution already has a foothold with the US Department of Homeland Security and could very likely play a part in the new border wall being driven by the Trump Administration. I will discuss this next.
EdgeVis Shield
Donald Trump's election in the United States was driven in large part due to his policy platform of securing the US/Mexican border. He touted building a "big beautiful wall". In reality, a large part of this geography will be very difficult to put a physical structure on it. Some of the areas are so desolate and dangerous to pass that the expense of putting a wall in those locations will prove not to be worth the investment.
Digital Barriers' EdgeVis Shield solution consists of a video surveillance and perimeter intrusion sensors. At first glance EdgeVis does not sound to be a game changer. No doubt there are numerous companies whose technologies fall under this category. Digital Barriers does claim their real-time video surveillance uses 60% less bandwidth. In remote areas having this kind of capability will be extremely important.
The other interesting component to this solution are their ground sensors. According to Digital Barriers, the technology is a low cost "seismic sensor to detect activity. The sensor is more robust and smaller than components traditionally used for unattended ground sensors." The distribution of these low powered sensors (they easily screw in the ground) create a mesh network that can detect a person or vehicle at distances between 20 and 70 metres, depending upon the ground type, in addition to detecting underground tunneling.
The key from an investing standpoint is that the company already has an established working relationship with the US Border Patrol. Digital Barriers is having the Border Patrol test the technology in Arizona. The technology itself was originally deployed in Afghanistan and has been deployed elsewhere globally.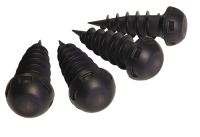 Digital Barriers seismic sensors
The DHS Request for Proposal along with several public comments by government officials have stated they are looking for technology solutions to complement any physical wall. In addition to the areas of challenging terrain, the Federal government also has a huge procedural and financial problem in Texas as most of the border lands in that state is privately owned. They can try to purchase all of that land via eminent domain or they could deploy a low cost virtual wall, even if in the interim, to quickly secure that part of the country.
In recent months there have been articles discussing the concept of a virtual wall and EdgeVis has been referenced as a likely beneficiary of such a procurement. I have seen estimates that a wall project could cost up to $20 billion. If Digital Barriers does indeed win any portion of the technological part of this procurement, that award could dramatically dwarf the estimated £35 million they are on course to make for FY 2017.
Financials
Fiscal Year 2017 ended on March 31 and Digital Barriers is expected to report £35 million. This is a growth of approximately 60% over FY2016 (£21 million).
| | | | | |
| --- | --- | --- | --- | --- |
| Fiscal Year Ends on 3/31 | 2017P | 2016 | 2015 | 2014 |
| Total revenue | £35m | £21m | £12m | £19m |
| Normalized income after tax | TBA | (£6.67m) | (£14m) | (£13m) |
Per the above, their revenue has been somewhat stagnant over the last 3 years, but FY2018 should be the beginning of a period of strong growth acceleration. On March 24 the company had announced £14.5 worth of expected business for FY2017 will be delayed into FY2018. Digital Barriers deals are now rising in the food chain of size and complexity therefore they are experiencing a longer sales process. Even though this represents a delay on their guidance (which would have had their FY2017 revenue grow 100%), it does have them start FY2018 immediately with over 40% of total revenue they brought in for FY2017.
Like any start up, Digital Barriers is not yet profitable, with FY2016 having a deficit of £6.7 million, with an expected smaller one for FY2017. Based on their trends, we should see them hit profitability for FY2018. Last reported cash on hand was £3.5 for mid FY2017 and they also established a revolving line of credit worth £10m to help them fund their growth. After being in business since 2009 and incorporating 14 acquisitions between 2010 and 2013 we are now seeing this strategy take hold with some incredibly impressive wins on technology that appears to be ideal for the global security requirements that are out there.
As of March 31, 75% of the stock was owned by their top holders, including Soros and large European asset manager GAM (both recently filed notices of additions to their DGB holdings), so the free float on this equity is tight. If my thesis is right and this company continues to grow as expected, and it also starts gaining recognition by the larger investment community, we should see the supply and demand work in the favor of Digital Barrier's investors.
Conclusion
I am not a professional trader nor an insider in the homeland security field. However, Digital Barriers was introduced to me and initially I was skeptical. I did do some research which then lead to a much deeper and continued interest in this low profile and very inexpensive stock. Their technology hits two major areas in the homeland security field that we know are in hot demand. As stated before, nowhere can I find ThruVis competition. I have no doubt soft target solutions will be the next wave in global homeland security investment. EdgeVis Shield is in a more crowded market, but based on their tested installments in Afghanistan and elsewhere and current pilot program with DHS in Arizona, they seem primed to take advantage of the large pie that Donald Trump is wanting to hand out to secure the southern US border and perhaps elsewhere in the world. Any win from that effort could very quickly lead to explosive revenue growth for this company. I see Digital Barriers as a very inexpensive and under the radar investment that could see big growth in the next few years.
I welcome critique of my thesis on this company, especially from people knowledgeable in the homeland security field to provide their perspective on Digital Barriers and the industry.
Disclosure: I am/we are long DGB.