Already testing its 52 week high, OTCPK:AWSL looks ready to move up further.
After 4 plus years of diminishing losses, AWSL posted a 2014 Q1 profit of .01 per share. A significant milestone for an OTC company.
A renewable energy plant developer, AWSL derived most of its revenues in the past 2+ years from developing solar plants in Ontario Canada. Under 20 year contracts they sell the power generated to the Ontario Power Authority at very favourable rates from a low of .28 KWH to 73.9 KWH. . A number of these plants have been sold to Energy Asset managers for over $1 million per Megawatt.
According to a recent Company PR, they are set to begin construction on a 20 Megawatt plant in South America after signing a 50 Megawatt Power Purchase Agreement with the Republic of Ecuador.
As you can see by the chart, the stock is moving up nicely. This stock was once promoted heavily before any sales, contracts or installation were landed. The stock touched $4.84 on huge volume. With the recent profitable quarter, I would expect the company or its shareholders to start promoting its success. I do not think this will be an OTC company much longer.
At .35 currently, I can see $AWSL north of $1.00 this summer. As with all OTC stocks there is a high level of risk. But considering I haven't seen this company take any moves to dilute the shareholders in years and actually issued two stock dividends, I think this, along with the consistent growth, sets this company apart from many other OTC companies.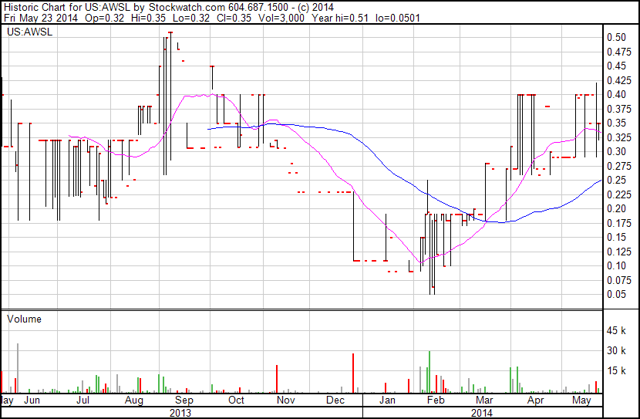 Disclosure: I am long AWSL.
Additional disclosure: Disclosure: I am long 50,000 shares of AWSL and expect to add to my position in the near future. I wrote this article expressing my own opinions and I was not compensated by anyone for the writing of this opinion.