Publicly accountable entities have been reporting under the International Financial Reporting Standards for a year now in Canada and so it give us an opportunity to look at the impact. One good example is CapReit. The company's full name is the Canadian Apartment Properties Real Estate Investment Trust ("CapReit"). It owns interests in multi-unit residential rental properties, including apartments, townhouses and manufactured home communities ("MHC") located in and near major urban centers across Canada. CapReit is listed on the Toronto Stock Exchange under the symbol "CAR.UN" with its head office located in Toronto, Ontario, Canada.
Beginning January 1, 2011 CapReit prepared its consolidated financial statements in accordance with IFRS. As disclosed in the company's annual report for the year ended December 31, 2011, CapReit "considers its income properties to be investment properties under International Accounting Standards ("IAS") 40, Investment Property ("IAS 40)", and has chosen the fair value model to account for its investment properties in the consolidated financial statements... CapReit's investment properties have been valued on a highest and best use, but do not include any portfolio premium that may be associated with the economies of scale of owning a large portfolio or the consolidation value of having compiled a large portfolio of properties over a long period of time, many through individual property acquisitions."
As a result of the adoption of this accounting policy under IFRS, CapReit recorded the following fair value adjustments in income in fiscal 2011 and 2010 in the amounts of $231.338 million and $21.858 million respectively for a total of over $250 million. These amounts were recorded as an increase in operating income with the corresponding effect on retained earnings. The REIT's operating income is generally less than $100 million per year.
There are other impacts on the balance sheet and income statement which I will not look at here. But there are a couple of other items that should be considered. Firstly, the fair value adjustment ignores any transaction costs which could be substantial. Secondly, the calculation of fair value assumes highest and best use. High occupancy rates, etc.
Although under IAS 40 no consideration may be given to portfolio premiums, they also ignore what may be referred to as portfolio discounts. Real estate is not as liquid as a portfolio of marketable securities. Any attempt to sell a large portfolio of properties may have the effect of depressing prices below fair value. But under IFRS no discussion around this point is required. The element of accounting conservatism has gone by the wayside.
The point of all this is that under IFRS, investors need to review the financial information carefully and decide whether or not the financial results as reported have been influenced by changes in accounting principles or policies. For example, can the REIT use the additional retained earnings to increase its borrowing capacity given the effect on the trust's financial ratios? As to the impact on stock prices, that is a more complex issue beyond the scope of this note. But the reader should remember, that the adjustments to fair value accounting policy will results in write downs in declining real estate markets. And one has to wonder whether management will be as quick to write down assets as they have been to write them up.
CAP REIT
STOCK PRICE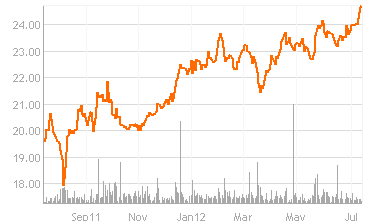 Disclosure: I have no positions in any stocks mentioned, and no plans to initiate any positions within the next 72 hours.