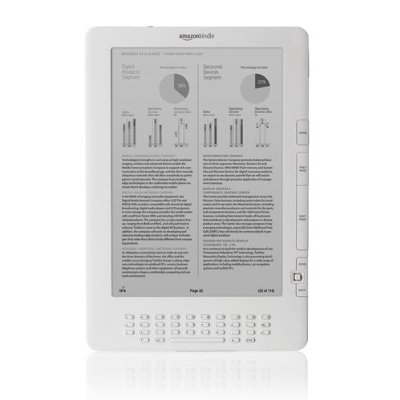 The price war for e-readers just got more intense.  Amazon today announced that it would be launching a new version of the Kindle, which it claims is smaller, lighter, faster, and with 50% better contrast.  However, the most astonishing feature of the new Kindle is the price tag.  The new version starts at $139 for the WiFi only model, and $189 for the WiFi model with 3G enabled.  This would make the new Kindle the cheapest e-reader on the market, beating the Nook's price of $149.  Amazon recently stated that it's e-books sales have been on a rise, and for the first time in its history it sold more e-books than physical books.  I believe this is a great opportunity for the company to gain market share over rival e-readers as the prices for these devices have been in free fall.
E-Books are a rapidly growing market as more and more people prefer the convenience of an e-reader over carry a hefty book.   Amazon has been losing share in its e-reader market to competitors like Barnes and Noble's Nook, and Apple's iPad.  Although the iPad's iBooks app has got great reviews recently, it lacks the main feature that most e-reader enthusiastics look for, and that is the e-ink screen.  Apple's screen has received a fair amount of criticism as it is very difficult to read the device under sunlight.  Thus for Amazon to list an e-reader that is 72% cheaper than an iPad, it won't cause second thoughts in the minds of e-reader shoppers on which one they should get.
Last week Amazon posted EPS of .45 cents a share, missing the consensus .54 cents a share for the quarter.  This has caused the share price to fall off its all time high by 22.6%.  EPS for Q2 2009 were .32 cents a share, and are still up .13 cents year over year, a gain of 40%.  With a potential gain on market share with the price of its new device, Amazon should be able to beat earning estimates for Q3 and Q4 when holiday season begins and $139 Kindle would serve as a perfect gift.
Amazon is also at a strong support level, making it a good entry point for the stock
Disclosure:
No Positions