The United Stated Dollar has been in peril against the Japanese currency this year, shedding 7.8% in value since may.  Currently trading around 86.50, the Yen has rallied to levels seen during December 09, December 08, and before that in May of 1995.  A lot of discussion has gone into exactly why the Yen has been rallying so strongly against the dollar, with some economists predicting it was caused due to the uncertainty of the US economy.  Others argue it's because of new regulations being introduced Monday restricting the amount of leverage that could be used in foreign-exchange markets, causing retail investors to unload their positions.  Whatever the reasoning be, the dollar has weakened to a 20 year lows against the yen, but this time forming a perfect bottoming formation referred to as a triple bottom.  A triple bottom is confirmed if a security bounces off a support level for the third time, and essentially breaking its resistance level, causing resistance to turn into the new support level.
 
Here is a chart of USD/JPY showing the triple bottom formation and the downward trend required for the reversal.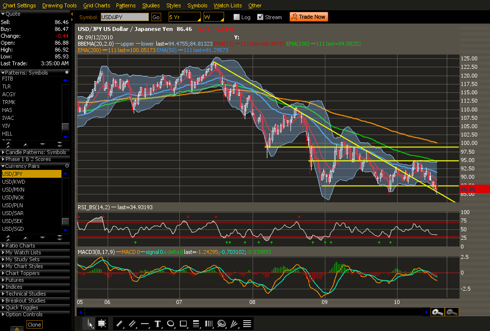 As you can see above, the USD/JPY is at a strong support level.  Any indication of a bounce at this level, could weaken the yen significantly in the next few months.   You could also see the downward moving trend line formed at the top during mid 2007 also acting as support at this level.
Chart provided by Think or Swim