Stock has rallied 40% from the lows
On March 30th, I emailed a hedge fund that were prominent in their short-selling of Tesla (TSLA) and stated that June would be a low or turning point in the stock. The stock price has since rallied through June and is up 40%, however the short squeeze may just be beginning.
At present, Tesla has 126m shares floating and 30% of that is now in short positions. The June rally is now eyeing all-time highs in the stock and getting above that level could start to cause pain for short-sellers and lead to a blow-off top from short liquidation. 
Is a capital raise on the way?
Investors are well aware of the bad news and negativity that has surrounded Tesla in recent months. Cash flow problems, executive turnover, worker layoffs, and fatal accidents have all cast a cloud over Tesla's future. 
The sell-off into April saw Elon Musk criticized for missing an opportunity to raise capital when the stock was trading near the all-time highs. The stock is now trading back at that same level and Musk, without the hubris that saw him goading short-sellers in the past, has likely had some conversations with investment bankers about the options and it is possible that this short squeeze is preceding a fresh capital raise. Musk continues to insist that he won't need to raise further capital but it's hard to see how they can go forward without it. 
Telsa's free cash flow was a negative $3.5 billion last year, largely caused by capital expenditures of $3.4 billion. For the year ahead, the company expected capex to be slightly larger than last year, however this figure was trimmed in the recent earnings to $3 billion. There is also $1.15 billion in maturing debt over the next 12 months, which will need to be funded. If we anticipate $750 million in capital expenditures in the first quarter of next year, Tesla's cash requirement could be up to $5.5 billion through March 2019. As the company has one of the higher debt-to-equity pictures of the automakers, it is likely that an equity raise would be more appealing. Conveniently, for Tesla, the 17% appreciation of the stock in June has made the dilutive effects of such a raise less threatening, and if we do see the stock push through the all-time high, a fresh capital raise could put Tesla in a strong position to execute its growth plans.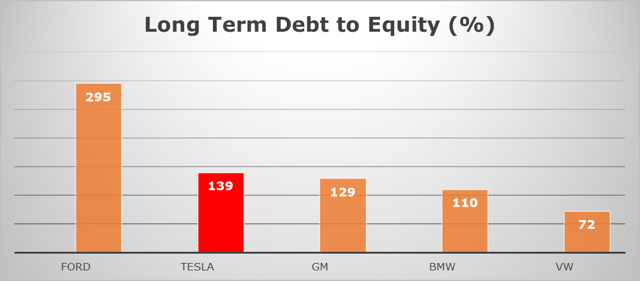 (Source: Reuters)
Tesla previously raised equity in 2016 and 2017 with only a small dilutive effect on the stock. 

(Source: Forbes)
If Tesla were to sell another 10 million shares around the highs of $380, it would bring in $3.8bn and would see a dilution close to the 2016 figure of 6%, which would take the stock down to around last Friday's closing of $358. If Tesla were to undertake a strategy similar to this it would leave the stock trading at a healthy price and remove some of the clouds over the company's future. Some analysts have talked of a need for $10 billion through 2020, possibly through a combination of debt and equity, so the company's next earnings statements will be a vital clue to the path forward.
Musk's wakeup call and restructuring efforts
The stock rally in June has followed recent comments at the annual shareholder meeting that the company would be profitable in the third quarter of this year. Elon Musk also noted that it was "quite likely" that Tesla would hit their production target of 5,000 Model 3 cars per week by the end of June. In its recent earnings release it was noted that 5,000 units would be a foundation to then aim for 10,000 per week. Elon Musk emailed employees on Friday calling for "radical improvements" to hit the 5,000 target, so there may be a slight lag but the company is on the right track. Despite its production issues, Tesla has seen strong gains in market share to become the market leader for mid-sized sedans last month. Musk also confirmed that Model 3 test drives should be available in "almost all stores in North America" by the end of July.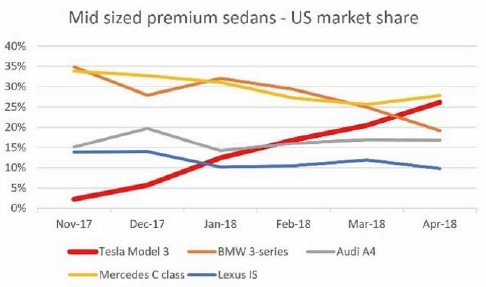 (Source: Tesla)
In a further statement of its restructuring efforts, Tesla announed in early June that it was laying off 9 percent of its workforce and it's looking like the negativity and criticism that Elon Musk faced in recent months was a much needed wake-up call to tackle the efficiency and profitability issues, and to steady the ship over what will be a crucial few quarters for the company. Despite the announced job cuts, Tesla will still have net hiring for this year of around 4,000 jobs.
Tesla's restructuring efforts need to focus on the company's negative operating margins, which currently trail the auto industry and have put the commpany at risk. If we see a turnaround in this and a profitable company in the third quarter, as promised, it may be the beginning of the end for Tesla's rivals.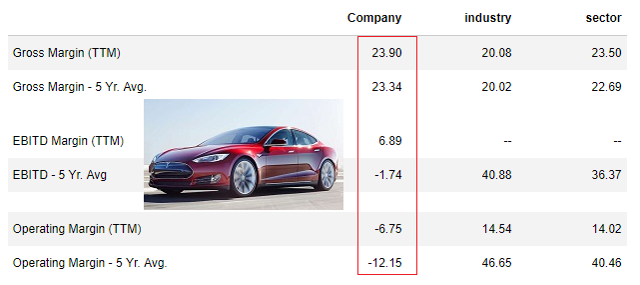 (Source: Reuters)
Could a Chinese Expansion Change The Game?
The Chinese government announced recently that it would remove foreign ownership caps for EV ventures this year. China currently limits the size of stake that a foreign company can hold in joint ventures. 
The move by China could be significant for Tesla as it started negotiations for a Chinese factory last year, however the deal stalled as China didn't want the facility to be fully owned by Tesla. A Chinese factory would allow Tesla to avoid import tariffs, which would be a possible game changer and a competitive advantage over Telsa's U.S. competition if the trade wars between the U.S. and China were to escalate further. 
The recent negativity surrounding Tesla has all been focused on car production, whilst investors ignore the potential for energy, batteries, and the "first mover advantage" that Tesla is gaining through their related activities, such as the data they are recording on autonomous driving. Tesla has now installed 1GWh of energy storage worldwide and economies of scale have seen the price of batteries falling, which brings down costs for the power segment. During the recent shareholder meeting, Elon Musk stated that Tesla would soon produce more batteries at the Nevada gigafactory than all other electric vehicle (NYSE:EV) companies combined. Whilst other car companies can pay lip service to their goals of electric vehicles, only Tesla has committed to the battery scale which can see real EV traction in the years ahead. If Tesla can gain a foothold into China with a new factory, its U.S. and European competitiors would find it hard to keep up.
Trump car tariffs look inevitable
Rumours continue to circulate that President Trump is planning to initiate tariffs on German car imports; another move that would be highly beneficial to the U.S. auto industry. The rumours come on the back of a recent investigation which was started by the U.S. Department of Commerce to determine whether foreign auto imports are a threat to U.S. national security. As automobiles are becoming more data-driven, it is highly likely that there will be an excuse for import tariffs that may match the 25% placed on steel.
Commerce Secretary Wilbur Ross commented at the announcement of the investigation that, "There is evidence suggesting that, for decades, imports from abroad have eroded our domestic auto industry".
Volkswagen delivered 148,857 units to U.S. customers for the year, which was a gain of 10%. The company report highlighted that the Audi Q3, Q5, and Porsche Panamera were the fastest growing models. The Q3 retails at around $35,000, which is the same as the Tesla Model 3, so  it's not hard to see how Tesla could gain market share and eat into the profits of German manufacturers if the tariffs come into play. European policymakers would likely hit back with their own tariffs, especially as Tesla is starting to outsell German cars in Europe, so this would be a good reason to push forward with the plans for a Chinese factory, to gain an advantage in China's growing automobile market.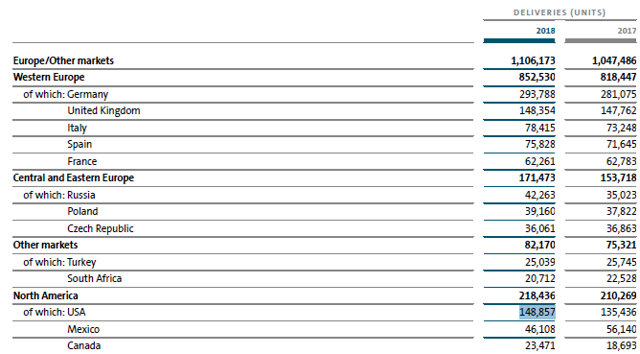 (Source: Volkswagen)
Conclusion
The recent stock rally in Tesla is being seen as a relief rally for a beleaguered stock, however my guess is that we may be about to see a short squeeze higher. The Nasdaq index closed at an all-time high for the week so market sentiment is good and as Tesla eyes it's own all-time highs, the 30% of the float that is shorting this stock, may be about to feel some pain. A blow-off rally through the highs would set up a nice opportunity for Tesla to raise further cash without harming their current shareholders too much. With some much needed capital and a more mature approach following their restructuring, Tesla could emerge in a strong place to fulfill its ambitious growth plans and put serious distance between itself and the other manufacturers that are pursuing electric vehicles. 
Disclosure: I am/we are long TSLA.
I wrote this article myself, and it expresses my own opinions. I am not receiving compensation for it (other than from Seeking Alpha). I have no business relationship with any company whose stock is mentioned in this article.