This article was posted on my blog just before scheduled listing on Nasdaq ( ofcourse we now know it couldnt be listed for few hours) All you wanted to know about Facebook future prices but didnt whom to ask #fb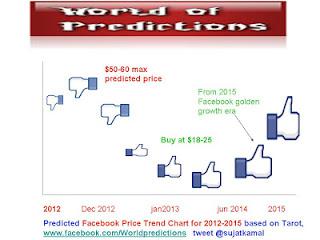 Astrology of Facebook shares based on Tarot, horoscopes of Facebook firm, Mark Zuckerberg and other special astrology techniques
Whats the big idea that could open new and huge source of revenues for Facebook. Read at the end for hints?
How and when to trade and invest in Facebook shares for short, medium and long term
1. Day of Listing: Buy or sell? AS a day trader SELL as Facebook shares likely to hit day's lowest point in afternoon. we expect this could be between $39-41 and may close around 44-45
Week after listing-May 21-25 Facebook shares are predicted to correct sharply around mid week after listing. Hence maintain sell positions taken on listing day. While share prices are not predicted using these techniques, they could go below $35 between 22-24 May
3. Years 2012 up-to 2015: ( accumulate between $18-25 in 2013)
According to research quoted on USAToday.com IPO shares generally drift downwards in months after listing with very few exceptions. FB could be slight anomaly in that in next 10 months its shares could see new lows and then new highs (over $55-60).this would be consistent with an impending unwinding of Euro zone affairs and global economic crises in mid tot late 2012
Both horoscope of Facebook and Mark Zuckerberg shows Facebook valuation as indicated by its share value will go down significantly before it really takes off in a few years. Obviously as events have unfolded over last decade it is truism to say horoscope of firm and MZ are very very powerful in a financial sense. However we make the following predictions -since horoscope is not a given constant but a changing kaleidoscope of events based on planetary transits and planetary periods of subject investigated superimposed on natal birth chart. Based on such a technique we believe and predict FB shares prices will touch all time low in 2013 and early 2014. This is coincidentally and especially year 2013 predicted as year of tough times for Apple (also till Sep 2012) also. Hence these negative developments could be part of unwinding global phenomenon. FB specific issue that could strike at its valuation may be one or more o f these factors
Facebook would be under public scrutiny more than ever and under pressure to generate revenues to match its high share prices
FB could face lawsuits from different quarters- and this would be continue to be a recurring problem
FB will face greater competition from social networks like Google plus
But global phenomenon could be driving factor adding to existing misery from FB specific sources. hence we recommend waiting and then accumulate for long term investing at $18-25
Both FB and Mark Zuckerberg horoscope shows great unfolding of value-a golden period of growth from approx 2015 onwards which may come from these factors
Research and new technologies/strategies to monetize FB activities which must be under development now for some years will come on stream and start showing results
Global economic situation would have turned for the better-benefiting FB as well
FB could undergo biggest single step overhaul in looks and offerings/apps etc around 2015 making for a blockbuster social networking site
It is likely that corporate structure of FB under market scrutiny and market pressure will undergo qualitative change and be more in conformity with demands of street and corporate culture. MZ horoscope is one of creative genius but difficult to find features of Corporate Leader heading a Fortune 500 company. MZ may be better off retaining his voting power but letting others run the company and intervening in strategic decisions only- a balancing which may be difficult. However since of horoscope of both Facebook and Zuckerberg shows a period of great growth astrologically from 2015 onwards means most problems would be handled ably by FB board
The Big Idea? Facebook could rake initially millions and over time much more by going revolutionary in its service offerings.Its terms of agreement with users would need major change,FB would need to take a big leap culturally to be able to offer service that is at heart of possibly each and every being
Disclosure: I have no positions in any stocks mentioned, and no plans to initiate any positions within the next 72 hours.