Because real estate private equity funds typically require minimum investment between $5 and $20 million, the option of investing in institutional quality real estate has been unavailable to individual investors. However, similarly to institutions, individual investors are hard pressed to navigate between low-yielding bonds and high-risk equities.
As a result, retail investors (like institutions) are seeking greater exposure to non-correlating alternative investments that provide consistent income with low volatility. High-quality income producing real estate has emerged as a favorite among retail investors, but the question for many investors is: "how should I get my exposure to investment real estate."
Since 2002, individual investors have flocked to non-traded REITs to the tune of $81.3 billion (source: Blue Vault). By definition, the key benefit of non-traded REITs is that they are not yet publicly traded. Subsequently, they offer the reasonably predictable cash flow without the volatility incumbent in the public markets. However, as noted by an Investor Alert by FINRA, non-traded REITs come with issues including high fees (up to 15% upfront), little or no liquidity, conflicts of interest and a lack of transparency.
Faced with the prospect of low-yielding bonds, high-risk equities, and the issues of non-traded REITs, where does the average investor turn when it comes to real estate? A bulk of real estate private equity funds (core open-end commingled funds) such as the Morgan Stanley Prime Property Fund and AEW Core Property Trust, focus on and are built to deliver the traditional benefits of real estate ownership; income, low-correlation to other assets and a hedge against inflation.
The Next Big Wave for Real Estate Investors
Many real estate leaders have imagined the next generation of real estate to come from a way for individuals to invest in real estate private equity. That time has come. One uniquely innovative new product promising to deliver direct real estate ownership to individual investors with the underwriting transparency and fee structure of inherent in institutional structures is Versus Capital Multi-Manager Real Estate Income Fund (MUTF:VCMRX).
This differentiated new product takes individuals out of the corner of non-traded REITs into the world of institutional real estate private equity funds. Versus Capital provides a differentiated platform in which the retail investor can participate in diversified, non-correlated, income producing institutional quality real estate. Versus Capital is a multi-manager mutual fund that invests with some of the most highly sought after private equity funds. Structured as a 40-Act mutual fund, Versus seems to be more investor friendly and features no upfront load, daily NAV pricing, quarterly liquidity and 1099 tax reporting. By assembling a diverse group of institutional funds, Versus seeks to provide a sound "margin of safety" by investing in a focused cross-section of commercial real estate managed by some of the best real estate fund managers in the world.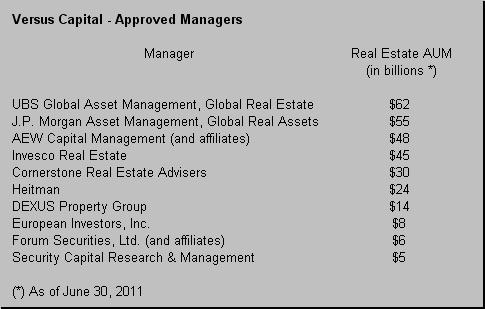 This multi-sector and multi-disciplined approach combines the best of institutional asset managers with broad-based diversification that includes income and value added strategies in multiple asset sectors (multi-family, office, retail, industrial, hotel, storage, mezz). Here is the targeted asset sector model: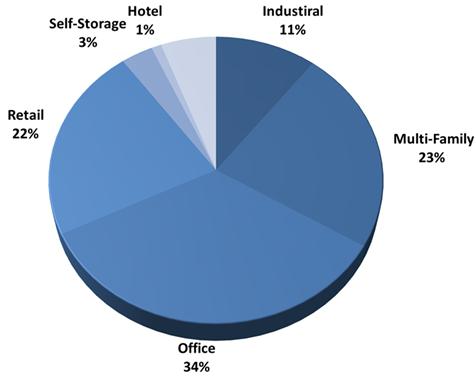 The Versus Capital is also geographically diversified and the risk-averse fund was developed with the core strategies designed for investors seeking income, diversification, inflation protection and attractive risk adjusted returns.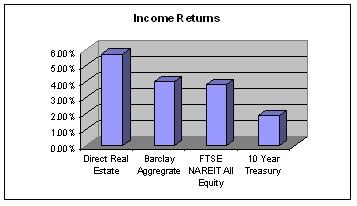 Ultimately, this wave of opening up institutional fund managers to the retail market lies with the success of the Versus fund and the willingness of investors to embrace a new structure. Time will tell but it looks like this offering is well aligned with the investors' investment objectives of stability, income, and growth (in this order) with a liquidity feature that helps investors sleep well at night.
Versus Capital is targeting a 5.5% dividend and the mutual fund can be viewed on this Bloomberg link.
Disclosure: I have no positions in any stocks mentioned, and no plans to initiate any positions within the next 72 hours.