How do you make money in the stock market?
That's a question I'll let the father of value investing, Benjamin Graham, answer. Because he most certainly did when he said that:
"The defensive investor must confine himself to the shares of important companies with a long record of profitable operations and in strong financial condition."
In other words, invest smart by putting your money into companies that know how to grow it.
That idea – and so many others Graham not only professed but also lived out – has long-since been a source of inspiration, motivating me to make the most of my own portfolios…
And to offer analysis and guidance to strengthen yours as well.
My main goal in this is to run a fundamental REIT research platform that allows investors to know what they're looking at, offering straight-forward assistance to confidently separate fact from fiction and the wheat from the chaff.
To be clear, this requires a firm understanding of real estate investment trusts to begin with. Although a program that's built to select the highest-quality examples and screen them for value?
Well, that's hardly help I'm going to pass up.
Our Latest Big Announcement (and It's REALLY Big)
iREIT and its affiliates have worked for quite some time now to design a system exactly like the one described above: something investors – including ourselves – can go to, typing in numbers and seeing how they add up.
If that sounds like a dime-a-dozen stock-picking program, think again. Remember that REITs, with all of their attractive attributes, are very different than your average stock in so many ways… including with their dividends.
Purposely designed to pay out significant yields, those offerings indicate a whole lot about their general health. As such, it's imperative that whatever quality rating is applied to REITs takes their dividend safety very seriously.
As Graham explained:
"One of the most persuasive tests of high-quality is an uninterrupted record of dividend payments going back over many years."
If you like the sound of that kind of strength and commitment as much as iREIT on Alpha does, then keep reading.
Because I'm about to announce something huge.
Run It Like a R.I.N.O.
Today, we're excited to launch our all-new Scoring model: the REIT Indicator Numerically Optimized – which is quite the mouthful, we know.
That's why we shortened it to R.I.N.O.
No matter how you say it though, the long and the short of it is that this is one effective way to help put together a healthy portfolio. Like a real rhino, it's fully focused on getting what it wants.
And what it wants is this: real estate plays that are so well managed, they give you piece of mind.
As you can see below, R.I.N.O. involves a scoring model that's purposely designed to focus on dividend safety above everything else.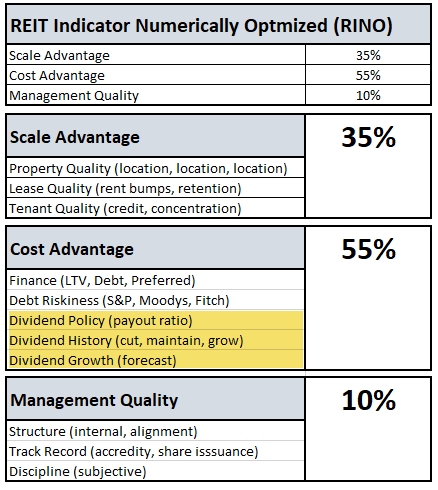 We've used it to analyze all the REITs in the REIT Lab (with the exception of commercial mortgage REITs, which we'll apply a different model on). That's how we've established a 1-5 point scoring model.
We can now analyze property sectors based on their average R.I.N.O. quality rating vs. their valuation metrics (e.g., dividend yields, P/FFO, NAV, discount to FV, etc.) – and come up with some very profitable conclusions as a result.
Here's an example of all property sectors from current to five-year averages: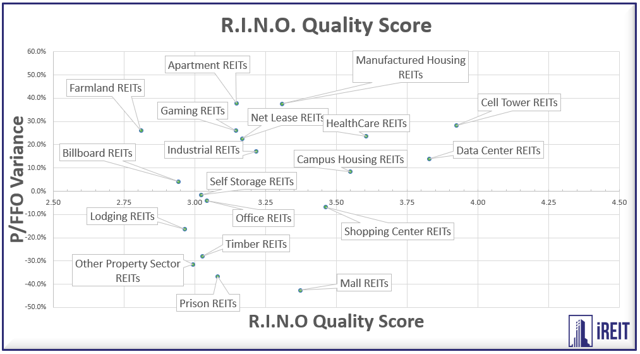 Now as you can see below, we decided to screen these specialty REIT sectors (i.e., gaming and prisons) based on their R.I.N.O. score and discount/premium to P/FFO.
Right now, the results show VICI with the best placement, proving it to be more attractive in historical terms to GLPI and MGP.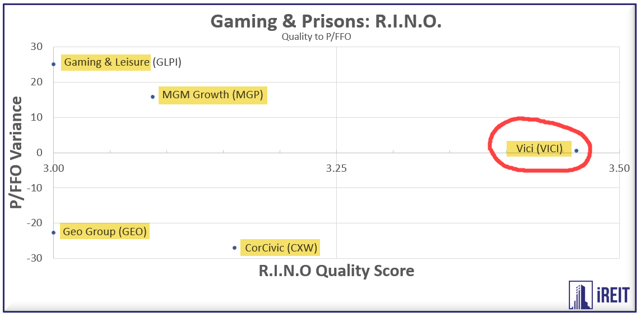 We can also screen the same REITs using their R.I.N.O. scores and dividend yields, as viewed below: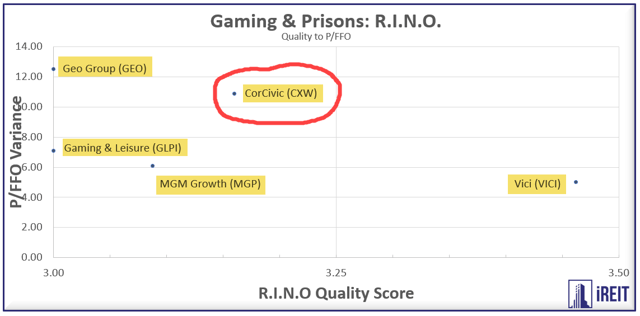 This time, CXW screens as the second-highest quality score and second-highest yield in its peer group.
And those painless conclusions are all thanks to this new system of ours.
Which we want to make yours as well.
Bringing It Altogether – for You
There are actually almost endless ways we can use the R.I.N.O. tool. And we're excited to unleash its true power on the iREIT on Alpha Marketplace platform.
There, we'll maintain an updated database on the world of REITs. Plus, we'll make sure to notify members when there are changes that may impact the scoring model for any given investment.
By now, we've already included each one's R.I.N.O. score in the iREIT Ratings Tracker… and we plan to include it in the Toolkit as a separate spreadsheet in a few days.
So what are you waiting for?
This powerful platform could be yours for the taking. Literally.
If you asked us for our advice on the matter, here's what we'd probably say…
Think like a rhino. Get your goal in sights.
And then charge.
I encourage you to consider being a part of iREIT on Alpha, in which I have put together a world-class REIT platform that includes:
150 REITs Exclusive institutional-quality REIT research (members only)
High-powered REIT Ratings Tracker
5 REIT Portfolios (with tracking indexes)
Weekly members only call with Brad Thomas (every Friday)
Weekly picks for all property sectors
Weekender REIT recap (powered by Hoya)
Chat board with input from top REIT analysts
Daily preferred REIT update (over 115 issues)
Price alerts and updated buy/sell recommendations
Free e-book "Retire Rich with REITs"
Free admission to annual REIT conference (in formation)
R.I.N.O. Rating Tool 
And if you ACT NOW, I will include a FREE copy of my book, The Intelligent REIT Investor, that is used at many leading real estate schools including Georgetown University, Cornell University, and the University of Denver.
CLICK THE GET REIT INCOME FOR LIFE BOX BELOW: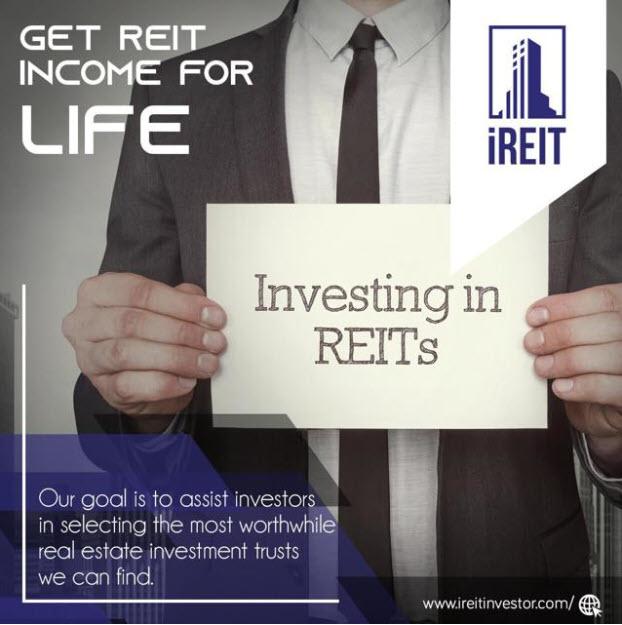 Disclosure: I/we have no positions in any stocks mentioned, and no plans to initiate any positions within the next 72 hours.