Build A Fortress REIT Portfolio From "The Ground Up"
Please Note: Blog posts are not selected, edited or screened by Seeking Alpha editors.
Dividend Growth Investing, REITs, Value
Seeking Alpha Analyst Since 2009
Brad Thomas is the CEO of Wide Moat Research ("WMR"), a subscription-based publisher of financial information, serving over 100,000 investors around the world. WMR has a team of experienced multi-disciplined analysts covering all dividend categories, including REITs, MLPs, BDCs, and traditional C-Corps.
The WMR brands include: (1) iREIT on Alpha (Seeking Alpha), and (2) The Dividend Kings (Seeking Alpha), and (3) Wide Moat Research. He is also the editor of The Forbes Real Estate Investor. 
Thomas has also been featured in Barron's, Forbes Magazine, Kiplinger's, US News & World Report, Money, NPR, Institutional Investor, GlobeStreet, CNN, Newsmax, and Fox. 
He is the #1 contributing analyst on Seeking Alpha in 2014, 2015, 2016, 2017, 2018, 2019, 2020, 2021, and 2022 (based on page views) and has over 108,000 followers (on Seeking Alpha). Thomas is also the author of The Intelligent REIT Investor Guide (Wiley) and is writing a new book, REITs For Dummies. 
Thomas received a Bachelor of Science degree in Business/Economics from Presbyterian College and he is married with 5 wonderful kids. He has over 30 years of real estate investing experience and is one of the
most prolific writers
on Seeking Alpha. To learn more about Brad visit
HERE
.
Summary
Can New York City be a good investment at a time like this, if ever again?
Is anything real estate-related a good investment?
It's questions like that The Ground Up Podcast plans to answer. Those and so many, many more.
Do me a favor and do a Google search right now for "the ground up." In quotation marks and all.
When you do, you'll find an almost instantaneous 34,200,000 results (rounded, I assume).
Do it in Bing, and you'll find an even faster 89,500,000 results, probably because Bing doesn't work that well with such specific searches.
Dogpile and Duckduckgo, for their parts, don't seem to specify those figures one way or the other. But I'm sure it's far too many for me to go through while still running iREIT on Alpha.
There are only so many hours in a day.
Even when you search for "the ground up podcast" – once again in quotation marks – you still get 7,960 results on Google. That's no doubt because the phrase is so applicable to so many facets of life, if not all of them.
It all depends on how figuratively you take the phrase.
That and what exactly you're trying to get out of it…
It Just Makes So Much Sense
For example, the first hit that might come up is something by Keith Decent. Rated 4.9 out of five stars by 47 reviewers, its official title is From the Ground Up, and it seeks to tell "the story of how we make stuff."
Take its June 8 episode (which may or may not have been its last). It's titled, "Sticking With Us: The Accidental History of Superglue."
Which, I'll admit, sounds rather engaging, not to mention informative.
There's another one by a Kyle Laspa called Built From the Ground Up Podcast. Its stated purpose is to help listeners "achieve the business of [their] dreams."
Again, that's an interesting topic, but also one that might have ended all the way back in 2013.
For that matter, now that I'm thinking about it, there was even a Barron's column years ago – decades past, in fact – that went by the name of "The Ground Up." I can't remember who wrote it or what exactly it was about.
But I'm sure it existed nonetheless, despite how a Google search just failed me altogether when I searched for it.
None of those predecessors were on my mind when I decided to name my own brand-new podcast The Ground Up though. (That was also the name of my radio show a few years ago). 
All I knew was that it made sense. A lot of sense, as you no doubt already have an inkling of. And for two different reasons.
From the Ground Up – the REIT Way
You can build anything from "the ground up," since all the phrase means is:
From the beginning
Thoroughly
Entirely.
You start out by laying a firm foundation – whether physically, mentally, intellectually, emotionally, psychologically, spiritually, or what have you – and then you construct from there. The result is supposed to be something that lasts.
Something you can use to make your life better somehow, someway.
This figure of speech is obviously pretty powerful then. And, in my opinion, it becomes even more so when you take it literally, as my new podcast does.
You see, with all due respect to everyone else using some variation of "The Ground Up," it makes the most sense from a real estate perspective. We're talking about holes being dug in the dirt in order to properly anchor buildings that rise one story into the sky, such as with a net lease property…
Two stories, as you see with certain strip malls…
Seven or 10 or 15 stories if, perhaps, an apartment community is in the works…
Or a whopping 77 stories, as is the case with One Vanderbilt, New York City's just debuted office building and official second-tallest skyscraper.
As Daily News reports, "Coming in at 1,401 feet high, the building overlooking E. 42nd St. is dwarfed only by One World Trade Center. Moreover:
"One Vanderbilt includes a 4,000-square-foot public transit hall with two street-level subway entrances. A re-opened passageway connects nearby Grand Central to a new entrance on the corner of 42nd St. and Lexington Ave."
And here's a little something about its proud owners too, as taken from OneVanderbilt.com:
"SL Green Realty Corp., an S&P 500 company and Manhattan's largest office landlord, is a fully integrated real estate investment trust, or REIT, that is focused primarily on acquiring, managing, and maximizing value of Manhattan commercial properties. As of June 30, 2020, SL Green held interests in 96 buildings totaling 41.0 million square feet. This included ownership interests in 28.7 million square feet of Manhattan buildings and 11.2 million square feet securing debt and preferred equity investments."
Does that sound like a good investment?
Can New York City be a good investment at a time like this, if ever again?
Is anything real estate-related a good investment?
It's questions like that The Ground Up Podcast plans to answer. Those and so many, many more.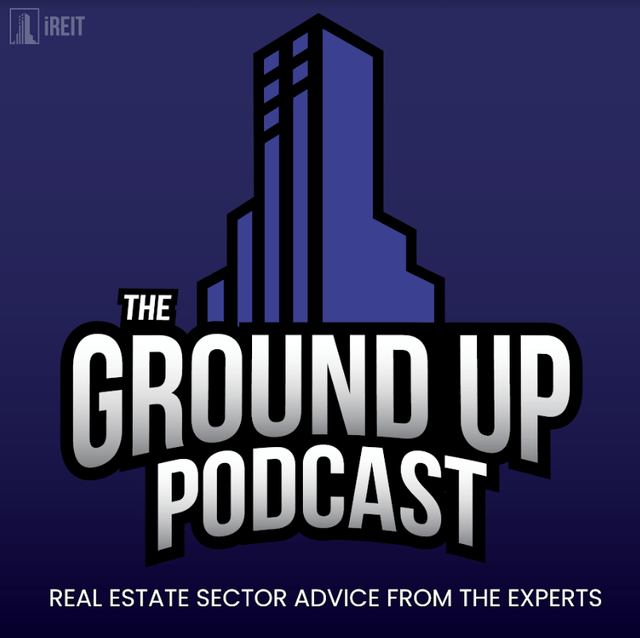 iREIT on Alpha Subscribers Already Know How Good This Can Be
If you're an iREIT on Alpha subscriber, you already know we've been conducting video interviews with executive-level members of real estate investment trust teams.
When the shutdowns first began, they presented immediate and obvious issues for my normally preferred practice of sitting down with CEOs, CFOs, COOs, and other C-suite individuals face to face. As I've said before, you can glean a lot from a company through write-ups and spreadsheets.
But it's nothing compared to talking with them one on one.
In order to clear that hurdle as best as social distancing and limited travel options allowed, I turned to the next best thing: video chats. And that's ultimately been a boon to iREIT members, who have gotten to access those videos often within hours after I record them.
Now it can be a benefit for non-members too through The Ground Up, where we plan to post the audio from these interviews.
Admittedly, iREIT on Alpha subscribers will still get first access. (And some of the interviews will remain exclusive altogether.) Plus, they'll still have the ability to ask questions beforehand for me to then present to my high-powered, money-making, markets-moving guests.
So if you want that kind of premiere, look-your-investments-in-the-eye – before you buy them – capability… you've got to try out iREIT, which comes with a long list of other benefits.
We're talking about top-notch portfolios and research tools you can't find anywhere else.
Members also benefit from a two-week trial period where they put no money down to peruse the possibilities. My fellow analysts and I want to make sure we're as perfect a fit for you as an investment service can be, which is why we offer this freebie.
If you don't think we match our portfolio-building promises or something just doesn't click right within that time frame, we wish you the absolute best and send you on your way – free of charge.
Though even then, we still recommend you check out The Ground Up. I'm telling you, we're building something big here.
A Wide Range of Real Estate Topics and Tools
I need to be clear here. Because The Ground Up Podcast won't just be offering CEO interviews. Available on iTunes and Spotify so far, this weekly presentation will feature:
Real estate insights from other industry insiders
Expert analysis from bankers and affiliated partners
Commentary on the larger REIT realm as well as individual segments
Real estate news in general, including fascinating tidbits we're certain you won't find anywhere else.
So try it out! Follow me today on your platform of choice. And if you can't find me there, then let me know and I'll look into expanding further.
The Ground Up is looking to dominate, earning your attention with engaging, educational, financially advantageous content. I want to show as many people as possible – and that includes you – what's so great about real estate investing…
Including how to build on that understanding like a construction and ultimate landlord pro.
Join me today!
iTunes listeners can click here.
Analyst's Disclosure: I/we have no positions in any stocks mentioned, and no plans to initiate any positions within the next 72 hours.
Seeking Alpha's Disclosure: Past performance is no guarantee of future results. No recommendation or advice is being given as to whether any investment is suitable for a particular investor. Any views or opinions expressed above may not reflect those of Seeking Alpha as a whole. Seeking Alpha is not a licensed securities dealer, broker or US investment adviser or investment bank. Our analysts are third party authors that include both professional investors and individual investors who may not be licensed or certified by any institute or regulatory body.