Another Day In REIT Paradise: Santa Delivers Stimulus
Please Note: Blog posts are not selected, edited or screened by Seeking Alpha editors.
Summary
The House will be voting today on whether to increase individual stimulus payments from $600 to $2,000 per person.
The movie Wonder Woman 1984 did pretty well for itself with its Christmas Day debut… all things considered.
Here's wishing you a safe, sane, and wonderful post- and pre-holiday period.
Quote for Today:
"A simple fact that is hard to learn is that the time to save money is when you have some." – Joe Moore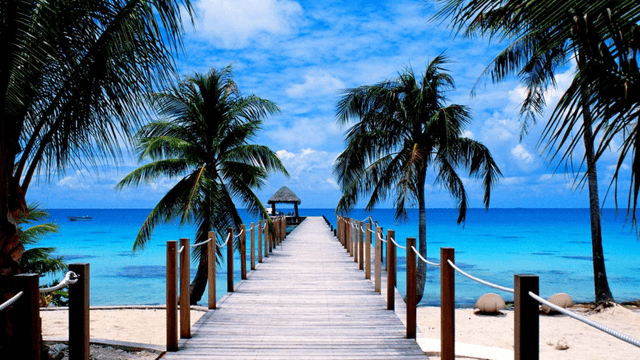 (Source)
Welcome to the very last days of 2020, everyone! I hope you had a wonderful Christmas and are feeling refreshed and ready to tackle this new shortened work week.
Or, if you're retired, I hope you're feeling refreshed and ready to tackle whatever's on your to-do list. Maybe getting some exercise walking along your local Florida beach? Solving today's crossword puzzle? Volunteering at your local shelter or community center?
For my part, I look forward to enjoying those post-working days. There's a whole list of things I'd like to put my hands to at that point. But for now, I'm still very much involved in reading the investment news, interpreting it appropriately, and passing it on to you.
Our first big piece of portfolio-affecting information is something you probably already know, I have to admit. It's the big headline everywhere: that President Trump signed the $2.3 trillion coronavirus aid and government spending package after all.
This did come with several political caveats, including a demand – under the authority granted by the Impoundment Control Act of 1974 – to rescind certain spending clauses the original bill included. The president specifically mentioned how "Congress has promised that Section 230, which unfairly benefits Big Tech at the expense of the American people, will be reviewed and either… terminated or substantially reformed."
And the House will be voting today on whether to increase individual stimulus payments from $600 to $2,000 per person. So we shall see what news we have to report tomorrow.
For now, we do know – thanks to a Mastercard report – that U.S. retail sales rose 3% between October 11 and December 24. Of that, ecommerce sales increased 49%, though not of it went to Amazon (AMZN). Well-positioned brick-and-mortar retailers like Walmart (WMT), Target (TGT), Home Depot (HD), and others took a decent chunk of those profits as well.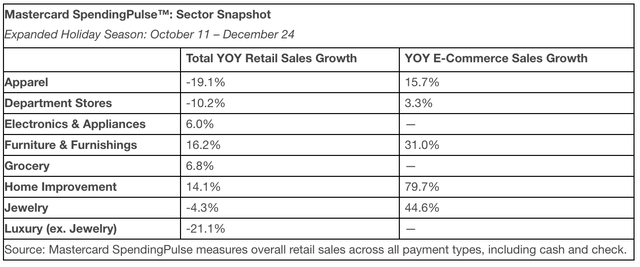 (Source: Investopedia)
Speaking of brick-and-mortar, the movie Wonder Woman 1984 did pretty well for itself with its Christmas Day debut… all things considered. Opening in 2,151 theaters across the U.S., it had made $16.7 million as of Sunday afternoon. And, globally, it brought in an estimated $85 million.
It does have to be said that its cinematic predecessor made $100.5 million its opening weekend way back in 2017. The first Wonder Woman movie, after all, didn't have to compete with HBO Max, social-distanced seating, and pandemic-induced agoraphobia.
But I suppose it's nice to see there's still some demand for movie theaters left. We'll just have to wait to find out exactly how much good this data will do the industry going into 2021.
One way or the other, I'm not recommending buying shares in EPR Properties (EPR) quite yet. There are better investments out there in the meantime.
Some REIT News
Consider what industry expert Nareit published earlier this month:
"The commercial real estate market has sources of strength that has softened the impact of the economic downturn and will continue to do so in 2021. One key source of resiliency unique to REITs is that nearly two-thirds of the REIT industry is comprised of sectors with little direct impact from social distancing."
And this next part is worth quoting too:
"REITs, which represent approximately 20% of the value of the broader investment-grade commercial real estate market entered the downturn with strong financial positions, defined by low leverage, long debt maturities, and high levels of liquidity on balance sheets."
My upcoming book, The Intelligent REIT Investor, includes a segment on the deleveraging effects for most REITs over the last decade. It comes courtesy of one of my incredibly intelligent and in-the-know contributors, Penn State University's Eva Steiner, who helps me break down the topic into an easily understandable read.
I can't wait to share it with you, since it's one of the reasons I sleep well at night – even during a global pandemic.

In other news, sourced as ever by the Daily REITBeat…
Ashford Hospitality Trust (AHT) secured a $200 million senior secured loan from Oaktree Capital Management. Under the terms of the agreement, it can be upsized by $150 million if requested to fund general corporate operations deemed necessary.
Monmouth Real Estate (MNR) acquired a new 657,518 square-foot industrial building in Locust Grove, Georgia for $96.7 million. The property is set on about 130 acres of land and is net-leased for 20 years to Home Depot (HD).
Finally, Easterly Government Properties (DEA) bought a 149,110 square-foot regional office and warehouse facility in Billings, Montana. It's 100% leased to the U.S. Department of the Interior, making it a very stable tenant indeed.

(The Daily REITBeat)
Here's wishing you a safe, sane, and wonderful post- and pre-holiday period.

Your One-Stop Shop for "Everything Income"
No matter what's going on around us, iREIT on Alpha remains committed to helping investors make the most of the good times and navigate the bad.
We not only find great REITs at great prices… we also show you how to spot them for yourself. Our quality scoring tool makes it immensely easier to analyze various REITs' economic moats and therefore long-term stability potential in your portfolio.
When you join, you'll get immediate access to unmatched tools and REIT research… all with a two-week FREE trial attached!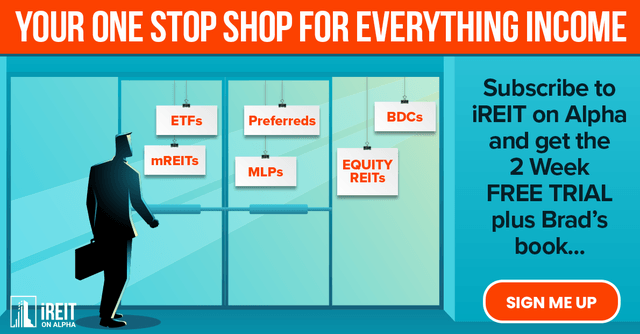 This will also give you access to dozens of C-suite interviews on my Ground Up podcast… putting you in a preferable, profitable position to make 2021 yours right out of the gate.
Analyst's Disclosure: I am/we are long MNR.
Seeking Alpha's Disclosure: Past performance is no guarantee of future results. No recommendation or advice is being given as to whether any investment is suitable for a particular investor. Any views or opinions expressed above may not reflect those of Seeking Alpha as a whole. Seeking Alpha is not a licensed securities dealer, broker or US investment adviser or investment bank. Our analysts are third party authors that include both professional investors and individual investors who may not be licensed or certified by any institute or regulatory body.