It's Official, Tanger Survived The Pandemic
Please Note: Blog posts are not selected, edited or screened by Seeking Alpha editors.
Summary
Say what you will but about Tanger, but I maintain it's a survivor.
I just published a deep-dive article on Tanger for members of iREIT on Alpha.
Get free access to it – and a full two weeks' worth of other articles – when you join iREIT on Alpha today!
Quote for Today:
"The value proposition for outlets is on firm footing, as retailers continue to utilize the cheapest brick-and-mortar alternative as a necessary part of the omni-channel experience." – Brad Thomas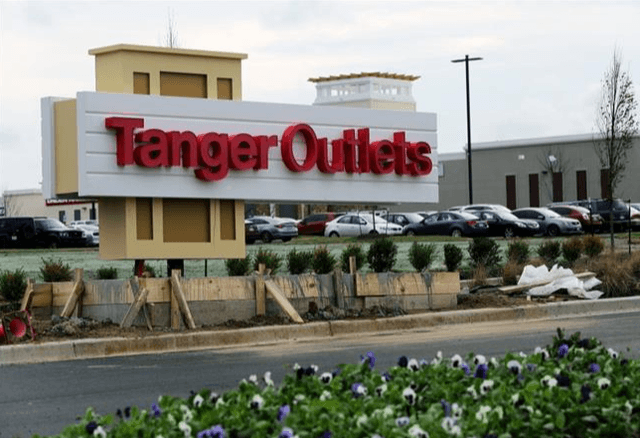 (Source)
This is information I'd normally share in the "World According to Commercial Real Estate" section. But considering how associated with Tanger Factory Outlet Centers (SKT) I've become in the public eye, let's just rip off the Band-Aid and address it right here.
Back when the whole GameStop saga was still splashed all over the news, Tanger found its stock price up intensely more than once. Yet despite my continuing long-term bullish stance on it, I cautioned everyone that the euphoria was a temporary phase…
That as soon as earnings came out to show the extent of the damage, that love affair would falter or flee entirely.
Well, I was partially right and partially wrong in that. On the plus-side for the Thomas prediction score, the stock didn't keep climbing toward $20 per share. Instead, it crashed back down to a low below $13.
I'm not unhappy how it's been trending upward since then though to above $14. That's wonderful, and I believe that progress will continue at a reasonable pace from here.
That's why I continue to hold onto a modest number of shares (I unloaded most of my position at $14.82 and I achieved an average total return since 2016 of 24.5%...isn't dollar cost averaging wonderful?)  
With that said, last year's numbers are now out. And some of them aren't pretty.
I can't take credit for predicting that bit. Even if I didn't follow Tanger closely, I would have known. Everyone did.
Here are the exact figures reported yesterday:
Q4 net income was $0.03 million, or zip, zilch, nada per share. That was still better than last year's final-quarter net loss of $12.1 million, or $0.13 per share – and the main reason for that "improvement" was because of a one-time non-cash impairment charge of $37.6 million connected to one particular property (which it sold last month).
Q4-20 funds from operations were $52.7 million, or $0.54 per share; down from $57.5 million, or $0.59 per share in Q4-19.
Core FFO was $52.3 million, or $0.54 per share, compared to Q4-19's $57.5 million or $0.59 per share.
Meanwhile, Tanger recorded a full-year $37 million net loss ($0.04 per share), which was a definite downturn from its $86.5 million net gain ($0.93 per share) in 2019. And core FFO was down to $1.57 per share from $2.31.
Ouch!
Yet there was good news too. CEO Stephen Yalof wasn't just being optimistic when he said:
"Our business continues to improve, with the consumer embracing open-air outlet centers as a preferred venue for shopping and entertainment. Traffic was approximately 90% of prior-year levels during the fourth quarter and in January, improved to more than 99% for domestic centers. Outlets are an important component of the omnichannel retail strategy, given the low-cost structure and access to incremental consumer that is both value-oriented and aspirational.

"Rent collections for the quarter improved to 95% of billed rents as of the end of January. As of that date, we had already collected 57% of 2020 rents that we allowed our tenants to defer until this year, nearly half of which represented prepayments. We collected 90% of deferred rents due in January. Our liquidity position is strong, with $84 million of cash and $600 million in unsecured lines of credit that were undrawn at the end of January."
Say what you will but about Tanger, but I maintain it's a survivor.
Note: I just published a deep-dive article on Tanger for members of iREIT on Alpha. Get free access to it – and a full two weeks' worth of other articles – when you join iREIT on Alpha today!
The World According to Commercial Real Estate
Now for the rest of the REIT news, powered by the Daily REITBeat…
Fitch Ratings downgraded Washington Prime Group's (WPG) long-term issuer default ratings from CC to C, its senior secured revolver and term loans from CCC to CCC-, and its senior unsecured notes from CC to C, all with a negative outlook.
Hersha Hospitality Trust (HT) secured a strategic financing commitment from West Street Strategic Solutions Fund I and Broad Street Credit Holdings, both affiliated with Goldman Sachs' (GS) Merchant Banking business. The financial institutions will provide an initial $150 million draw at closing and an incremental $50 million delayed amount that can be drawn at Hersha's choosing in minimum $25 million installments from September 30, onward.
Ryman Hospitality Properties (RHP) announced that RHP Hotel Properties LP and RHP Finance Corporation, finished their previously announced private placement of a $600 million aggregate principal amount of 4.500% senior notes that are due 2029.
Oh, and yesterday's upside action was much more measured yesterday – which isn't necessarily a bad thing. Slow and steady does, after all, tend to win the stock market race.
The downside action, however, continues to be more intense.

(Source: The Daily REITBeat)
The #1 Site for Reliable REIT Income
Signing up with iREIT on Alpha means you get instant access to insightful articles, profitable portfolios, and our iQ scoring model, where the Q stands for Quality.
This extremely powerful system lets data determine the best REITs to own based on their most basic and essential fundamentals.
Members have full access to this sophisticated screening tool whenever they want… as well as deep-dive details about equity REITs, mREITs, preferreds, BDCs, MLPs, ETFs, and, more.
Join this in-the-know community with a two-week FREE TRIAL that includes my new book as an added incentive to stick around.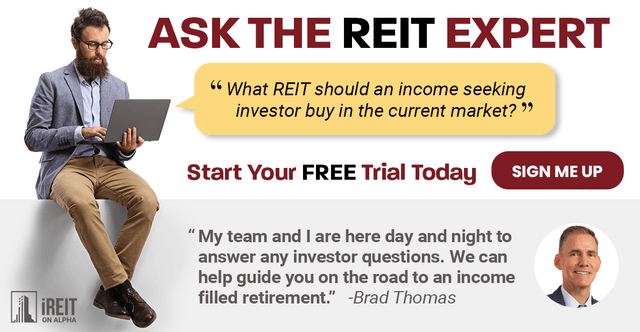 I truly think becoming an iREIT on Alpha member will be worth your while considering everything you receive. It's a long list that involves access to the dozens of C-suite interviews I'm constantly scheduling on my Ground Up podcast. They're designed to give you the kind of insider information that puts people ahead of the game.
Just think about all the possibilities to profit from when you're not in the middle of the rat race anymore…
Analyst's Disclosure: I am/we are long SKT.
Seeking Alpha's Disclosure: Past performance is no guarantee of future results. No recommendation or advice is being given as to whether any investment is suitable for a particular investor. Any views or opinions expressed above may not reflect those of Seeking Alpha as a whole. Seeking Alpha is not a licensed securities dealer, broker or US investment adviser or investment bank. Our analysts are third party authors that include both professional investors and individual investors who may not be licensed or certified by any institute or regulatory body.