Another Day In REIT Paradise: This Isn't A Sign Of The Office Building Apocalypse
Please Note: Blog posts are not selected, edited or screened by Seeking Alpha editors.
Dividend Growth Investing, REITs, Value
Seeking Alpha Analyst Since 2009
Brad Thomas is the CEO of Wide Moat Research ("WMR"), a subscription-based publisher of financial information, serving over 100,000 investors around the world. WMR has a team of experienced multi-disciplined analysts covering all dividend categories, including REITs, MLPs, BDCs, and traditional C-Corps.
The WMR brands include: (1) iREIT on Alpha (Seeking Alpha), and (2) The Dividend Kings (Seeking Alpha), and (3) Wide Moat Research. He is also the editor of The Forbes Real Estate Investor. 
Thomas has also been featured in Barron's, Forbes Magazine, Kiplinger's, US News & World Report, Money, NPR, Institutional Investor, GlobeStreet, CNN, Newsmax, and Fox. 
He is the #1 contributing analyst on Seeking Alpha in 2014, 2015, 2016, 2017, 2018, 2019, 2020, 2021, and 2022 (based on page views) and has over 108,000 followers (on Seeking Alpha). Thomas is also the author of The Intelligent REIT Investor Guide (Wiley) and is writing a new book, REITs For Dummies. 
Thomas received a Bachelor of Science degree in Business/Economics from Presbyterian College and he is married with 5 wonderful kids. He has over 30 years of real estate investing experience and is one of the
most prolific writers
on Seeking Alpha. To learn more about Brad visit
HERE
.
Summary
Yesterday, we got a spate of news from REITs that were doling out dividends – or gearing up to do so.
From Easterly Government Properties (DEA) to Extra Space Storage (EXR) to Realty Income (O).
That last one is especially notable considering how this particular payout marks its 608th in a row.
Quote of the Day:
"I feel like saying we need to all calm down a little. Lets take the time to breathe. I have no intention of allowing myself be distracted." – Pauline Marois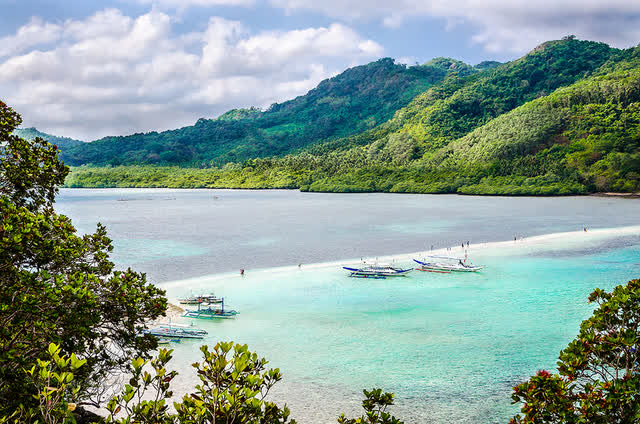 (Source: Storyblocks)
Did you hear about the big Boeing (BA) news?
All employees at its commercial airplanes headquarters in Renton, Washington – outside Seattle – have been told to gather their belongings. They're not getting fired though; they're just not coming back there to that property.
Ever?
That seems to be the conclusion in the global business gossip mill. And at least one anonymous inside source agrees.
"It doesn't take a rocket scientist to know where this is going. We've cleared out. It's a recognition that the future will bring a combination of virtual work and hoteling."
So should you sell all your office REITs?
Obviously, you have to do what you feel is the right choice for your personal situation and portfolio. But I have no problem telling you that I'm holding onto my horses.
Maybe not my jets, but definitely my horses.
That last line isn't entirely a silly play on words. It's also a call to focus on the fact that you can't compare apples to oranges.
Boeing is in an intensely unfortunate situation. Unlike Warren Buffett, I didn't own any airlines last year. And I'm anything but an industry insider.
Yet I don't have to do much research to know it had a horrible year in 2020. Out of all the publicly traded business categories to suffer under the shutdowns, airlines were definitely in the top 10 and quite possibly in the top 3.
To quote the Motley Fool's writeup on the situation late last month after Boeing released its Q4-20 and full-year earnings:
"Last quarter, Boeing's revenue fell 15% year-over-year to $15.3 billion, edging ahead of the analyst consensus of $15.1 billion. However, the company posted a massive core operating loss of $8.4 billion and a core loss per share of $15.25. Analysts had expected a loss per share of approximately $1.80."
It's had to push certain significant plans back by two years. It continued to burn cash last quarter. It still owes customers more than $5.5 billion to compensate for its 737 MAX problems. Its business backlog isn't nearly so logged up anymore, plummeting by $100 billion last year, which could get worse still…
And global life isn't anywhere close to normal enough to count on mass care-free jet-setting to occur again anytime soon.
Many companies are struggling to make money these days. But Boeing is downright desperate to save some wherever and however it can.
So buy, hold, or sell your office REITs according to your best conclusion. Just don't base that decision on Boeing alone. If at all.
The World According to Commercial Real Estate
Yesterday, we got a spate of news from REITs that were doling out dividends – or gearing up to do so – from Easterly Government Properties (DEA) to Extra Space Storage (EXR) to Realty Income (O). That last one is especially notable considering how this particular payout marks its 608th in a row.
And people wonder why I like Realty so much.
Oh, and let's not forget Essex Property Trust (ESS), which announced its 27th consecutive annual increase.
Nicely done!
As for today's summary from The Daily REITBeat, companies are announcing earnings and making their moves to better their 2021 positions left and right. Honestly, there's just way too much to share in one time-constrained blog post (though the entire writeup is available on iREIT on Alpha).
But here's your standard sampling as we head into the weekend:
Vici Properties (VICI) reported adjusted funds from operations of $0.46 per share for the fourth quarter, with 2021 guidance of $1.82-$1.87. Additional details included in the release were that the company had $6.9 billion in total debt and $1.9 billion in total liquidity.
Spirit Realty Capital (SRT)announced FFO of $0.74 per share and estimates that full-year 2021 will end in the $3.00-$3.10 range. It spent $435 million on acquisitions for the quarter for 99 properties that averaged out at an 6.7% initial weighted average cash yield and a 7.45% economic yield.
Americold Realty Trust (COLD) saw $0.037 per share in AFFO for Q4-20 and is guiding for $1.36-$1.46 for full-year 2021. Its global warehouse segment's same-store revenue fell 0.5%, or 1.4% on a constant currency basis, but same-store NOI rose 4% and 3.3%, respectively.
Last but not least, here's yesterday's winners and losers. All I'll say about The GEO Group (GEO) is "Ouch!"

(Source: The Daily REITBeat)
The #1 Site for Reliable REIT Income
Signing up with iREIT on Alpha means you get instant access to insightful articles, profitable portfolios, and our iQ scoring model, where the Q stands for Quality.
This extremely powerful system lets data determine the best REITs to own based on their most basic and essential fundamentals.
Members have full access to this sophisticated screening tool whenever they want… as well as deep-dive details about equity REITs, mREITs, preferreds, BDCs, MLPs, ETFs, and, more.
Join this in-the-know community with a two-week FREE TRIAL that includes my new book as an added incentive to stick around.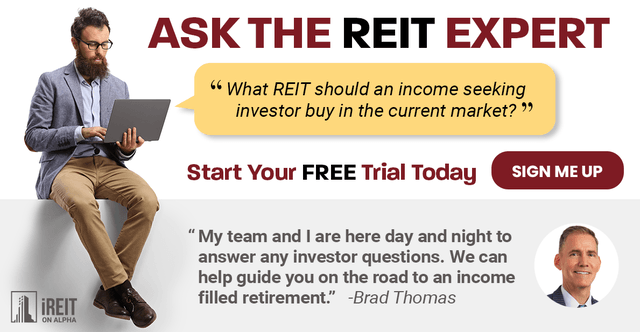 I truly think becoming an iREIT on Alpha member will be worth your while considering everything you receive. It's a long list that involves access to the dozens of C-suite interviews I'm constantly scheduling on my Ground Up podcast. They're designed to give you the kind of insider information that puts people ahead of the game.
Just think about all the possibilities to profit from when you're not in the middle of the rat race anymore…
Author's note: Brad Thomas is a Wall Street writer, which means he's not always right with his predictions or recommendations. Since that also applies to his grammar, please excuse any typos you may find. Also, this article is free: written and distributed only to assist in research while providing a forum for second-level thinking.
Analyst's Disclosure: I am/we are long o, VICI.
Seeking Alpha's Disclosure: Past performance is no guarantee of future results. No recommendation or advice is being given as to whether any investment is suitable for a particular investor. Any views or opinions expressed above may not reflect those of Seeking Alpha as a whole. Seeking Alpha is not a licensed securities dealer, broker or US investment adviser or investment bank. Our analysts are third party authors that include both professional investors and individual investors who may not be licensed or certified by any institute or regulatory body.