Quote of the Day:
"This is our moment – our biggest investment ever – to help build a better future for America." – Jim Farley, Ford CEO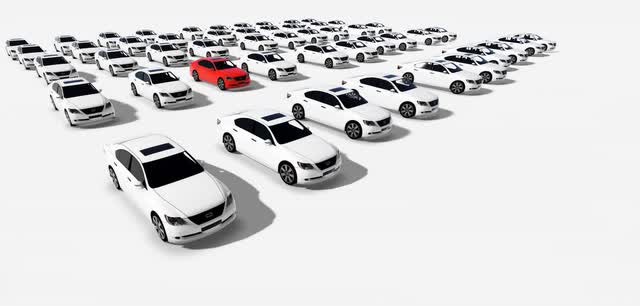 (Source: Storyblocks)
Congress is making the news this week, with Senate Republicans blocking the controversial government spending and debt ceiling bill yesterday. So a government "shutdown" is still a possibility if nothing changes by September 30.
Meanwhile, House Speaker Nancy Pelosi says she intends to bring the $3.5 trillion infrastructure bill forward for a vote in the next few days. Problem is, members of her own party are making hefty demands for their vote.
The New York Times writes that:
"Progressive lawmakers have long warned that they will not vote for the infrastructure legislation, which the Senate passed last month, until a far more expansive $3.5 trillion domestic policy and tax package also clears the chamber."
This could get interesting.
Meanwhile, I have to admit I'm scratching my head a little at Ford's big announcement yesterday. It's partnering with SK Innovation to create two "mega-sites" for electric truck and battery production – pledging $7 billion of the overall $11.4 billion plan.
Executive Chairman Bill Ford says, "This is a transformative moment where Ford will lead America's transition to electric vehicles and usher in a new era of clean, carbon-neutral manufacturing."
He added that "this investment" combined with "a spirit of innovation… can achieve goals once thought mutually exclusive." Those goals being to protect the planet, "build great electric vehicles Americans will love" and benefit the U.S. economy.
My main question is, "Why this moment?" A moment when the entire industry is struggling enormously under semiconductor chip shortages – something electric cars heavily rely on, as far as I understand.
That global issue isn't even close to being resolved. So I hesitate to call this a good move on the automaker's part.
Then again, perhaps I should just stick with my real estate investment trusts (REITs)?
The World According to REITs
As I've argued before, it's important to understand what's going on in the larger investing world. That's because the larger investment world affects REITs.
It's also important to buy into the larger investment world. REITs aren't the end-all, be-all of making it to $1 million and beyond. They're only a worthwhile consideration to that equation.
Actually, I'd say they're more than a worthwhile consideration. For my personal portfolio, I'd say they're a critical component. And I know many studies indicate I'm not the only one who can benefit intensely from them.
Still, I want everyone to examine their own situations and the available facts to come to the best conclusions for themselves. Which is why I won't make any overarching, end-all, be-all statements on the subject.
For those of you who already have found out REIT's benefits though, here are your updates:
Diversified Healthcare Trust (DHC) added five assisted living communities to its portfolio. The Wisconsin collection is operated by Cedarhurst Senior Living. The company also signed a new management agreement with IntegraCare for two assisted living communities in Pennsylvania.
Innovative Industrial Properties (IIPR) acquired about 92.3 acres in New York for $10.23 million. The tenant is Goodness Growth, which it already has a landlord relationship with. And IIPR will spend additional money to construct a new building for its expanded tenant.
And here are yesterday's biggest winners and losers as well:

(Source: The Daily REITBeat)
Inflation Is a Monster REITs Can Help You Beat
One of my readers recently wanted to know if I was worried about inflation – an intensely legitimate question.
Ronald Reagan once said, "Inflation is as violent as a mugger, as frightening as an armed robber, and as deadly as a hitman." And, considering the mess he inherited, that statement wasn't nearly as melodramatic as it might sound.
Jimmy Carter's policies… on top of Richard Nixon completely cutting the dollar from gold… on top of Lyndon B. Johnson's spending sprees were devastating. Together, they destroyed businesses, wiped out personal savings, and sent the entire country into a depressing tailspin.
Today, we could be looking at similar bad policies with similar bad results. Which is why I definitely do have inflation on my radar.
Fortunately though, I also have REITs.
As I wrote months ago, they offer "natural protection against inflation" since rental contracts tend to include such considerations. In fact:
"… many leases are tied to inflation. This supports REIT dividend growth and provides a reliable stream of income regardless, helping to support the following fact…

"That, in all but two of the last 20 years, REIT dividend increases have outpaced inflation as measured by the Consumer Price Index."
Not bad, right?
Not bad at all! Just as long as you know which ones are worth your money at any given time – both from a valuation and quality perspective.
That's why iREIT on Alpha gives members ahead-of-the-curve advice on what's what in REIT-dom through:
Insightful articles
Profitable portfolios
Proprietary tools…
This is your chance to try us out – without any strings attached. Activate your two-week free trial period now and see if iREIT is right for you.
I can't wait to show you everything you'll have at your disposal when you do…