The Nasdaq Isn't Down That Much – But It's Still A Cautionary Tale
Please Note: Blog posts are not selected, edited or screened by Seeking Alpha editors.
Summary
It's clear the Nasdaq is off its peak, falling over 5% from its record high in mid-November.
I bring this up for the same reason I'm going to bring up Bitcoin's woes in a second.
While 5% really isn't that great of a pullback in the grand scheme of things, it can still be an unsettling experience that causes investors to bail out….
Quote of the Day:
"The wisest rule in investment is: When others are selling, buy. When others are buying, sell. Usually, of course, we do the opposite. When everyone else is buying, we assume they know something we don't, so we buy. Then people start selling, panic sets in, and we sell too." – Jonathan Sacks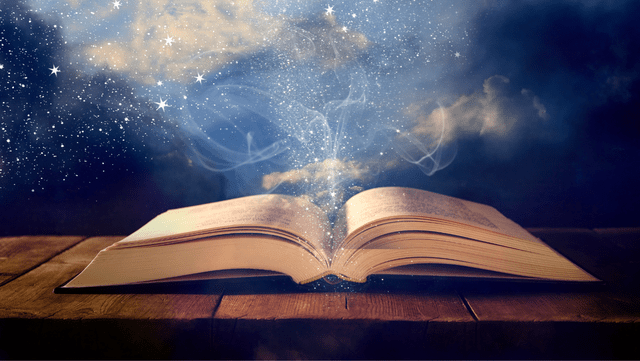 The markets ended down yesterday, recording the following final prices:
S&P 500 – 4,634.09 (-34.88, -0.75%)
Dow – 35,544.18 (-106.77, -0.30%)
Nasdaq – 15,237.64 (-175.64, 1.14%).
Considering how that latter index has been losing more than even the small business-oriented Russell 2000 lately, I want to provide a chart of its 2021 performance: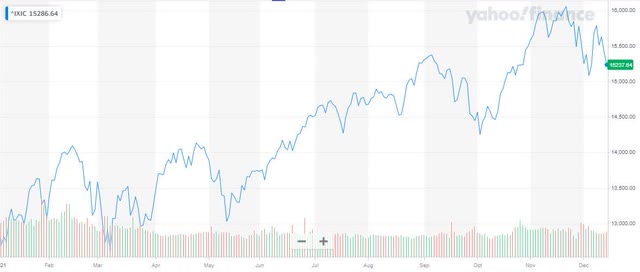 (Source: Yahoo)
It's clear the Nasdaq is off its peak, falling over 5% from its record high in mid-November.
Please note the words "record high" there. Because the Nasdaq has overall been on fire since its mid-March bottom during the initial panic. But that enthusiasm has been tempered as of late.
There's no denying that fact.
I bring this up for the same reason I'm going to bring up Bitcoin's woes in a second. It's to caution you to never put all your eggs in one basket – even a broad-based basket such as the Nasdaq.
While 5% really isn't that great of a pullback in the grand scheme of things, it can still be an unsettling experience that causes investors to bail out… often at a loss thanks to their starting points.
That's why, before you buy into any investment, you always want to:
Know your financial and emotional capabilities.
Limit your position size appropriately.
Set a percentage point – both to the downside and upside – where you'll sell the smart way, not the panicked way.
Since, again, those rules should apply to any investment you buy, the same goes for any cryptocurrency positions you've opened or are considering opening. In fact, considering its intense volatility, you should double down on understanding your financial and emotional capabilities before getting involved.
Bitcoin has fallen about 30% from its November peak, making the Nasdaq's dip look like the small potatoes it is. And the Bank of England is warning it could become "worthless" from here.
Now, central banks have a vested interest in seeing cryptocurrency fail. So I wouldn't hedge any bets based on that opinion… any more than I'd bank everything on seeing bitcoin hit $100,000. Both are possibilities, but so is everything else out there.
Like I said, just be careful out there. There's a whole lot of money to be made – if you keep both your greed and fear levels properly in check.
The World According to REITs
Outside of that, I'm afraid I've got inflation news to report. No matter what news channel you turn to today, you're bound to learn that U.S. producer prices rose 9.6% last month.
That's a record gain in the 11 years the Labor Department has been tracking wholesale inflation. Meanwhile, U.K. inflation hit its own 10-year high at 5.1%.
In other news, Congress has officially sent Biden a $2.5 trillion debt-limit hike bill, which will no doubt be signed into actuality very quickly.
And, before getting to our real estate investment trust (REIT) updates, I want to quote Recruiter.com Chairman and CEO Evan Sohn. Yahoo Finance interviewed him the other day about the job market and lack of willing workers.
Here's part of what he had to say:
"I think the other thing that we're starting to see, really, is what we call the great re-evaluation. Companies are re-evaluating how they're bringing employees back. Employees are re-evaluating what their priorities are. It's not just about compensation anymore. It's about new experiences. It's about work-life balance. About progression…"
If that's the case – and I think he might be right, at least in part, about that prioritization aspect – all of those hiring signs we've been seeing for months aren't going to go away any time soon.
So that's your news of the day with a little personal analysis thrown in the mix. Now here's your three REIT-specific stories:
Innovative Industrial Properties (IIPR) completed its purchase of a 27-property portfolio spread across Colorado, Pennsylvania, and North Dakota. The assets, which are 100% leased by regulated cannabis businesses, cost about $27.7 million.
Independence Realty Trust's(IRT) Independence Realty Operating Partnership began an amended and restated unsecured credit facility. The borrowing capacity under its existing revolving credit facility will jump from $350 million to $500 million with a maturity date of January 2026 instead of May 2023.
Equity Commonwealth (EQC) is now board-authorized to repurchase an extra $150 million outstanding shares through December 31, 2022. As such, it now has $170.5 million available for future share repurchases. Year-to-date, it's bought more than 5 million shares at a weighted average price of $25.87 per. That makes for a total investment of $129.5 million.
Incidentally, I had to do a double-take after seeing the chart below. Both the first few "up" and "down" numbers looked exactly the same as yesterday's.
After doing my due diligence into the matter though, it turns out there are slight differences there. And the names involved have definitely changed day to day.
Still, I thought I'd assure you that you're not seeing double and that no error was made in the making of this chart…

(Source: The Daily REITBeat)
Inflation Is a Monster REITs Can Help You Beat
One of my readers recently wanted to know if I was worried about inflation – an intensely legitimate question.
The simple answer is that I definitely do have it on my mind. Fortunately though, I also have REITs.
As I wrote months ago, real estate investment trusts offer "natural protection against inflation" since rental contracts tend to include such considerations. In fact:
"… many leases are tied to inflation. This supports REIT dividend growth and provides a reliable stream of income regardless, helping to support the following fact…

"That, in all but two of the last 20 years, REIT dividend increases have outpaced inflation as measured by the Consumer Price Index."
Not bad, right?
Not bad at all! Just as long as you know which ones are worth your money at any given time – both from a valuation and quality perspective.
That's why iREIT on Alpha gives members ahead-of-the-curve advice on what's what in REIT-dom through:
Insightful articles
Profitable portfolios
Proprietary tools…
This is your chance to try us out – without any strings attached. Activate your two-week free trial period now and see if iREIT is right for you.
I can't wait to show you everything you'll have at your disposal when you do!
Analyst's Disclosure: I/we have no stock, option or similar derivative position in any of the companies mentioned, and no plans to initiate any such positions within the next 72 hours.
Seeking Alpha's Disclosure: Past performance is no guarantee of future results. No recommendation or advice is being given as to whether any investment is suitable for a particular investor. Any views or opinions expressed above may not reflect those of Seeking Alpha as a whole. Seeking Alpha is not a licensed securities dealer, broker or US investment adviser or investment bank. Our analysts are third party authors that include both professional investors and individual investors who may not be licensed or certified by any institute or regulatory body.