Recently Cotton (CTH12) has made nice advancement from approximately 86-97.7 as I currently write this summary. This has been a sustained run higher which appears to be out of gas soon - or not? Let's take a quick look at the charts to see where some key levels are in terms of staying bullish or going bearish for another entry point. Below is the chart of Cotton (March12) where my system went long at the close on 12/30/11 at approximately 91.8. Currently, going into trading on 1/25/12 the stop is 97. Thus, if the price falls below and closes below 97 I will exit the position and wait for my next entry. As the end of January approaches I switch over to the CTK12 (May) contract to avoid rolling prices (i.e. contango/backwardation) to affect price triggers.
Looking forward to the May contract I wanted to map out some of the key closing ranges that could occur and how they would affect my view and systems triggers. In the next few days if the price has a close of under 98 - this would pretty much put a stop the current run as the price could potentially enter another trading range (i.e Oct-Nov). However, if the price can continue to close higher and within the next few days approach 100-102 this could be a big test of the 102 upper resistance. Staying extremely bullish a close of above 102 could lead to a move higher. Personally, my guess is as good as others mine in terms of future price moves - the markets owe us nothing. Nevertheless, the next few days should be quite critical in terms of the near future projection in price for CTK12.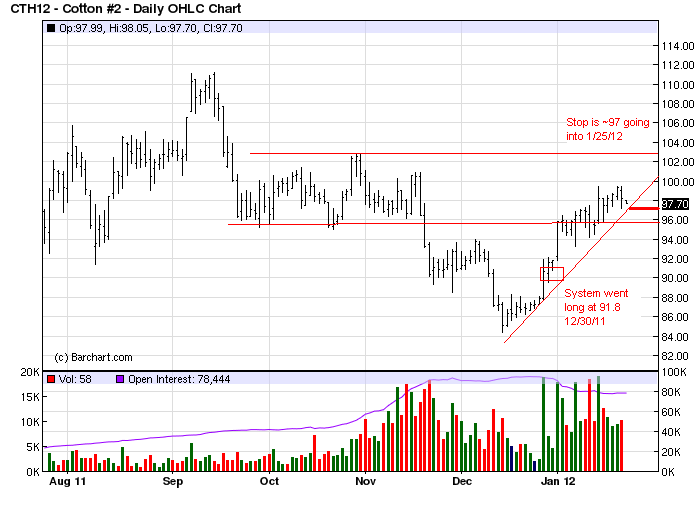 Disclosure: I have no positions in any stocks mentioned, and no plans to initiate any positions within the next 72 hours.