So far, I am happy with my decision to double-down in December and early January (including adding to my housing-related exposure). Portfolio status is below. I generally categorize as follows:
Stocks currently tagged as Buys, which simply means that I am holding with a sufficient degree of current confidence: AYX (which reports this week), BLK, CONE, CTK, DBX,  ENB, GOOGL, GSKY (reports March 5th), HPQ, INST, LEN, PVTL, QTS, SWKS, TJX, ZUO
Stocks currently tagged as Holds, which signifies that I have have specific reservations: AAPL, AMH, BAC, CLDR, DOC, FB, INVH, RDFN, XROLF. In regard to AMH and INVH, did you guys read this long piece in the Atlantic?  When Wall Street Is Your Landlord. Not the best look for INVH.
Stocks tagged as Evaluate: AMAT, Chegg (CHGG) but only because it is up 87.4% in less than a year; CVS where I need to analyze the last report; QTWO but only because it is up 57.5% in 1.32 years; SFM; VTR because the quarter spooked me a bit and found this thinking persuasive (so I want to go back a take a closer look at BT's strong-bull argument), and VWAGY.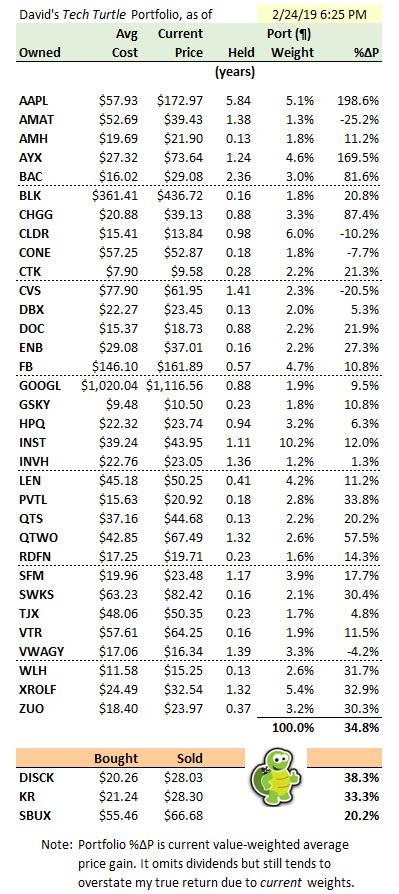 Disclosure: I am/we are long AAPL, AMAT, AMH, AYX, BAC, BLK, CHGG, CLDR, CONE, CTK, CVS, DBX, DOC, ENB, FB, GOOGL, GSKY, HPQ, INST, INVH, LEN, PVTL, QTS, QTWO, RDFN, SFM, SWKS, TJX, VTR, VWAGY, WLH, XROLF, ZUO.
Additional disclosure: I long positions in the exhibit