I really feel sorry for International Business Machines Corporation (IBM) shareholders.
The acquisition of Red Hat (RHT) for $190/share in cash, a total enterprise value of $34B, seems like the company has taken the "desperate times call for desperate measures" advice a bit too far.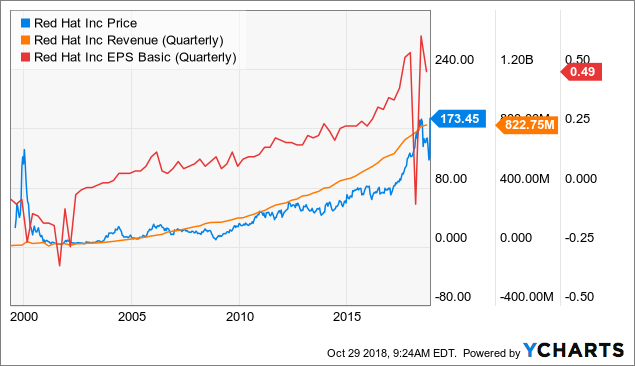 IBM expects the acquisition to be accretive to FCF and gross margin within 12 months.
The acquisition of Red Hat is a game-changer. It changes everything about the cloud market. IBM will become the world's #1 hybrid cloud provider, offering companies the only open cloud solution that will unlock the full value of the cloud for their businesses.

Most companies today are only 20% along their cloud journey, renting compute power to cut costs. The next 80% is about unlocking real business value and driving growth. This is the next chapter of the cloud. It requires shifting business applications to hybrid cloud, extracting more data and optimizing every part of the business, from supply chains to sales. - Ginni Rometty, IBM CEO
Red Hat will operate as a unit within IBM's Hybrid Cloud team. IBM says it will remain committed to Red Hat's open governance and open source contributions.
The $190/share offer price and pending breakup fee, which will be among the largest ever in the tech industry, will likely keep away any other potential buyers.
The market remains unimpressed. So much so, that IBM stock price is even breaking (in pre-market trading) the 2016 lows, trading back at 2009 valuations!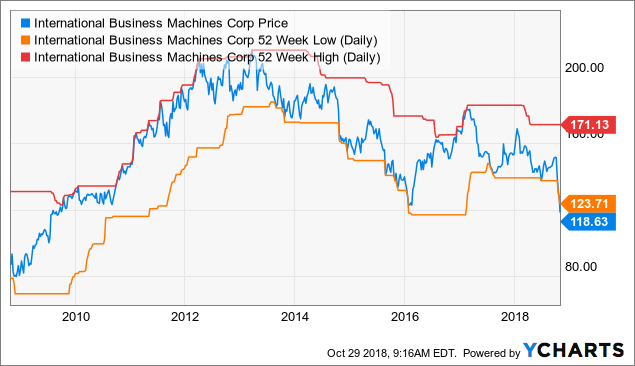 Technically speaking, there are no more support levels for the price...
IBM says the acquisition will accelerate its revenue growth, gross margin and free cash flow within 12 months of closing. The company also claims this will also support a solid and growing dividend.
IBM is poised to more than double its leverage with its acquisition of Red Hat. S&P is reacting very quick to the deal, downgrading the credit rating of IBM t o "A" from "A+" with a negative outlook. Consequently, the company's bonds are falling quite a bit today.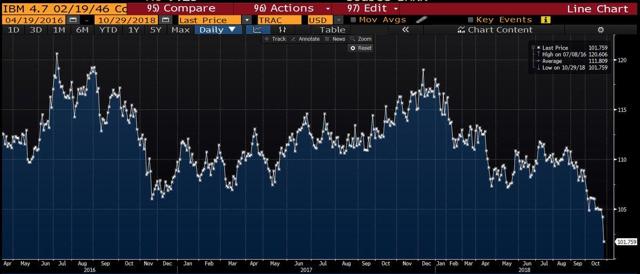 I don't know about you but to me, it seems like we are heading towards the high yields we've in the 1990s, not the low yields we've witnessed during the 2000s.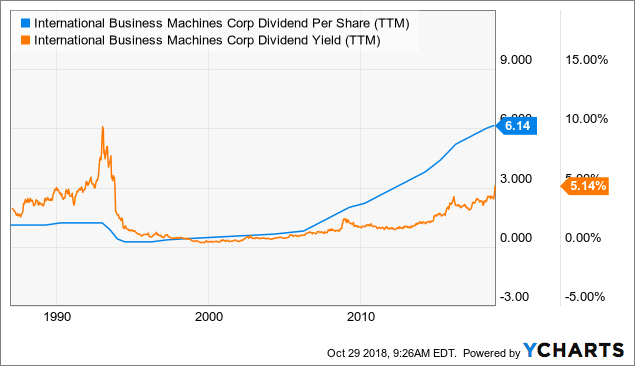 If for whatever the dividend safety is being at risk/challenged - that would be the end of it. I believe that only DGIs are allured to that stock at this point and I don't think that many tech savvy investors find value in this machine that is far from aging nicely.
I declared IBM being "dead money" long ago, when the stock was trading around $170 in early 2017. I stick to that call today.
Author's note: Blog post notifications are only being sent to those who follow an author in real time. In order to receive notifications for both articles and blog posts, go to Author Email Alerts, which lists all the authors you follow, and turn on "Get e-mail alerts" (see below).


The Wheel of FORTUNE is one of SA Marketplace's most comprehensive services. We view our service as a "supermarket of ideas" with an emphasis on risk management and risk-adjusted returns.
Our monthly review for October, where you can find all suggestions since launch, is only one click away.
We cover all asset-classes: common stocks, preferred shares, public debts, baby bonds, options, currencies, and commodities.
With Trapping Value on-board, you're getting two leading authors for the price of one.
Before committing to the service on a long-term basis, take advantage of the two-week free trial.
Disclosure: I/we have no positions in any stocks mentioned, and no plans to initiate any positions within the next 72 hours.