(*) Most of this piece was written and got published yesterday, December 26th, on the Wheel of FORTUNE service. The original title of this article is: "Getting Ready For 2019 - Prologue". The rest of the series will only be available for the WoF subscribers.
Data thru December 24th 2018 (inclusive)
The S&P 500 (SPY) entered December 26th trading day at one of its most extreme oversold levels in history.
With Trump preaching Buy the Dip, stocks look cheapest in years. S&P 500 at cheapest relative to forward earnings since 2013. American stocks are also looking less of an outlier versus other advanced markets than earlier this year.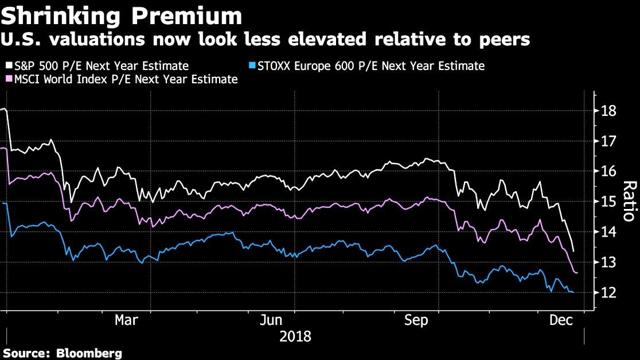 If the quarter were to end on Christmas, it would have been ...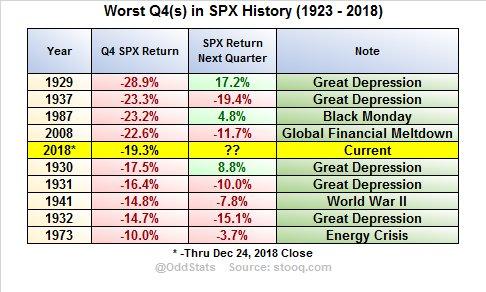 10th worst quarter (not only Q4) in S&P history (since the inception of the index in 1923).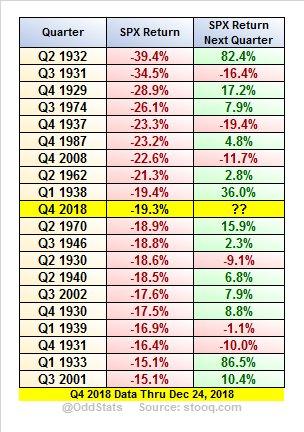 9th Christmas since electronic trading began in 1983 that the S&P 500 is in bear market territory (-20% from the previous all-time high)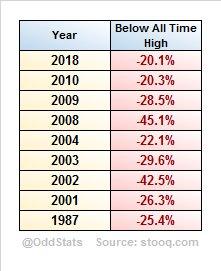 1st time since the 2008 financial crisis that all 19 industry groups in the Stoxx Europe 600 Index have lost value.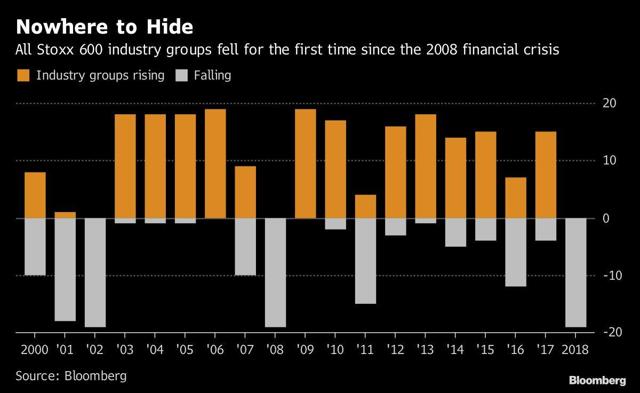 Then Came December 26th...
Oil prices and US stocks surged on Wednesday, with major equity benchmarks logging their best day in almost 10 years, helping to recover some of the losses from a turbulent run-up to Christmas.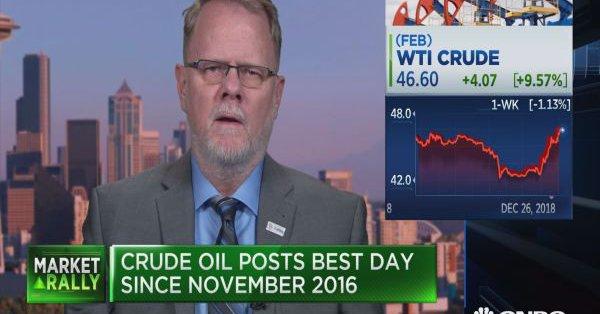 In a volatile session, the benchmark S&P 500 index climbed 5 per cent, it's best one-day rally since March 2009. The Dow Jones Industrial Average also gained 5 per cent, while the Nasdaq Composite jumped 5.9 per cent. Oil markets also staged a rally on Wednesday, with Brent Crude rising 9.1 per cent to $55.07 and West Texes Intermediete moving 9.9 per cent higher to $46.74.
As a matter of fact, today's 116.60 points gain in the S&P 500 was the largest in history!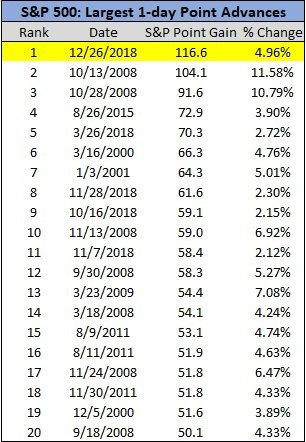 The 4.96% gain for the S&P 500 today, is the 2nd 4% move of the year (1st was a 4% loss back on February 5th). Now get this: Between 2012 to 2017 there were no daily gains/losses of over 4%. Welcome back, volatility!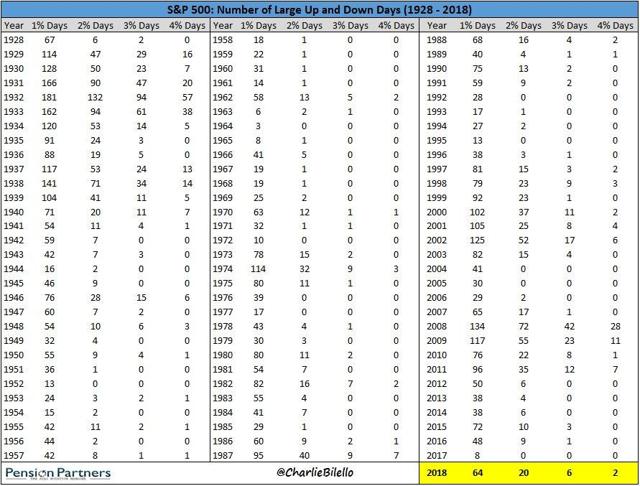 Dow Jones (DIA) closes up over 1,000 points (1,086.25 to be precise, but who's counting?...), its largest single-day point advance in history.
In percentage terms, 4.99% gain was largest since March 23rd, 2009.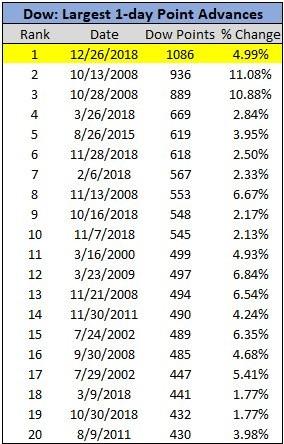 What about the Nasdaq, you ask?
The largest 1-day gain for the Nasdaq 100 (QQQ) Index (both point and %) occurred on Jan 3, 2001 after a surprise Fed rate cut of 50 bps (to 6%). The Nasdaq 100 gained 399 points that day, or 18.8%. The bounce did not last - by late February, it traded to new lows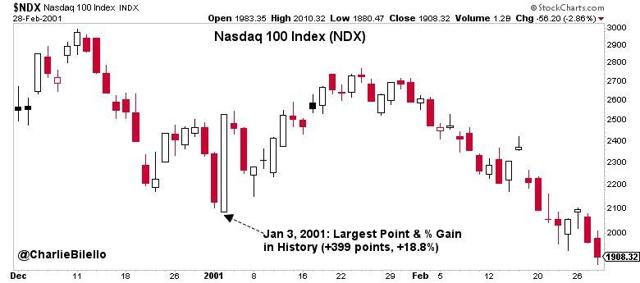 Here are the 20 largest point gains in the Nasdaq 100: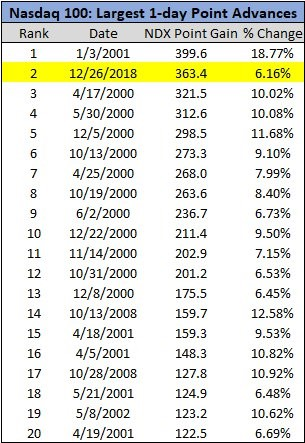 "Even" Citigroup (C) closed higher today, for the first time since December 3rd, ending (and setting) the longest down streak in its history at 14 days.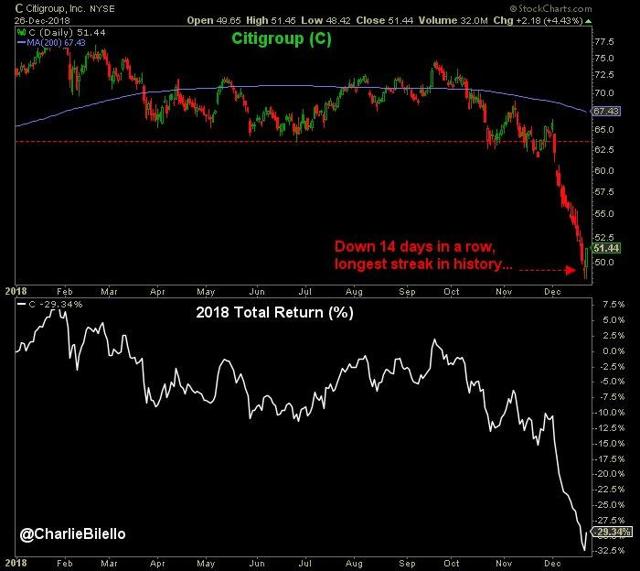 A 23% Reason to Remain Optimistic
Lesson learned from similar extremes since 2001: Stocks were higher 100% of the time, 1 year later with an average return of 23%.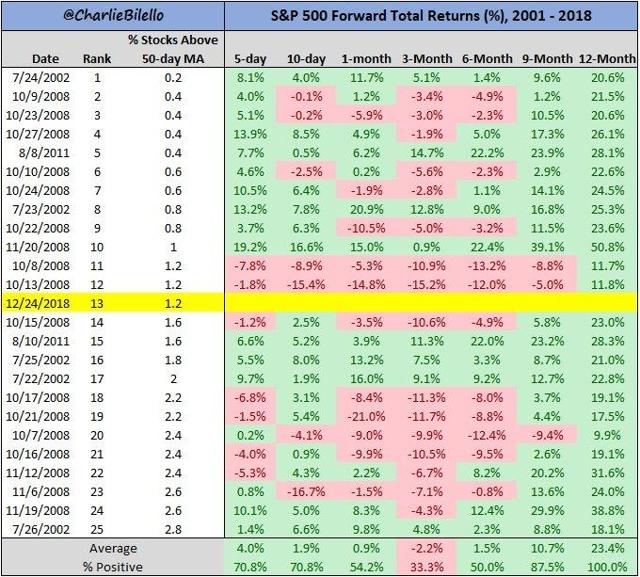 We can't promise you that one year from now, when we celebrate Christmas 2019, the S&P 500 will be up 23% from its December 24th closing level of 2,351.10.
Nonetheless, with a magnificent 4.96% rise today (December 26th 2018)...:
...there are only ~17.2% left to make it a 23% rise
...~21.6% of the +23% task is already behind us
...was the largest percentage gain since March 23rd, 2009
A 5% Move is Hardly Ever Welcome, Especially When There's a One-Off Push Behind it Apparently
Problem is, that a sharp move up, while the market is down, is hardly ever a long-term positive outcome. It's like an injection of steroids that helps you stand on your feet for a day (or two). but it doesn't (necessarily) cure the (chronic) illness.
Indeed, there's no sign of relief today, neither from the US futures (down 1.5% as I write) nor from China (MCHI, FXI). Industrial profits for November fell Y/Y for the first time since December 2015.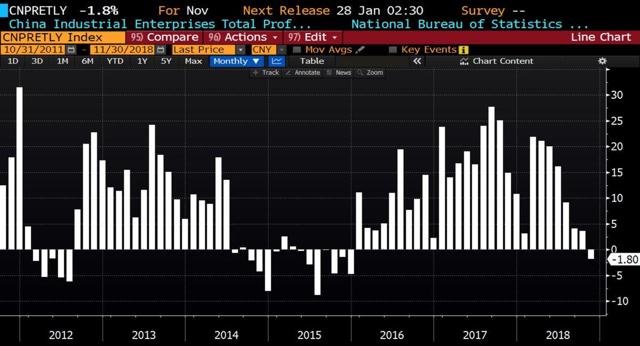 Shanghai Composite Index down after massive rally in the US yesterday.
Volatility (VXX) remains high, even after yesterday's jump.
The VIX index neatly reflects the regime shift in equity markets we have seen this year. In 2017, the average VIX level was ~11 with zero spikes. In 2018, the average VIX level is ~16 with four spikes to or over 25.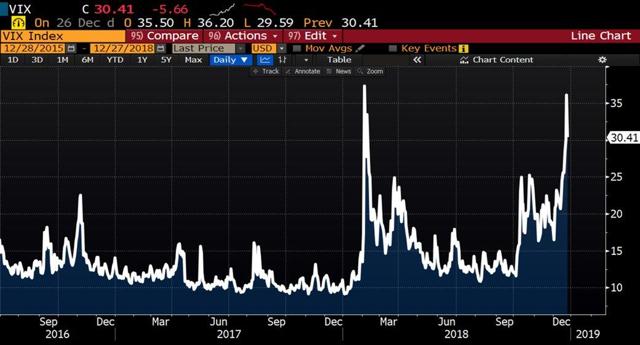 The main reason for the market jumping yesterday is probably the massive, $64B rebalancing that pension funds have to do before 2018 ends.
Wells Fargo calculated US defined-benefit pensions fund would need to implement a "giant rebalancing out of bonds and into stocks" - in fact the biggest in history - with the bank estimating roughly $64 billion in equity purchases in the last trading days of the quarter and year, prompting the banks to ask if traders are about to make pension rebalancing "great" again.
Judging by yesterday's market action, the answer is a resounding yes, even though as Wells warned investors and traders looking for a desperately needed respite from market gyrations "may have to deal with yet one more seismic bout of volatility before Dec 31 finally pops up on their calendar dials."
Wells explained where this massive rebalancing comes from the huge, end-of-quarter buy order, precipitated by the jarring divergence between equity and bond performances both in Q4 and the month of December. The stocks in the bank's pro forma pension asset blend had suffered a 14% loss this quarter, including about an 8.5% drop in December. Contrast this with a roughly +1.6% quarterly total return for the domestic aggregate bond index. The gap between equity and bond performance in pension portfolios would have been even larger had IG credit OAS not widened nearly 40 bps in Q4.
As a result of this need for massive quarter-end rebalancing, corporate pensions would need to boost their equity portfolios by as much as $64 billion into year-end. Getting a bit more granular, Wells analyst Boris Rjavinski wrote that domestic stocks – both large cap and small cap – may need disproportionately large boosts of $35 billion and $21 billion, respectively, compared to "only" $9 billion for global developed equities (see table below). This is driven by large performance gaps within equity markets: US stocks have trailed global and EM equities in Q4 and December after outperforming the ROW for quarters on end.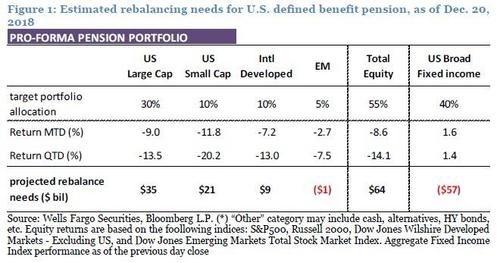 Getting Ready for 2019 / The Pursuit of Happiness
Over the next few days, we will present our top picks (single names) for 2019. That is mostly, but not entirely, coming from our pool of open suggestions. This will hopefully be a good set of picks from a micro level, regardless of how these specific names fit into the global (macro) picture/portfolio.
Once we finish with this, we will publish our "set portfolio", comprised of ETFs that we will run and update along the year, in order to provide you with something that i) tells you where we see the best value on a macro level, and ii) assists you in measuring our returns.
Some say that money doesn't buy happiness. Others are visualizing the relationship between money and happiness like this: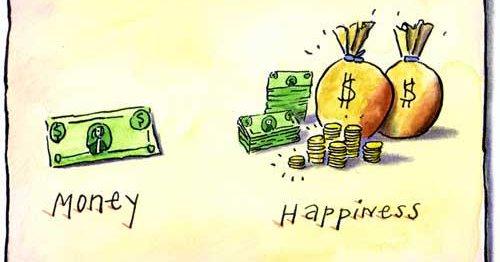 We aren't (and can't be) in charge of your happiness, but we certainly will do our best to take good care of your money.
If it leads to happiness - great. Even if it's not, we know that the Pursuit of Happiness is certainly easier when you have more money in the bank...
I've been rich and I've been poor. It's better to be rich!
Maybe happiness is something that we can only pursue. And maybe we can actually never have it no matter what.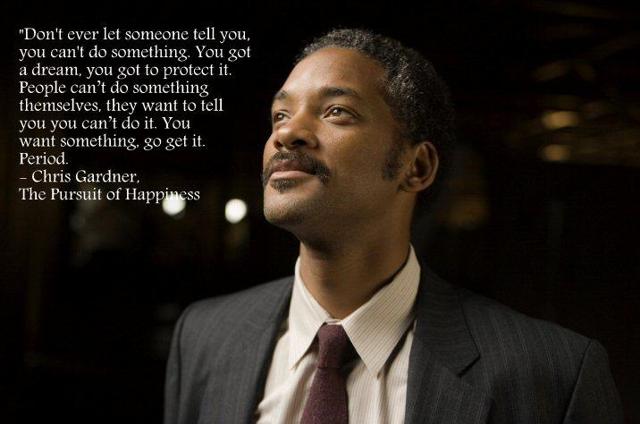 The Wheel of FORTUNE is one of the most comprehensive services, covering all asset classes: common's, preferred's, bonds, options, currencies, commodities, CEFs, etc.
Take advantage of our year-end special - currently a 5% discount ($997.50/year),and a two-week free trial.
Check out our monthly review, where all suggestions since launch appear.
TWoF is a "supermarket of ideas" with emphasis on risk management and risk-adjusted returns. We stock the "store"'s shelves, but you decide what products meet your taste.
Take advantage of this rare offer, before fees rise on (and along the way to) 1/2/2019.