Week
Here's how the past week looked like at Wall Street:
1) The S&P 500 (SPY) index is up >21% YTD, yet (at 2,992.03) still trading ~1% off its all-time record level (3,027.98) from 2 months ago (July 26th). Nevertheless, from a total return perspective the index has hit a new all-time high last week.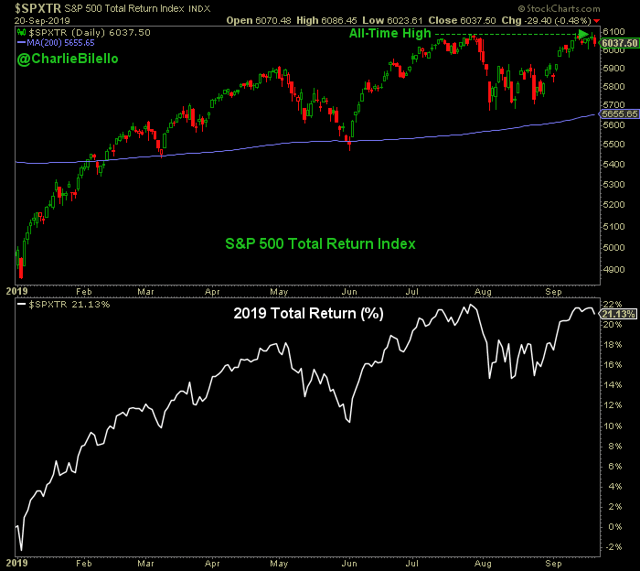 2) Housing Starts (ITB, XHB) hit their highest level since 2007.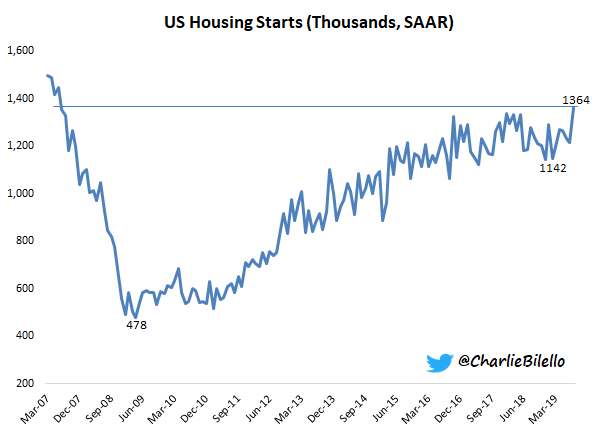 3) Crude Oil (USO, OIL) spiked 14.7% on Monday, following the attacks on Saudi Arabia's (KSA) Aramco oil facilities. That was the 3rd largest 1-day rise ever. Nevertheless, the "black gold" finished the week up "only" 6%.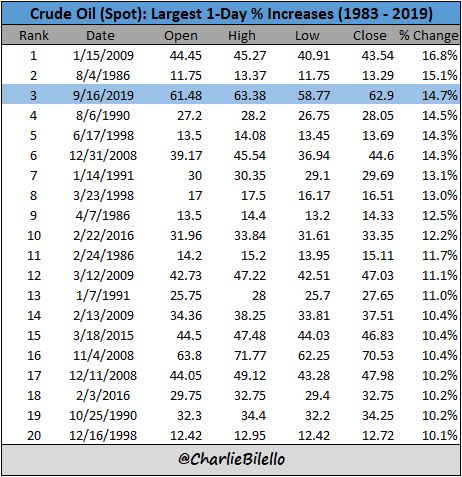 4) The Fed cut rates for the 2nd straight meeting to 1.75%-2.00%. While Jay Powell and the Fed's "dot plot" suggest that monetary-policy decision-makers may not see the need for another cut in 2019, based on Fed Funds futures - the market is still pricing one more leg down inside this year.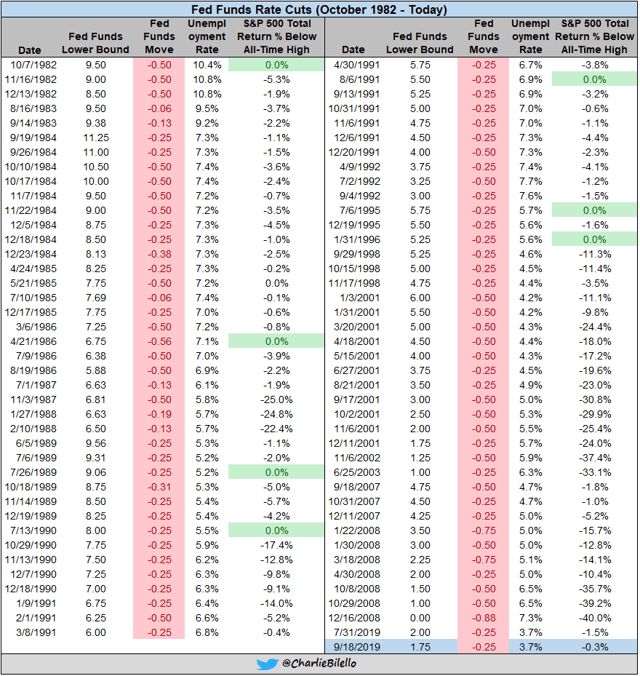 5) The Fed "special"/"daily"/"one-off" intervention in the repo market wasn't only very rare, but it's now not so special/rare anymore.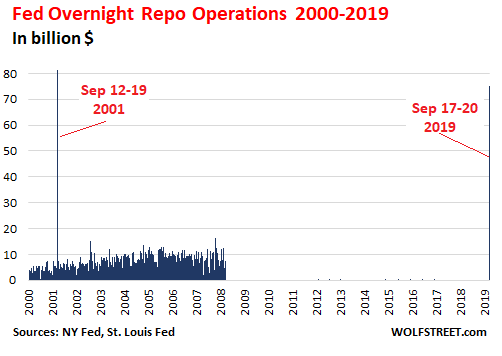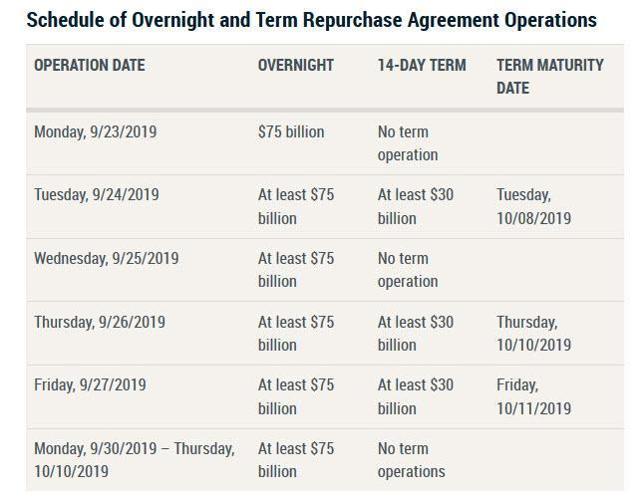 This de-facto means that QE4 has started, albeit without the Fed calling it by its real name as of yet. Give it 2-3 months and it would be named properly...
With the US Treasury back to routine issuance of new debt (SHV, SHY, IEF, TLT), sucking more and more liquidity from the market, it's no wonder to see a growing number of analysts already say that the so-called "helicopter money" will be needed to combat the next downturn.
Year
All 11 sectors within the S&P 500 are in positive territory. Even Energy (XLE) and Healthcare (XLV), two sectors that were lagging badly (and still do) are now showing decent returns YTD.
Interestingly, from a 1-year total return perspective, we still have 5 sectors that are in the red. On top of Energy and Healthcare, we have Financials (XLF), Industrials (XLI), and Materials (XLB) that are in negative territory, as a direct result of yield-curve/spreads (financials) or the trade-war tension (industrials, materials).
Unsurprisingly, over the longer-run, 3- and 5- year time frames, Technology (XLK) is leading the pack with phenomenal returns of +115% and +78%, respectively.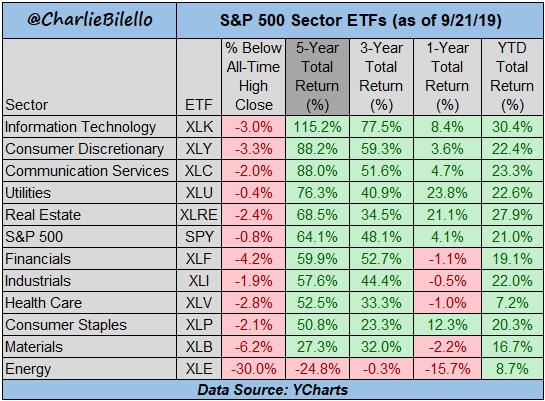 Here are the 2019 YTD returns of several leading securities:
Here are the leading country-focused ETFs in 2019:
Greece (GREK) and Russia (ERUS) are leading the way, but with a green/red ratio of 13:3, it's safe to say that 2019 has been pretty good for equity investors thus far. That, of course, unless you insisted investing in Pakistan (PAK) or Nigeria (NGE) for whatever reason...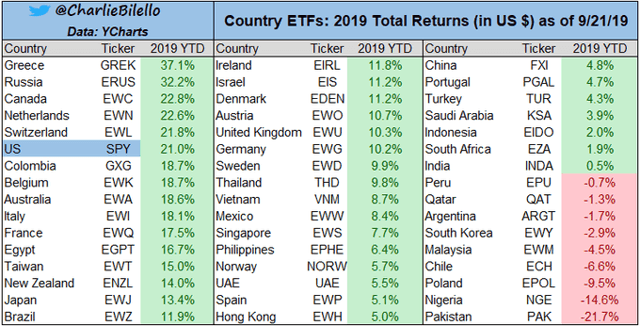 Decade (or two)
Here are the annualized returns of various asset-classes since 2008: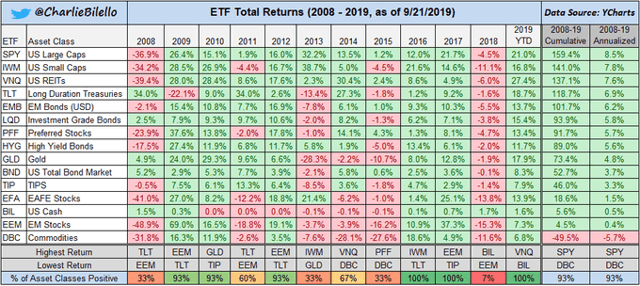 By the way, if we look at the annualized returns of various asset-classes since the 21st century has began - being defensive (real estate, bonds) has played out better than being aggressive, especially when considering the higher level of risk/volatility embedded with stocks.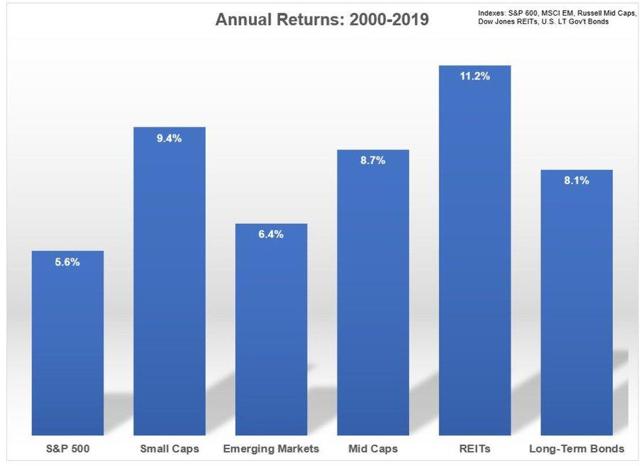 Today
Here is what you need to pay close attention to today:
1) A new podcast, that was recorded on 9/11/2019 (#911Anniversary, #911Attacks, #911neverforget, #911Day), where SA's Nathaniel Baker hosting/interviewing The Fortune Teller. People (e.g. my mom, my wife, and my top-salaried employee...) are saying this is a must-listened to!
Indeed, this requires you to take one hour (yes, it's that long...) off your busy schedule, but the title of the podcast - "Picking Stocks in Irrational Markets With The fortune Teller" - tells you that this might be a worthwhile break.
We touched upon many things that are currently affecting the capital markets and we came up with many ideas, specific names that we believe are worthwhile putting money into.
I'm not a native English speaker, so don't expect Shakespearean language to be in-use. However, as always, you may expect the conversation to be very actionable, and hopefully very valuable from an investing perspective.
2) A "from Listening to Subscribing" campaign.
In light/honor of this podcast, we are offering a special 15% discount to The Wheel of FORTUNE normal fees.
Monthly fee: Instead of $121/month you'll pay only $102.85/month
Yearly fee: Instead of $1,116/year you'll pay only $948.60/year
*The yearly fee is 23.14% cheaper than the monthly fee X 12 
This offer is going to be in effect for one week only, as of today and until the end of September. 
Basically, when we look at the upcoming trading day, what we're seeing is a unique opportunity to kill two birds with one stone (metaphorically speaking, of course): 1) Listening to a first-of-its-kind podcast, and 2) Subscribing to  a one-of-a-kind service.
You can take full advantage of a combination that never been offered before: 
The Wheel of FORTUNE is a most comprehensive service, covering all asset-classes: common stocks, preferred shares, bonds, options, currencies, commodities, ETFs, and CEFs.
Take advantage of the two-week free trial, and gain access to our:
Monthly Review, where all trades are monitored.
Trading Alerts. We don't trade every day, but we issue one alert per trading day, on average.
Model Portfolio, comprised of ETFs & CEFs; aiming at beating the S&P500 performance.
Listen to the Podcast & Take Advantage of the Discount