Primary Deals (IPOs) Are No Longer Offering Free Lunch
Please Note: Blog posts are not selected, edited or screened by Seeking Alpha editors.
Summary
What used to be considered easy money - you buy any IPO that you can get into - is becoming easy money. to lose.
Everybody talk about WeWork, but there is a growing (and worrying) list of companies that have been seeing their debut trading moving in the wrong direction.
2019 is shaping itself as the "anti-Unicorn" year, and that it not a good sign for the market for those who remember the dot-com bubble.
What's going on in the primary market recently?
What used to be "easy money" - you buy at the IPO and sell straight after - is becoming a real struggle.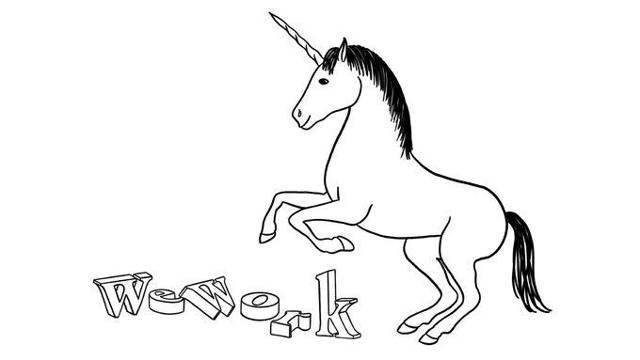 But before we dive in, this discussion can't continue without us mentioning The We Company (WE), aka "WeWork", that has turned into The We (can't go IPO) Company, aka "WeWalk" (fron an IPO).
From the most promising/hyped IPO in years, WeWork has become the poster child of how overvalued and unreal the primary market has turned into.
After years of people talking about the company's "huge potential", now (suddenly) all we hear is how bad is the shape the company is in.
WeWork's rapid expansion and business issues is now seen as presenting a serious danger to the New York and London real estate markets. Furthermore, it's now assumed that WeWork has only enough cash to last to maybe next spring, and it's going to be challenging for it to raise money in either stock or bond markets.
I wouldn't like to be in Softbank's (OTCPK:SFTBY, OTCPK:SFTBF) shoes...
Investors are starting to push back against deals they view as excessively risky. You're seeing this in the IPO market with Endeavor (OTCQX:EDVR), Peleton (PTON), etc., as well as the junk-debt market (HYG, JNK), with at least 4 deals getting pulled from market this month.
Peloton is the most recent evidence of the unicorn struggle/bubble (pick whichever word seems more suitable for the situation). After setting the IPO pricing at at $29/share, the stock price dived circa 20% (!) since the stock started trading yesterday until a couple of hours ago.
Even at $25.14, those who bought at the IPO are looking at a 13.3% tumble in the trading debut of the unprofitable (we'll get back to this in a moment) fitness startup.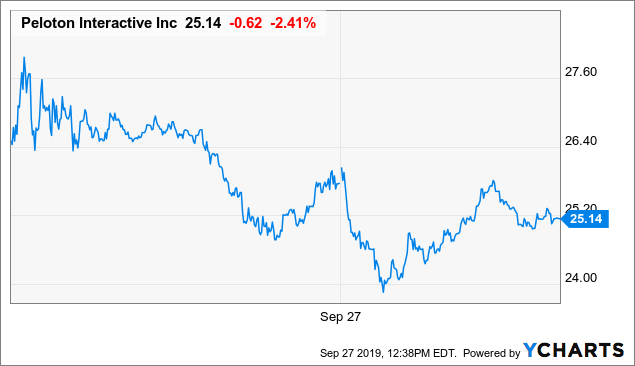 Peloton is yet just another mega IPO that is under-performing, in a list which is getting longer and longer along the "anti-Unicorn" year.
Only Pinterest Inc (PINS) is saving the busted IPO of tech (XLK) companies list.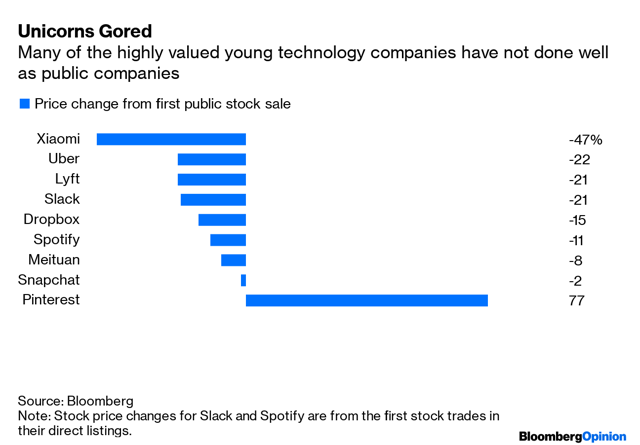 Truth must to told: This shouldn't come as a huge surprise, taking into consideration the recent years' trend within the primary market.
While until 2016 (inclusive), we've seen many more IPOs of profitable companies than those of unprofitable companies, over the last three years (2017-2019) it's a completely different picture.
This year, particularly, is seeing the highest ratio of unprofitable/profitable companies that are going public, at least over the past 20 years.
When unprofitable companies are raising money at the fastest pace since the dot-com bubble - it's no wonder that the market is starting to turn down more and more of these companies .
So much so, that the 2019 class of IPOs may turn out to be as risky as those dot-com companies that went bust at the turn of the century.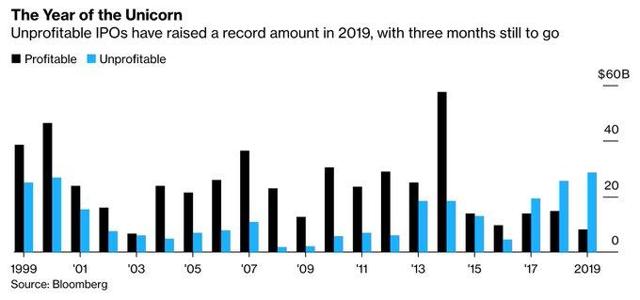 The disintegration of WeWork's IPO plans has certainly rattled investors, but it seems like its mostly the harsh realization that the business models of many of these companies may not lead them to profit-land anytime soon; perhaps never.
Tesla (TSLA) anyone?...
--------------------------------- OR PERHAPS... -----------------------------------
Wheel of FORTUNE (WOF*) anyone?...
*WOF = This is the ticker of a proven (went public ~30 months ago), successful (5-star reviews with an average 5.0 rating), and profitable (come and see for yourself) IPO.
In light of this podcast, we are offering for ONE WEEK ONLY a 15% DISCOUNT!!! >>> VALID UNTIL MONDAY, 9/30, ONLY!!!
The Wheel of FORTUNE is a most comprehensive service, covering all asset-classes: common stocks, preferred shares, bonds, options, currencies, commodities, ETFs, and CEFs.
Take advantage of the two-week free trial, and gain access to our:
Monthly Review, where all trades are monitored.
Trading Alerts. We don't trade every day, but we issue one alert per trading day, on average.
Model Portfolio, comprised of ETFs & CEFs; aiming at beating the S&P500 performance.
Listen to the Podcast & Take Advantage of the Discount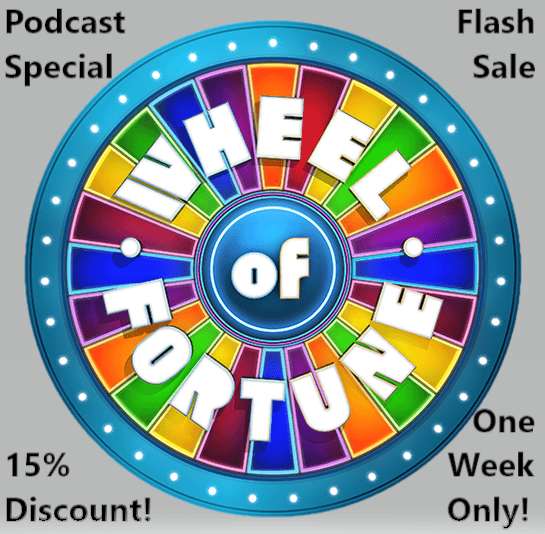 Wishing you all a lovely weekend!
Seeking Alpha's Disclosure: Past performance is no guarantee of future results. No recommendation or advice is being given as to whether any investment is suitable for a particular investor. Any views or opinions expressed above may not reflect those of Seeking Alpha as a whole. Seeking Alpha is not a licensed securities dealer, broker or US investment adviser or investment bank. Our analysts are third party authors that include both professional investors and individual investors who may not be licensed or certified by any institute or regulatory body.