Bitcoin Against Gold? More Like Bitcoin & Gold Against Stocks & Bonds!
Goldman Sachs Physical Gold ETF (AAAU), AGG, AGQ, ALXN, ARKW, AZN, AZNCF, BAR, BIL, BLCN, BLOK, BND, BNDX, BSV, BTC-USD, COIN, DBC, DGP, DIS, EWI, EWP, FSM, GBTC, GLD, GLDI, GLDM, GLTR, GOVT, GSG, HYG, IAU, IEF, IEI, JNK, LQD, PALL, PGAL, PHYS, PPLT, PSLV, SGOL, SHV, SHY, SIL, SLV, SLVP, SPY, TIP, TLH, TLT, TSLA, UGL, VCIT, VCSH
23 Comments
Please Note: Blog posts are not selected, edited or screened by Seeking Alpha editors.
Summary
A growing chatter among investors assumes that Bitcoin's success is Gold's failure (and vice versa). Who determine whether these are perfect substitute assets?
Over $18 trillion of bonds already trade with negative yields, and the inclusion of Tesla in the S&P 500 is going to make stock look uber-expensive.
Money printing, stimulus, central banks, monetary policy, zero/negative rates/yields. #TINA? sure there is!
If we learn something from Disney is that it's all about how you present yourself. Convince investors you're the real deal, and they would buy PLUS size, no questions asked.

Follow us on Twitter @TheFortuneTell5
I have a dream, a song to sing

To help me cope with anything

If you see the wonder of a fairy tale

You can take the future even if you fail

I believe in angels

Something good in everything I see

I believe in angels

When I know the time is right for me

I'll cross the stream, I have a dream
"I Have A Dream" - ABBA <> "We Aim To Fulfil It" - Wheel of Fortune
Even the guys at Schwab are now suggesting that you should follow the moves of Wheel of Fortune ahead of 2021...

You Don't Want to Miss Out on our Holidays' Sale and the '2021 Game Plan' Series (Starting This week)!!!
The news regarding AstraZeneca (NASDAQ:AZN) acquiring Alexion Pharmaceuticals (NASDAQ:ALXN) in a deal worth $39B certainly brighten our weekend, as ALXN happy shareholders.
Source: @TheFortuneTell5
However, we will take this opportunity to talk a bit about the Gold vs. Bitcoin narrative that seems to dominate the alternative investment scene recently.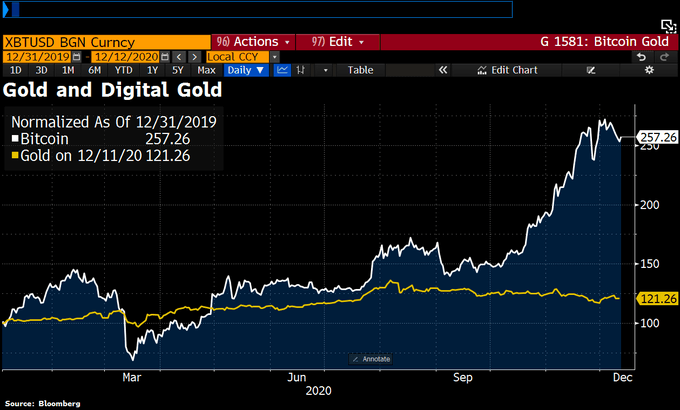 Nevertheless, we wish to claim that although both these assets fall into the "alternative assets" pool, there's a room for both to flourish rather to play (perfect?) substitutes for each other.
There are over $18 trillion worth of bonds currently trading with a negative yield.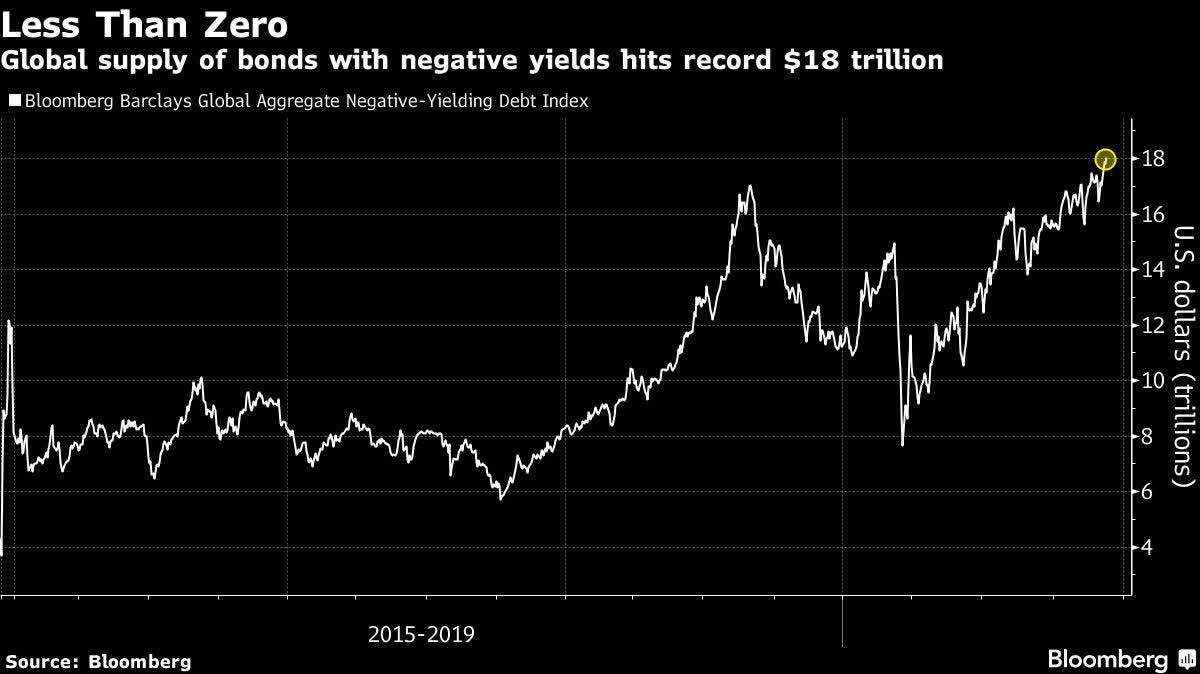 Believe it or not, that pile now also include most of the PIIGS countries: Italy (EWI), Spain (EWP) and even Portugal (PGAL)!
Source: @TheFortuneTell5
More debt trading with negative yields = Greater allure for alternative investments such as Crypto Currencies and Precious Metals.
In addition, equity valuations are sky-rocketing. As we've explained last Friday, the upcoming inclusion of tesla (TSLA) in the S&P 500 (SPY) is going to turn an already very expensive index into a very expensive PLUS index.
A bit reminding of what's happening to Disney (DIS) nowadays when the "PLUS" (i.e. streaming business) is all that matters...
Source: @TheFortuneTell5
Anyway, back to our topic.
The combination of record-high level of negative-yielding debt PLUS record-high valuations of stocks makes for a perfect substitute. Not of Bitcoin instead of Gold, rather of Bitcoin and Gold instead of traditional assets.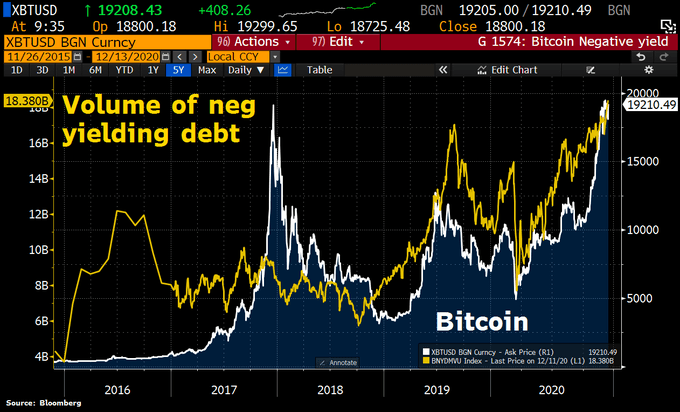 Enjoy the rest of the weekend!
-------------------------------------------------------------------------------------
Wheel of FORTUNE is a one-stop-shop, covering all asset-classes (common stocks, preferred shares, bonds, options, commodities, ETFs, and CEFs), across all sectors/industries, through single trading-ideas and model-managed portfolios.
The extremely-wide scope of the service allows us to cater all types (of investors) and (investment) needs/goals, making WoF a true one-service-fits-all.

Our offering includes, but isn't excluded to, the following:
Weekly macro coverage.
Trading Alerts. Over 250 suggestions a year, on average, across all asset-casses, sectors, and industries.
Trading Alerts Directory, where you track each and every suggestion we ever made, including current data, risk rating, upside potential, and links to the relevant/original articles.
Funds Macro Portfolio. A plain-vanilla portfolio which is solely based on up-to-25 funds), for those who wish to keep it as simple as possible (This portfolio - which is only a small part of WoF - is what our second service, Macro Trading Factory, is all about).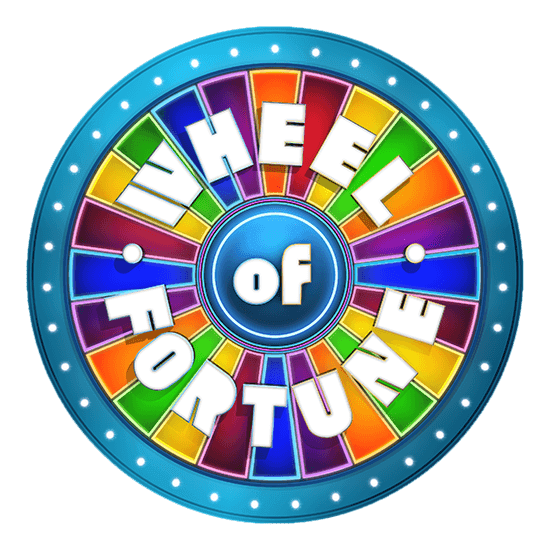 Follow us on Twitter @TheFortuneTell5
Seeking Alpha's Disclosure: Past performance is no guarantee of future results. No recommendation or advice is being given as to whether any investment is suitable for a particular investor. Any views or opinions expressed above may not reflect those of Seeking Alpha as a whole. Seeking Alpha is not a licensed securities dealer, broker or US investment adviser or investment bank. Our analysts are third party authors that include both professional investors and individual investors who may not be licensed or certified by any institute or regulatory body.