The Fed (Aka Road Runner) Has Broken The US Bond Market, Leaving Retail Investors (Aka Wile E. Coyote) Hanging In The Air
Dec. 21, 2020 7:08 AM ET
Apple Inc. (AAPL), AGG, BIL, BIV, BKLN, BLV, BND, BNDX, BSV, EMB, FLOT, FTSM, GOVT, HYG, IEF, IEI, IGIB, IGSB, ISTB, IUSB, JNK, JPST, LMBS, LQD, MBB, MINT, MSFT, MUB, NEAR, SCHO, SCHP, SCHR, SCHZ, SHM, SHV, SHY, SPAB, SPIB, SPSB, SPY, TIP, TLT, TSLA, USHY, USIG, VCIT, VCLT, VCSH, VGIT, VGSH, VMBS, VTEB, VTIP
11 Comments
Please Note: Blog posts are not selected, edited or screened by Seeking Alpha editors.
Summary
Both the Fed and ECB have 'joined forces' in breaking the USD and EUR bond markets this year.
Not only that there's no meat left on the bond-bone, but what many investors assume to be a reliable 'backstop' is nothing but thin/empty air.
EUR negative/USD record low yields aren't only a fiction, but a (imperfect) camouflage to central bankers becoming impotent.
It's only when the tide goes out that you learn who has been swimming naked. Don't swim naked, and use a life-preserving Wheel!

Follow us on Twitter @TheFortuneTell5
"I Have A Dream" - ABBA <> "We Aim To Fulfil It" - Wheel of Fortune
'Thanks' to the Fed and ECB, bond investors have very little options when it comes to decent/positive yields.
Over $18 trillion on bonds are trading with negative yields!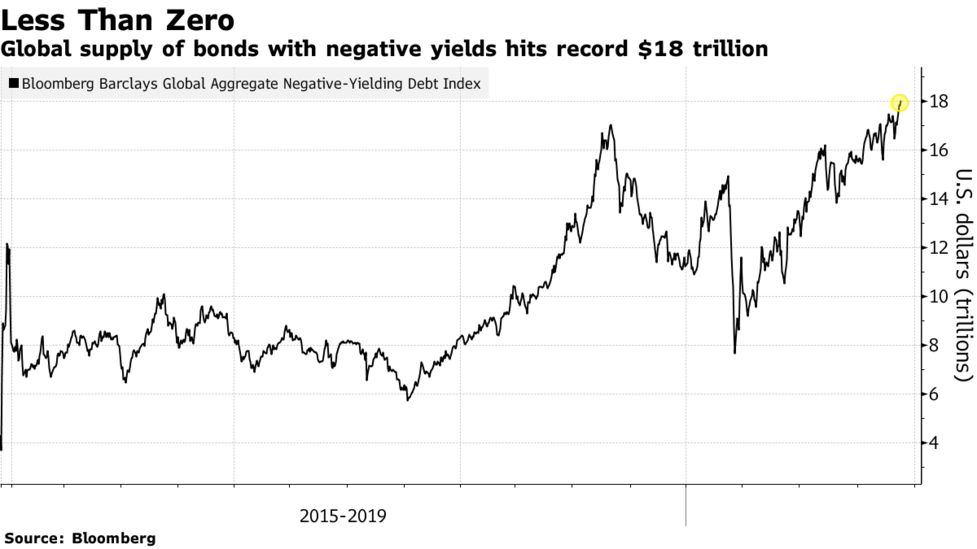 And those with positive yields - offers very little.
Surely when it comes to Investment-Grade rated bonds trading with negative yields, even USD-denominated!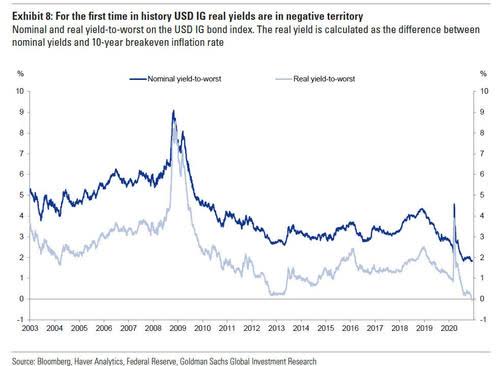 However, that's now true even when it comes to high-yield bonds; surely  those that are EUR-denominated: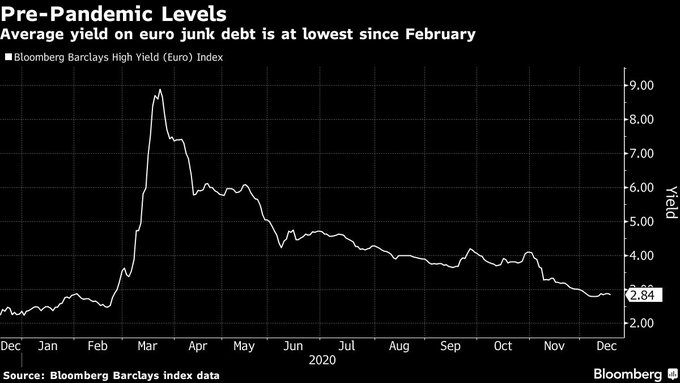 Low rates/yields are pushing companies to raise more and more cash.
As the old saying goes: You issue/raise when you can. not when you need.
Just how record was this year for investment grade and junk bond issuance? Here's how: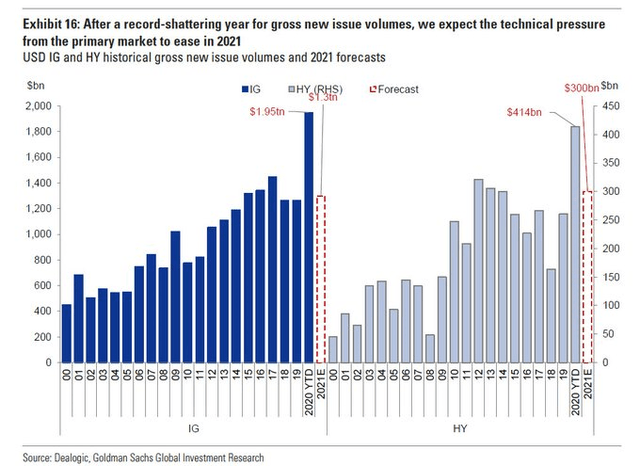 As a result, what is called the "credit market" is now completely broken.
Contrary to everything we've ever learned, the longer the duration (i.e. greater the risk) - the lower the return (i.e. YTM reward)
The risk/reward is completely skewed!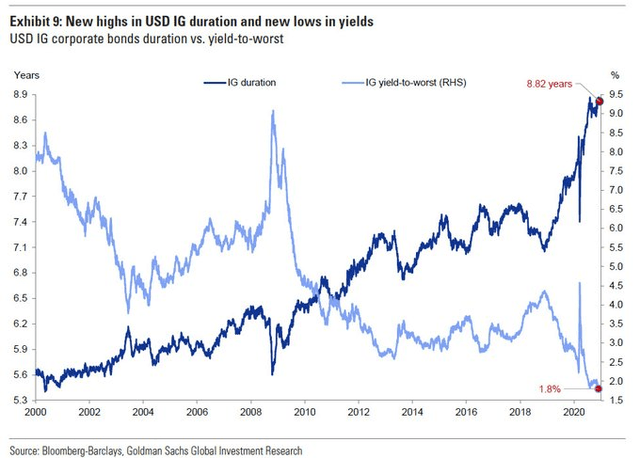 Is the Fed still buying corporate bonds? Not really.
After an early burst of buying, during the months of May-July, the Fed has paused and barely purchased corporate bonds ever since.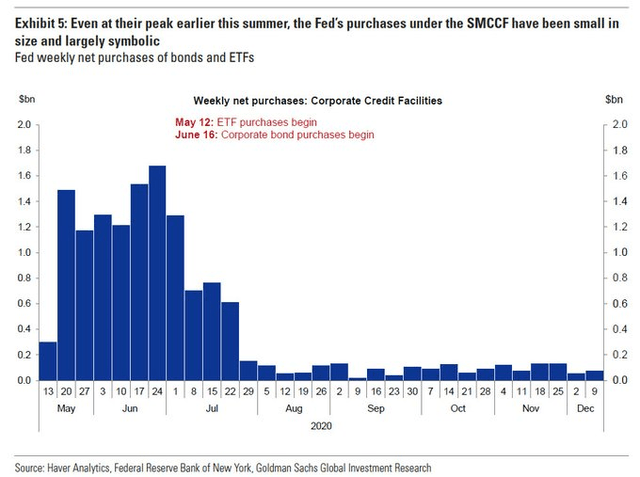 It looks as if the Fed only had to buy 'enough' (whatever that amount is) to prove investors that they (would) actually backstop it, if and when needed.
We've seen this time and time again. The Fed (aka Road Runner) juices the market, boosts asset prices, and then silently, almost unnoticed, steps away. Retail investors (aka Wile E. Coyote) sustain the boom for a few more months, until one day, the market (i.e. last man standing) suddenly realized that there's no 'floor' underneath.
It's called 'gravity'...
The funny thing is that the "safety net" offered by the Fed is meaningless. I mean, look at what bonds the Fed is buying: Microsoft (MSFT) & Apple (AAPL).
This is anything but 'smoothing market functionality' and fight inequality.

Undoubtedly, 2020 will go down in history as the year with the most (colorful) descriptions/adjectives. Think on how many versions you might use to complete a sentence that starts with "2020 will be remembered as the year ___________________________________________________________"
One of these descriptions is undoubtedly "The year the bond market broke", by no other than its official supervisor/gatekeeper - Jay Powell.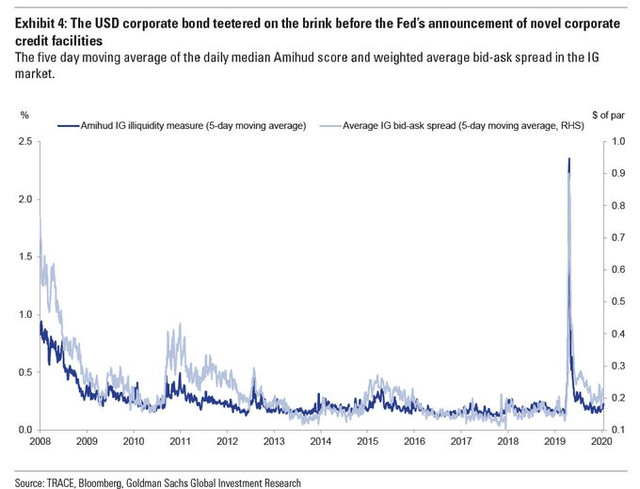 If you think the Fed provides a backstop to restore confidence - this shows what would/could happen if and when Fed officials become impotent.
Most probably, they already have.
Timing is Everything!
Tesla (TSLA) has just joined the prestige S&P 500 index (SPY), and you can join the even more-prestigious' Wheel of FORTUNE.
Even the guys at Charles Schwab suggest you should closely watch the moves of our Wheel as we head into 2021...

From now on, until the rest of the year, we will expose our 10 best trades in 2020, so make sure you're not only staying tuned, but also joining the service, so that a year from now - you won't only read about those, retrospectively, but trade on those, at real time.
It's only when the tide goes out that you learn who has been swimming naked. Don't swim naked, and use a life-preserving Wheel!
You Don't Want to Miss Out on our Holidays' Sale and the '2021 Game Plan' Series that Started Last week:
(At Least) Three Additional Parts are Due Before Year-End! Join Now to See Our 2021 Investment Strategy!!
-------------------------------------------------------------------------------------
Wheel of FORTUNE is a one-stop-shop, covering all asset-classes (common stocks, preferred shares, bonds, options, commodities, ETFs, and CEFs), across all sectors/industries, through single trading-ideas and model-managed portfolios.
The extremely-wide scope of the service allows us to cater all types (of investors) and (investment) needs/goals, making WoF a true one-service-fits-all.

Our offering includes, but isn't excluded to, the following:
Weekly macro coverage.
Trading Alerts. Over 250 suggestions a year, on average, across all asset-casses, sectors, and industries.
Trading Alerts Directory, where you track each and every suggestion we ever made, including current data, risk rating, upside potential, and links to the relevant/original articles.
Funds Macro Portfolio. A plain-vanilla portfolio which is solely based on up-to-25 funds), for those who wish to keep it as simple as possible (This portfolio - which is only a small part of WoF - is what our second service, Macro Trading Factory, is all about).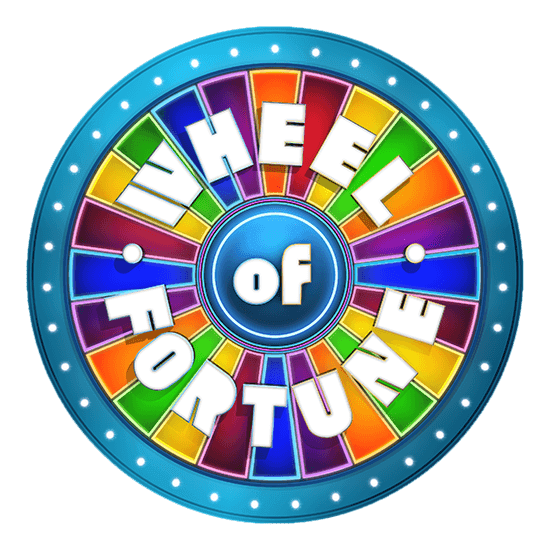 Follow us on Twitter @TheFortuneTell5
Seeking Alpha's Disclosure: Past performance is no guarantee of future results. No recommendation or advice is being given as to whether any investment is suitable for a particular investor. Any views or opinions expressed above may not reflect those of Seeking Alpha as a whole. Seeking Alpha is not a licensed securities dealer, broker or US investment adviser or investment bank. Our analysts are third party authors that include both professional investors and individual investors who may not be licensed or certified by any institute or regulatory body.