"The Inflation Job" Reality Vs. (Dr.) Jay Dunking Ability
Jan. 04, 2021 7:19 PM ET
Goldman Sachs Physical Gold ETF (AAAU), AGG, BAR, BIL, BND, BNDX, BSV, DBS, EFA, GLD, GLDI, GLDM, GOVT, HYG, IAU, IEF, IEFA, IEI, IEMG, IJH, IJR, IVV, IVW, IWD, IWF, IWM, JNK, LQD, MBB, PSLV, QQQ, SGOL, SHV, SHY, SIVR, SLV, SLVO, SPY, TIP, TLH, TLT, USMV, USV, VCIT, VCSH, VEA, VGT, VIG, VO, VOO, VTI, VTV, VUG, VWO, VYM, XLK, ZSL
4 Comments
Please Note: Blog posts are not selected, edited or screened by Seeking Alpha editors.
Macro and Micro, Value and Growth, Long/Short Equity, Income (DGI, Bonds, Pref.'s)
Seeking Alpha Analyst Since 2014
On a strictly formal note...
The Fortune Teller ("TFT") is a well-known contributor on Seeking Alpha ("SA"), and a top blogger according to TipRanks, with over 30 years of deep and direct market experience.

TFT is the leading moderator of two services on SA: Wheel of Fortune and Macro Trading Factory (led by TFT's "mirage identity" called The Macro Teller, or "TMT")

TFT is an account that represents a business which is mostly focuses on portfolio- and asset- management. The business is run by two principles that (among the two of them) hold BAs in Accounting & Economics, and Compute Sciences, as well as MBAs. One of the two is also a licensed CPA (although many years have gone by since he was practicing), and has/had been a licensed investment adviser in various countries, including the US (Series 7 & 66).
On a combined basis, the two principles lived and worked for at least three years in three other-different countries/continents, holding senior-managerial positions across various industries/activities:
On one hand/principal, IT, R&D, Cloud, AI/ML, Security/Fraud, Scalability, Enterprise Software, Agile Methodologies, and Mobile Applications.
On the other hand/principal, Accounting, Banking, Wealth Management, Portfolio Management and Fund Management.
Currently, they run a business which is mainly focusing on active portfolio/fund/asset management as well as providing consulting/advisory services. The business, co-founded in 2011, is also occasionally getting involved in real estate and early-stage (start-up) investments.
The people who work in and for this business are an integral and essential part of the services that we offer on SA Marketplace platform: Wheel of Fortune, and Market Trading Factory. While TFT (or TMT for that matter) is the single "face" behind these services, it's important for readers/subscribers to know that what they get is not a "one-man-show" rather the end-result of an ongoing, relentless, team effort.
We strongly believe that successful investors must have/perform Discipline, Patience, and Consistency (or "DCP"). We adhere to those rigorously.

The contributor RoseNose is both a contributing and promoting author for Macro Trading Factory. 
On a more personal note...
We're advising and consulting to private individuals, mostly (U)HNWI that we had been serving through many years of working within the private banking, wealth management and asset management arenas. This activity focuses on the long run and it's mostly based on a Buy & Hold strategy.
Risk management is part of our DNA and while we normally take LONG-naked positions, we play defense too, by occasionally hedging our positions, in order to protect the downside.
We cover all asset-classes by mostly focusing on cash cows and high dividend paying "machines" that may generate high (total) returns: Interest-sensitive, income-generating, instruments, e.g. Bonds, REITs, BDCs, Preferred Shares, MLPs, etc. combined with a variety of high-risk, growth and value stocks.
We believe in, and invest for, the long run but we're very minded of the short run too. While it's possible to make a massive-quick "kill", here and there, good things usually come in small packages (and over time); so do returns. Therefore, we (hope but) don't expect our investments to double in value over a short period of time. We do, however, aim at outperforming the S&P 500, on a risk adjusted basis, and to deliver positive returns on an absolute basis, i.e. regardless of markets' returns and directions.
Note: "Aim" doesn't equate guarantee!!! We can't, and never will, promise a positive return!!! Everything that we do is on a "best effort" basis, without any assurance that the actual results would meet our good intentions.
Timing is Everything! While investors can't time the market, we believe that this applies only to the long term. In the short-term (a couple of months) one can and should pick the right moment and the right entry point, based on his subjective-personal preferences, risk aversion and goals. Long-term, strategy/macro, investment decisions can't be timed while short-term, implementation/micro, investment decision, can!
When it comes to investments and trading we believe that the most important virtues are healthy common sense, general wisdom, sufficient research, vast experience, strive for excellence, ongoing willingness to learn, minimum ego, maximum patience, ability to withstand (enormous) pressure/s, strict discipline and a lot of luck!...
Summary
What does inflation really mean (for stocks)? It may not be as simple as you think.
Why TIPS are in such high demand? They surely have a very good reason!
You can run, you can jump, you can score, but can you dunk? One Jay can, the other - unlikely.
Can (Dr.) Jay deliver a slam-dunk, or is he about to surrender to the mighty, burning hot, Phoenix?

--------------------------------------------------------------------------------------
Plot
In the famous movie "The Italian Job",  Charlie Croker and his team plan an elaborate gold heist against their former ally, after the latter has betrayed and left them for dead in Italy.
Similarly, in the less-famous "The Inflation Job" reality, Jay Powell and his team plan an elaborate money heist against their former yield-curve ally, after the latter has betrayed and left them with a dead-inflation in the US.
But it wasn't actually dead. Dying perhaps, but not yet done.
And just like the Phoenix, it seems like inflation is arising from the ashes.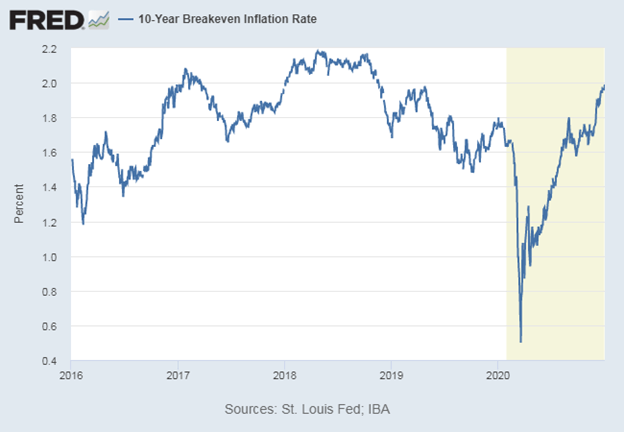 Background
After going almost a generation without meaningful inflation, many believe it has been vanquished. Aging demographics, globalization, and advancing technology have held prices down.
Will this remain true in 2021?
Based on investors' appetite for TIPS, and how the breakeven rate keep climbing - 2021 might be different.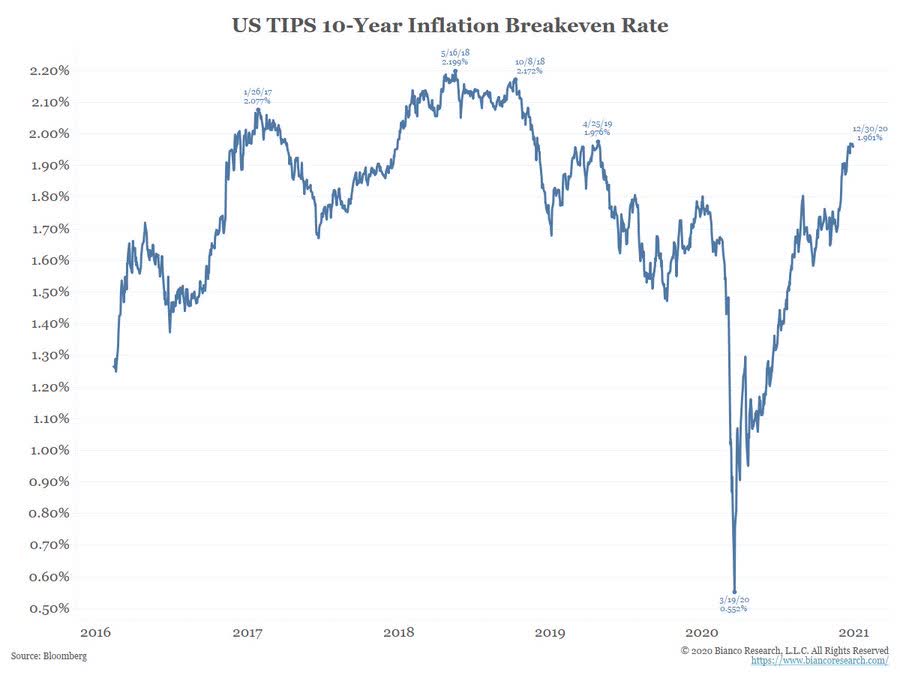 History
In the late 60s, many believed stocks were the perfect hedge against inflation. This line of thinking argued companies could raise prices along with costs, providing a barrier from inflation. This thinking is again present today. But this did not hold true in the 70s.
Below is the inflation-adjusted SPX (orange line) and DJIA (blue line) from 1958 to 1995.
From the 1968 peak to the 1982 low, the S&P 500 lost 65% of its inflation-adjusted value. It was not until 1993 that the inflation-adjusted SPX exceeded its 1968 peak! 1995 for the DJIA!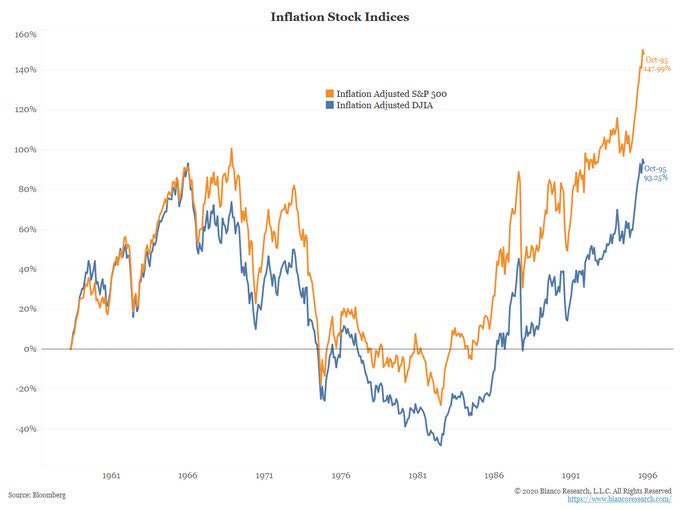 Reality
For nearly 30 years, equities lost purchasing power for its holders.
Inflation took a tremendous toll on these investors in the 1970s and 1980s.
People at the time were painfully aware of how inflation was destroying value, as captured by this famous August 12, 1979 'Business Week' cover.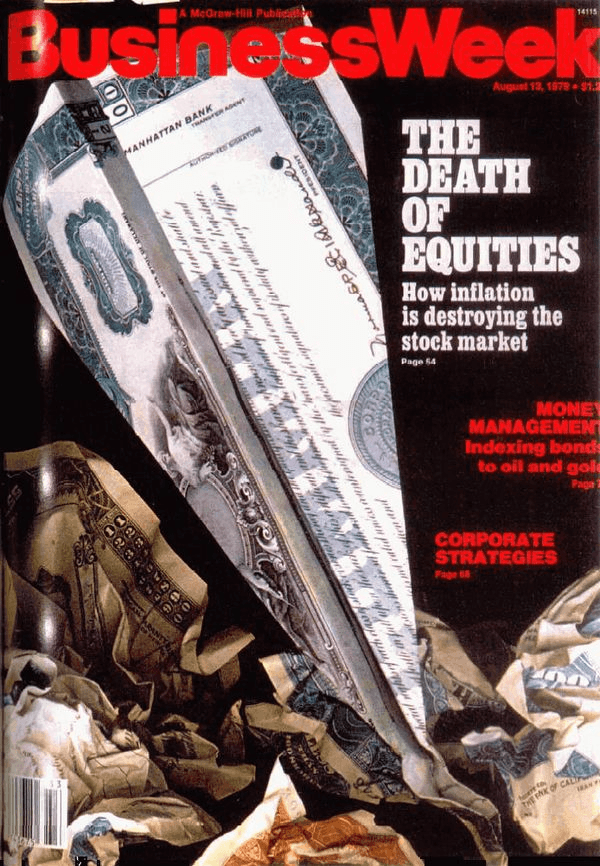 Fatality
Yes, the timing of the cover was contrarian, as it came near the end of the long inflation period. But the point was correct. Inflation can destroy stock investors.
Should inflation return in 2021, don't fall for revisionist history that it is good for equities.
On the other hand, the combination of partial (turning full) lockdowns and holiday lull has plunged the economy back to its worst levels from last March.
Of course, this should isn't "suppose" to last for more than another week or so, right?... But, right now, it's bad!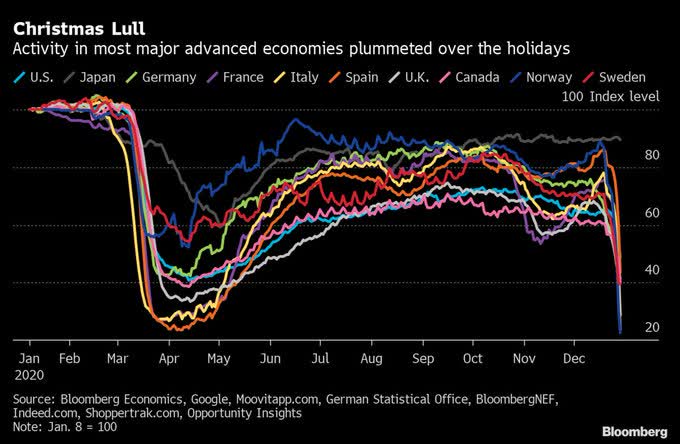 Brutality
With the breakeven moving past the closely-watched 2% mark, it's only natural (pun intended) that:
Prices of natural resources keep rising; it's unclear what is the egg and what is the hen, but the two clearly feed each other.
Bond prices - especially long-duration, lower-rated, credits - start losing steam, following a tremendous run last year.
Investors (and stock prices) might be starting to take this issue more seriously than they have thus far.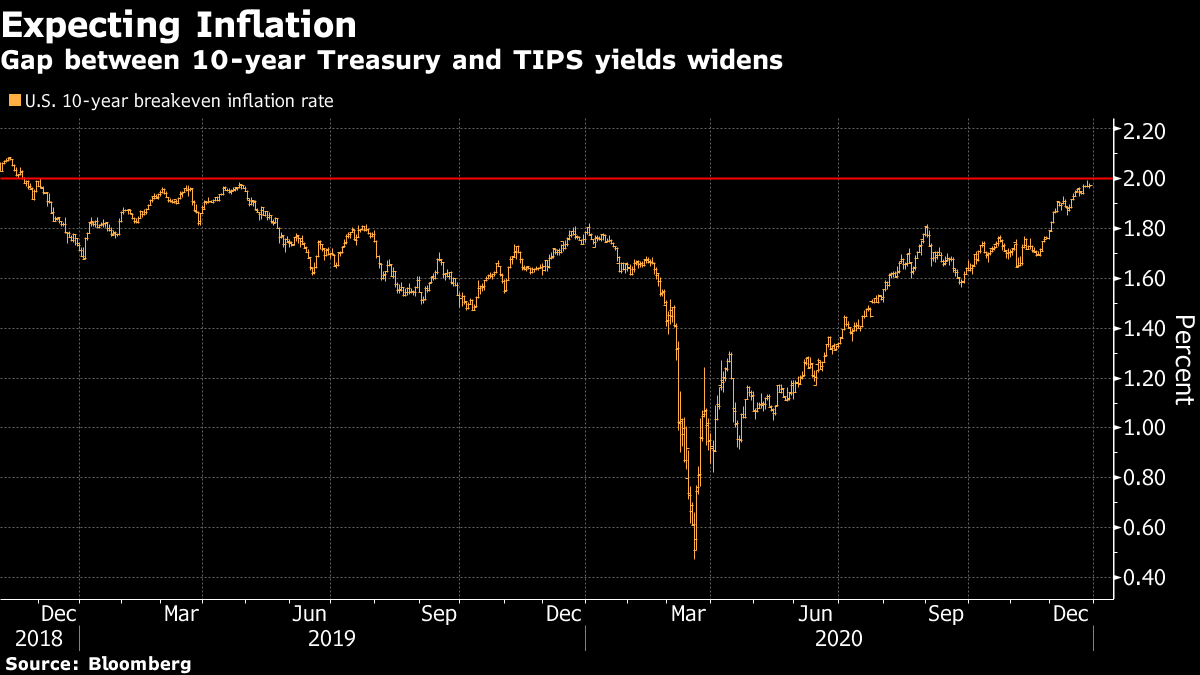 Casualty
(Dr.) Jay (might be willing to 'everything in his power/Powell', but even he can't allow inflation to jump too high and too fast.
For example, number 6 seems like something Jay - not the Dr. - can't afford...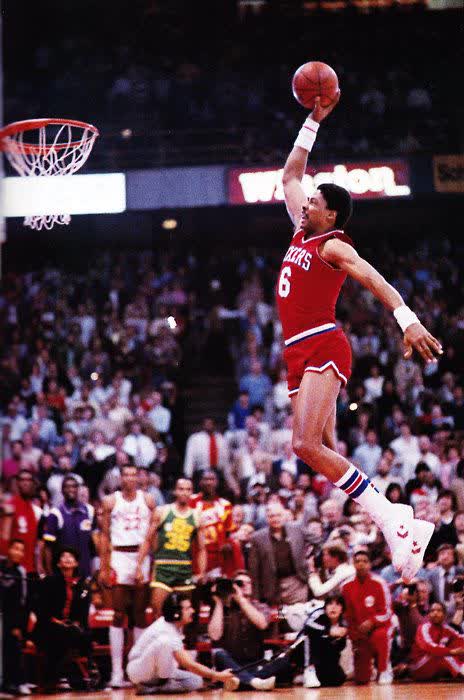 Unity
Even in Europe - would you believe - there are sings of inflationary pressures.
Ok, perhaps 'inflationary pressures' is a big of an exaggeration for the time-being, but if in March there was a near-zero probability for inflation moving  than 1%, whereas now odds are about 40% for >=1% - this is a real shift in expectations, at least in European (humble) terms.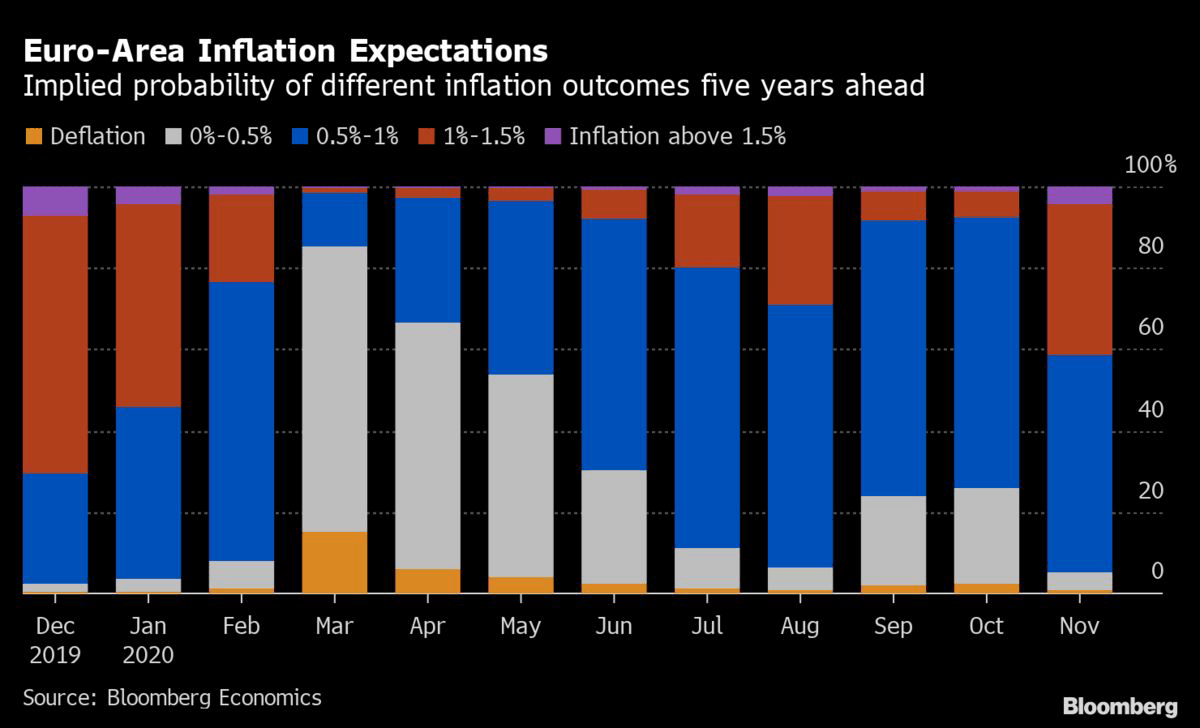 Slam-Dunk
In precious metals we trust!
This is the real slam-dunk of 2021, and these are only the early days of the golden-inflationary Phoenix arising from the ashes.
In one hand he is lifting inflationary pressures, and in the other hand he is raising gold and silver to the sky.
Do you dare messing with the Phoenix!?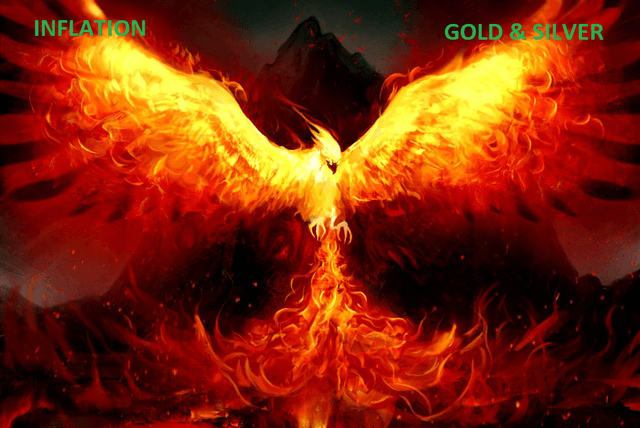 --------------------------------------------------------------------------------------
Gain access to our entire "2021 Game Plan" series:
Earlier today, we've published our proposed allocations (to asset-classes, sectors, and industries) based on the investment themes we are in favor of for the coming year.
Since the last part is so long, we're breaking it into three pieces.
Until the very last piece gets published, we keep the 25% discount (for the first year) ON, so subscribe, grab a popcorn, and 'watch' this series, live,  front the front row.
HAPPY 2021 & ALL THE VERY BEST!
From all of us on the Wheel of Fortune.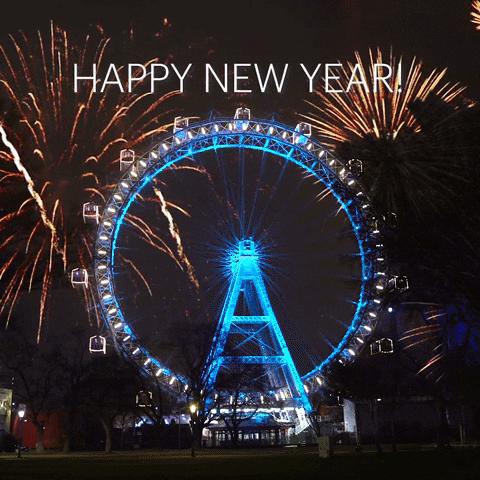 *For the 1st year of subscription

Follow us on Twitter @TheFortuneTell5
Seeking Alpha's Disclosure: Past performance is no guarantee of future results. No recommendation or advice is being given as to whether any investment is suitable for a particular investor. Any views or opinions expressed above may not reflect those of Seeking Alpha as a whole. Seeking Alpha is not a licensed securities dealer, broker or US investment adviser or investment bank. Our analysts are third party authors that include both professional investors and individual investors who may not be licensed or certified by any institute or regulatory body.