The Brookfield Group (BAM, BPY, BPYU, BIP, BIPC, BEP, BBU): All For One And One For All - Part I
Jan. 05, 2021 9:52 PM ET
The Boeing Company (BA), BAM, BBRE, BBU, BEP, BIP, BIPC, BLK, BPY, BPYU, BX, CBRE, CEQP, CIM, DNK, EPR, FREL, FRT, FTAI, HMLP, ICF, IYR, KIM, KKR, KW, LMRK, MAC, MIK, MITT, NKLA, QTS, RWR, SCHH, SKT, SPG, SRVR, STOR, TCO, TERP, TROW, TRRSF, USRT, VNQ, WES, XLRE, XRT
CEQPPR, CIM.PR.A, CIM.PR.B, DBRG, DBRG.PG, FTAIP, HMLPF, FLJ, BAMGF, BAMKF, BEP.PR.A, BINFF, BIPAF, BK, BKFPF, BNS, BNSPF, BPYPN, BPYPO, BPYPP, BPYUP, BRENF, CIM.PR.C, CIM.PR.D, DBRG.PR.H, DBRG.PR.I, EBBNF, EBRGF, EBRZF, ENB, ENBA, ENBBF, EPR.PR.C, EPR.PR.E, EPR.PR.G, FRT.PR.C, FTAIO, IRM, KIM.PR.L, KIM.PR.M, KKR.PA, KKR.PB, LMRKN, LMRKO, LMRKP, MITT.PR.A, MITT.PR.B, MITT.PR.C, MPW, NKLAW, QTS.PA, REM, SPG.PR.J, STT, STT.PR.D, STT.PR.G, WPC
Please Note: Blog posts are not selected, edited or screened by Seeking Alpha editors.
Summary
Normally you get to read about our trades - if you get to read about these at all - retrospectively, after weeks and months. In most cases, never.
This year, we've exposed our top-10 trades for 2020 in a special series of publications. This is a good example how late you get to read about what we do.
Today you're for a real, and rare!, treat: We're exposing a trade that we have suggested only yesterday, allowing you to examine, first-hand, how WoF operates, suffering a minor delay.
Tomorrow, we will expose additional trades, involving various entities of the Brookfield group, that we've executed today, to complete the picture.
It's nice, but not so much helpful, to read about successful trades retrospectively, but it's far better getting to read about and participate in these trades at real time!!!

--------------------------------------------------------------------------------------
Wheel of Fortune's 2020 Top-10 Trades (Free to Read)
--------------------------------------------------------------------------------------
SELL (to open) BPY 01/21/2022 17.00 COVERED CALL @ $2.50
Risk Rating: 1 (covered call) >>> Allocation: Against the entire Brookfield Property Partners LP (BPY) long position.
Along with Simon Property Group Inc (SPG), BPY is the only mall/shopping-center REIT that we still hold, as we see in both these REIT groups both size and quality.
Unlike SPG, that we've acquired last year (albeit too early), BPY is a legacy holding of the service, going back to 2018:
(Note that we made extra money on BPY through trading options a long the way; look at the TAD for more details)
If memory serves us well, our initial PT for it was $24, but last year (even before COVID) we're adjusted it to $18 and kept it as is all along, even with the stock traded as low as $7.10!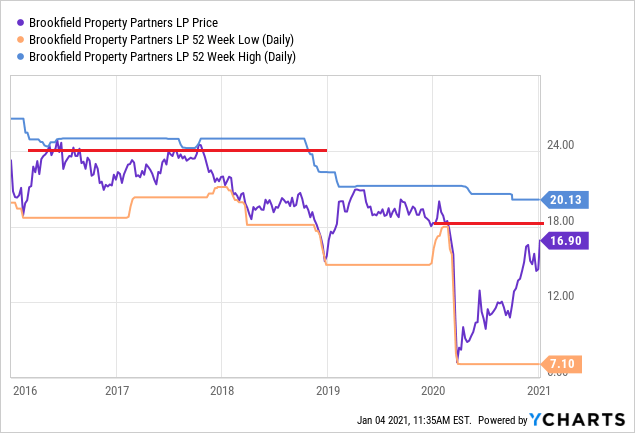 We always say that the chat room is not a must, but it's a very valuable addition for those who have the time to follow it. The reason is simple: Not only that there are many references to our holdings (earnings, news, etc.), but sometimes we provide a 'high conviction' for something without trading it. Putting it differently, you get a 'verbal TA' without an 'official TA' being issued.
BPY is a good example for us delivering such a 'high conviction' through the chat room. Here's a quote from chat room, dated September 9, 2020:
BPY: This one is cheap, but as long as covid19 is here - we must take a deep breath and wait until people would start going out to stores and shopping malls. Until then - there's no way to see the stock getting near its FV (we have it with a $18 PT). There's also the risk of a distribution cut (yield is very high at 12%), and since SPG has cut (and yields 7.5%), it gives them the justification/setup to do the same. We like the potential, the upside, and the yield here, but you might need to wait few good months (perhaps even a year) before you start seeing something of magnitude happening here. Still, a good longer-term place to be in. Rating: BUY with patience.
As you can see, even without today's 'helping hand' BPY was a very good pick since 9/9 to date: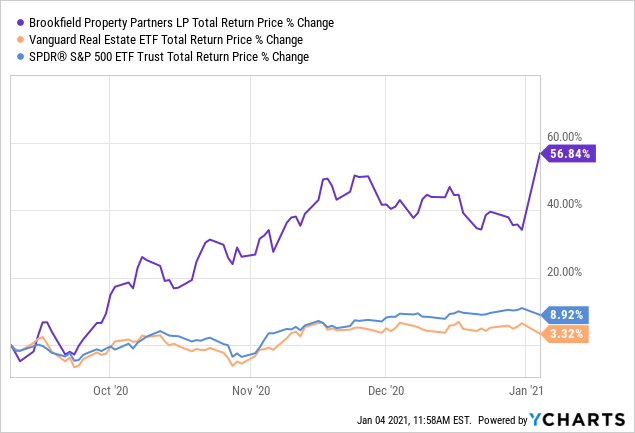 Today, Brookfield Asset Management (NYSE:BAM) - the parent company of BPY - is bringing us fantastic news to start the year with.
BAM, together with other institutional partners, is proposing to acquire all of BPY's limited partnership units that it doesn't already own at $16.50 per BPY unit, a premium of 14.0% to BPY's closing price on Nasdaq on Dec. 31, 2020.
"The privatization will allow us to have greater flexibility in operating the portfolio and realizing the intrinsic value of BPY's high-quality assets," said BAM CFO Nick Goodman.
BPY unitholders would have the ability to elect to receive any of the following:
$16.50 in cash
0.40 BAM shares. At the moment, this is worth close to $16. As you can see, even at BAM's all-time high of $45.61 the value of the tender offer would be $18.244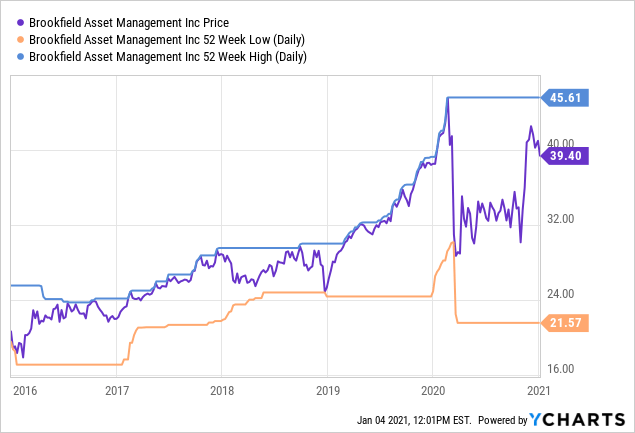 0.66 of BPY preferred units with a liquidation preference of $25.00 per unit. Based on the liquidation value this is also worth $16.50, just like the cash offer (except that the cash offer is money in hand while BPY's pref.s trade at 23.14-24.00, after jumping in today's session:

Brookfield's offer includes a maximum cash consideration of $2.95B, a maximum of 59.5M BAM shares, and a maximum of $500M of BPY preferred units. In more simple words, if all shareholders prefer to get cash-in-hand, as we would, there won't be enough for everyone.
On the other hand, if unitholders collectively elect to receive in excess of $500M BPY preferred units, the amount of BPY preferred units can increase to a maximum of $1.0B, offset against the maximum amount of Brookfield shares. The maximum amount of cash consideration would not be affected.
As you can see, BAM itself is already pointing you into the right, most profitable direction... Obviously, the company wishes to take as little money out of pocket and would be happy to issue (as many) preferred shares (as they can) instead.
When we're selling covered calls on BPY, in light of this news, we are looking for minimum strike of $16.50 and a minimum net price (=strike+premium) of $18.25. This would meet the following goals:
Strike >= Tender offer ($16.50); no reason to sell lower, of course.
Net price > PT (of $18.00); goes without saying.
Net price > $18.244, taking into consideration BAM's all-time high.
Net price > $18.15 (10%* above tender offer) or even $18.975 (15%* above tender offer)
*In case of a deal-sweetener; see more details below.
Investors are lifting BPY share price this morning to >$17, as they are assuming that BAM may need to sweeten the deal in order to complete it. We doubt it, but even if there's a 'sweetener' here, we don't see it being greater than 10%, at best. Using 15% (above) means we are securing an extra margin of safety.
We were/are selling these options for $2-$3 premiums since trading started as net prices of $19+ are well and beyond what we could hope for, under the current (still tough) circumstances for malls and shopping centers.
Nonetheless, a net price of $18.15 really covers all the "reasonable" angles in this deal, so you should feel comfortable even with getting as low as $1.65 ($1.50, only if you're impatient...)
Side note: Holders of Brookfield Property REIT class A stock (BPYU) will be entitled to receive the same per-share consideration as BPY unitholders under the proposal upon exchange of their shares into BPY units. Therefore, if you're a BPYU shareholder, we suggest you employ the exact same concepts.
Here are the possible scenarios out of selling this option: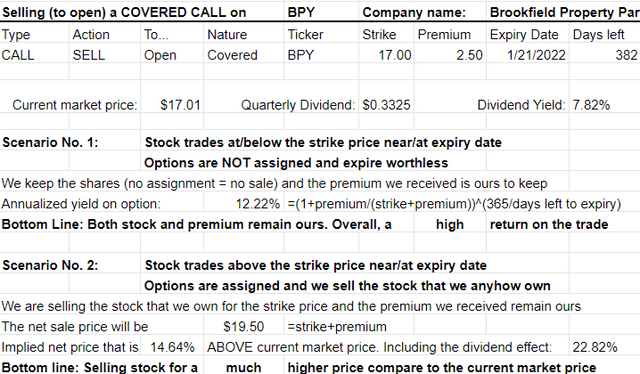 As you can see, this trade is truly a no-brainer, as there's really nothing to lose executing it:
If the option get assigned, we're out for a net price of $19.50 (=strike+premium=17.00+2.50)
If the option doesn't get assigned, we're out for a net price of $19.00 (=tender offer+premium=16.50+2.50)
How do we "lose"? Only if BAM share price move over $48.75, turning 40% of this price into a value greater than $19.50.
Even if you're net price is $18.15, the BAM breakeven price is $45.375, nearly 15% above current market price.
We haven't seen an expected deadline/closing date for the offer, but let's not forget that as long as our BPY holding remains ours - and we intend to keep it ours for as long as we can - BPY will continue to pay us its $0.3325 quarterly distribution.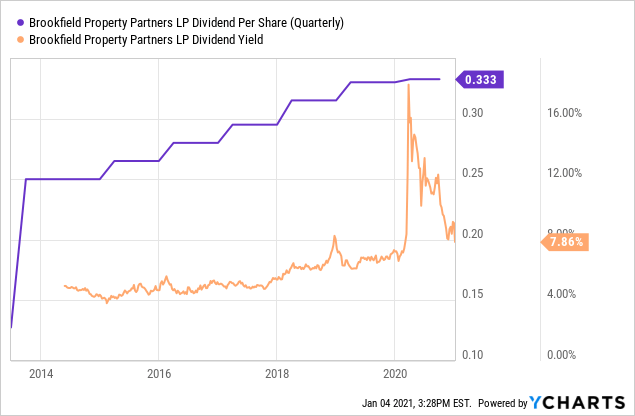 Having said that, since the partnership normally announce its first distribution for a calendar year in February (with the ex-date falling on, or around, the last date of the month) we tend to think that BAM will try to seal the deal beforehand....
Last but not least: Perhaps not today, but this should be helpful for SPG over the longer-run as well. IF BPY has value for BAM at Price/forward FFO of of 18.33x (=16.50/0.90), surely SPG with its 9.20x P/fwd FFO is a steal!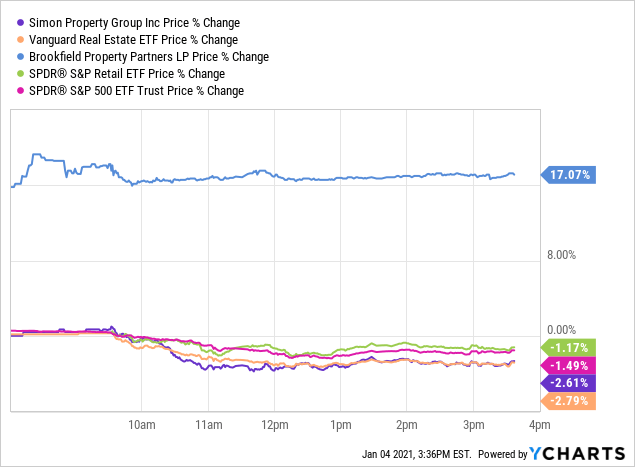 --------------------------------------------------------------------------------------
Gain access to our entire "2021 Game Plan" series:
Yesterday and earlier today, we've published our proposed allocations (to asset-classes, sectors, and industries) and detailed explanations, based on the investment themes we are in favor of for the coming year.
Since this last piece is so long, we're breaking it into three parts.
Until the very last part gets published, surely inside this week, we keep the 25% discount (for the first year) ON.
All you need to do is 1) subscribe, 2) grab a popcorn, and 3) 'watch' this series, live, from the best seat in the theatre.
Social distancing and a (COVID) friendly environment are guaranteed!
HAPPY 2021 & ALL GOOD FORTUNE!
From all of us who are riding and spinning the Wheel.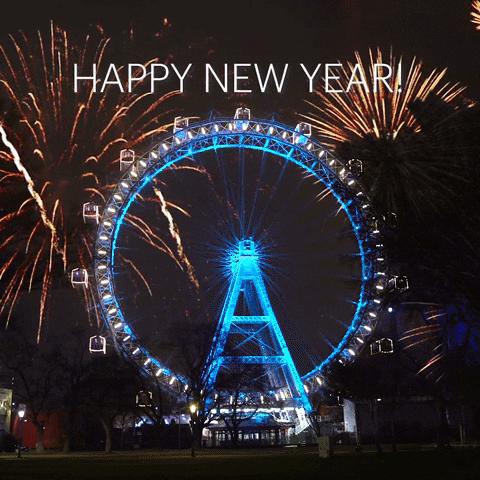 *For the 1st year of subscription

Follow us on Twitter @TheFortuneTell5
Seeking Alpha's Disclosure: Past performance is no guarantee of future results. No recommendation or advice is being given as to whether any investment is suitable for a particular investor. Any views or opinions expressed above may not reflect those of Seeking Alpha as a whole. Seeking Alpha is not a licensed securities dealer, broker or US investment adviser or investment bank. Our analysts are third party authors that include both professional investors and individual investors who may not be licensed or certified by any institute or regulatory body.