--------------------------------------------------------------------------------------
Wheel of Fortune's 2020 Top-10 Trades (Free to Read)
--------------------------------------------------------------------------------------
This article is a continuation of the First Part that got published yesterday.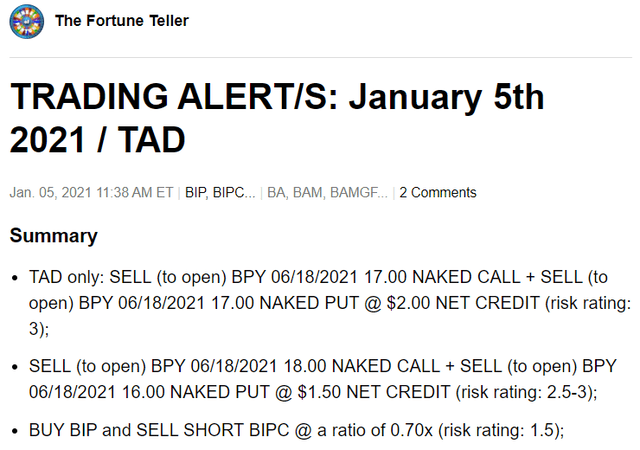 TAD only TAs:
SELL (to open) BPY 06/18/2021 17.00 NAKED CALL + SELL (to open) BPY 06/18/2021 17.00 NAKED PUT @ $2.00 NET CREDIT
Risk Rating: 3 >>> Maximum* Allocation: 5%
*Doesn't equate suggested!
A bit risky, but under the circumstances - not too risky!
Just like our option-trades involving MIK, NKLA, or BA - the best three trades our service suggested in 2020! - we believe that this has a good chance to make it into the 2021 list, even if it's very early in the days.
Nothing is guaranteed, of course, and you must understand the risk before executing, but this is the type of trades that allow for big gains to be made, with relatively small/er losses to suffer if things go wrong.
This is a SHORT STRADDLE on Brookfield Property Partners LP (BPY) long position.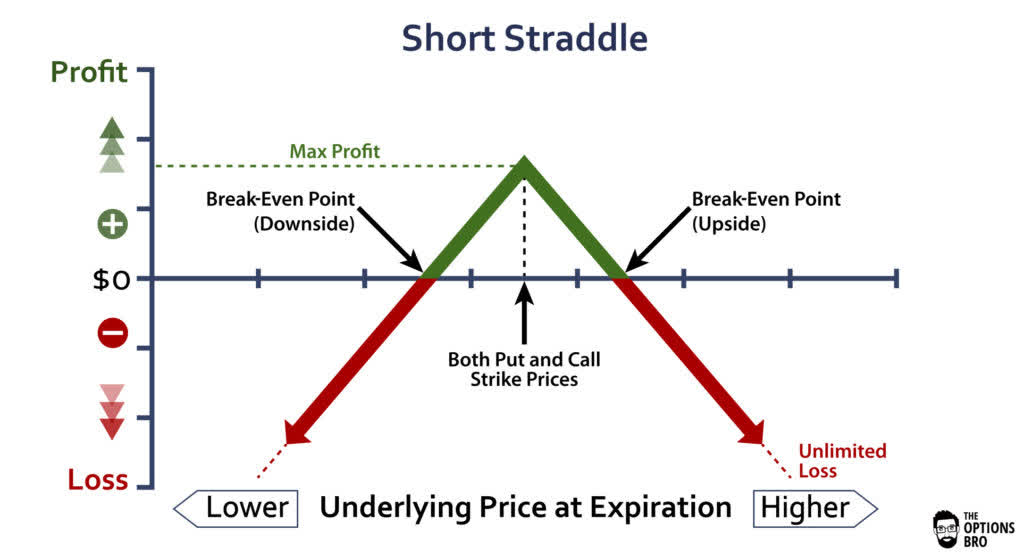 As we've explained yesterday, the most likely outcome is that Brookfield Asset Management (BAM) would keep the tender offer at $16.50, or slightly higher, but no more than $18.15 (or $18.975 at a very extreme case).
On the other hand, even without the tender offer, we find it hard to see BPY falling below $14. After all, the stock traded between $14 to $16.93 (Nov. 18, 2020) over the past two months, without any tender offer circling around.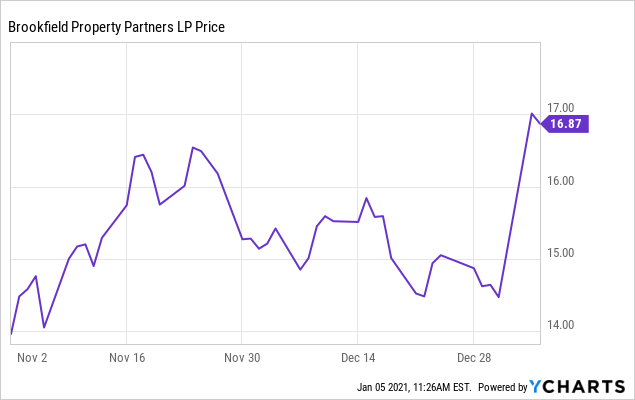 This trade would make maximum money of at (or close to) the expiry date (June 18, 2020) BPY trades at $17.00. At that exact price, both options expire worthless, and we get to keep the $2 (combined) premium in our pocket, with no cut whatsoever.
At $16.50 (where the current tender offer is), we lose $0.50 on the PUT, but end up with a net gain of $1.50. That would be a 300% ($2 sale / $0.50 buy).
The breakeven points are $19 and $15, $2 to the upside or downside, respectively. If BPY trades (at or towards expiry date) above $19 or below $15 - we start losing money on a net basis.
Technically, since there's no ceiling to how much the stock price can go up - the loss is unlimited. If you wish to reduce the margin requirement on selling this naked CALL, you can BUY a higher strike CALL. For example: $20 3/19/2021 for only $0.05 (perhaps less) - the price it closed yesterday at.
Why buying a shorter-dated protective CALL (3/19/2021) and not the same date as the expiry date of the CALL we just sold? Because until 3/19/2021 it's likely that we know the fate of the tender offer, so there's no need to protect beyond that (in advance).
Remember: As option sellers, long/er-dated expiry dates are welcome, whereas as option buyers, short/er-dated expiry dates are better.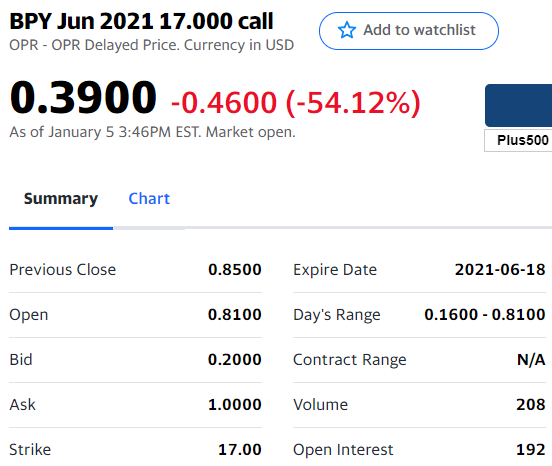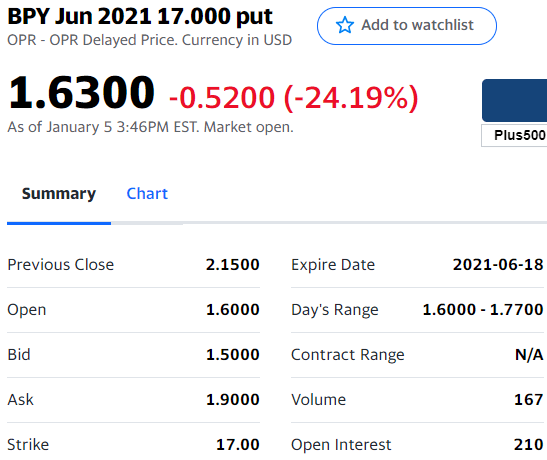 SELL (to open) BPY 06/18/2021 18.00 NAKED CALL + SELL (to open) BPY 06/18/2021 16.00 NAKED PUT @ $1.50 NET CREDIT
Risk Rating: 2.5-3 >>> Maximum* Allocation: 5%-6%
*Doesn't equate suggested!
Another way to play the exact same trade, but in an even safer (though less profitable) way would be a SHORT STRANGLE (instead of STRADDLE)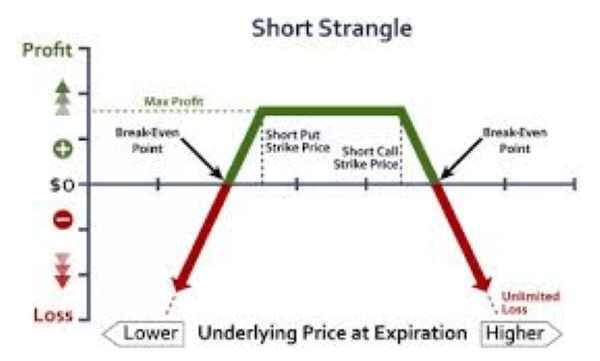 The only difference is that now the margin of safety is wider.
| | | |
| --- | --- | --- |
| | STRANGLE | STRADDLE |
| High breakeven point (net basis) | $19.50 | $19.00 |
| Low breakeven point (net basis) | $14.50 | $15.00 |
| Maximum Profit (i.e. combined premiums) | $1.50 | $2.00 |
| Maximum Profit point/range | $16.00-$18.00 | $17.00 sharp |
| Hedging/Capping (Buying a $20 March CALL)* | $0.05 | $0.05 |
*Optional, not a must
As you can see, the trades are practically identical conceptually, but they offer a slightly different risk/reward profile.
Due to the higher safety that this (second) trade offers, we assign a bit lower risk rating to it. Other than this, both are equally good to go.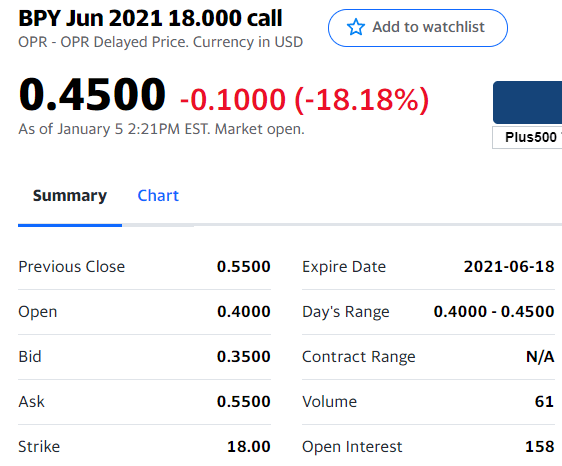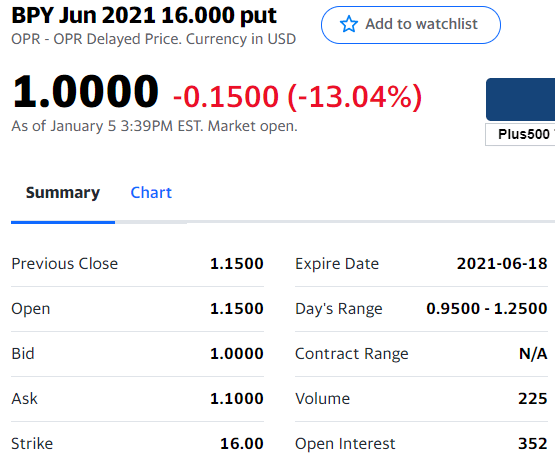 BUY BIP and SELL SHORT BIPC @ a ratio of 0.7000x
Risk Rating: 1.5 >>> Maximum* Allocation: 8%
*Doesn't equate suggested!
!!! Very important !!!:
The ratio reflect the price of BIP to the price of BIPC, not the monetary amounts. It's not like that for every $1000 of buying BIP you need to use $700 on selling BIPC, Instead, on every 10 shares of BIP that you buy - you need to sell short 7 shares of BIPC.
The amount on each side of the trade must be identical for this to work out as outlined hereinafter.
number of BIP shares BOUGHT X BIP price = number of BIPC shares SOLD X BIPC price. for example: If you buy 1000 shares of BIP at $49.50 and BIPC trades at $70.50, you need to sell 702 (=1000X$49.50/$70.50) shares of BIPC.
The ratio isn't 'holy'; we've managed to trade this pair between 0.695x to 0.705x, so don't treat the 0.700x as a limit you can't deviate from. The opportunity is big enough to justify 0.71x, 0.72x, and even 0.75x...
Note this is one of the lowest-ever risk rating we've ever assigned to a trade, reflecting our belief that the situation here is so extreme that we simply don't see how one can lose money here.
Having said that, this was true ever since Brookfield Infrastructure Corp (BIPC), a C-corp for tax purposes, has started to trade alongside the older-standing Brookfield Infrastructure Partners LP (BIP), which is a partnership.
Yet, as you can see, the BIP/BIPC keeps sliding (please don't ask us why!; we can't explain this...) and it's now trading as low as 0.7000x!!!
The two companies, just like their sibling pair - Partnership's Brookfield Property Partners LP (BPY) & C-corp's Brookfield Property REIT Inc (BPYU) - are (supposed to be) economically (nearly) identical. As such, and in-spite of some minor legal and underlying holding related differences, they suppose to trade at roughly the same market price.
After all, even the distributions of the two entities are, unsurprisingly, identical!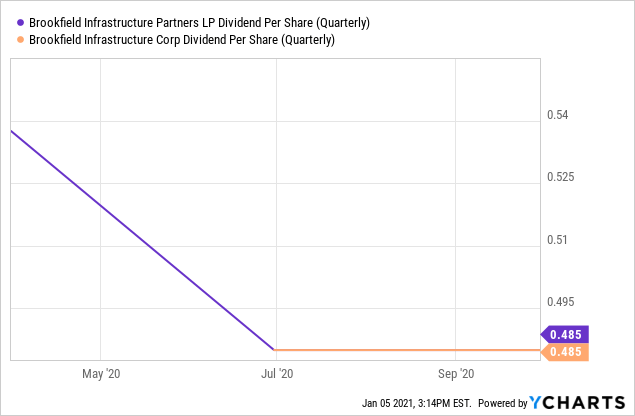 We've already played this very same idea with BPY/BPYU on 3/30/2020 and on 4/01/2020, as well as with BPY/BPR (BPR was the symbol before it has changed to BPYU) on 12/26/2019.
if you're unfamiliar with the logic, method, and/or risk associated with such a trade - please make sure you read these past articles before executing it!
Why are we jumping into these waters right now?
1) The opportunity/gap has never been greater. If the pair ever 'wishes' to close the gap, we're looking at a 43% upside to a 1.0000x ratio.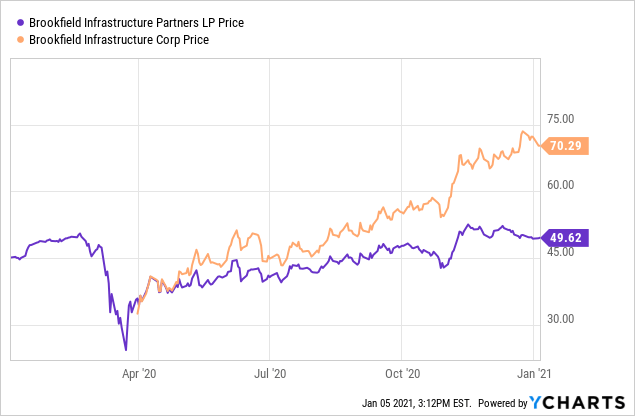 2) It looks as it BIP has had enough of this unreal lagging... Technically speaking, we might start seeing a reversal.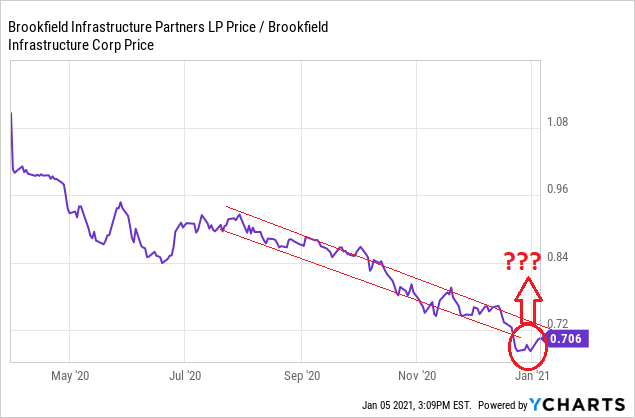 3) Although BPY/BPYU (or BPY/BPR) has never reached such extreme levels as do BIP/BIPC, we know the drill. Furthermore, with BAM now trying to take BPY and BPYU off the market, it's only natural for these two entities to trade at roughly the same market prices. Indeed, the BPY/BPYU ratio has jumped yesterday (following the announcement of the tender offer) from ~0.96x to ~1.00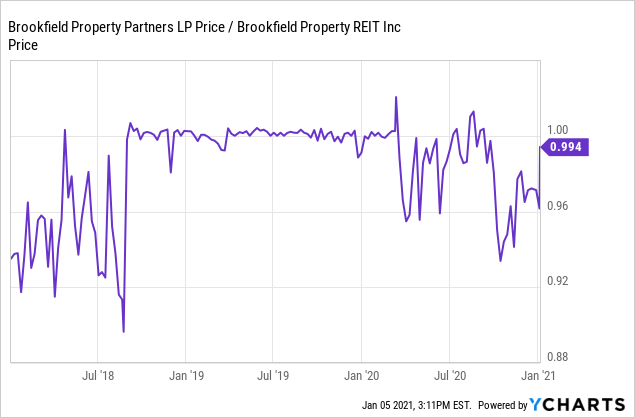 What if BAM decides to take BIP and BIPC off the market too?... Even if a tender offer may not be identical for the tow companies (as it is for BPY and BPYU) - although we don't see a reason why it wouldn't be - the gap is so big that surely BIP would have to gain more than BIPC!
Once again, it may not be wise to make a complete and full comparison between the two pairs. However, the message we're trying to deliver here is about the concept (which is identical) and the opportunity (even if it's not identical).
Last but not least, we're happy shareholders of BIP (and BPY) and this trade has nothing to do with this (these) long position/s. It's a separate trade, done on a stand-alone basis, for its own (very compelling) merits.
--------------------------------------------------------------------------------------
Gain access to our entire "2021 Game Plan" series:
Yesterday and earlier today, we've published our proposed allocations (to asset-classes, sectors, and industries) and detailed explanations, based on the investment themes we are in favor of for the coming year.
Since this last piece is so long, we're breaking it into three parts.
Until the very last part gets published, surely inside this week, we keep the 25% discount (for the first year) ON.
All you need to do is 1) subscribe, 2) grab a popcorn, and 3) 'watch' this series, live, from the best seat in the theatre.
Social distancing and a (COVID) friendly environment are guaranteed!
HAPPY 2021 & ALL GOOD FORTUNE!
From all of us who are riding and spinning the Wheel.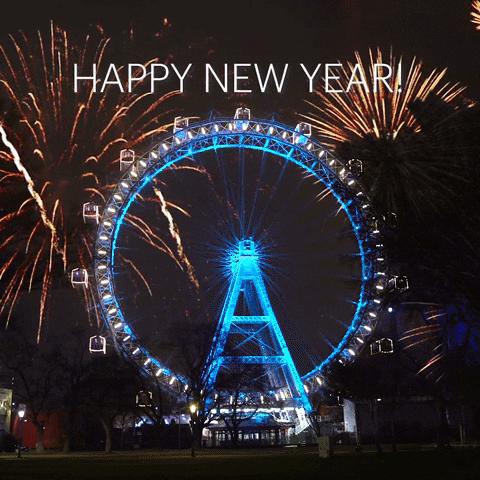 *For the 1st year of subscription

Follow us on Twitter @TheFortuneTell5