*Should be any day Now, likely over the course of this weekend.

--------------------------------------------------------------------------------------
"I have but one lamp by which my feet are guided, and that is the lamp of experience." - Patrick Henry
Is there anyone on Seeking Alpha who doesn't know @RoseNose!?
If you don't, it's likely you are either new to the platform or in-need of improving your quality/alpha seeking skills.
This lady is not only presenting her portfolio on a monthly basis, but she is also sharing her trades along with the logic behind buying/selling/holding the 90+ positions in it.
What makes Rose so special? There are more than a few virtues, but first and foremost - way before we talk markets and investments - she is simply one of the nicest and kindest persons, let alone authors, on this platform.
However, since we're here to talk money and investing, let's focus on "Rose - the investor" and what makes here not only special but successful?
I claim that Rose' success comes from 4 main attributes that are key characteristics for any successful investors (as well as for most human-beings):
1) Humility. Rose would never-ever patronize on anyone or let you think she is superior to you, even when you know she is...
2) Know your limits. Not being ashamed/embarrassed to say "I don't know". How many people never admit that they don't know even when they know that they don't know?
3) Constantly striving to be better. One of the main dangers we all face is us being too satisfied with ourselves; thinking that we've reached a peak, done enough, and we should not be looking to improve further.
4) Willingness to learn new tricks. Sentences that you'll never get to hear/read from Rose: "I know everything that there's to know"... "I'm too old to learn new tricks"... "I never did this or that"... "It has served me for XX years and I'm not going to change"... Instead, she is always happy to listen, learn, try, and (if she finds logic/value) - to implement going forward.
5) Experience. In the case of Rose, the "XX" represents a very decent amount of years. Rose is young in spirit, but she has an old Wall Street soul. As is the case in anything in life, there's no replacement to experience and  money can't buy experience.
Nevertheless, money can buy other people's knowledge and experience.. allowing one to utilizes those for him/her own benefit/success.
"Experience is a good school. But the fees are high." - Heinrich Heine.
Rose just published her December/EoY monthly review and along the article/thread, there were a few mentions/references made to our Wheel of Fortune service, out of which, we wish to touch one in particular.
Here's what rado403, one of the many (regular) commentators to Rose's most recent article, wrote:
WOF tempted to dive in but it is a healthy... healthy chunk of coin... Will store this info with the others .... to be perused again and again
(Source)
"Price is what you pay; value is what you get." - Warren Buffett
We would probably leave this (comment) unattended, unless the mention of "healthy chunk of coin" was something we couldn't let ourselves fall asleep before properly addressing it... (emphases and chart are new):
Indeed, WoF is not a cheap service, but we hopefully deliver more value to our subscribers than we're getting paid.

I'm not whining, but I can tell you honestly that WoF is NOT a profitable activity for us (in light of the time and energy it requires; not only from me, of course), but I'm having so much fun there that it's being looked as a non-for-profit, must-cater, activity...

There's this old saying of 'you get what you pay for'. I must say I'm not a huge fan (of it) because sometimes you don't get anything, even for a cheap price, OR you get way more than you pay, even for an expensive price.

We (try to) fit the latter.

Yes, WoF isn't cheap.

Yes, WoF is hard work (for subscribers!), as there's a LOT to digest, and we issue >250 trading alerts every year, across all asset-classes, sectors, industries, and risk ratings. It's a big "shopping center" and you get to choose what you like to 'consume'.

Take, for example, VEDL - that @RoseNose has mentioned in the article.

This is now a double NOT from the March lows, but from Nov. 2nd, when we bought it at $5.03 (If you wish to join the service: Here's a link that once you cross, will take you directly to this trade: seekingalpha.com/...

Data by YCharts

Now, the funny thing is that SA is running a series of Roundtable now, and we've submitted our 3 picks (max. allowed) during the weekend. VEDL was (closed the year) at $8.78. Our (old/previous) PT (which is mentioned in the article is $10)

The roundtable we're in hasn't yet been published, but the stock closed today at $10.28... and so we did another trade related to it today, selling covered CALLs on half the position (seekingalpha.com/...), while providing an update on the company, as well as an upgrade to the risk rating and PT.

Why do I tell you all of this?

1) WoF is expensive, but now and for only 24h AFTER the roundtable we're part of gets published you can get in for 25% LESS.

2) WoF isn't a "buy and hold" or "sell and forget". It's more than that. Way more.

3) WoF isn't for everyone, and frankly - we don't want it to be for everyone. It's enough that we don't make money on it, but we surely don't need to 1000s of subscribers. Few 100s is more than enough.

4) The price ensures that only serious investors join in, and not those who ask what is a stock, a bond (btw, we do bonds also...) or a CEF.

We explain everything, but it's for a higher-than-basic level!

5) Things move fast, and so are we. Don't get me wrong: We're not against long-term, but-and-hold, slow-motion activity. For that, we have Macro Trading Factory (seekingalpha.com/...), our 2nd service, which is way cheaper and way more relaxed (if WoF does, on average, one trade per day, MTF is doing one a week...or two... or even a month!). It's a different ball game, for different types of investors (Btw, WoF also offers everything that MTF offers; that's a bonus, not the bread and butter!)

I hope you get the picture...

Cheers and Good (Wheel of) FORTUNE!
(Source)
"One thorn of experience is worth a whole wilderness of warning." - James Russell Lowell
Then, a WoF subscriber since day 1 (meaning she is with us for nearly 4 years), named @TRiglell TRigell , has decided to step in, sharing her own view and experience (emphases ours):
I wanted to add something about Wheel of Fortune. I don't believe it is expensive. I've been a member since week one and I have made many times over the cost of the service. I keep a list of the WOF suggestions and trade alerts that I have participated in. I've only had a little over 4% of those not show a profit, and some of my gains have been very substantial percentage wise. I think that's pretty amazing.

I am not a very knowledgeable investor, so I often turn to those I trust for advice and confirmation. The WOF has been that for me. So has Rose, my options teacher. Another thing I appreciate about WOF is the thought that goes behind each and every trading alert. I find that some authors make buy suggestions just to make a suggestion because they think that's what readers and subscribers expect. Not so on WOF. No question is left unanswered, no one is made to feel dumb. Great service and worth every dollar.
(Source)
"The only source of knowledge is experience." - Albert Einstein
Last but not least, it was RoseNose summing things up
@TRigell and everyone else... this is for sure a great testament to the A1 treatment and idea of @The Fortune Teller at the service WoF. Thanks for taking the time to let us know how you are doing there Teresa, Congrats !
(Source)
We will conclude here the exact same way we've concluded there:

However. let me add one more thing here that I haven't said there: Reading what subscribers have to say about the service - through testimonials within the service itself, private messages, but mostly public posts (like the above-mentioned, as well as open reviews) - it looks as if Wheel of Fortune is embracing many of Rose's fine virtues.
And that, folks, is a virtue for itself!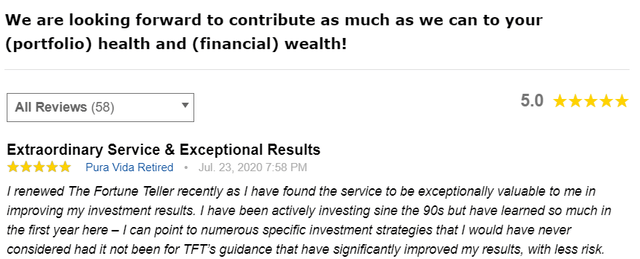 "Nothing ever becomes real till it is experienced." - John Keats
--------------------------------------------------------------------------------------
Wheel of Fortune's 2020 Top-10 Trades (Free to Read)
--------------------------------------------------------------------------------------
Gain access to our entire "2021 Game Plan" series:
In order to see the above, and much more, all you need to do is 1) subscribe, 2) grab a popcorn, and 3) 'watch' this series, live, from the best seat in the theatre.
Social distancing, a (COVID) friendly, lots of fun, entertainment, learning new skills and expanding your (at least investing) horizons are guaranteed!
You have 14-days under a free trial, with no commitment whatsoever, to watch as many 'movies' as you'd like on the Wheel of Fortune (IMAX!) 'screen'. You can opt-out anytime before your free-trial finishes.
--------------------------------------------------------------------------------------
We're due to participate in a SA roundtable focusing on growth stocks. Once this article gets published (any day now), we will give a final 24-hour notice before we turn off the 25% discount off.
May you have a HAPPY, SUCCESSUL, 2021
From all of us who are riding and spinning the Wheel.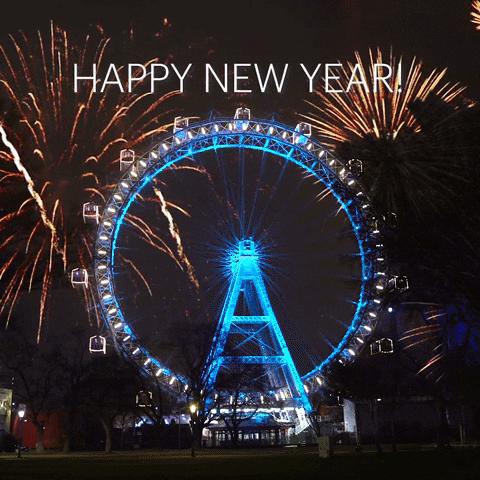 *For the 1st year of subscription

Follow us on Twitter @TheFortuneTell5