I have shown that the valuation discrepancy between pipelines and REITs are very different, yet their fundamentals (earnings growth in particular and earnings drawdowns as well as leverage) are much better.
Today, I thought I'd look at what is driving pipeline stocks.  Seems to me "guilt by association".  They are in the energy sector along with the E&Ps and service company, which have true commodity risk.  
Someone better call MSCI.  Maybe pipelines should go in the REIT sector!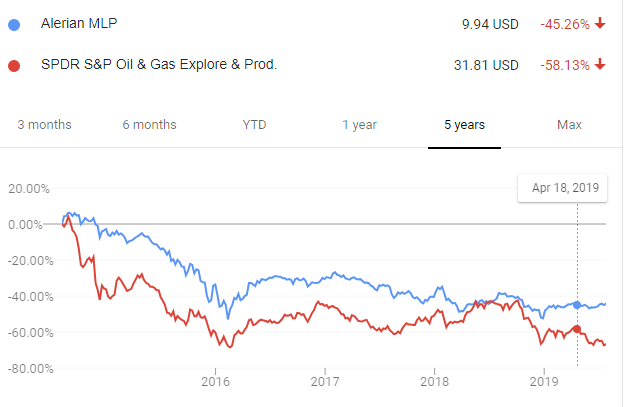 If they did, then the valuation would re-rate much higher, as I have shown in a previous blog.   Just using div yield, a crude measure to be sure, we would get 40% higher levels. 
Now, I do understand that divs were diverted to pay down debt and clean up other corporate issues, so if you held them in 2014-2017 (I didn't) you saw your divs down by 40%.  But you own a far better asset now and your money went to a good use, sort of like re-modeling your kitchen.  But you didn't expect that, and I get it.  However, the chart shows, to my eye, that it wasn't so much the "retail investor was betrayed" issue that so many cite, it was more of a "MLPs should trade with high vol, commodity-exposed" assets like the rest of the oil sector (the graph looks the same if you use OSX).
So, sorry to all of you (me included) when you thought you were buying a safe and boring asset.  You were actually buying an E&P fund!
Meanwhile, every other low vol asset is priced sky high, but our boring pipelines are left in the "high risk: avoid at all costs" bucket.
Disclosure: I am/we are long CEM, EMO, KYN.
Additional disclosure: I am long a bunch of MLP CEFs.