Catalyst Pharmaceuticals: Off the Highs and ready to rise
Summary
Catalyst Pharmaceuticals' lead drug candidate is Firdapse
Catalyst's stock is currently presenting investors with an excellent opportunity over the next 6 months to a year due to the likelihood that the company delivers positive results for their second phase 3 trial.
I see the market cap approaching the $200 million level either before or after the second phase 3 results are released.
Overview of Firdapse
Firdapse is being developed for Lamebert- Eaton myasthenic syndrome, congenital myasthenic syndrome, and MuSK-myasthenia gravis. These are all rare neuromuscular diseases. Firdapse is essentially a slightly modified version of a drug called 3,4-DAP, which has been around for decades. Independent scientist has stated that Firdapse is nearly identical to 3,4-DAP. The one noticeable advantage of Firdapse, over 3,4-DAP, is that the drug doesn't need to be refrigerated.
Over the past 20 years, 3,4-DAP has been given away for free by Jacobus Pharmaceuticals. Jacobus Pharmaceuticals does this via the FDA's compassionate use program. Jacobus Pharmaceuticals decided to seek FDA approval for their drug due Catalyst Pharmaceuticals' desire to corner the LEMS market. The two companies are currently competing in a race to obtain an FDA approval. The winner of this race will receive 7 years of exclusive marketing rights. It's hard to determine how close Jacobus Pharmaceuticals is to obtaining FDA approval due to the company being private. The company rarely gives interviews and never comments on its progress. The last real sighting of the company came at the annual American Academy of Neurology meeting in 2015. The company presented a poster that showed that their drug was effective, and the study's lead investigator stated that they would be able to seek FDA approval based on the findings of the study. However, it's still assumed, by the analyst community, that Catalyst will win the race. Catalyst Pharmaceuticals (NASDAQ: CPRX) will most likely gain approval for their formulation, which will allow them to generate substantial profits. I expect the stock to head higher as the market increasingly sees the FDA approval of Firdapse as more and more likely.
3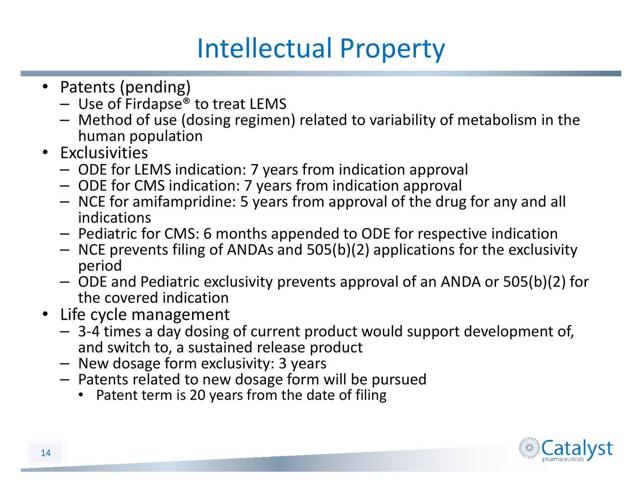 (A slide from the 29 th Annual Roth Conference, which details Catalyst pharmaceuticals' intellectual property rights.)
Why approval is likely
Firdapse is already approved in the EU. The drug is currently sold in the EU by BioMarin Pharmaceuticals (NASDAQ:BMRN). Catalyst Pharmaceuticals purchased the rights to Firdapse in North America back in October of 2012.
The company has a clearly defined regulatory pathway for Firdapse in the treatment of LEMS.
The second phase 3 trial has the same co-primary endpoints as Catalyst's first phase 3 trial evaluating Firdapse for the treatment of LEMS. The company said that they will file an NDA if the second phase 3 trial is able to deliver positive results. The company expects to file the NDA in the back half of 2017.
The new NDA submission will be supported by a tremendous amount of data. It will include two phase 3 clinical trials, several other clinical safety studies, and other non-clinical studies. The company expects that new NDA submission to be comprised of 65+ trials or studies.
A lot of individuals have speculated that the FDA will not approve Firdapse due to the pricing concerns, but the FDA does not take price into account when deciding if a drug should be approved. An article in the Harvard Law Bill of Health confirms this: "It is important to note that the FDA does not take price into account when making decisions regarding the approval of drugs, though some have argued that it should."
Market opportunity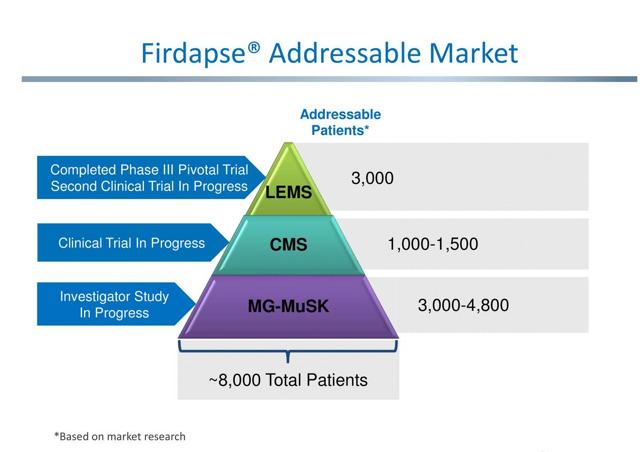 The company states on their website that they see peak revenues of $100 million for Firdapse. However, that estimate only factors for the LEMS market. The estimates rise to $300 to $900 million once you factor for the other two indications. Estimates for what the company will ultimate charge have been all over the place. Obviously, pricing is going to be the real issue here. Some estimates are as low as $20,000 a year and some are as high as $200,000. Based on the company's own estimates, it would appear that CPRX is likely going to charge over $100,000 per patient, per year.
Current Valuation
The company is currently valued at $137.8 million. I think that the market cap will approach the $200 million level either before or after the second phase 3 results are released. A $200 million market cap, $2.46 a share, is quite reasonable given the peak sales outlook for Firdapse and given the net present value that the rest of the pipeline provides. Also, it should be noted that the average price target on the Street is $4.33, which represents an upside of 156%. The latest chatter out of Wall Street came on March 20, 2017. Roth Capital and HC Wainwright both stated that CPRX is a buy. Roth Capital has a price target of $3 and HC Wainwright has a price target of $6.
Institutional action
13F Filers holding this stock: 53
Aggregate 13F shares on 12/31/2016: 23.845m
Aggregate 13F shares on 09/30/2016: 23.324m
Percent change +2.23%
Funds creating new positions: 10
Funds Adding to an existing position: 8
Funds closing out their position: 5
Funds reducing their position: 12
Filers who had Catalyst Pharmaceuticals in their top 100: 5
Filers who had Catalyst Pharmaceuticals in their top 10: 0
There's some notable institutional holders. For example, The Baker Brothers are the second largest institutional owners with 5,102,153 shares, which represents 6.15% of the total equity. Furthermore, Catalyst Pharmaceuticals is the Baker Brothers' 59th largest holding. However, it should be noted that this position makes up only 0.05% of their total portfolio.
Insider Action
There hasn't been a lot of buying action as of late. However, it should be noted that management does hold a significant amount of the total equity.

The Capital Structure
The company is currently well capitalized with $40.4 million and no debt. The company currently believes that its financial position should support operations though at least the next 12 months. It's reasonable to assume that management should be able to make their current cash position stretch over the next 10 to 12 months given the company's spending expectations. The company's guidance for 2017 suggests that SG&A expenses will be around $8 million and research and development will be north of $11.4 million.
Notable risks
Jacobus Pharmaceuticals could win the race to FDA approval.
An unexpected negative headline may occur and sour sentiment.
The company, despite being well capitalized, may decide to raise money.
The second phase 3 may not deliver statistically significant results.
My Bottom Line
Overall, Catalyst Pharmaceuticals looks poised to head higher over the short to mid-term. The phase 3 will most likely be successful, the NDA should be sent out in the back half of 2017, and I fully expect the FDA to accept the new submission. I own a small position at $1.65. I would have bought more but the technicals are giving me mixed signals. As long as the fundamentals don't change, I will add to my position if the stock sells off. I will be looking to sell my position between the $2 to $2.50 range. Lastly, please note that this is a speculation and not an investment. I don't want to be a long-term investor in the company because I see too many risks. Good Luck.
Author's note: To get more investment ideas like this as soon as they are published, click on my profile and hit the big orange "Follow" button and choose the real-time alerts option. I have a variety of article styles that range from pieces with a short-term focus to pieces that are geared towards long-term investing. My last "Opportunity in Focus" piece returned 14% in 4 market days and the piece before that returned 42% in 6 market days. Both of those articles can be found under my profile. Also, I will be posting brief notes on my Instablog when I see interesting speculations (day trades and swing trades). I'm doing this because big winners often develop so fast that I can't write and publish a detailed article in time for readers to be able to capitalize. I've just begun to utilize my Instablog, but there have already been some big winners. Thanks for reading and good luck.
Disclosure: I am/we are long CPRX.