The popularity of factor investing has seen a meteoric rise over the last five years. Today there are over 1,000 factor ETFs, also known as smart beta ETFs, in the US. The most popular of these factors are value and momentum. The goal of this article is to illustrate the powerful combination of momentum and value investing.  
A recent study by O'Shaugnessy Asset Management offers a simple explanation of these two factors.
The excess returns associated with Value and Momentum result from convergent and divergent processes, respectively. Value stocks are systematically underpriced and gradually converge on their fair value over time. Momentum stocks start out fairly valued or slightly overvalued and go on to become more overvalued in the short-term, before reverting back. Both styles represent a market mistake that can be captured as alpha.
These 'market mistakes' have been helping investors capture alpha for decades.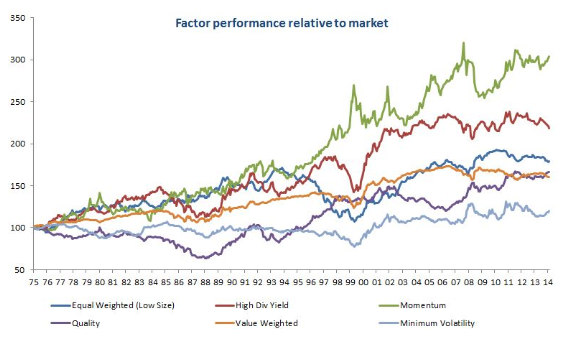 Problems with Capturing Alpha
According to the latest study released by DALBAR, the average investor realized an annualized return of 5.3% over the last 20 years, compared to a return of 7.2% for the S&P 500. Much of this under-performance can be explained by behavioral biases. Just like in the volatile markets that we are witnessing in the first half of October, behavioral biases play a large role in investor returns.
Trendrating combats these biases by helping investors create a rules-based, repeatable process. This removes most, if not all, of the human errors in the investment decision making process. 
Momentum and value investing both have there pluses and minuses. It should be known that momentum investing is prone to sharp draw downs at periods along the business cycle, but these are made up for by the premium returns.
This sell-off in October is a perfect example of the swings that can come with momentum investing. However, even with momentum stocks being hit harder than most other names, the iShares MTUM ETF is up 6.56% YTD, exactly double the SPY. On the other hand, the VLUE ETF didn't get hit quite as hard over the past two weeks, but is roughly flat for the year.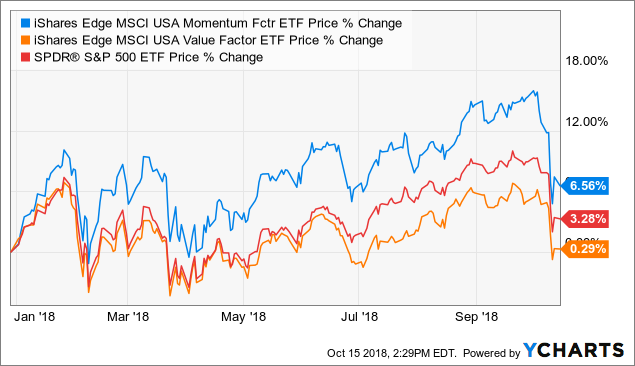 We can look back since the inception of these iShares factor ETFs for a larger sample size. Again, this shows that momentum investing has offered superior market returns in recent years.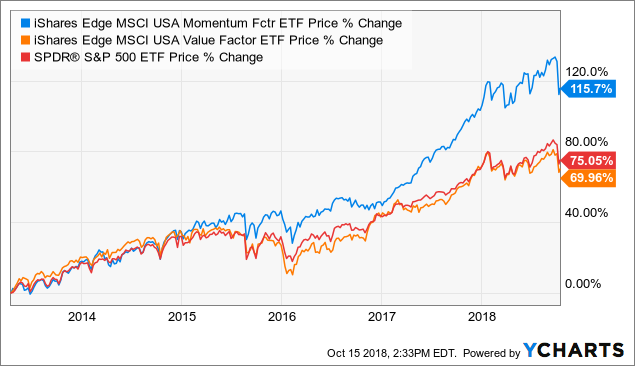 Finally, a longer time horizon will show that the momentum premium has endured over full market cycles. The academic research on momentum is well documented and many of the white papers from thought leaders can be found on the Trendrating website. Recently, O'Shaugnessy Asset Management researched and reported on the historical benefits of factor investing. The chart below shows the performance of the top and bottom quintiles of US large cap stocks based on trailing returns.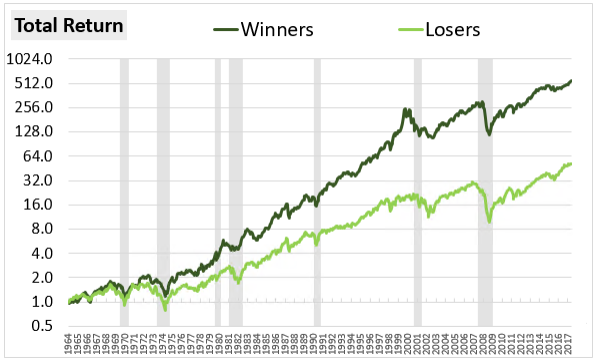 In markets with large return dispersion, identifying the top trending names can lead to significant out-performance. In that same manner, holding the companies with weak or negative momentum can lead to very weak relative performance.
Value Traps and How to Avoid Them
General Electric (GE) is a good example of a stock that many investors have held for far too long. Following a rules-based strategy like Trendrating's momentum ratings could have prevented against the idea that GE was a cheap stock. Since downgrading GE to a 'D' rating in March of 2017, the stock is down nearly 60%.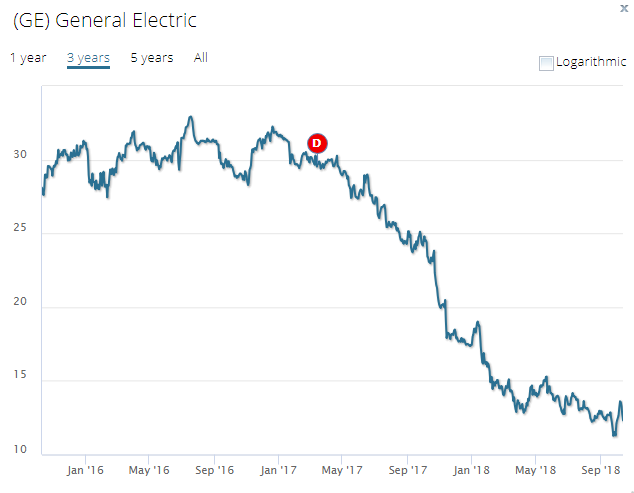 The GE stock is a sore subject for the money managers who saw it as undervalued. As of this writing, it certainly seems like GE would fall into the 'Value-Traps' category in the image below. Names like these can be avoided by using value and momentum together. Even if the new CEO and restructuring at GE leads to some positive share price performance, this would largely be seen as a value-late winner for anyone who entered into a position this year. As is well illustrated in the chart below, superior momentum analytics can help identify the 'Value-Fast-Winners', the names you should own today.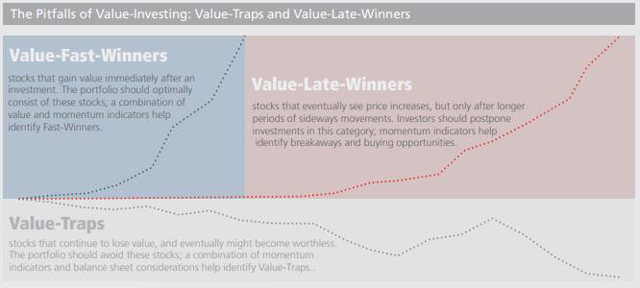 Conclusion
There is not a single investment factor that will offer superior returns during every stage of the economic cycle. This leads to the countless debates and divergent opinions on where we stand in the economic cycle. Trying to make those predictions is difficult and can be costly. Having a process in place that can provide alpha and protection during all stages of the economic cycle is like finding your perfect sleep number. The momentum and value factors have been shown to have a negative correlation to each other, acting as ideal complements to be used in portfolio construction and management.
In particular, Trendrating provides investors with the most powerful momentum analytic by the way the of the Smart Momentum Score (SMS). Trendrating allows investors to easily identify the names with the strongest momentum in any given universe, and to create a repeatable alpha generating process.
Email us today at sales@trendrating.com to see a list of the top trending names in your universe.
Disclosure: I/we have no positions in any stocks mentioned, and no plans to initiate any positions within the next 72 hours.