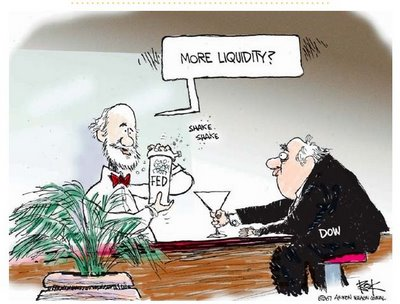 The rad thing about being in California (yes, there is still at least one thing that makes living here worth it, forget that we are totally broke mmmkay?) is that it's still early afternoon by the time the FOMC announcement comes. I've barely started my damn day while the East Coasters are scrambling to plug the holes shot in their plans by the Fed. Bwhahahaha, what fun!

Anyway. I've put in my $0.02 for this afternoon's FOMC announcement: no rate hike, no exit strategy, no increased QE. See also my June 20th FOMC Predictions June 23 - 24 2009, June 10th Richmond Fed's Lacker: Don't Buy Fed Rate Hike Hype, and May 15 The Federal Reserve: Teasing the Rate Hike, Wears a Short Skirt But Won't Put Out. Ain't happening.

We shall see if my central banker decoder ring and Miss Cleo-like ability to read between Fedhead lines turns out to be correct. If not, so? This isn't a science, people, and we must always remember above all else that part of the Fed mandate dictates an extreme level of secrecy and obscurity. Not because of the evil conspiracy by the diabolical banking cabal to enslave us in debt for our lifetimes (hate to burst your tin foil hat there...) but because if they were fully transparent, even the stupidest investors could jump in and make a killing on the Fed's thinking alone. It wouldn't be a bloodbath on the Street, more like a bubble bath with lots of splashing and cute rubber duckies. Uh huh! We can't have that now can we?

So what do the MSM finance outlets have to say? Let's see. Take it away, MW:
 
The Federal Reserve is expected to stress that rate hikes will come later rather than sooner and signal greater optimism about the economy in the policy statement of its Federal Open Market Committee to be released later Wednesday.

"We expect the FOMC to tweak this afternoon's policy statement to make clear that it has no intention of tightening in the near term," wrote Lou Crandall, chief economist at Wrightson ICAP in a note to clients.

"We think the Fed may adopt even stronger language to signal that it is likely to keep rates on hold in coming months, in order to combat rising market expectations of near-term tightening," agreed Dean Maki, economist at Barclays.

The FOMC statement is expected shortly after 2:00 pm.

The wordsmiths at the central bank will have to walk the tightrope because although they want to throw cold water on rate fears, officials also want to signal a more upbeat view of the economic outlook.

The need to stress a go-slow policy outlook comes as investors appear mesmerized by expectations that economic growth could turn positive sometime this summer or fall.

Analysts said positive growth obscures the fact that the sharp falloff last winter has created a gaping hole in the economy. This "output gap" means that it will take the economy a long time to recover - and a full recovery is not assured.

The unemployment rate, a good quick gauge of the gap, hit 9.4% in May.

President Obama said Tuesday that the unemployment rate would likely rise above 10% in coming months. See full story.

The Fed has also been helped by calmer financial markets in the past ten days, analysts said. Earlier this month, bond yields were spiking higher and there were loud calls for the Fed to jump into the fray.

A trickier question for analysts is whether the FOMC will say anything about its credit-easing policy.

The Fed has committed to purchase $1.75 trillion in securities, including $300 billion in Treasury securities, to help keep interest rates low. The best guess is that the central bank will keep its options open but not announce any more Treasury purchases, said Rich Tang, an analyst at RBS Securities.
That's what I'm waiting for as well. I sincerely hope the Fed boys (and women... and trolls - you know who you are *coughJanetYellencough*) at least have their heads screwed on straight enough to get through the first couple hundred billion
before
choosing to jump in for more.
PLEASE DEAR GOD let Jeffrey Lacker's hair be enough to save us
!!
I especially LOL'd at this: "The wordsmiths at the central bank will have to walk the tightrope" - get up there you bastards and dance! Come on now, we're waiting!