Precision Castparts Corp. ("PCP"-NYSE)
Company Description:
Precision Castparts (NYSE:PCP)("PCP" or "the Company") is a manufacturer of various complex metal products that are used in the aerospace, power generation, and general industry.
The Company manufactures investment castings, forged products and fasteners that are used in aircraft engines, industrial gas turbine engines and in general industry.
Investment Thesis: Flying under the radar
I believe that the Company is misunderstood by the market and as a result is moderately undervalued. My expectation is that the Company will exceed analysts' earnings estimates over the next year and, because of this, the Company's long-term earnings expectations will be reviewed significantly higher.
Company Overview:
Precision Castparts manufactures investment castings, forged products and fasteners that are used in aircraft engines, industrial gas turbine engines and in general industry. These are highly engineered and critical alloy based components for the commercial aerospace, power generation and oil and gas industries; not the type-of rudimentary, commoditized product that one might expect at first glance.
1) Investment Cast Products:
The investment cast products division manufactures the casting parts for aircraft engines, industrial gas turbine (NYSE:IGT) engines and airframes. PCP produces a variety of airfoils or propellers for almost every single type of jet aircraft engine that is currently in production by the Company's key customers.
Although these large jet aircraft engines are manufactured by a limited number of suppliers, including General Electric (NYSE:GE), Pratt and Whitney (a division of United Technologies) and Rolls Royce,
Breakdown of Company's Revenue:
The Company sells these complex metal components and products into three (3) major market areas: (1) Aerospace (68% of PCP's 2014 sales); (2) Power Generation (18%); and (3) General Industrial markets (14%).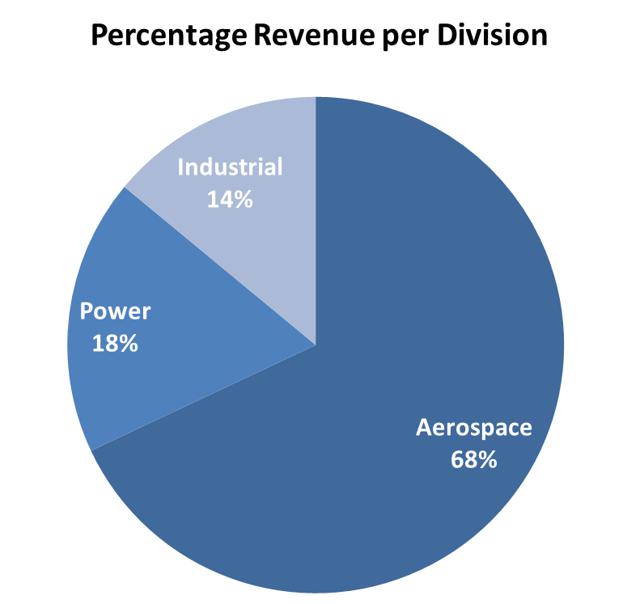 Source: (PCP Annual Report)
The Company provides investment cast parts to each of these suppliers.
As jet aircrafts have become more complex, partly through the introduction of a new generation of larger aircraft such as the Boeing 787 Dreamliner and Airbus A350, there has been a dramatic increase in the use of PCP's products in these new aircrafts' engines.
The trends in the design of jet engines is expected to drive forward Company sales, as the new generation of aircraft engines places much greater emphasis on fuel efficiency and the reduction of noise and exhaust emissions.
This has caused aircraft manufacturers to require a new type of alloy component from its parts suppliers. PCP is one of the few companies in the industry that is able to produce titanium alloy components for this new generation of aircraft. As a result, many new generation aircraft engines will have to use significantly more PCPC parts than they previously did. This market trend towards more efficient aircraft engines is benefiting PCP.
These, however, are not the type of commoditized product that one might expect, but rather are complex, highly engineered components.
2) Forged Products:
The Company also manufactures a variety of forged products made from titanium and nickel-based alloys for use in commercial and military aircraft engines. It also produces a variety of specialized tubular pipes that are used in the oil and gas industry.
These specialty-tubing products are made from a nickel alloy that makes the corrosive resistant pipes ideal for use in oil well construction and drilling. Although this is a relatively new arm of the Company's business, it is a rapidly growing division within the Company giving the growing global demand for deep-water oil drilling and shale-gas fracking.
3) Airframe Products:
The Company's remaining division manufactures highly engineered fasteners, bolts and rivets which are used to hold the structure of an aircraft together.
Once again, these products are not simple or straightforward pieces of equipment but rather are highly processed to meet each individual customer specific demands and requirements. Typically the fasteners are custom manufactured to meet the customers' bespoke design requirements.
These fastener products are not only used in new aircraft builds, but they are also essential whenever an aircraft is undergoing general maintenance and repair. This allows the Company to derive revenue from older aircraft that require periodic refurbishment and upgrading work to be done to maintain its airworthiness.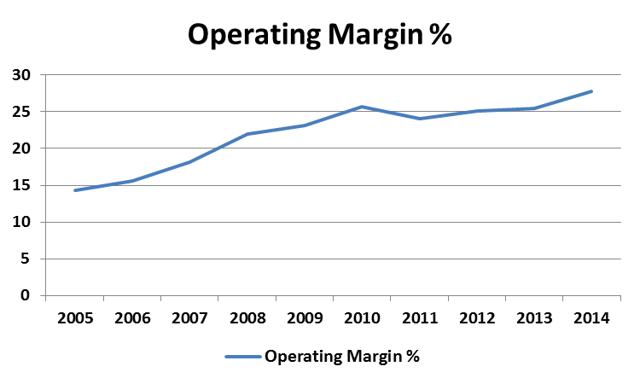 Source: (Bloomberg)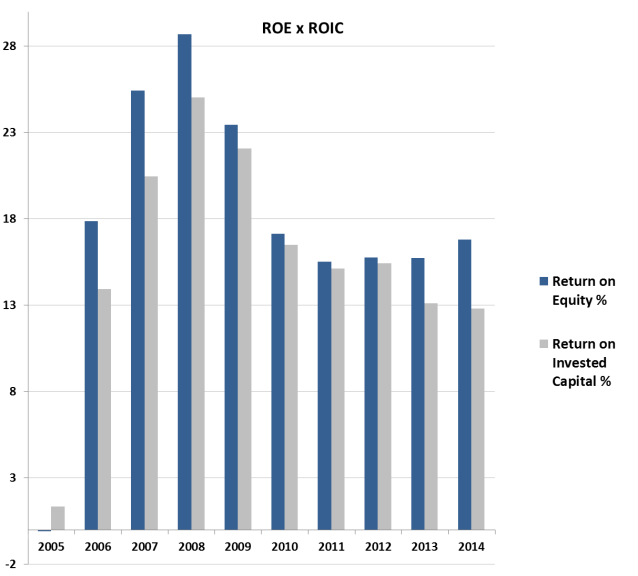 Source: (Bloomberg)
PCP's Competitive Advantages:
1) Technical products:
PCP is one of the few companies able to manufacture the type of complex metal castings and fasteners used in aircraft engines and jet turbines.
These are not low-level commoditized products where manufacturers must compete against each other on the basis of price alone, but rather they are highly technical components that must maintain structural integrity under the sort of intense thermal conditions expected in an aircraft engine.
To be able to perform under these exacting conditions and meet the strictest of safety standards, PCP's products are highly specialized indeed.
Given the potentially high cost of catastrophic failure, aircraft manufacturers are reluctant to have their suppliers compete against one another on the basis of price alone.
While these aircraft fasteners and sub-assemblies are inexpensive relative to the overall cost of bulking an aircraft, this means that the cost of PCP's products are not subject to the same sort of price scrutiny that other more expensive aircraft parts are. It is estimated that the cost of PCP's parts on a Boeing 787 Dreamliner is only 5% of the overall cost of construction.
2) Profitable Operations:
PCP has continually pushed to reduce operating costs and enhance its operational efficiency under current management. Even though the Company has been a serial acquirer of other businesses in the aerospace sector, management has not allowed this to become a drag on the Company's operational excellence. The Company has not only managed to maintain its high operating margins, but it has in fact substantially improved its operating margins over the past decade.
Company's obsession with reducing costs has seen operating margins increase from 14% in 2005 to 28% today. These sorts of operating margins are generally unheard of in the manufacturing industry and are more akin to what one might expect of a company in the services sector.
3) Acquisitions:
Part of PCP's success and a driver of its competitive advantage has been the acquisition of competitors. The Company has been successful in identifying smaller competitors and purchasing these companies to consolidate a fragmented industry. In the past 24 months, PCP has completed 9 acquisitions, including its largest ever (Timet for $3 billion in Dec. 2012).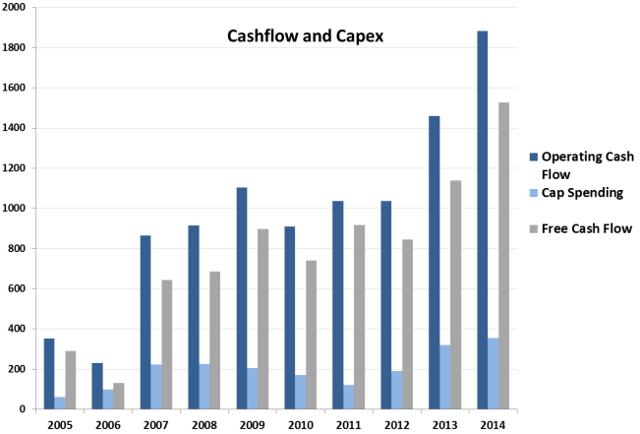 Source: (Bloomberg)
PCP's ability to consolidate the industry is driven by its low debt levels and its huge free cash flows. In the past 3 years alone, PCP has made almost $4 billion in free cash flows.
Despite being a serial acquirer of other businesses, PCP has managed to seamlessly integrate these companies. It has also managed to extract synergies from these acquisitions and maintain its own high operating margins. PCP's operating margins has even increased over the past ten (10) years.
The Company's acquisitions have not just been focused on buying competitor companies (horizontal integration); it has recently purchased some of its raw material suppliers in an effort to vertically integrate the industry.
In 2012, the Company purchased TIMET, a producer of titanium and nickel-based alloys, for $3 billion. The vertical integration of PCP's main titanium and nickel supplier mitigates the Company's commodity risk and ensures a stable supply of raw materials for its manufacture of products.
Source: (Morningstar)
Growth in Sales and Income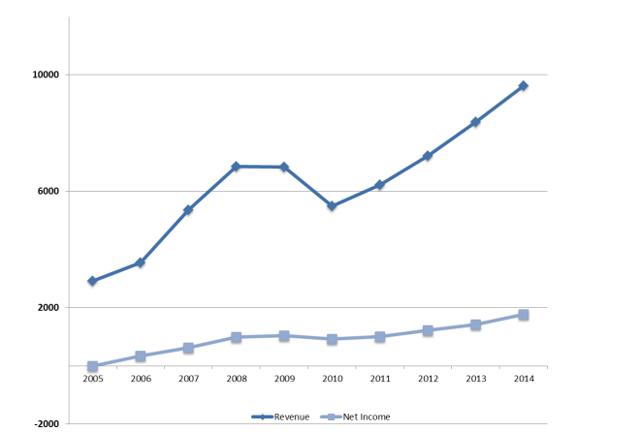 Source: (Bloomberg)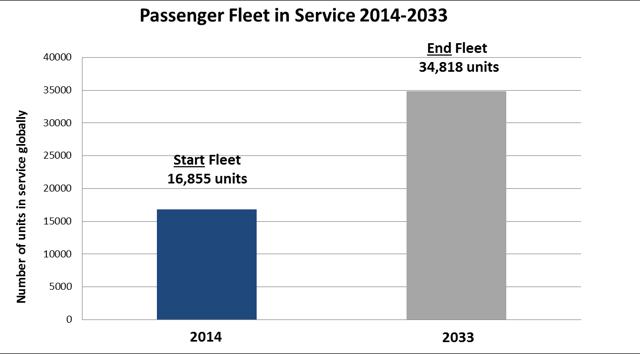 Source: (Airbus Website)
Reasons to Buy: Ready for Take-Off?
1) Sticky business relationships
PCP is one of the very few companies in the world that is able to produce the type of complex metal castings that are used in jet engines and aircraft assembly. Almost every aircraft in production today flies with parts (fasteners, turbine engines parts, or other aircraft sub-assemblies) made by PCP.
While one might imagine this to be an ultra-competitive business where there is a race to the bottom in terms of price, this is surprisingly not the case. To the contrary, PCP's large customers are unwilling to switch to other lower-cost suppliers, thus allowing PCP to maintain pricing power.
This is evidenced by the fact that PCP's main customers - Boeing, Airbus, Rolls Royce, United Technologies and General Electric have decades long relationships. In fact, GE has been a customer of PCP for more than four (4) decades.
Companies that wish to enter this market are subject to significant barriers to entry, as they have no proven track record of being able to produce safe, high quality aircraft parts. This unwillingness to change suppliers stems from a manufacturer's fear that purchasing cheaper products to assemble their aircraft engines might not meet the rigorous standards required. The high switching costs means that PCP is the preferred supplier of parts to these customers.
These "sticky" business relationships, coupled with the lack of new entrants to the markets, allow PCP to enjoy higher than expected profit levels.
2) Future growth of the aerospace industry
It is anticipated that there will be unusual levels of future growth in the aerospace industry as market participants unveil the new generation of aircraft (Boeing Dreamliner and Airbus A350). Over the next 20 years, the number of passenger aircraft in operation is expected to double. PCP should benefit from the increase in production rates.
Two of PCP's main customers are planning aggressive production increases of newly developed aircrafts. As a primary supplier of parts to both Boeing and Airbus, PCP is likely to benefit from the increased production of new commercial aircraft.
Boeing plans to dramatically increase production of its new 787 Dreamliner aircraft. Meanwhile, Airbus also plans to ramp up production for the A350.
Interestingly, though, the Company will likely incur a compound benefit from this increase in commercial aircraft production, as this new generation of aircraft requires a higher proportion of PCP parts.
The Company provides higher dollar content on these new generation of aircraft engines than predecessor planes (2-3 times more dollar content). It is estimated that the dollar value of PCP products in older, smaller aircraft is around the $1-2 million mark, whereas the new generation of aircraft coming online over the forthcoming years contains up to $10 million in PCP products. This increase in volume should drive PCP's net income over the medium term.
PCP's Dollar Content per Aircraft Manufactured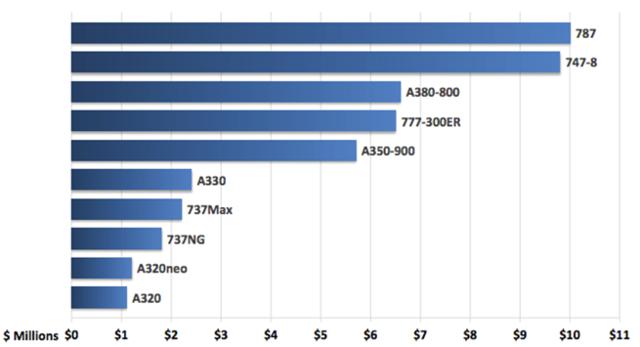 Source: (PCP Website)
3) Capable management team
Company management has successfully identified and acquired numerous competitor companies over the past decade and attempted to consolidate the industry. Efforts to vertically and horizontally integrate the industry are evidence that management is aiming to entrench PCP's position as the market leader.
Management has also shown an inclination to reward its shareholders by repurchasing its shares in the open market. During the last fiscal year, the Company spent $484 million repurchasing its own shares in the open market. This suggests Company management thinks its shares are undervalued at the current share price.
Reasons to Sell: Turbulence Expected?
1) Raw Material and Supplies
PCP uses a range of raw material in its products, including nickel, titanium, cobalt and various rare-earth metals. These raw materials are required for the alloys that the Company uses to manufacture its products.
Since these materials are found in only a few parts of the world and are available from a limited number of suppliers, the Company could be subject to supply constraints in the future. Moreover, an increase in the cost of raw materials used by PCP to make its products would crimp operating margins and adversely impact net income.
2) Acquisition Risk
A driver of the Company's success in recent years has been the strategic acquisition of complementary businesses in the aerospace sector.
While the Company has been very successful in integrating the acquired businesses in to its own operations and eliminating overlapping operating costs that accompany any acquisition, there is nonetheless an inherent risk that future acquisitions might prove value-destructive.
For a Company that relies on acquisitions as a significant driver of future growth - PCP that has made 9 acquisitions in the past 24 months alone - there is always that possibility that management could overpay on future acquisitions and destroy shareholder value.
3) Cyclical Markets
PCP is highly leveraged to the global economic cycle in general and is in a vulnerable position if there turns out to be a sustained slowdown in the economy. Any prolonged slowdown in the global economy would inevitably impact the Company's rate of future growth.
The Company is also susceptible to changes in the business cycle and sensitive to the fluctuating whims of the highly seasonal aerospace market. Since 68% of the Company's revenues are derived from the aerospace industry, any factor that might adversely affect this industry would inevitably have a knock-on effect on PCP.
PCP's business depends on success of new commercial aircraft programs. Because of this, the Company's future success will depend heavily on the success of the new commercial aircraft programs such as the Boeing 787 Dreamliner and the Airbus A350.
Slower demand for the new generation of commercial aircraft (Boeing 787 or Airbus A350) or delays in production of these new aircraft would impact demand for PCP's parts and have a negative effect on PCP's bottom line.
4) Heavy reliance on a relatively small number of customers
The Company operates in what is essentially an oligopoly market where there are only a few major players.
PCP derives the bulk of its revenues from a few major customers, such as Boeing, Airbus, GE, Rolls Royce and United Technologies. For example, General Electric alone accounted for more as much as 13% of PCP's sales for the fiscal year 2014. If the Company were to lose the business of one of these major customers, this would severely impact the Company's overall business.
Conclusion:
Clear Blue Skies Ahead!
Given the Company's sustainable competitive advantages over its competitors and the significant barriers to entry for new companies seeking to enter this market, I believe PCP is well positioned to benefit from the future growth in the aerospace industry.
If PCP continues its successful strategy of acquiring smaller competitors and vertically integrating the industry by acquiring raw material suppliers, PCP should further enhance its competitive standing relative to other market participants.
PCP has over the past ten (10) year period grown its revenue by an average of 16% per annum, while at the same time growing its earnings per share by over 26%.
The fact that PCP's major customers are reluctant to switch suppliers on the basis of cost alone places PCP in an advantageous position for further growth.
PCP is currently valued at the same P/E and P/B multiple as its direct competitors, companies that have not been able to enhance economic value in the same way that PCP has. I believe that PCP should trade at a P/E premium to its competitors and expect that this will translate in to a higher share price over the forthcoming year.
Disclosure: I am/we are long PCP.
I wrote this article myself, and it expresses my own opinions. I am not receiving compensation for it (other than from Seeking Alpha). I have no business relationship with any company whose stock is mentioned in this article.