Full details about the above (~28 minute read)
https://medium.com/@PostRomCom/verizon-can-profit-enormously-from-my-amazon-microsoft-vc-praised-business-plan-e9cd785e3084
Links to praise for my earlier tech entrepreneurship
http://www.businessweek.com/stories/2005-02-13/one-more-thing-on-43-things
http://blogmaverick.com/2005/01/31/grokster-and-the-financial-future-of-america/#comment-7049
The 1.0 site will feature:
an online market for the advertisement spaces on solo-blogger blogs (e.g., portfolio blogs)
a virtual currency (cash transactions will be supported also)
Prices in this virtual currency will contain/reflect only truthful peer ratings of work samples [1]. Ratings of this kind are a top predictor of work performance, according to a much-cited meta-analysis of 85 years of personnel-selection research (4049 citations as of June 28, 2017) [2]. Other top predictors of work performance are often unavailable (e.g., test results). So prices in the virtual currency will be ideal for ranking people within individual job/skill categories. These rankings will make it much easier for Jane Q. Upwardly-Mobile to identify others who (can) best complement her (ditto for John Q.).
[1] Market users who want to transact with this virtual currency will have to purchase a digital-identity credential. A second virtual currency will enable people to use the market without proving their identity, but prices in the second currency won't be reliable predictors of work performance.
[2] From 2015 book Work Rules!: Insights from Inside Google That Will Transform How You Live and Lead:

. . .

From the Schmidt-Hunter paper linked to above: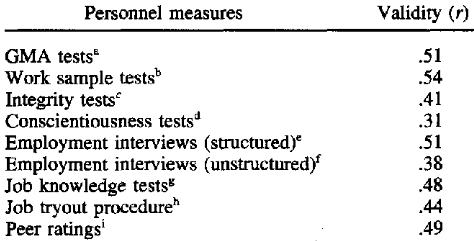 Re: my freemium business model
The free part centers on:
said website design

said Medium.com post, which is designed to make it easy for VZ-ers to catalyze/advance a domino effect within VZ that yields an implementation of the site design (e.g., VZ's digital-identity group(s) -> Oath -> VZ Ventures)
The premium part would:

make VZ's implementation disruptive to 'Net BigCos that aren't ISPs

improve VZ's chances of besting AT&T

Details about the premium part are included in the Medium.com post.
Big finish of this article
Thoughts? Questions?
Disclosure: I/we have no positions in any stocks mentioned, and no plans to initiate any positions within the next 72 hours.