With oil near historic lows, some may think the bottom in oil has come. If this is the case, it may be time to pull the trigger and buy up shares in excellent companies with tremendous track records. For those interested in a little more risk, the off-shore drillers may offer exactly what you are looking for. At the end of the day, no one knows exactly where oil will bottom out, but that doesn't mean value cannot be found.
Let's start off with ExxonMobil (NYSE:XOM) which has fallen off a cliff since July '14, toppling from $104.37 to $72.49 (as of closing today). This is a stock that has been beat up by Wall Street and the price of oil, tumbling 30.5% since its previous high. For starters, ExxonMobil holds the coveted AAA credit rating from the S&P, considering only three companies hold such a high credit rating, this is definitely a sign that investors need to take note of. They currently hold a Market Capitalization of 302.24B, and sit on 4.34B in cash.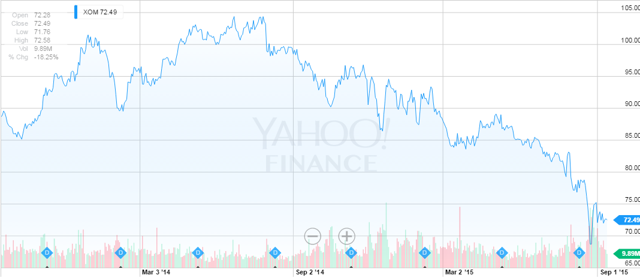 As far as debt is concerned, XOM holds 33.84B in debt which, when broken down, comes to roughly 18.91 debt-to-equity ratio. Revenue is currently at 300.35B. Considering the size of ExxonMobil this balance sheet remains remarkable even to the most conservative investor.
With a dividend that pays out 4.04%, this stock may be perfect for those looking to beef up a Roth IRA for long term DRIPs. Considering their size and their market cap, XOM will be able to weather any storm that international politics, Wall Street, or the price of Crude Oil can throw at it.
Another company that offers tremendous growth opportunity is Royal Dutch Shell (NYSE:RDS.B). This is yet another big oil conglomerate that has the size and the resources to hold the ship down tight when the tide gets rough.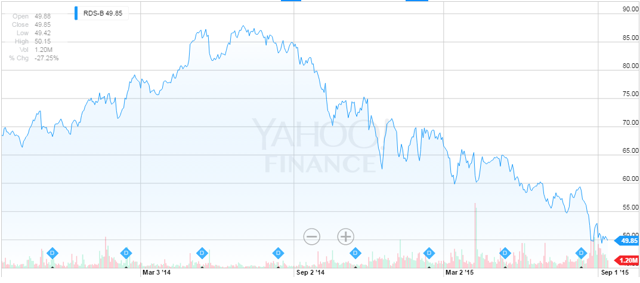 Royal Dutch Shell took a bigger hit compared to XOM. The stock is down 43% since reaching its high during July '14. RDS.B does not hold an AAA credit rating, and there are talks regarding the safety of its dividend. Many believe the payout to be unsustainable, and it holds the possibility of getting cut, or frozen. Today, the dividend currently sits at .94c/share, or $3.76/yr. The upcoming dividend has not been announced yet. RDS.B has a market cap of 157.66B with a debt-to-equity ratio of 29.74. RDS.B sits on 26.98B in cash. All in all, I believe RDS.B is a great, stable company to buy up cheap, which holds great upside potential when oil rebounds. The dividend would be great, but it is not promised moving forward until economic conditions improve.
For those of you seeking a little more risk, the offshore driller I will be focusing on is SeaDrill (NYSE:SDRL). SeaDrill has been in a world of trouble ever since it cut its dividend in an attempt to conserve cash, after the CEO explicitly stated the dividend would be safe for the "forseeable future." SDRL has tanked in value, falling a whopping 83% since July '14. SDRL is currently valued at $6.46/share, and does not pay out any dividend. SDRL is underwater in debt, with a debt-to-equity ratio of 106.54. They hold a market cap of 3.18B and sit on 1.24B cash. The balance sheet is a mess. However, SDRL has rigs contracted out through 2016, and may recieve tremendous cancellation fees from those who cancel contracts. For those seeking a company with huge potential, and the ability to deal with the constant fear of bankruptcy, SDRL is a great buy at $6.46/share.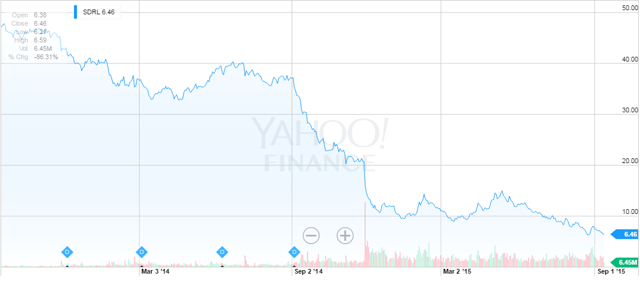 In conclusion, I believe that there are great buys out there if you are looking to get into the oil market. Great companies like XOM can be bought for relatively low prices and long term investors have a lot to gain.
Disclosure: I am/we are long XOM, RDS.B, SDRL.