Significant decline in share price is justified but currently overdone.
Debts likely exceed fair value of assets and value is derived from optionality on improved aluminum pricing.
Outstanding debt is "Covenant-Lite.".
Black-Scholes modeling indicates value of $0.84 per share to $1.91.
Chinese developments will drive future aluminum pricing.
Noranda Aluminum's (NOR) share price is off roughly 90% from its 52 week highs in the face of relentless negative news including very negative comments from the Missouri Public Service Commission (NASDAQ:PSC) regarding Apollo's behavior during the period that they controlled the company. Less than two weeks after comments were published, Apollo sold out at $2.08 at what in retrospect appears to be yet another well-timed deal as the share price approximately eight weeks afterward is 50-60 cents a share.
Although not without significant risks, the value indicated by the Black-Scholes model indicates shares have a value of $0.84 to $1.91 due to "Covenant-Lite" nature of debt.
Given the negative view of Apollo by Missouri regulator, initially it seemed conceivable that the sale was in certain respects a response to the PSC comments but it is now obvious that this was not the case. Aluminum prices continued in their downward trajectory, and one month later the company discontinued the $0.01 quarterly cash dividend, announced plans for a reverse stock split and hired Morgan Stanley for advice on restructuring alternatives. It now appears as though Noranda may see a $35-$60 million reduction in liquidity in the second quarter, $20 million of which relates to reduction in debt availability, not cash burn. Things should improve in third quarter assuming company gets smelter back to running at full capacity but without improvements in alminum pricing it will likely continue to burn cash until 2016.
The dividend, the reverse split and consulting with Morgan Stanley are largely non-events although they certainly did incite a panic among share/bond holders. Having said this, the second quarter performance will need to be observed closely to determine:
Impact of aluminum price declines.
View on future exports from China, an understanding of which are critical in evaluating the future path of aluminum prices.
Company update on bringing smelter back to full production from the 90% guided for in second quarter.
Future impact of Jamaican production levy on cash flow.
Determining whether rolling mill business is impacted by Chinese developments.
This article is going to come to a number of different conclusions but to summarize them:
The company probably will not be sold nor will any operating unit be sold in the short-term. The rolling mill unit could easily be sold if a good offer was on-tap and there is a chance it will take place over the medium term but the smelter, value added production such as rod mills and bauxite/alumina operation are unlikely to go anywhere.
The company should have sufficient liquidity to survive until 2018. If no recovery in aluminum market takes place by then, refinancing the debt becomes problematic but the underlying value of the rolling mills, smelter segment and potential value of alumina operation may allow for refinancing of debt. If aluminum prices recover and Gramercy facility improves operations share price could easily skyrocket but if not, one has to acknowledge share price could decline much further.
The key risks to the share value over the short-term are continued weak aluminum pricing or the board of directors feeling the need to raise additional equity before recovery in aluminum markets take place. One caveat would be a debt swap contingent on redeeming unsecured notes at a discount to original issue price could be a positive.
Valuation is extremely difficult as the company's shares are the rough equivalent of an out-of-the-money call option. In other words, if the company set up an auction of its assets in the near term it seems unlikely shareholders would recover any money. Nevertheless as discussed later it seems difficult to support a share price lower than $0.84 to $1.91.
So in addition to the board actions, the Apollo sale, and the decline in aluminum pricing other negative news that is in the public domain include:
Operation of New Madrid smelter at less than full capacity and company missing its publicly stated goals for bringing it back to full capacity during the first quarter of 2015.
Government of Jamaica requesting injunction (since withdrawn) to prohibit Noranda from exporting bauxite to its refinery in Louisiana over a dispute regarding the production levy.
Ameren notice of termination of power agreement effective in 2020. This is "noise" and means little or nothing.
Consistent increases in operating costs although beginning in third quarter performance will likely improve due to reduced electric rates, bringing plant back to full capacity and reduced shipping costs from Jamaica.
This is a long list and unfortunately there is no way to address these issues without an extremely long article. As any article of this length written by a single person there will be certain unidentified errors and author looks forward to their being pointed out.
To begin with, there is no question that Noranda has had a very turbulent year and is worth less than it was a year ago. The question remains however is company worth more than the current trading price of approximately 50-60 cents.
This article will use the Black-Scholes method of valuing the enterprise with two basic approaches:
Value of business as indicated by trading in Noranda's bonds.
Analysis of individual segments with estimates of value assuming they were sold. This method primarily serves to validate the values indicated by trading in bonds.
In addition, the following topics will be covered for those wanting to take a "deep dive" into understanding the business.
Overview of business and capital structure.
Detailed discussion of business segments and value.
History of company and Apollo.
Final conclusions.
Overview of Noranda's Business & Capital Structure
Noranda's 10-K does a good job of describing the business and will not be repeated in detail at this point. The company is vertically integrated, mining bauxite in Jamaica (St. Ann), refining it in Louisiana (Gramercy), smelting it and producing value added aluminum products such as redraw rod in Missouri (New Madrid) with rolling mills in Tennessee, Arkansas and North Carolina.
Some high level data for operations follow:
Segment

Assets

External Revenue

Intercompany Revenue

Total Revenue

Profit 2014

Profit 2013

Bauxite Mining

150

48

66

114

(18)

(2)

Alumina Refining

230

206

132

338

(14)

(11)

Smelting/Value -Added Aluminum Products

562

525

108

632

51

7

Rolling Mills

335

577

0

577

28

21

Corporate & Elims

43

 
 

(306)

(30)

(40)

Total

1,320

1,356

306

1,355

17

(26)

 
 
 
 
 
 
 
 
Note that the above figures include depreciation expense but excludes non-operating expenses such as tax and interest expense.
Five things that "pop out" when reviewing the schedule:
Bauxite mining and alumina refining are not profitable on a stand-alone basis. As discussed later, alumina refining has historically been fairly profitable and there are reasons for optimism going forward.
New Madrid smelter was performing reasonably well although second quarter for 2015 is going to be challenging due to declines in aluminum pricing combined with other short-term negative factors.
Value-added Primary Aluminum Products such as extrusion billet and redraw rod are economically separate from smelter and yet are combined for financial reporting making it more difficult to evaluate value these assets.
Rolling mills have been consistently profitable and are likely very saleable should the company wish to sell them.
Operating profit for the entire business is not sufficient to cover interest expense which is running around $50 million a year.
Ignoring the asset based line of credit which is well secured as it is secured by aluminum inventories and accounts receivable, the majority of the debt is due in 2019. At some point in time in 2018 and possibly as soon as 2017 there may be some operational concerns regarding the debt but not at this time.
The basic capital structure follows: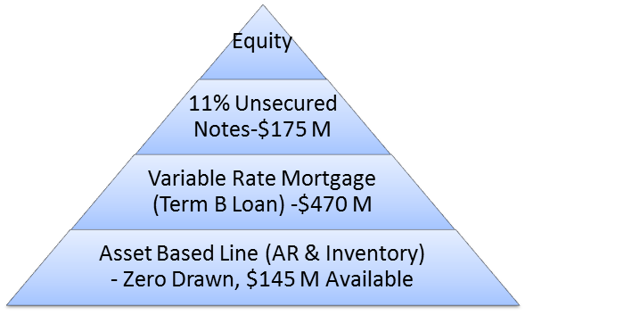 11% Unsecured Notes - $175 million par, fair value $96-$126 million based on recent trades.
Variable Rate Morgage (Term B) - $470 million par, fair value likely $470 million but use $376-$447 million in calculations to be conservative.
Asset Based Line (NYSEMKT:ABL) & Cash - $166 million at end of 1st Q.
Obviously the ABL is the most secure of the debt tranches. It has one covenant that could result in a $20 million reduction in cash availability in the second quarter and is included in the $35-60 million in reduced liquidity projected for second quarter. Otherwise debt capital it is "Covenant-Lite."
So while this is a micro-cap stock, the truth is that the company is not small with significant debt and assets. The debt, in particular the unsecured notes, and variable rate mortgage debt, essentially have no operating performance requirements so there is virtually no risk of triggering a default. Covenant-lite does not, however, mean that management can do anything. For example, if the rolling mill division was sold, the cash is going to be held by the Term B debt trustees to secure the mortgage. There are also some restrictions with regard to the unsecured notes as well.
Also, if the company is sold those debts come due so a potential buyer for the whole company has to come to the table with close to a $1 billion in capital.
The variable rate mortgage (CUSIP 65543BAE2) has not traded to author's knowledge but the 11% unsecured notes (CUSIP 65543AAD6) have traded fairly regularly and until the last few weeks traded around 13%, now in 21% range, indicating that the BOD actions combined with low aluminum pricing scared the bond market too. Note that there have also been a few trades with yields as high as 32% but they have been very few with the only large trades being at 21%
| | | |
| --- | --- | --- |
| Yield | 32% | 21% |
| Bond Price | $55 | $72 |
| Bonds Outstanding | 175,000,000 | 175,000,000 |
| Bond Value | 96,250,000 | 126,000,000 |
|   |   |   |
| Discount to Issue Price | 78,750,000 | 49,000,000 |
Based on bond trading and analysis it seems likely the company is worth less than liabilities at this point in time. This means that in certain respects the next highest level in the capital structure is absorbing any incremental losses from the business. Interestingly, the situation in 2008 was much worse with the asset based lending facility fully extended and bonds selling at 15-30% of par depending on the particular issue. The company ultimately realized a non-operating gain of in excess of $200 million in 2009 when it was able to re-finance the bonds and purchase the existing debt at a huge discount.
Could Morgan Stanley arrange to refinance the bonds and purchase the notes at a discount of the $50-$80 million shown above? Noranda shareholders certainly hope so and the obvious way to do so is to obtain new financing (would have to be convertible debt or stock as of today) that is contingent on reaching agreement with unsecured note owners to tender for existing debt at a discount. One would hope that if the dilution is too severe the company would simply wait and hope for aluminum prices to turn.
For purposes of this article, the shares will be valued under the assumption that the value of the business is less than outstanding debt. That does not mean that all is lost for shareholders as a lot can happen between now and 2019 when the bonds come due.
In effect shareholders own an option and should be valued on the same basic approach. A Black-Scholes model generally indicates the share value should be in excess of $1 even assuming the assets are worth less than the debt. Having said this, make no mistake, out-of-money options are volatile in the extreme and making reasonable assumptions the value could drop close to 44 cents and over the longer term to zero. The key drivers for model are:
Value of assets.
Volatility in value of firms bonds and stock.
Value of Shares
Shares are currently trading around 50-60 cents per share, indicating a market capitalization of approximately $35-40 million as compared to long-term debt of $655 million. Company has $166 million in cash and additional borrowing capacity on ABL as of the end of the first quarter. As said earlier, it seems reasonable to expect a $35-$60 million hit to liquidity in second quarter largely due to one-time items. After that, the cash burn, assuming aluminum prices remain extremely weak should decline to roughly $10 million a quarter although spikes above and below this figure could occur.
The Black-Scholes method is the statistical model commonly used to value options. There are difficulties in applying the Black Scholes model that are addressed in the following New York University lecture notes. In particular, Illustration 7 from the article exactly fits the valuation model to be used. A more detailed presentation using Black Scholes to value shares from NYU is also available here and anExcel based model also available.
The Black-Scholes method is driven by the following factors:
Stock Price. In effect, have to treat debt as common stock. For purposes of model, used enterprise value as indicated by bonds and a separate analysis based on a sum-of-the-parts analysis.
Exercise price used in calculation is equal to point where debt value equals enterprise value.
Time to maturity. Will use three years as Noranda will have to refinance debt by 2018 or restructure. One can make a legitimate argument that two years is more appropriate period for option and these values will also be calculated.
Annual risk-free interest rate. Treasury rates effectively zero so will use 0.1%
Annualized volatility. Share price volatility using calculation located here, indicates rate has varied from 67% to 83% over last four years. The difficulty is that volatility of bond prices has to be included in calculation as well. Looked at a number of factors and concluded 30% was at low end of reasonable range. The importance of the volatility factor cannot be overstated and if volatility is higher, value increases and if lower, value decreases.
Enterprise value used in calculation. The 11% $175 million bonds currently trade at a discount to par of 28% to 45% depending on whether the trades at 32% yield are representative of where the market is at. Data on the value of the $470 million in variable rate mortgage debt is not available but it is fairly secure and will assume it is worth 80% of par in pessimistic scenario and 95% in optimistic calculation. As mortgage debt (for Noranda) retained its value during the financial crisis, it seems likely that these are fairly conservative assumptions.
The most conservative value that is supportable using the bond values and three year option term is $1.20 per share and the more reasonable value is $1.91 per share. If one chooses to use a two year option term, the share value declines to $0.84 to $1.48. All indicate shares are severely undervalued.
Author also ran calculations valuing the assets by segment assuming the assets were sold. Obviously, the method does not have the confidence level indicated by bond trades but it was done as a reasonableness check to make sure that the bonds were valued in an appropriate range. Indicated value was between $0.30 and $5.07 showing that using the bonds as an indicator of value is reasonable.
| | | | | |
| --- | --- | --- | --- | --- |
|   | Bonds - Low | Bonds - High | Detailed Review - Low | Detailed Review - High |
| Bauxite Mining |   |   | 0 | 50 |
| Alumina Refining |   |   | 80 | 275 |
| Smelting/Value Added Aluminum |   |   | 200 | 500 |
| Rolling Mills |   |   | 260 | 320 |
| Enterprise Value | 675 | 777 | 540 | 1,145 |
| Long Term Debt & Pension Liab | 850 | 850 | 850 | 850 |
| Indicated Equity Value (Deficit) | (175) | (73) | (310) | 295 |
| Black Scholes Value - 30% Volatility & 3 Yr Term | $1.20 | $1.91 | $0.52 | $5.50 |
| Black Scholes Value - 30% Volatility & 2 Yr Term | $0.84 | $1.48 | $0.30 | $5.07 |
Amounts in hundreds of millions except for per share amounts which are based on 70 million shares outstanding.
So the above schedule says that Noranda common shareholders may very well be under-water with negative equity.
Does this mean that the shares are worthless? The answer is no because the shares are in many respects out-of-the-money options because the debt is not coming due until 2019. It is also important to recognize that out-of-the-money options frequently expire worthless so this article is by no means arguing the shares do not carry a very high level of risk. In other words, they are probably not appropriate for anyone not prepared to accept the possibility of a 100% loss.
In the end, after a very thorough analysis and approaching from multiple points of view the fair value of Noranda's shares range from $0.44 per share to $2.23 with $1.53 appearing to be the most supportable value. Upside, should aluminum prices rebound, would be in excess of $5 a share with downside to zero being a higher probability event.
China & LME Inventories
This article is not going to predict aluminum prices as there is literally no one author is aware of who has a particularly good track record. There simply are too many moving parts to know with certainty. Will merely make several points.
Commodity prices fluctuate and economic pressures in one part of the world is always going to impact U.S. markets assuming free movement of goods. If China is truly more efficient in aluminum production, a fact that seems unlikely to be true given Aluminum Corporation of China's financial results, one could reasonably expect the smelters remaining in the US and Canada to eventually close. Fortunately for Noranda and other US aluminum companies most Chinese companies are generating massive losses and are subsidizedlimiting their ability export without running afoul of trade rules.
At least one Chinese company, China Honquiao (HK:1347) on the other hand appears to have a cost or revenue advantage and is growing extremely fast. Company has a basic strategy of integrating power and aluminum smelting with virtually no value added products. They are also one of very few companies building alumina plants in Indonesia in response to that country's ban on bauxite exports. Interestingly they literally have only one day accounts receivable outstanding and huge inventory levels (likely bauxite) indicating a very different business model from any other aluminum companies. It would be very helpful to understand the ecosystem in which China Hongquiao operates but they recently reported that they expect to have a very strong second quarter indicating that things continue to go well.
It is the author's opinion that long term the Chinese aluminum smelters will see declines in production as losses such as those being sustained cannot continue without government subsidies. Subsidies and failing to follow their own export rules will ultimately lead to trade action on the part of US aluminum companies although when it will take place is unclear.
Overview of Operating Performance and Liquidity
A chart of operating income shows more history of the company: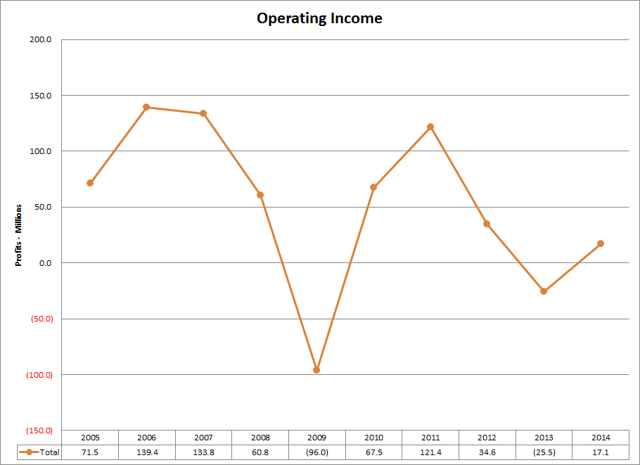 Income includes depreciation expense and excludes non-operating gains/losses due to goodwill write-offs, hedging and debt buy-backs.
Results by segment, excluding corporate costs follows: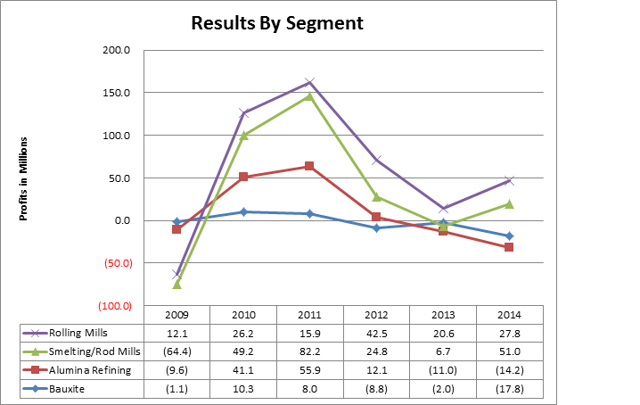 So while the last couple of years have been "no great shakes," primarily due to problems at Gramercy Louisiana alumina facility, the historical performance outside of 2009 has not been awful. 2009 is important because it shows that in what one would expect to be a "worse than worst case scenario." The company should not generate losses so large that overall liquidity is threatened anytime soon given liquidity of 165 million disclosed at end of first quarter even though it may quickly drop to $100 million if fixed covenant ratio miss triggers a $20 million reduction in availability and losses in second quarter are as substantial as expected.
In other words, the company likely has until 2018 to hope that the aluminum industry recovers barring new developments such as the weather related problems. The second quarter will be ugly but performance will likely improve in third quarter and beyond due to new electricity agreement and other one-time events taking place in second quarter.
The next chart shows revenue realized per pound of product by the smelter as well as the cost of production.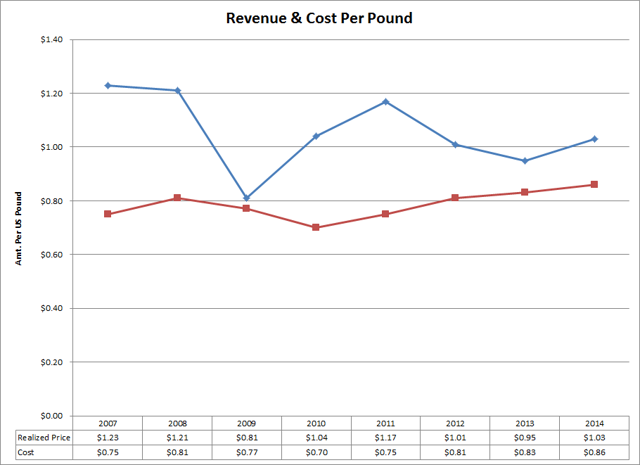 There are two points worth noting in the above chart.
2009 was severe for aluminum companies with average realized price of $0.81 per pound. Even with the recent severe decline in inventories maintained in LME warehouses (a one-time event) and increased exports of China (duration unclear), things are not as bad. Bad nonetheless with prices per pound reported to be at $0.932 per pound in May and author's estimated current value of $0.85 to $0.88. This is down significantly from the $1.05 in the first quarter.
Increasing costs. Despite the CORE program, results have been disappointing. Without being on the inside of the company it is difficult to evaluate whether management is dropping the ball or merely making the best of what may be a difficult position with regard to electricity costs (second highest of nine US smeltersuntil June 1 decrease). While the company does provide quarterly cost bridges, their disclosures regarding exactly where the smelter's costs as well as alumina and bauxite fit in terms of industry cost curves have not been published for at least three years in company reporting (until one disclosure last week).
Charts provided in 2011 and 2010 10-Ks would tend to help investors become more comfortable with the viability of the smelter and performance follows.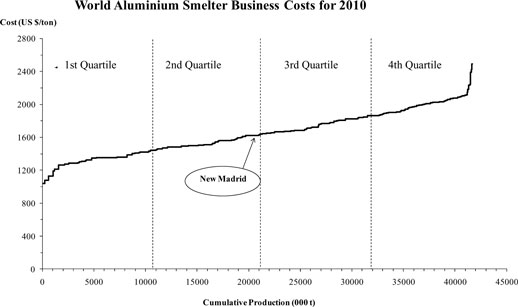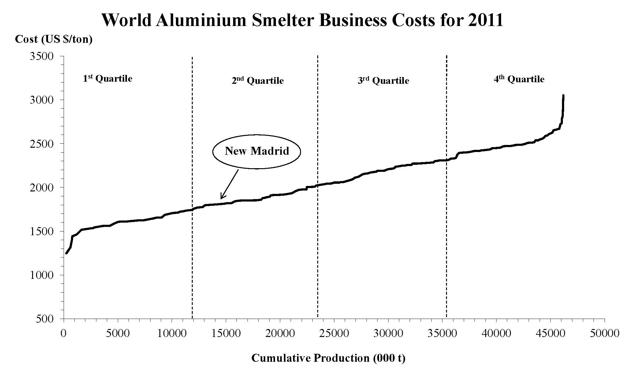 Management no longer provides detailed cost curve information as previously done or as Alcoa currently does. The company recently did say that New Madrid does remain in the second quartile of the cost curve.
There may be good reasons for the change in disclosure practice and author freely admits that such cost curves are frequently incorrect as the organizations putting them together do not have perfect data. Nevertheless, it is useful information and as previously said Alcoa does provide it. Also, there will be changes, such as the increase in the dollar or perhaps other events that are outside of management's control but it is critical for investors to know whether Noranda is merely a "marginal producer" or a "highly efficient" producer.
So after having raised some issues with disclosure practices, it should also be pointed out that the company has consistently missed operational targets including one which is going to impact the second quarter ending June 30, 2015. Specifically, the following comments from previous conference calls follow:
Third Quarter 2014:
The $5 million negative also includes lost cash margin on shipments associated with that production. We expect the impact of lost production sales to continue into the fourth quarter due to the uncertainty in the number of pot failures, timing and concentration of those failures for pots that were replaced following the January 2009 ice storm. We expect this issue to be largely behind in the first part of 2015.
Fourth Quarter 2014:
We expect the smelter to be back to full production by the end of March 2015, that facility is currently running at nearly 95% of capacity.
First Quarter 2015:
New Madrid is currently running at approximately 90% of capacity and we expect to return New Madrid to full production in mid third quarter. We estimate getting back to full production will have provide us $0.06 per pound favorable impact to our first quarter cash cost.
While there likely are understandable reasons for the nearly nine month delay in getting back to full capacity it seems fairly obvious that management does not "sandbag" when providing guidance. That probably has much to do with the nature of the business in that everyone expects to operate at full capacity and anything that gets in the way probably cannot be anticipated.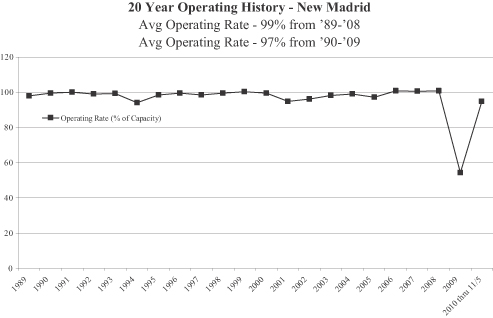 Second Quarter Forecast
In addition to running the New Madrid plant at less than capacity there are four other reasons to expect the second quarter to be weak:
New contract for purchase of electricity is effective June 1 so lower costs will only apply to the final month of the quarter.
Jamaica production levy will mean a $10 million reduction in liquidity. Unsure how the income statement will be impacted but $3.5-$4 million seems reasonable.
Decline in aluminum pricing and this will carry over into future quarters.
Goodwill asset may be written off given the declines in share price, aluminum prices and higher operating costs although more likely to be a third or fourth quarter non-cash charge.
So significant loss to be reported on the P&L and drop in liquidity of $15 million to $40 million is likely before the additional reduction of $20 million from failing to meet the fixed covenant ratio so liquidity could fall into the $100 million range ($166 Q1 less $40 million cash burn less $20 million reduction in ABL line).
Beginning in third quarter, even assuming continued declines in aluminum pricing, the cash burn should decline to $8-$16 million per quarter until 2016 when new redraw rod plant is brought on-line when operation should be close to breakeven even without aluminum pricing improvements assuming capital expenditures are reduced significantly.
The current situation means common stockholders would reap much of the benefit from upside in aluminum price increases while debt holders suffer from further declines.
History & Value of Company by Unit
There are four segments listed in the 10-K. They will be examined in reverse of the order listed there with some history as the history before the LBO might speak to the value to be realized by share/bond holders.
Valuation of each individual unit if it were to be sold will also be discussed.
Rolling Mills - Largest unit from a revenue perspective as well as being consistently profitable. Also plenty of similar companies although Noranda's operations are likely among the most efficient in the nation, at least in 2006 they were when Noranda published CRU data in the following registration statement.
Some similarities to Kaiser Aluminum (NASDAQ:KALU) and other manufacturers using aluminum to shape/mold etc. although Noranda does not produce final extruded/manufactured products.
No transactions in this space were identified and many companies operating in the space are private. Plan to use income based valuation similar to Kaiser Aluminum who has shown similar growth characteristics (as in no growth in recent years) to arrive at estimated fair value. Some might say that Kaiser plays in different markets and they are right but the fact is that sales performance and profitability growth are similar. Sales metrics will not be used as Kaiser does earn higher margins.
Kaiser's enterprise value is approximately 11.5 times the last four quarter's operating income excluding a one-time charge. Using similar metric results in a current value of $276 million to $318 million.
There is likely little risk to the downside of this business unless the economy were to go into a serious recession in which case, perhaps a long-term investor might pay four or five times peak cycle earnings. Obviously difficult to define "peak cycle earnings" but using $42.5 million from 2012 results in roughly $200 million which will be used as a minimum expected purchase price.
In terms of maximum possible price someone would pay $318 (rounded to $320 million) currently. If construction and overall economic demand were to increase, valuation would obviously go up but for purposes of this analysis, the maximum to be used will be $320 million.
New Madrid Smelter & Value Added Products - Built around 1970 with significant input from the local cooperative utility that continues to maintain the transmission lines (electricity now purchased from Ameren). It is one of nine smelters still operating in the United States (Century Aluminum (NASDAQ:CENX), Alcoa (NYSE:AA) and Noranda are all that are left) and 15 in North America (Canadian operations primarily owned by Rio Tinto (NYSE:RIO)). New Madrid has consistently been profitable but not always at a high level.
While author does not have access to CRU data, it appears as though the Century Aluminum plants are less efficient than Noranda's single plant which in turn is less efficient than most Alcoa smelters so Noranda probably deserves valuation metrics somewhere in between the two. Note that the efficiency comment is excluding electricity prices and Century carries significant exposure to electricity price movements as it typically does not purchase under long-term contracts.
One difficulty in valuing this segment is that the Value-added Primary Aluminum Products, while clearly integrated and in physical proximity to the smelter are separate in many respects as indicated by the fact they remained in production in 2009 when smelter was closed. It is not a given that the two's economic fortunes are completely tied together and they could theoretically be split just as when Southwire Company sold its Hawesville smelter to Century Aluminum many years ago. Having said it is possible, it is also very unlikely.
With recent declines in aluminum pricing it is possible the smelter will generate losses short-term but over the long term, provided it has a competitive electrical contract it should remain profitable except for periods of intense pricing pressure and underutilization such as currently being encountered. The smelter and value-added product mills continue to be valuable assets but placing a value on the asset is extremely difficult as there are simply too few comparables to arrive at an estimated value. Will use a rough PE ratio in combination with discounted cash flows to arrive at fair value.
Noranda regularly performs discounted cash flow calculations for the Smelter for testing potential goodwill impairments. The most recent 10-K said:
The carrying value of our Primary Aluminum segment's goodwill was $137.6 million at December 31, 2014. As of October 1, 2014, the date of our last annual goodwill impairment test, the fair value of the Primary Aluminum segment exceeded its carrying value by approximately 33%. Our 2014 fair value analysis included assumptions about key factors affecting the Primary Aluminum segment's future profitability and cash flows, including the long-term price for primary aluminum.
Given the decline in share and aluminum pricing, one cannot say that there is not a good chance a goodwill impairment will not be recorded in 2009 would be difficult to understand. Using discounted cash flows, management clearly said the fair value of the aluminum segment assets exceeds the carrying value by 33% As the assets on the balance sheet for this segment are $562 million, this could reasonably be interpreted as the unit is worth in excess of $700 million before reduction for liabilities such as payables and pension liabilities. As I am not certain what "carrying value" is referring to, I will make some other guesses as to value.
One transaction worth looking at is Century Aluminum's purchase of Alcoa's 50% interest in the Mt. Holly South Carolina smelter . Century paid $67.5 million in cash, assumed unfunded pension costs and other liabilities for Alcoa's 50% ownership in the plant. Century ultimately allocated only $127 million to the property plant and equipment (100% interest). As Century's reported profits from their 50% interest in the Mt. Holly plant have averaged under $3 million per year (ignoring disaster of 2009) the smelter is earning roughly $6 million per year against New Madrid's average of $43 million. Using a strict profit based method, one has to admit New Madrid might be worth 700% of Mt. Holly which sounds kind of crazy but it is the math. Would be very interesting to know how much of the higher value is due to the larger portion of value added products at New Madrid.
Nevertheless, for purposes of this analysis, will assume a PE of 11.5 and use $43 million in average profits to arrive at a value of approximately $500 million. $300 million will be used as a distressed sale value which is a comparable to the Mt. Holly transaction given that it comes with rod mills consisting of approximately 25% of US capacity which will grow given the expansion of the mill currently under construction.
Gramercy Alumina Plant - Gramercy is one of four alumina producersoperating in the United States.
Gramercy. Purchases bauxite from Noranda's St. Ann subsidiary & sells 45% to New Madrid smelter and 55% to other customers but primarily Century Aluminum.
Glencore's Sherwin Alumina. Bauxite from Noranda's St. Ann subsidiary. Originally owned by Alcoa but sold in 2000 due to anti-trust concerns resulting from Alcoa's acquisition of Reynold Metals . Sells significant output to Century Aluminum and is seeing a significant increase in selling prices due to new deal with Century Aluminum.
Alcoa Point Comfort. Bauxite from Guinea and others.
Almatis. Bauxite source probably Brazil.
The alumina plant has been highly profitable at times but the last two years have been difficult. 2013 had an understandable problem when the plant encountered weather related problems. Aside from that, management has not really provided a detailed explanation for problems and expressed general hopes for a turnaround. Profits over the years have been:
Prices for alumina reported by Noranda have varied but not as much as bauxite or aluminum and as US plants are highly reliant on natural gas it would seem as though America's alumina plants have a competitive advantage over the rest of the world that did not exist five years ago. Even before the natural gas price declines the truth is that alumina plants in America did not go through the vicious closure process that aluminum smelters went through with the same plants operating today that were operating ten years ago. Plants have been temporarily idled while aluminum smelters they supplied were closed but eventually new buyers have always been located and plants re-opened.
While the U.S. alumina supply has remained largely stagnant, Australia and China's production has exploded to the point where the U.S. is now a very minor player in alumina and aluminum market.
So while the plant has obviously performed very poorly the last two years primarily due to inefficient operations rather than decreased pricing or reduced volumes, it seems likely that the plant could survive an even more difficult alumina market although Jamaican problems discussed in the next paragraph could eventually result in losses associated with transitioning to sourcing bauxite from Brazil or Guinea. Nevertheless, the plant should ultimately survive, given that Alcoa, Almatis and Sherwin Alumina survived when related smelters closed down, an event that Noranda's Gramercy has not had to endure.
One interesting restructuring alternative would be to combine Glencore's Sherwin Alumina with Gramercy and perhaps sell both to Noble Energy Group who recently acquired Jamalco's alumina refinery in Jamaica. Obviously easier said than done and no buyer would be being willing to pay a material amount without a long-term contract to supply Noranda, Alcoa or Century Aluminum so while not inconceivable the plant is unlikely to be sold.
When a U.S. alumina producer, Ormet, went bankrupt it sold its idled alumina plant having less than 50% of Gramercy's capacity for$40 million in late 2013 to Almatis (German company). Assuming double the price for double the capacity, it would be $80 million as the low end of a reasonable range if the smelter was idled. In all fairness, it should be mentioned that Century and Noranda originally purchased the Gramercy plant and Jamaican bauxite mine for $23.5 million in 2004 while Kaiser was in bankruptcy proceedings.
In the end, author will once again rely on a PE of 11.5 and average earnings of $24 million per year. This calculation excludes 2013 when there was a clear weather related problem that resulted in significant costs. This indicates a value of roughly $275 million.
St. Ann (Jamaica) Bauxite Mine - Obviously bauxite is not a huge industry in North America/Caribbean with most world-wide production coming from Australia, Asia and Africa. Noranda is the only significant exporter of bauxite from Jamaica at this time having purchased the unit (along with alumina refinery in Gramercy Louisiana) during Kaiser Aluminum's bankruptcy. Kaiser's mine was established in the 1950s.
The mine sells approximately 55% of its bauxite to Glencore's Sherwin Alumina plant in Texas who in turn sells to Century Aluminum. As Noranda sells to Century as well, the truth is that over the mid-term Century also suffers from risk should bauxite supplies from Jamaica become problematic. As mentioned earlier, Almatis and Alcoa's Point Comfort purchase their bauxite from South America and Africa.
At one point in time Jamaica was a significant exporter of bauxite but it has largely fallen off the charts either from a lack of competitiveness or bad decisions by the government depending on whose opinion you choose to believe. The governmental directives (from 1970s) were to tax bauxite producers and encourage development of alumina plants. As the Jamaica alumina operations developed under this policy were powered by fuel oil and as the price of oil skyrocketed over the years that decision did not work out well. At this point in time only two significant alumina operations remain, one ran by UC Rusal, the other by and a former unit of Alcoa/Alumina Ltd. (Jamalco). Jamalco was recently sold at a huge loss (to Noble Energy Group) after having made the mistake of greatly expanding operations during the 2000s.
UC Rusal has recently agreed to expand operations in Jamaica and received approval for export of some quantities of bauxite. They have agreed to do so in the past but have never actually followed up on commitments. Whether they will do so this time is still up in the air but perhaps the fact that Indonesia has banned the export of bauxite (in 2014) in the hope of forcing producers to build alumina plants means that Rusal will actually deliver this time.
So it seems obvious that the Jamaica operation remains marginal at best and is only viable as part of the Noranda operation because shipping costs and cheaper supplies elsewhere would make shipping to centers of alumina manufacturing elsewhere about as likely as building of new alumina plants in North America.
Still, the government wishes to increase the levy to $7.56 per ton compared to the $3.25 paid under the Establishment Agreement, a copy of which was included in Noranda's SEC filings. St. Ann mines slightly less than five million tons per year. The Establishment Agreement language is interesting in that the agreement regarding the production levy did indeed expire Dec. 31, 2014 but there is language requiring that future pricing be reasonable. In the end, sufficient information to form an opinion on the potential tax changes simply is not available due to redactions in the SEC filing so the issue is to be settled in arbitration, presumably with the International Centre for Settlement of Investment Disputes (ICSID) or more likely a settlement agreement. The last time the two parties went to arbitration the process took three years and was ultimately settled without a decision being handed down indicating the process could be quite long. As the arbitration process has not yet moved beyond the very preliminary stages, it appears Noranda still hopes to reach a deal and if not it is entirely conceivable that it could be four or five years before a decision is handed down.
The country of Jamaica is a former British colony with a fine tradition of press freedom, independent judiciary and friendly relations with the United States. Unfortunately, periods of very poor governance and simply bad luck has resulted in their being under a tough IMF austerity program that requires a 7.5% primary governmental surplus be run. When one compares this to what the Euro zone is asking of Greece or how difficult Puerto Rico has found it to balance its budget (despite massive subsidies from the U.S.) it cannot help but make one sympathetic to the people of Jamaica. Still, that does not mean that taxing Noranda's operation at a rate higher than 100% of its profits is the right or smart thing to do. Time will tell if it is legal and if it is, there is the risk that the mine will be idled and sold to someone else.
In the meantime, the GOJ and Noranda reached a tentative agreement to pay tax until a final settlement is reached. The payment will be cash of $3.75 plus a $1.25 letter of credit per ton compared to the 2014 amount of $3.25 per ton. Assuming bauxite production is 5 million tons per year, this would result in incremental cost of approximately $9 million per year. Conceivably more if Jamaica wins on all counts in arbitration. More likely, it will settle at some point in time.
Very difficult to place a value on the Jamaican assets. Alcoa realized approximately 1/3 of their cost basis for their bauxite mine and oil fired alumina plant. While it cannot be said with certainty that Noranda would not receive more than the $50 million this indicates, the low profits earned in good years and GOJ pressure makes it impossible for author to include a higher value. For purposes of a low estimate, will assume the government essentially expropriates the property via taxation.
At some point in time, it may make sense for Glencore and/or Century to purchase an interest in the mine or pay a higher price on bauxite/alumina they purchase. Regardless, the intense pressure that the Government of Jamaica is under means they will likely continue to pressure for any and all value derived from the mine for the foreseeable future.
Working Capital and Debt
In placing a value on a company, this is always an important issue as if a company has to carry huge inventories, receivables, etc. it is going to be worth less than one that can keep them low and borrow interest free from vendors by letting payables increase.
Liabilities such as pension and post-retiree medical are important as author tends to believe pension liabilities are "real" where post-retiree medical will eventually be negotiated away as government programs just make them less necessary.
Substantial analysis of this will not be made except to say that working capital needs, while material, are not huge relative to the fixed assets required to run the business.
Debts on the other hand, are material for both Alcoa and Noranda with Noranda's being higher relative to the size of the operation. Century Aluminum appears to be a marginal producer of aluminum and therefore realistically cannot and does not carry a high debt load. Time will tell if Noranda can service its debt but longer term it obviously is at risk.
Apollo Results & Noranda History
A schedule showing history of the LBO and important events in Noranda history follow. Many would say, and they are certainly right, that Apollo's investment account is irrelevant, but as history is sometimes useful in gauging what might happen in future it is provided.
Date

LBO in Aug.2007

Action/Event

 

Apollo Pmt(Receipt) (millions)

Apollo's Investment

May to Sept. 2007

Contribute Equity

(NYSE:A)

$216

$216

May to Sept. 2007

Distribution

 

($216)

None

June 2008

Special Dividend

(NYSE:B)

($102)

($102)

Dec. 2008

Financial crisis. Debt crashes in value, begin to lose money (ignoring huge derivative hedges which were extremely profitable and seem to be ignored by bondolders), suspend cash pmt of interest, drawdown revolver.

 

0

($102)

January 2009

Power Outage/Bond Buyback started

(NYSE:C)

0

($102)

March 2009

Write down JV by $45 million

(NYSE:D)

0

($102)

March 2009

Monetized Hedge Gains

 

0

($102)

June 2009

Write down JV w/ Century

 

0

($102)

August 2009

Acquired 50% of Grammercy & St. Ann owned by Century Aluminum. No cash outlay

(NYSE:E)

0

($102)

December 2009

Agreement with Jamaica finalized June 2010

(NYSE:F)

0

($102)

March 2010

IPO - 11.5 Million Shares @ $8 per Share

(NYSE:G)

0

($102)

March 2010

Apollo Mgt. Fee Term Pmt.

 

($14)

($116)

December 2010

Share Offering-11.5 Million @ $11.35 per Share

 

0

($116)

Nov. 2011

Special Div. - $1 Share

 

($43)

($159)

Nov. 2011 to Feb 2012

Regular Div. - $0.07*

(NYSE:H)

($3)

($162)

Feb 2012

Special Div. - $1.25 Share

 

($54)

($216)

Feb 2012

Refinance LBO debt

 
 

($216)

March 2012

Apollo Sells 10 Million Shares @$10.61

 

($106)

($322)

May 2012 to Feb. 2014

Regular Dividend - $0.26

 

($9)

($331)

March 2014

Apollo Sells 10 Million Shares @ $4.50

 

($45)

($352)

May 2014 to May 2015

Regular Div. - $.05*

 

($1)

($376)

May 2015

Apollo Sells 23 Million Shares @ $2.08

 

($48)

($425)
Acquired assets from Xtrata for $1.16 Billion. How long $216 million in equity remained it company is not clear but clearly less than five months, maybe much less.
Operational results declined following acquisition. Cash availability was derived from derivative gain. Sept 2008 notified senior bondholders they would do PIK rather than cash payments. Pretty incredible timing on the dividend payment made just a few months prior to crisis.
Power outage in January 2009 shut down smelter. Bought acquisition bonds resulting in loss to bondholders (and gain to Noranda) in excess of $200 million. Later recognized large insurance gain. Would be interesting to know if bondholders were caught in post-crisis liquidity squeeze or why they sold at such a discounted value.
JV is the partnership with Century Aluminum that owned the Jamaica bauxite mines and Gramercy Louisiana alumina smelter.
Acquired other 50% interest in JV with Century Aluminum. See note 2 in 2010 10-K. Booked a $120 million gain following acquisition at what appears to be around 50% of asset book value.
Agreement with Government of Jamaica in Dec. 2009, signed June 2010. Required prepayment of $14 million in taxes and make investments in dredging, training, etc.
Share offering proceeds received by Noranda.
Regular dividends varied from $0.01 to $0.04 per share paid on quarterly basis.
Comments From Missouri Public Service Commission Regarding Apollo
Certainly the Missouri PSC indicated a lack of trust in Apollo/Noranda when they indicated:
"In part, Noranda's precarious financial situation is the result of Apollo Management's decision to milk massive amounts of cash out of the company…"
"does not want to reward Apollo's behavior in any way…"
The ruling from the Missouri PSC making the accusations of asset stripping (beginning at page 117) was issued April 29th, 2015 and the notice announcing the sale was made just 13 days later on May 11th.
As was said earlier, author initially thought that there may have been some pressure on Apollo to disassociate itself from Noranda given the comments from the PSC but given the decline in aluminum pricing as well as decline in share price, such a position seem unlikely.
Final Comments
While likely more detail than most readers would like to see, a deep understanding of the risks is important as Noranda's leverage leaves little room for error. Ultimately its success or restructuring will be driven by aluminum pricing and that in turn is impacted by what happens in China.
Allocation of a small portion of a portfolio to Noranda offers superior return potential when benchmarked against the risk of restructuring.
Disclosure: I am/we are long NOR.