What: The Mental Tranche Trading approach to capital and risk management.
When: 1st ever quarter of performance, as of 30 September 2016.
Where: ROTH account.
How: Divide roughly $45,000 into 10 equal tranches, invest (long only) in equities, sell each tranche after 1% gains to average 1% total portfolio gain per month, or 12% per annum. *Do not count paper returns when calculating returns*
Why: For excitement! experimentation! education! (and to "play" with some ROTH money sitting in a boring old, 1.2%-yielding CD)
Results:
From 1 July to 30 September, the MTT approach locked in $2,573.12 in gains, a 5.64% increase from the initial 1 July funding amount of $45,586.09. Approximately one-third of that gain came from dividends paid during the quarter, as shown in the figure below: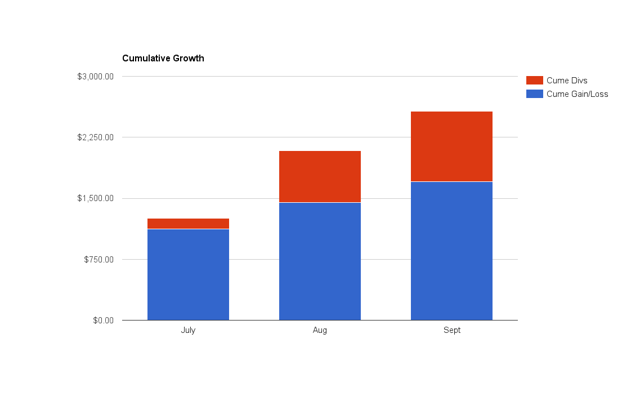 At this point, 3 months in, one would expect each of the ten tranches to have locked in at least 3% in gains. However, real-world results depict some unevenness with 7 tranches surpassing the 3% mark. At least all 10 tranches were in positive territory for the quarter: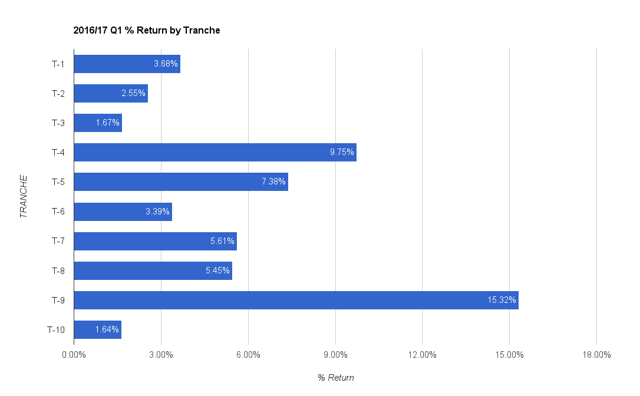 During the quarter, 30 positions were established, 24 closed, and 6 carried over to the next quarter. For the most part, the MTT almost always had some cash on hand, as shown in the following table:
 

NUMBER OF POSITIONS

Mean Share of Cash Invested

Month

Carry-over

Established

Closed

Open

July

0

24

14

10

53.81%

Aug

10

5

7

8

92.17%

Sept

8

1

3

6

75.98%
Looking to the next quarter, it is comforting to know that with 5.64% locked in thus far, the MTT approach is about where it needs to be by 20 December to stay on track for 12% in 12 months. In other words, we could do nothing for the next 80 days and still be in good shape to meet the MTT goals. Here's to slothfulness!