Dear HMNY Shareholder,
Voting has begun for 5 proposals as can be seen here. Proposals 2 through 5 are valid but inside proposal 1, there are egregious terms for Mr. Farnsworth's compensation which we must resist vigorously. 
As can be seen on the bottom of page 11 and shown below, Ted is to receive millions of shares of HMNY and up to a cumulative 8.75% of the company based not on share performance but based on market cap.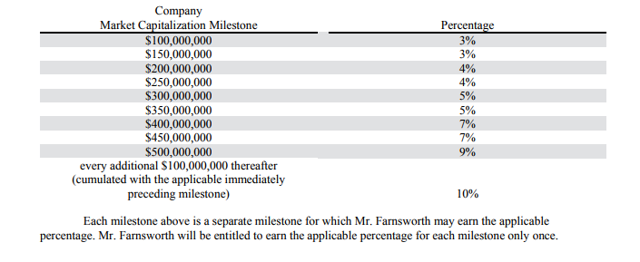 This is nothing short of egregious and importantly it means Ted's interests are not aligned with ours. Ted has an incentive to do as many capital raises as possible at WHATEVER price. He has no incentive to see the stock price do well. 
Now, things are likely not as bad as the above chart seems. The SEC filing is not 100% clear but it's likely Ted will receive a percent of the incremental market cap increase as to not get paid for each milestone more than once. So for example, when the market cap hits $150M, he will get an additional 3% of $50M (the difference between new milestone and last milestone). Below you will see how this extrapolates out for market cap valuations of up to $2B.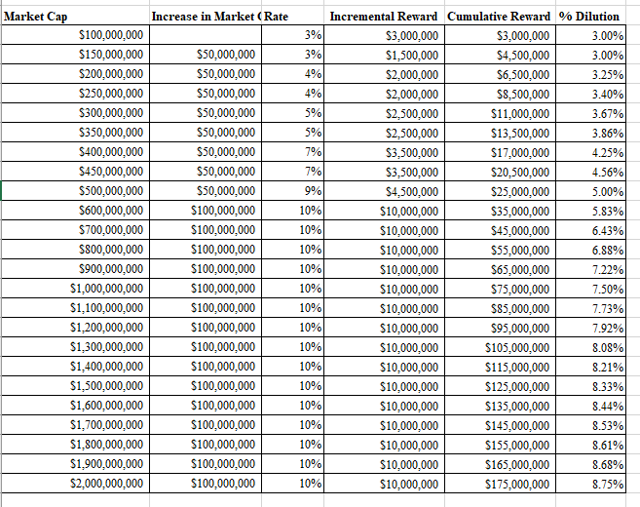 If Moviepass becomes a huge success, I have no problem if Ted get's a bonus of 8.75% of the company. The problem is when the reward is based on market cap, Ted will have no incentive to keep the share price up and no incentive to even negotiate good deals with investors. He will accept whatever price is offered to him because all he cares about is market cap.

WE MUST TAKE A STAND TOGETHER.
I will be attending the shareholder meeting on February 5th at the Empire State Building where we will demand Ted change his compensation to be based on share price rather than market cap. I urge all of you to attend as well and vote NO on proposal 1. Please contact your broker today and vote.
Most importantly, share the link to this article everywhere!
Disclosure: I am/we are long HMNY.