In the last BullBear Weekend Report on I concluded:
...the likelihood of continued upside in defiance of bearish expectations is high. Whether this represents an intermediate term blip or something more significant is as yet unknown, although there are some long term divergences and indications that point towards a long term bullish conclusion.

We did get that continued updside, though as indicated it was limited by overhead resistance and the exhaustion of the first wave up off the low:

...the short term overbought condition could get even more overbought early this week...Most market observers are already calling for a top and this rally has been greeted with skepticism. In this context I would be looking for a sideways abc formation over the first few days of the week. Traders who are out or looking to add to their long positions could buy the a and c wave lows of wave ii ahead of iii of 3 which should rapidly take the market back to 1131 resistance.

The wave count together with certain technical indicators leads to the conclusion that the first wave is now complete or very nearly so and that we should expect a wave ii pullback this week. Bulls should welcome this as a buying opportunity, particularly fortuitous since most of us likley missed the very rapid rally from the recent low. The ensuing decline should be of sufficient depth and strength to shift sentiment back to solidly bearish in very short order, setting up a powerful iii of 1 of 3 of (3) move back above the downtrend and horizontal resistance. 
At this time (Friday, 9/17/10), the market has yet to correct, though it does seem that the stage is set.  After grinding lightly higher all week SPX today tapped 1131, the former intraday high, and then faded.  It gained 16 pts for the week but most of that came in the Monday morning gap higher and there was little follow through thereafter.  There are a number of short and intermediate term technical divergences which suggest a correction is still in order before any further significant advance.  Sentiment surveys are showing large numbers of bulls once again and the permabears seem ready to short once again.   It's still a trader's market and profit taking is due.  And once again, as if on cue, the specter of Sovereign Debt has reared its head in the form of concerns about Ireland.  And of course it's late September and with October just around the corner many traders will probably prefer to not take any chances and will play it safe by exiting or holding off on any further buying until after a big sell off.
To sum up the findings of this report:  the advance in equities that began near SPX 1040 is most likely the start of a significant bull move, but the first leg of that move is likely at or near its end and will correct soon.  Long term, there are a number of developments which auger well for the price of risk assets going forward.  We are seeing significant signs of the early stages of a shift from safety back to risk as safe havens such as bonds, Yen and, possibly gold, show signs of topping out. After a brief bout of fear and selling (which bears will misconstrue as the Big Kahuna to the downside), intermediate and long term bullish forces will gain the upper hand and the market will trade higher.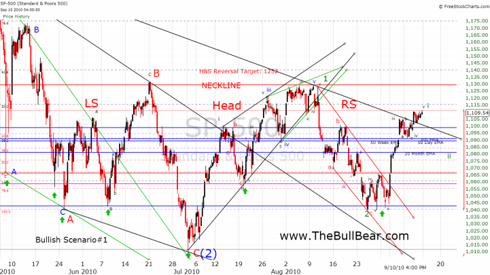 The bullish scenario shows a reverse head and shoulders pattern in the latter stages of development. Although fairly well formed and evident, this pattern has received little if any attention (which increases its chances for completion). Symmetry with the left shoulder may call for a comparable second dip, perhaps even a double bottom. For now we will assume that, as a bullish pattern, the right shoulder will be stronger and the pullback will be more shallow. The 50% Fib retracement level seems reasonable, but rather than specific levels we will be watching for the completion of a clear three wave abc correction to set up a buying opportunity. Indeed, if the above does represent a bottoming pattern, we can see that bulls have been exceedingly patient in their purchases, waiting for a wave of panic selling to step in and buy in size. These patient, strong hands can be seen at the green arrows.
This bearish scenario is now in play and would gain weight on a move back below the downtrend. A move to the lower rail of the triangle would certainly call for a reevaluation of any bullish thesis.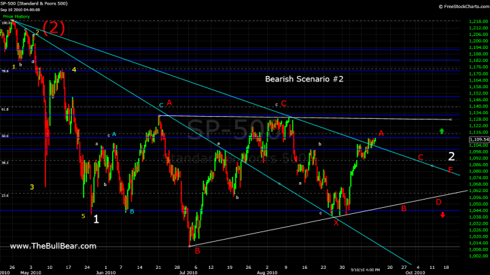 The larger bearish scenario involves a year long head and shoulders topping pattern with the final right shoulder now starting its trip to the 1040 neckline.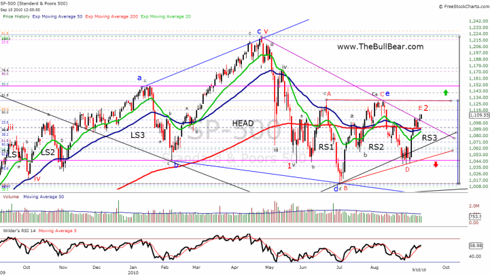 Both of these bearish scenarios are valid but at this time the weight of the technical evidence tends to support the bullish thesis. I might also add that bears have had repeated setups handed to them and they have failed to break the market below support. And in spite of the recent swing towards bullish sentiment in investor surveys the overall sentiment backdrop remains overwhelmingly bearish.
Disclosure:
Long SPX