By Brian Johnson
How are active fund managers faring in the post-recession bull market when compared to their respective benchmarks? Not so well according Jonathan Burton of the Wall Street Journal ("Investors Flee Active Stock Managers", 4 November, 2014). Burton reports that not only did fund managers lose the trust of their clients by not protecting them from losses during the great recession, but these managers continue to perform poorly as the economy and the markets recover.
"Just 26% of domestic stock-fund managers were able to deliver higher returns than their respective index benchmark over the past five years through June, according to S&P Dow Jones Indices. Even more sobering, in this same bullish period, 87% of large-cap stock-fund managers failed to beat the S&P 500."
So, are manager woes only temporary, ready for a comeback? Burton suggests that actively managed funds 'might now be a (savvy) contrarian investment.'
The question might best be answered by assessing skills over a longer period. I observe monthly returns of 5648 large cap US mutual funds, both those alive and since dead, between January 1998 and December 2012, representing 15 years of returns and several bull and bear markets. Results, shown in Figure 1, for the average manager for the longer sample period do not contradict more recent results presented by Burton. Active managers once again lose to a passive index.
Figure 1: Active US Large Cap Funds vs. a Passive Large Cap Index
Jan 1998 - Dec 2012

Average Monthly
Return

Standard
Deviation

Wilshire Large Cap Index

0.49%

4.73%

US Large Cap Funds
(5648 funds)

0.41%

4.75%
Active managers use their own methodology and abilities when investing to attain the highest rate of return possible. These managers are measured against a benchmark, which is usually an index of the market (e.g. S&P500). In contrast are those funds that are passively managed. Passive funds simply mimic an index of the market in an attempt to achieve the same results. Eugene Fama's efficient markets theory states that the market quickly prices all the available information about a stock into the price. This makes beating the market nearly impossible. Thus, active management has to consistently achieve a higher return than the index to justify the extra fees and potential risk of active management.
Probably the biggest reason passive management outperforms active management is costs. Vanguard, a long proponent of low cost investing, offers an excellent analysis of the negative impact of fund expenses on investor returns. First, are the high operating costs the fund incurs to analyze stocks. Another source of costs are turnover costs. Actively managed funds must pay fees to buy and sell securities, and trade at a much higher rate than passively managed funds. Turnover costs also include "bid-ask spreads", which are the amount by which the ask price exceeds the bid. For example, if the bid price is $5 and the ask price is $6 then the "bid-ask spread" is $1. Finally are the tax considerations of selling appreciated securities. High turnover can create considerable taxes compared to the lesser trading of passive funds. To investors this means active managers have to beat the market just to have the same net return as passively managed funds
On the other hand…
According to a 2013 letter to shareholders, Warren Buffett's Berkshire Hathaway has beaten the S&P 500 by 9.9% (OTCPK:CAGR) between 1965 and 2013. So how do investors find these 'winners'? Do winners repeat?
Many studies have shown the difficulty of active managers outperforming the market. The Economist ("Practice Makes Imperfect", 9 August 2014) referenced a recent study tracking the fortunes of fund winners from one period to another. The study performed by Vanguard found only about 12% of top quintile funds in 2007 repeated their performance in the following five years ending 2013. A shocking 27% of those top performing funds actually went from 'first to worst' in the subsequent period, pointing out that winners do not repeat. I attempt to replicate the Vanguard study by examining the returns of 1484 US Large Cap Funds with 10 full years of data ending December 2012. Funds were ranked by quartiles for the five years ending December 2007, then re-ordered by quartile performance in the subsequent 5 year period. My results, shown in Figure 2, are very similar to those produced by Vanguard. Very few winners repeat their performance.
Figure 2: Fund Performance Over Two Periods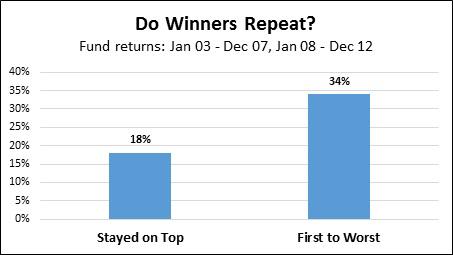 A histogram of the 1484 active fund manager monthly returns, shown in Figure 3, suggests that Large-Cap mutual fund outcomes are fairly randomized, further evidence that few managers offer skill rather than luck to their customers.
Figure 3: Histogram of Fund Returns
Curiously, Moshe Levy from the Hebrew School of Business argues in his research paper, "It's Easy to Beat the Market" (24 August 2014, available SSRN) that active managers are even worse than previously thought. Levy's research produced a thousand portfolios with random weights assigned to each stock from the S&P 500. Over 90% of the random portfolios beat the market. He outlines two prime factors in how this occurred: the over-weighting of the largest firm's market value which limits diversification and leaning towards the bigger firms which have smaller returns than the rest of the S&P 500. Levy says the efficient markets theory is incomplete and that the market benchmark is not "optimal".
What do these findings mean to potential mutual fund investors?
This leaves investors with a lack of predictive tools to select funds. My results show that past performance is a poor indicator of future results and the difficulty in picking a mutual fund when recency bias seems to overwhelm the selection criteria of the manager. Investing is risky with a distinct possibility of losing money. And while there appears to be ways to beat the market, they are difficult to understand or as of yet, unproven. Until an easy and proven answer is found, it seems passively managed funds, specifically S&P 500 ETFs (SPY, IVV, VOO) should be the way the average investor invests.